It's almost time for the Chinese New Year, streets are bustling with people buying their 年货 (goodies), and many like us are cleaning our houses in preparation for a good Chinese New Year. To ensure we're all ready to celebrate, last year we've put together a guide on what to eat during Chinese New Year and the top lucky foods we need to have during the Chinese New Year. Moreover, the guide is also packed with useful information on the festival, customs, and things Chinese people do to say goodbye to the old year and welcome the new year.

However, there are times we feel difficulties in following or practicing the custom. Thus this year we came out with our Top 10 favorite Chinese New Year recipes, while we try to follow the custom we also want to enjoy them.
Five Spiced Rolls (Ngoh Hiang) wasn't really a Chinese New Year dish, however, since young our mother make them quite often, especially during the New Year. Like our family, Ngoh Hiang is a family staple for many households of generations, be it the Peranakans or the Chinese. Similar to the commonly seen spring rolls, they are cylindrical-shaped rolls filled with vegetables and meat. However, instead of a spring roll wrapper the beancurd skin is been used.
It's always good to have something hearty and with wok-hay flavor on the table during the Chinese New Year. Glutinous Rice with Chinese Sausage – this dish represents wok-hay in all ways. Wok hay is a Cantonese phrase used to describe a particular essence and aroma that is created in a dish when authentic stir-frying is performed. "Hay" means "energy" or "breath"; therefore, "wok hay" means "the energy or breath of a wok".

This Glutinous Rice with Chinese Sausage, commonly also known as Chinese sticky rice is loaded with dried shrimp, sausage, shiitake mushrooms, and a flavorful sauce that's all cooked up in the rice cooker! It's an easy way to make this deliciously popular Cantonese dish which we really enjoy a lot.
If you are looking for something simple and meaningful, these fried crackers are something you can make for your family and friends as a snack during the gathering. Prawn crackers are deep-fried and expand like a flower when dropped in hot oil. If you're worried about being tempted by calorie-filled Chinese New Year treats, then this fried vegetable cracker might be something you want to replace with the traditional prawn crackers. As a Cantonese family, we love to serve prawn crackers as they represent happiness and wish individual laughter throughout the whole year.
Ever since we were a kid, our family inevitably buys or makes this treat for the Chinese New Year celebration, in the hopes of having a better year ahead. It's also a popular gift to give when visiting family and friends during the festive season. Traditionally, our grandma will just dip the Nian Gao (we got from the store) with egg wash and pan-fried it. While our mom preferred to steam or pan-fried it with root vegetables like sweet potatoes or yam.
Honestly, the block of Nian Gao is not quite appetizing. We promise that it is very delicious so don't judge the book by its cover! Just to let you know, you might fall in love with this piece of Sweet Niao Gao sandwich instantly. You have to give this a try.
When we head to the market to reserve some ingredients with the butcher's uncle whom we know, pork belly is one of the ingredients on our purchased list. As it is a flexible part of the pork, it can be used in many kinds of cooking methods. One of our favorite ways is to steam or braised it and Steamed Pork Belly with preserved Mustard Green which is also known as Mei Cai Kou Rou, 梅菜扣肉 are on our top of the list.

It's loved by Hakka, Cantonese, and Teochew Families, we remember that our mom always will prepare a super huge pot of Steamed Pork Belly with preserved Mustard Green and served us hot porridge or noodles to enjoy the amazing savor. And it can last us for at least 2 days, but usually, it is too delicious we finish instantly.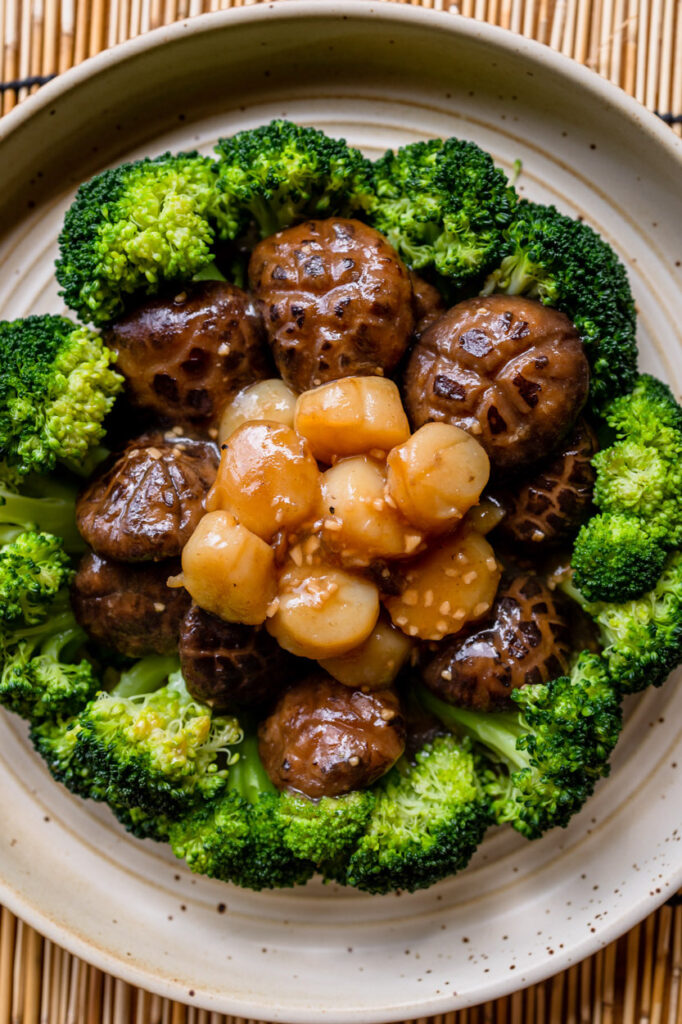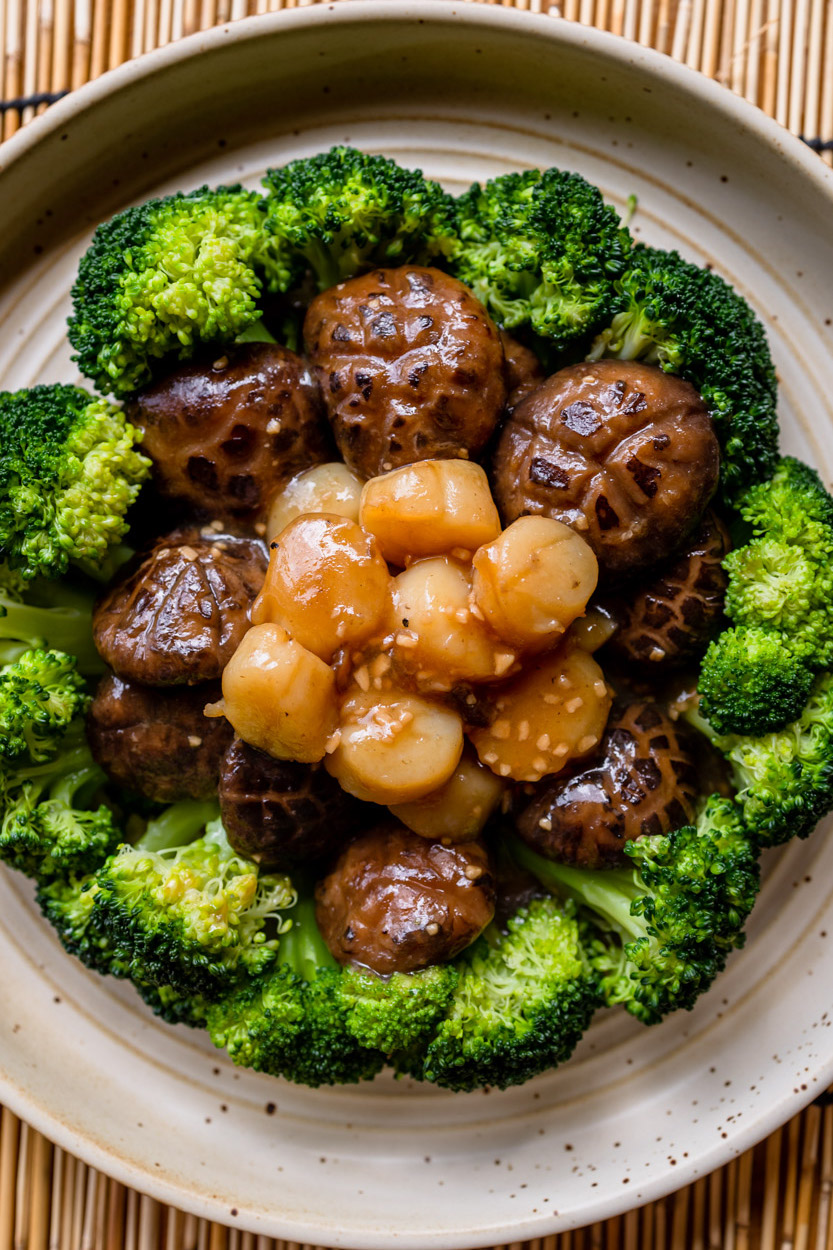 Another simple yet delicious recipe that is on our list is this Stir-Fry Braised Broccoli Mushroom Scallop. This is a popular vegetable dish we enjoy during our family meals, and you would often see it on the menu during your CNY reunion dinner. There are many variations to this recipe but for us, we love preparing it using shiitake mushrooms and seared scallops to enhance the sweetness and delicious umami flavor. Of course, not forgetting the symbolic meaning behind the round shape of the scallops and mushrooms represents oneness, prosperity, and the blossoming of new beginnings – an integral concept of reunion during Chinese New Year.
If you don't enjoy eating broccoli, you can also replace it with bok choy or kai lan – which are longer vegetables representing long life, while leafy greens like cabbage or sang choy represent growing fortune.
There is no way you want to miss having a prawn dish on your table during Chinese New Year. Prawns are pronounced "Ha" in Cantonese, which means to 笑哈哈, laughing all year long. How could you miss the happiness of a brand new year? Therefore you wouldn't want to miss out on this additive Chinese New Year dish – Crispy Cereal Prawns Recipe, 香脆麦片虾. Highly addictive, pour some on plain-tasting white rice to add some taste, especially for the kids who love the cereal coating that goes on the prawns! 
Whenever we look at a fridge from a Korean and it is always full of pre-made side dishes that you can enjoy them whenever you like. Unlike them we Chinese has fewer cold side dishes as we like enjoying them fresh and hot. However, during the period when we are preparing for the Chinese New Year, we like to prepare some food ahead of our busy schedule. And this Spicy Bamboo Salad is one cold dish we will have in our fridge, all you need is some patience in tearing the bamboo shoot.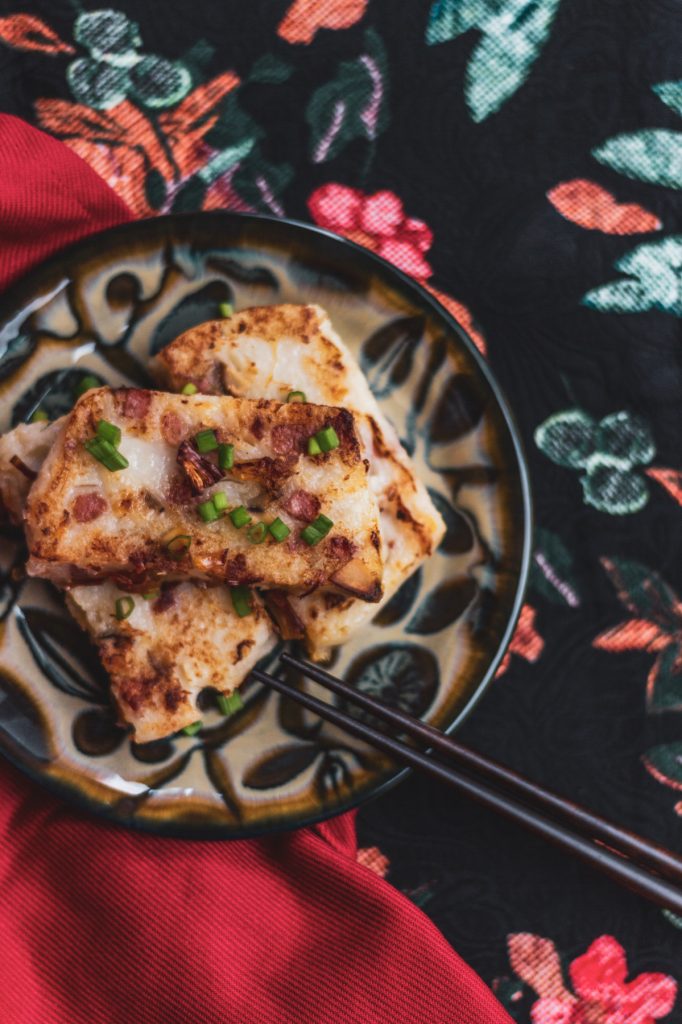 During the Chinese New Year, when we get to rest at home for a period of time, we tend to gather all the family and cook something that required more time to make and Turnip Cake is the one. One good thing about making your own version of Turmip Cake was that you can have more turnips in your kueh than the flour. We love the result of the Lo Bak Go, as it is firm and flavourful. You can serve and garnish it with spring onion. You will be able to taste all the amazing flavors from the ingredients with not even a bit of salt.
As we know Tang Yuan is a delightful dessert that is served as part of the family reunion meal. With an interesting texture and a super tasty flavor, Tang Yuan is one of our favorite Chinese sweet treats and one we cook all year round as dessert for dinner parties.

We have always been wanting to make some goldfish tangyuan because of the idiom 年年有余 symbolist that every new of the year there will still be food on our table. The recipe for making tang yuan is a no-brainer really. It always helps to relive a childhood memory when we used to play with glutinous rice dough as well!
Let's celebrate this Chinese New Year, by creating new memories and preserving traditions in safety manner by all means. Let's bring love, joy, and laughter to the people who treasure the most. Have a wonderful festive season! Give this recipe a try and don't forget to tag us on Instagram as @leplaincanvas and use the #byplaincanvas hashtag. We love seeing your takes on my recipes.

xoxo, the sisters