When we were young, our mom loves to prepare lots of a different kind of traditional food for us. When she older she spend less time on making them. We always please her to make them but she would say when there's time. Thus we resorted to making them ourselves with her recipes (which is also from our grandmother).

Ngoh Hiang is a family staple for many households of my generation, be it the Peranakans or the Chinese. Having roots in southern Chinese cuisine, different dialect groups each have their own version. Even amongst relatives and close friends whom I have discussed this dish with, there are variations and nuances to the ingredients used, to the method of preparation.

And this is true about many other dishes, of course, each family's recipe differing from the next. Amongst the Peranakans, Ngoh Hiang is favoured by the babas and Nyonya in Singapore, more so than those slightly north in Malacca.

Our trip down to Penang I have learned that their own version is called Lok Bak where strips of pork are used instead of minced pork in the southern ngoh hiang.

Just like I'd said earlier, there are a million and one ways of preparing ngoh hiang, each family's recipe differing from the next. Whichever recipe one uses, the freshness of the ingredients is important.

Choosing the right ingredients
Minced Pork
One of our main ingredients is the minced pork, it is important to have them in half-fat and half-meat. We always stare at the bruncher uncle and make sure we have the right potion. Under the watchful eye of our mother, we make sure that the meat was of the right consistency.
Prawn
As Angela is sensitive to prawn that is not fresh, we choose the fresher prawn we could get. We de-shell the prawn and minced them with our knife. (Don't throw away the prawn shell as you could use them to make a prawn broth!)
Five Spice Powder
Apart from the pork and prawns, the next most important ingredient to was the five-spice powder. Though we did not grind her own powder, we would insist on opening a fresh packet of a particular brand of five spice powder which came in little paper sachets each time we prepared a new batch of these yummy meat rolls to ensure that the filling would be as aromatic as it is tasty.
Bean-curd Skin
We got our bean-curd skin in our local wet market for a big piece at a price of $1.20. This bean-curd skin has a layer of salt on them, thus to avoid eating a salty ngoh hiang we will clean it lightly with wet cloth in tap motion to remove any excess salt or debris that might be sticking on it.
After all the ingredients like water chestnuts, onions, prawns, spring onion were cut and chopped into morsels of the right size, all that is left is to give everything a good mix! In the past, we'd use our hands to get everything properly amalgamated but in retrospect, a spoon would probably perform the task just as well .
How to roll the Five Spice Roll?
Now traditionally ngoh hiang are made into long rolls. I'd seen my mom who made them like half a foot long which was pretty much the standard.

However you could also make them in a mini shape which is no more than 6 cm long and almost hors d'oeuvre-like, greater ease of eating and no need for cutting. This will be the perfect snack size, and the end of it is much more crispy than usual.

Start by layering a sheet of bean-curd skin, then a generous dollop of filling is spread across the width of the beancurd skin leaving a small 1 cm perimeter near the edges. Fold the sides in, this is important to prevent the filling from leaking during the frying process.
Cooking the Five Spice Roll
Unlike others, we steam our Five Spice Roll before freezing or frying them.
Oil temperature control is important in the frying process. The oil should be sufficiently hot to prevent the meat rolls from absorbing too much oil. Yet, it cannot be too hot which would cause the skin to darken and brown too quickly before the filling is cooked through. It takes a bit of practice to get there.

Flip the meat rolls carefully to prevent the skin from tearing during the frying process. Once both sides are beautifully light golden brown, the fire is turned up slightly for just that few seconds to "purge" out any excess oil.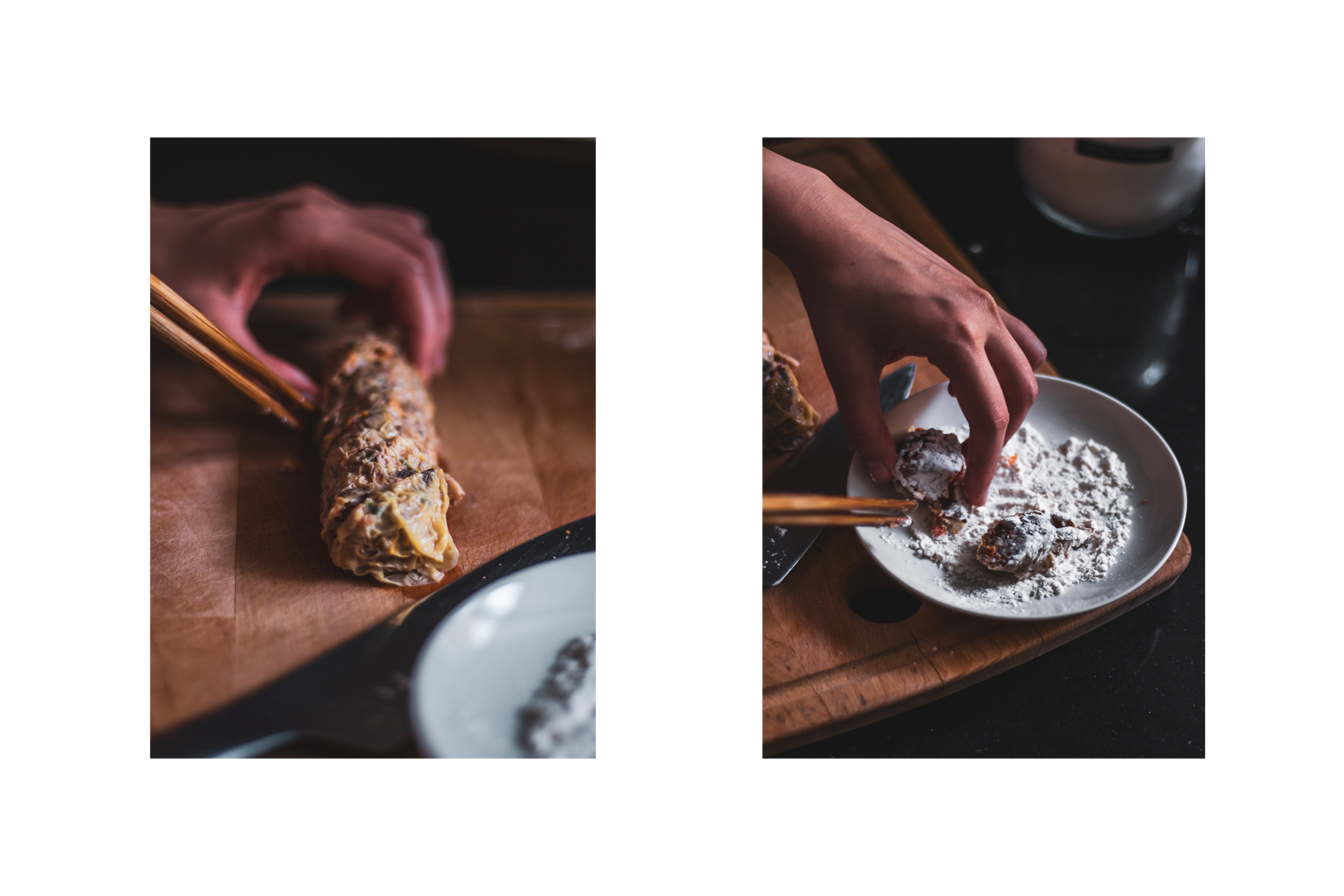 When the fried ngoh hiang has cooled down sufficiently, they are in fact good for eating already. But to make them even more special, sometimes she would slice the longer ones into thick pieces and pan fry them with an egg dip. I especially love the textures of the crispy egg wash against the moist and succulent filling as we sank our teeth into each morsel!
Ingredients |
600g minced pork (preferably with a fair bit of fat)
300g shrimp, meat only, cut into small chunks (save shells for other dishes like laksa lemak)
200g onions, peeled and diced (about 2-3 large onions)
200g water chestnut, peeled and diced (about 10 pieces)
40g spring onion, chopped (a few sprigs)
2 eggs
3-4 tbsp plain flour
1 1/2 tbsp five spice powder
1 tsp salt
2 tbsp white granulated sugar
1 tsp pepper
1 piece of ngoh hiang beancurd skin, cut into 10-12 cm wide strips
Cooking oil for frying
Method |

Mix all the filling ingredients in a large bowl until thoroughly mixed. Wipe the surface of the beancurd skin with a very slightly damp kitchen towel.
Wrap the ngoh hiang as shown in the gif tutorial above. Repeat until all the meat filling is used up.

In a heated wok, pour oil and maintain at medium-high heat. Carefully slide each roll of ngoh hiang into the wok of oil and fry one side until they are lightly brown. Turn the meat rolls gently onto the other side and fry until they are lightly brown. Turn them over once again and bring up the heat slightly and fry until they darken slightly to a light golden brown. Remove from wok, drain off excess oil in a wire sieve or rack and place them on a plate lined with a kitchen towel to absorb any remnant oil.

Serve warm with chili sauce and dark sweet sauce.
xoxo, Joe