For a long time, we have followed this lifestyle's YouTuber – Belinda Chen. We simply love how she embraces her every day, spending time cooking food while we order takeaway. She has this reel on Instagram about making an Azuki An Toast that looks really easy to make, as well as tasty and mouthwatering.

This Azuki An Toast consists of crispy toast, savoury butter and sweet homemade azuki red bean paste. This snack is inspired by the Japanese Ogura Toast (小倉トースト), which you can get with toasted bread topped with red bean paste, butter, and fresh whipped cream.
What do you need for Azuki An Toast?
This simple dish is comprised of 3 ingredients (bread, Anko and butter).
Bread: There are many kinds of bread, which in this case we use a thicker white bread. It's thick, fluffy, and slightly sweet white bread, also often called milk bread in the West. When you toast the bread, the crisp top makes it perfect for spreading toppings, while the inside remains moist, fluffy, and soft. It's literally heaven in bread form.
Anko: Anko is sweet azuki (red bean) paste. You can use Anko that is creamy and smooth or one that is a little more chunky depending on your preference. We use our homemade version for this recipe but you could also get one from the store.
Butter: Use good quality salted butter, it does make a difference.
There are mainly two types of red bean paste in Chinese cuisine – mashed and smooth. The key difference is whether it contains the bean husk or not.
Type of Red Bean Paste
There are mainly two types of red bean paste – mashed and smooth. The key difference is whether it contains the bean husk or not.

The mashed red bean paste is the most common for home cooking and is the one I include in the recipe below. You only need to boil the azuki beans with sugar until very soft, then smash them to the texture you prefer. The finished paste will have a consistent thick texture that is easy to shape and contains some whole and broken beans.
The smooth red bean paste is a bit of a hassle to make and normally can just be purchased from a Chinese or Japanese market. For the smooth paste, the azuki beans are boiled and mashed without adding sugar. The mashed beans are diluted into a slurry and then strained to remove the husk. To make the texture of bean paste smooth and gooey, a substantial amount of sugar and lard (or vegetable oil) will be blended into the paste. This is the reason you find that supermarket red bean paste has a better mouthfeel than the homemade kind.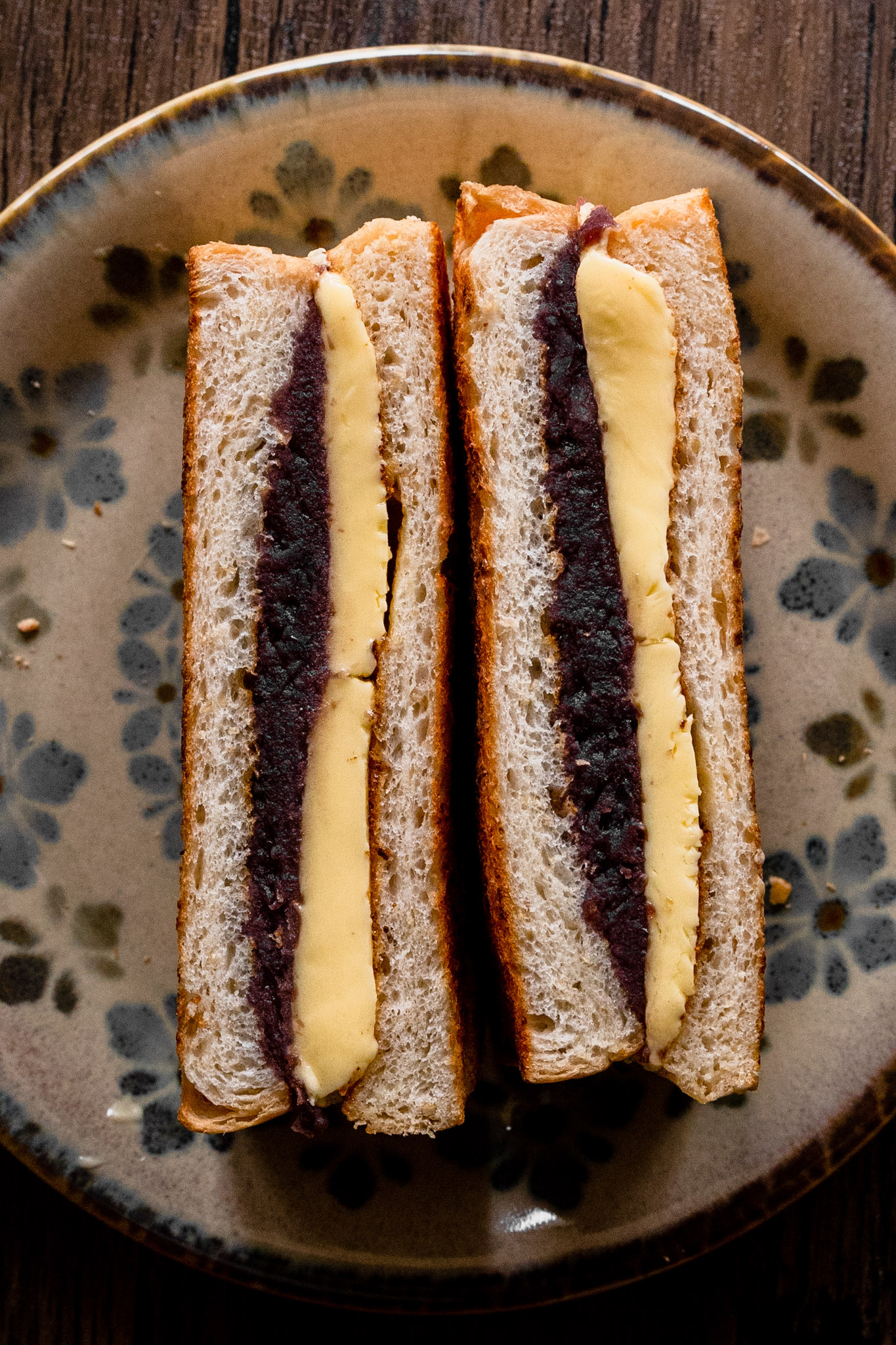 The result is a slightly sweet, flavorful breakfast. It's not too heavy and there are tons of health benefits associated with azuki, like fibre to improve digestion and high mineral content.

xoxo, Joe
Azuki An Toast
Ingredients
2 slices of white bread

2 slices of salted butter

4 tbsp Anko (red bean paste)
Methods
Toast the bread to your preference. Spread the Anko onto one side of the toast, while on the other lay your butter slice. Enjoy immediately, we like to half it.