The recipe for making tang yuan is a no-brainer really. It always helps to relive a childhood memory where we used to play with glutinous rice doughs as well!

I remember it was the time when we had to use plasticine quite a bit for art & craft class to make all sorts of small things out of them. Plasticine was stinky and our hands frequently got really dirty after fooling around too much with it. PlayDoh was just becoming fashionable in the toys department but we couldn't afford it of course. So the best way which my mum thought of was to let us play with a simple dough made with just glutinous rice flour and warm water!

I see a lot of my cooking and baking kakis giving that to their kids nowadays to play with since it is really safe, being food after all! Wonder if they too had similar fun experiences as I had when I was a kid playing and shaping glutinous rice doughs.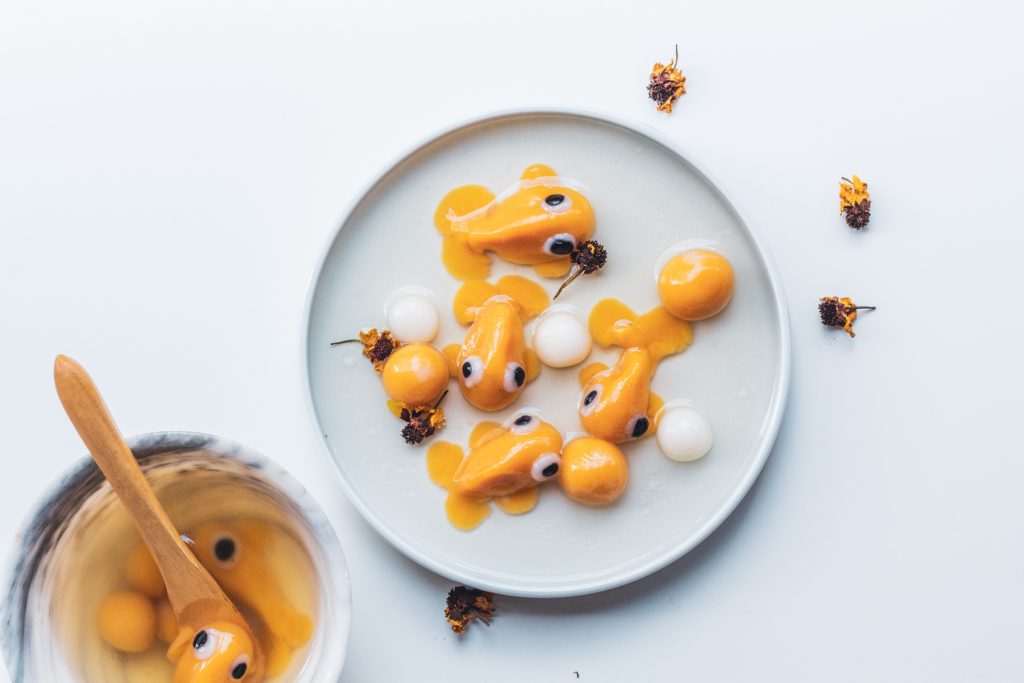 I'd always been wanting to make some goldfish tangyuan because of the idioms 年年有余 symbolist that every new of the year there will still be food on our table.
Rolling glutinous rice dough into tangyuan is really easy but shaping it at will requires a bit more practice I think. For coloration, I'd decided to go all-natural as well, using carrot juice for the orange bodies and charcoal powder for the eyes. Playing with the glutinous rice dough this afternoon was really like walking down memory lane for me.
Keep the unused dough covered with a damp cloth to keep it soft, as the dough dries out fairly quickly and soon becomes crumbly. But it can always be reconstituted and soften with a dab of warm water ready in a small bowl at hand. I don't play with fondant so I don't have a decent set of tools as some of my friends do. I would have imagined it to be much easier with those tools but I just have to make do with whatever there is in the house. In fact, I'd only used 3 things… a toothpick, a disposable plastic spoon, and a fruit knife. Glad the fishes turned out decent somewhat and what was more important was, it was a lot of fun!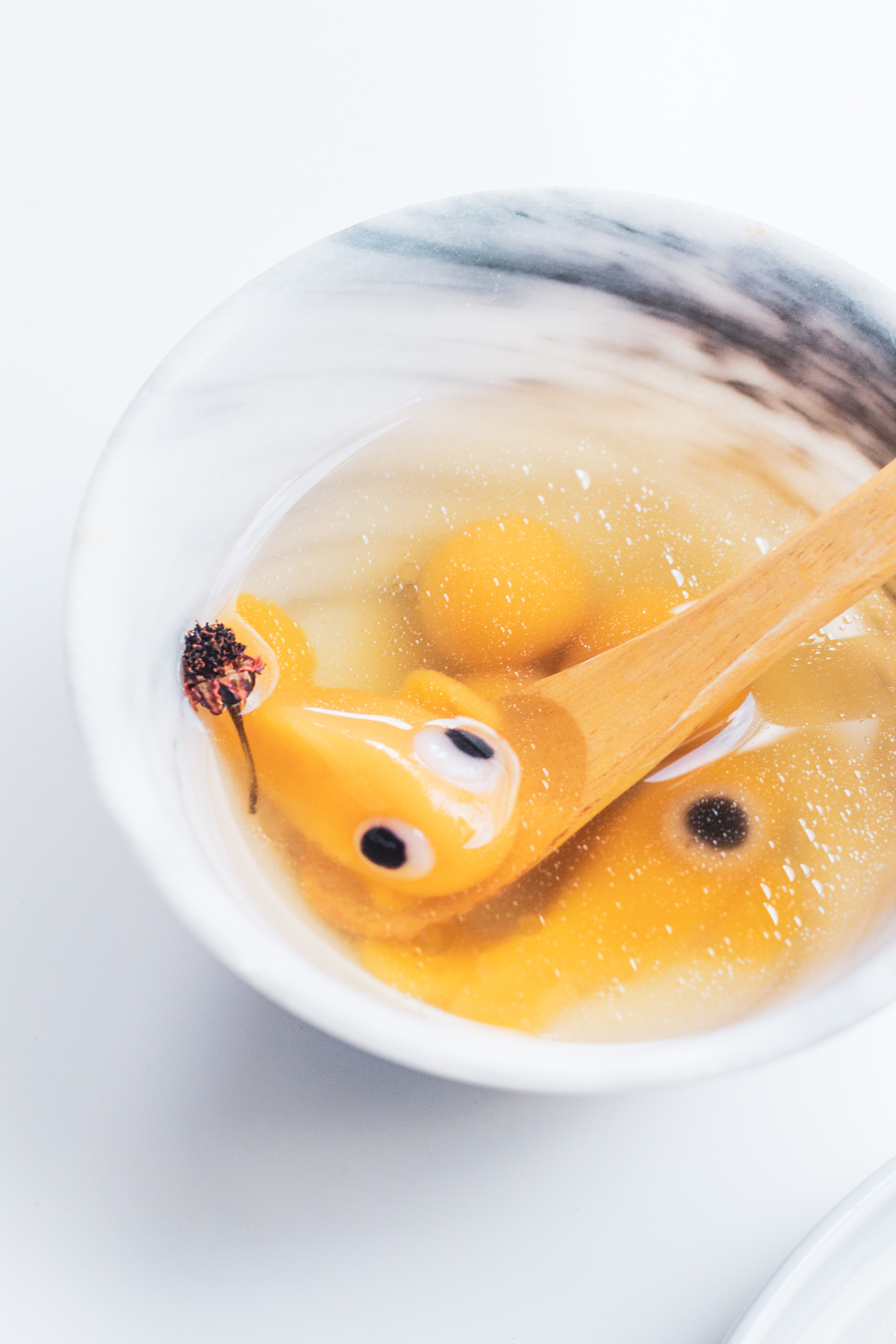 The recipe for the glutinous rice dough as I'd mentioned is very easy to remember. It's just about 100g of glutinous rice flour to 70-80g of lukewarm water give and take. Always have extra flour and warm water at hand to adjust the texture and elasticity of the dough as required. I was in the "trying out" mood and didn't weigh the carrot juice, charcoal powder, as well as the extra flour used. I would probably do that next time with a frame-to-frame tutorial on how the fishies are being done.

Usually, we make tang yuan during the tang chek, however now and then we will make them when we have a gathering as tang yuan represent reunion. I always love making them because of all the wonderful memories I had when my mother and grandmother, as they got busy with the mixing and rolling while we kids fool and mess around in the kitchen. So please get your children or even your spouse and friends engaged in this really easy hands-on activity!
Happy Lunar New Year everyone!
Goldfish Tang Yuan (Sweet Dumpling)
Ingredients
100g of glutinous rice

70g of luke warm water

4 tbsp of carrot juice

panda leave

rock sugar
Methods
Combine the glutinous rice, water and carrot juice in a mixing bowl. Mix well and knead it into a dough. Make into the shape you want.
Boil a pot of water with panda leaves and rock sugar for the soup. When boiled cook the tang yuan. I will be cook when it float up.