Nian Gao 年糕, Chinese New Year's sweet rice cake. It symbolises progress, advancement, and growth. Nián (年) means "year," and "gāo" (糕) is a homonym for "gāo" (高), it considered good luck to eat Nian Gao because it has the symbolism of increasing prosperity every year.

Ever since we were a kid, our family inevitably buys or makes this treat for the Chinese New Year celebration, in the hopes of having a better year ahead. It's also a popular gift to give when visiting family and friends during the festive season. Traditionally, our grandma will just dip the Nian Gao (we got from the store) with egg wash and pan-fried it. While our mom preferred to steam or pan-fried it with root vegetables like sweet potatoes or yam.

Honestly, the block of Nian Gao is not quite appetizing. We promise that it is very delicious so don't judge the book by its cover! Just to let you know, you might fall in love with this piece of Sweet Niao Gao sandwich instantly.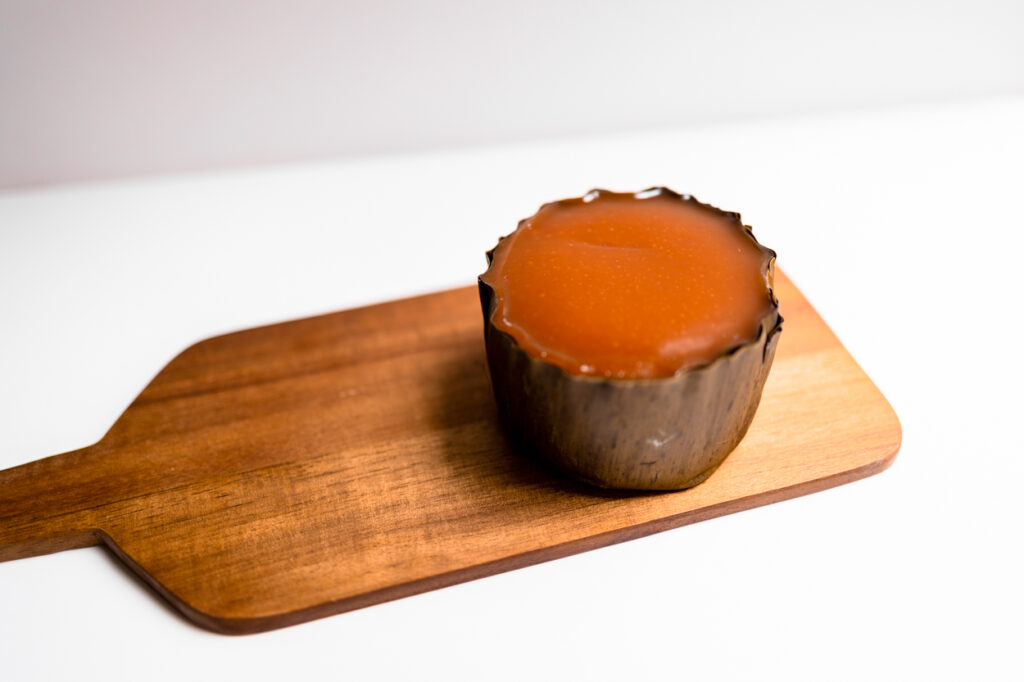 Nian Gao 年糕
Making Nian Gao from starch it's tedious but it can simply do it at home. The basic ingredient that you require is banana leaves, glutinous rice flour, water and brown sugar. These ingredients are easily found at the market or supermart.

Place the water and brown sugar in a small saucepan and heat until the sugar completely dissolves. Remove from the heat and let cool. Sift the glutinous rice flour into the sugar syrup, and whisk until a smooth batter forms. Pour the batter into the lined ramekins, cover them with a lid or cloth (to prevent water from dripping in), then steam on high heat for 3 hours, until the Nian Gao is a deep caramel brown and firm to the touch. When done, remove it from the steamer and let it cool down. Keep refrigerated for at least 3 days (or up to two weeks) to let it fully set and firm up.
This is the easiest step. Grab the ingredients and assemble them into sandwiches. They are slices of nian gāo sandwiched between slices of taro and sweet potatoes dipped in batter. We coated them with sesame batter to give them a crispy and crunchy texture.
Nian Gao Crispy Batter
Most batter recipes used to make this nian gao sweet potato sandwich have eggs. Not that we have anything against eggs, but we have my favourite crispy batter that stays crispy recipe that is light and crispy. So we used it as the batter for this recipe. You only need flour, rice flour, ice-cold water, salt, baking powder. You can read all the details on why this crispy batter recipe works on the link above too.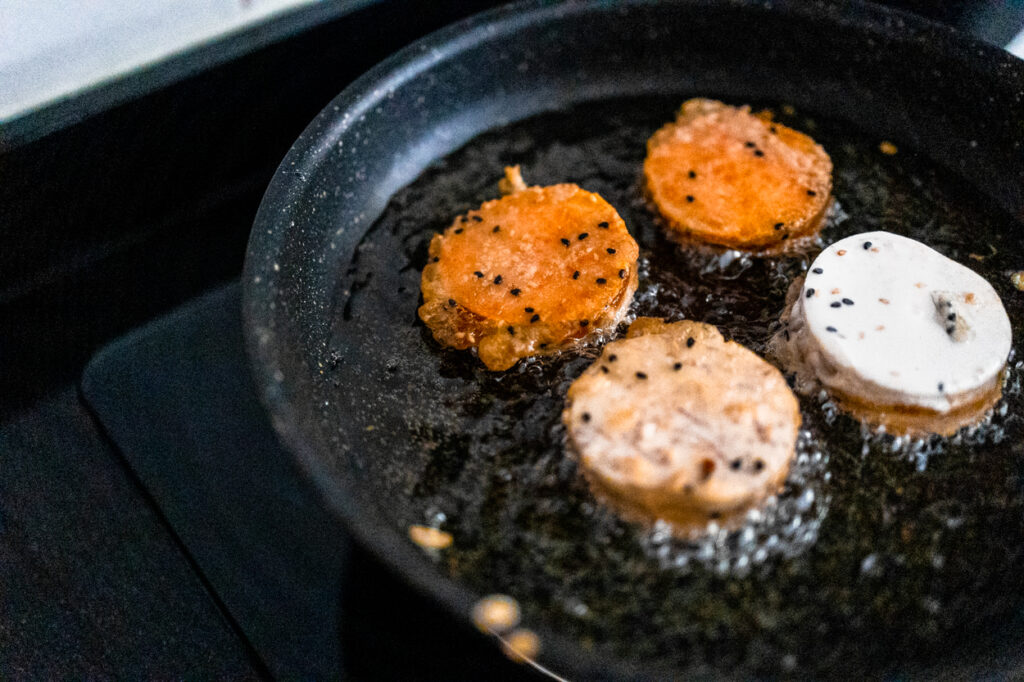 What do you need to know?
1. Don't use fresh nian gao
Freshly made nian gao is very sticky, stretchy and difficult to cut. Nian gao usually can be kept at room temperature for 3 days or sometimes up to 7 days. After that, I like to store them in the refrigerator (up to 6 months). They will get really firm after you store in the refrigerator and very easy to slice to make this recipe after that
2. Check your baking powder
Baking powder is used to make the batter airy in this recipe. Make sure your baking powder is still good. You can check its freshness by taking 1/2 tsp of baking powder and pour 1/4 cup of boiling water over it. If it bubbles up violently, you are good to go, if not, you need to toss it away
3. Only prepare the batter when you are ready to fry
Do not prepare the batter ahead and let it sit around. Only pour the ice-cold water into the flour mixture when your oil is ready to fry and sandwiches are waiting to be dipped into the batter. This will ensure your fried products won't end up getting soggy fast and absorbs too much oil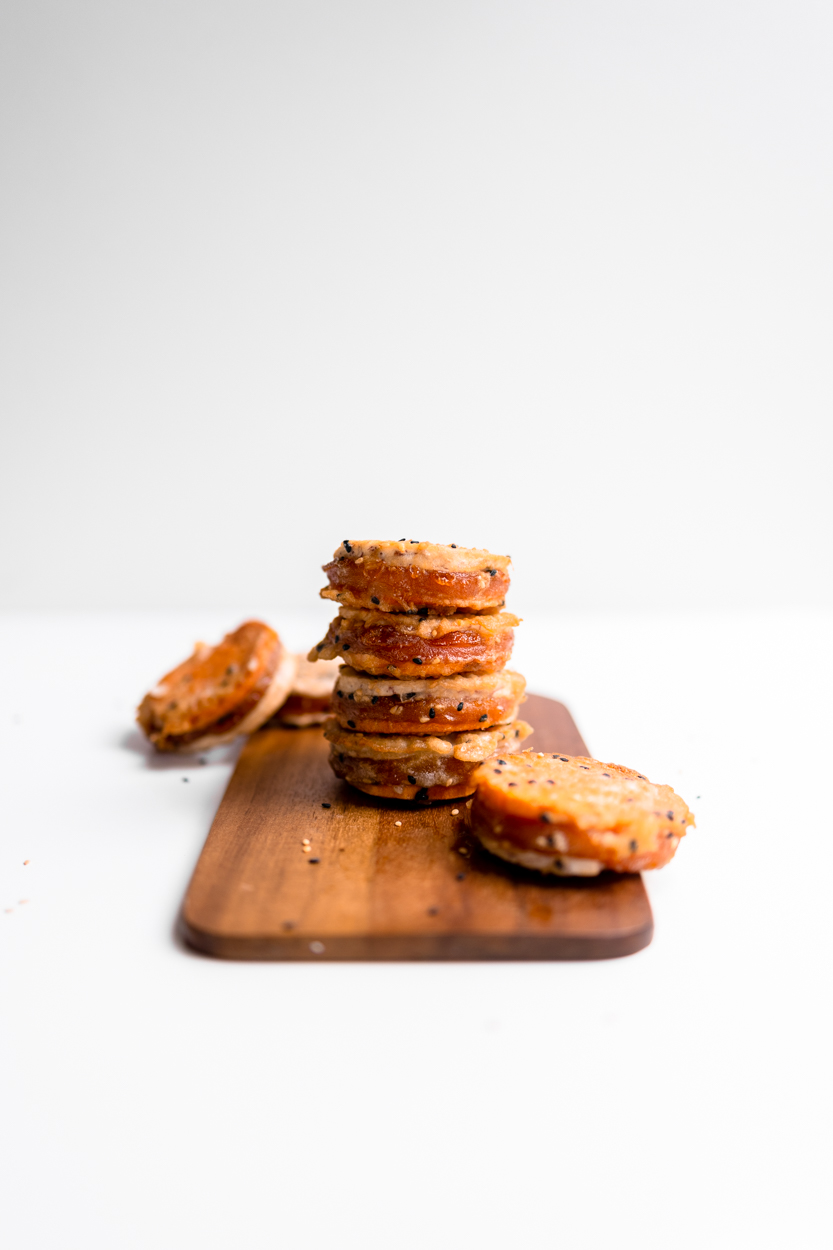 Nian gao and sweet potato slices are made into sandwiches and then deep-fried with an eggless crispy batter are perfect for using up the leftover nian gao. Perfect for gluten-free and vegans too. If you making this, don't forget to tag us on Instagram as @leplaincanvas and use the #byplaincanvas hashtag. We love seeing your takes on our recipes!

xoxo, Angela
Pan-Fried Nian Gao Sandwich
Ingredients
½ taro (peeled and cut into 8 semi-circle slices of 1/8-inch thick)

1 large sweet potato (peeled and cut lengthwise into 8 slices of 1/8-inch thick)

8 slices nian gao (about ¼-inch thick)

Vegetable oil for frying

Batter

1 cup rice flour (130g)

1/2 cup of rice flour

black and white saseme

½ tsp salt

½ tsp baking powder

½ cup water (120ml)
Methods
Prepare nian gao and sweet potato:
Cut nian gao and sweet potato into about 1/4-inch slices and about the same size. We use a round chop for this step, you can cut it into square or even rectangular if you prefer.
Prepare the crispy batter:
Once you have that ready. Prepare the crispy batter by mixing the flour, salt, and baking powder and whisk to mix
Preheat about 1-inch of cooking oil for deep-frying. When you are ready to fry, pour the ice-cold water into the flour mixture and whisk to mix until combined
Frying:
Once the oil is hot, lower the heat to medium, pick up the sandwich and coat it with the batter and fry until golden brown or the sweet potatoes are cooked through about 3-4 minutes. Make sure the heat is not too high or the outside will brown too quickly before the inside cooked through
Remove and place on an absorbent paper towel, repeat with frying another 3-4 at a time. Place the fried nian gao on a cooling rack in the oven to keep them warm while you are frying the rest. The nian gao sandwich will stay crispy for roughly about one hour at room temperature