Lately, the rising of the temperature makes you feel flushed and burning all the time. Wondering what to drink to stop the thirst through the hot summer? Below you will see our top favourite fruits to be used in the summer, assorted citrus (orange, lemon, lime), peach, and strawberry. You could also see our favourite ways of using soda water and sparkling water for the drinks. So here are our Top 10 Refreshing Summer Drinks that we always like to rotate the drinks for the summer!
Peaches are one of the fruits we love to have during the summer, not only does it taste good, the colour of the peach in the drink just made our day. Peaches add sweet, mellow roundness to traditional lemonade for a refreshing summertime beverage.

For this Cajun Peach Lemonade recipe, you can make the peach syrup ahead and store them in the fridge. When you are ready to enjoy them, simply rim the glass with some cajun spice and it's inevitably going to sprinkle down into your drink, giving it the perfect amount of spiciness. Stir in white rum or bourbon for the grown-ups!
Limequats Sparkling Water with Honey will be the instant cure for your dry throat and immediately reduce your body heat. While many don't know actually limequat helps to quench our thirst when we are thirsty and hot for the summer. Unlike drinking harmful artificial drinks to quenches our thirst, the summer drink can help you make your best choice, even though scorching temperatures.
Matcha has always been our favourite ingredient to be used in food and even drinks. Not that it tastes nice it also have good benefits for our body. You can make use of matcha to spruce up your soda or sparkling water – Sparkling Matcha Green Tea. It's made with matcha tea powder and soda or sparkling water for a bubbly and refreshing drink. You only need a few minutes to create this drink and it's absolutely perfect for warm days when you don't feel like sipping hot matcha tea.
The weather is really bad during this time of the year. It is hot and humid and gets rains from time to time in Singapore. We always have this traditional Chinese home remedy for cough relief as this Summer Fruits Drink is inspired by it.

Steamed or boiled pear with rock sugar is a delightful dessert very easy to prepare. This time we added in our favourite fruit making it more flavourful. Usually, all you need is a pear, but we added apple, lemon, dates and rosemary for more flavour. The original recipe is to serve the drink warm, but you can leave it cold in the fridge for this summer too.
You can never think of making Thai Mango Sticky Rice into a drink, but surprisingly it works well. Thai Mango Sticky Rice is a sweet snack that combines the richness of sticky rice, the sweetness of ripe mangoes and the creaminess of coconut milk. However, rather than eating them, we will be enjoying them as a drink. Turning the sweet dessert into a refreshing drink for the summer. It consists of mango white tea, topped with coconut cream, sticky rice ball, vanilla ice cream and mango. It is refreshing and tasty at the same time.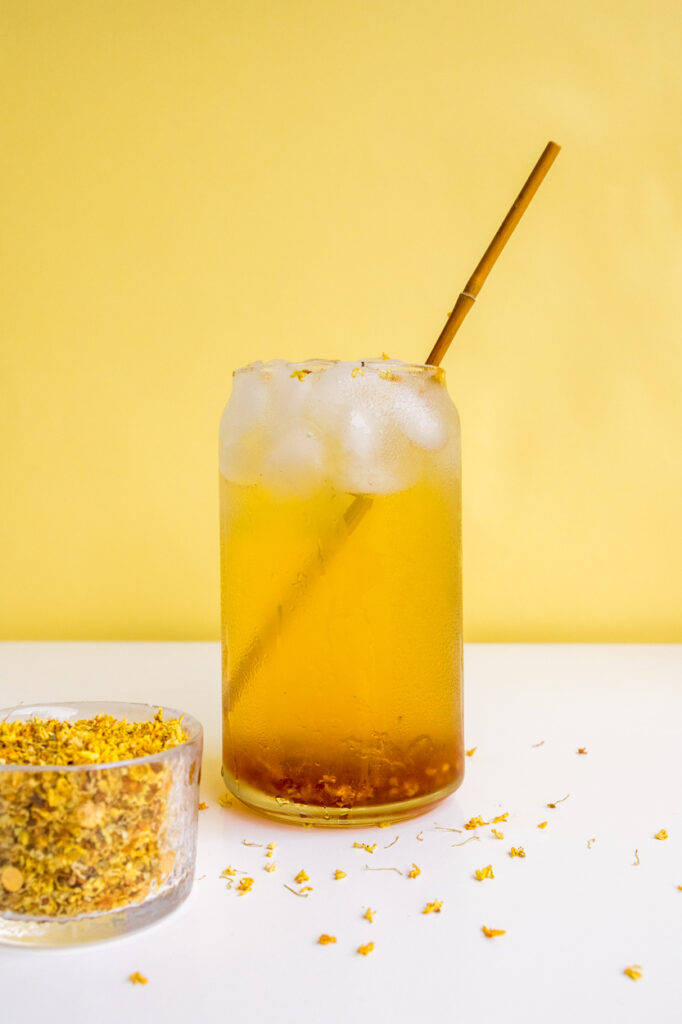 The Osmanthus is good to have during this hot and wet season, it is the best natural remedy to keep at home. It is a well-known herb that can improve skin, detoxify the body, reduce thick saliva in the throat and boost lung health. It is great for all seasons, Osmanthus tea is often consumed when one suffers from dry skin or hoarseness.

Thus this Sweet Osmanthus Soda will be the prettiest and simple beverage to serve during this humid weather or the hot Summer. All you need is the homemade Osmanthus Sugar (aka Honey Syrup) and you can make this glass of sweet osmanthus soda in the least 5 minutes.
Not many are a fan of all kinds of fruits, for us, kiwi and pineapple are a no-no, as they always left a tangy feel on our tongue. However, kiwi is a delicious fruit with a unique taste. The green kiwi juice has a tangy taste that is great for making a refreshing Kiwi Soda. For a deeper taste experience, we pair it with lime and mint. Green kiwi juice can be very sour and you need to balance the sour taste with some sort of sweetness. We use soda compared to the usual sparkling water.
Food is like an art, there is no 100% of procedure to follow. Coffee is like a cocktail, a good mix you will get a glass of magic. While lately, we realised coffee and fruit juice share the cup in a most refreshing twist – you will be in love with this Green Citrus Coffee. Ready yet, to embrace the joy of mixology. 
What could be finer than this summery Strawberry Gin Smash? This wonderful recipe comes from my favourite the Kitchn with its brilliant ideas. According to to the Kitchn a 'smash' is a 'thing'. It is a cocktail involving herbs, sugar, fruit, and booze – which ones seem to be up to you. This pretty drink speaks for itself, with its super tasty mixture of lime, sugar, strawberries, gin, and a fashionable mint sprig garnish.
Lemon is one of those juice that just goes down so easily, especially on a hot day with friends. So why not use lemon as a base for punch? That's exactly what we have done with this number. Think mildly boozy, bubbly adult lemonade with a soft earl grey undertone. Since this is a punch, you can use an ice ring to freeze a large block of ice; otherwise standard cubes work, too (We like to freeze fruit and herb in the ice). This is a good drink for a party in the summer.
Here are our top 10 favourite refreshing drinks for the summer. We hope you enjoy them like we enjoy our summer.
xoxo, Joe