As you know we have been trying to improve our diet for the past year by introducing healthier options such as vegan, replacing our refined with grain, choosing a healthier cooking method and more. In the past year, my knowledge of vegan food is minimal, I always thought they are plain. However, as time passes when we learn more about it, there are days we could replace them with our meat. This time we pick up another new ingredient – the tempeh.

Wondering what tempeh is and how to cook it? We've got you covered with this simple guide! We're covering everything from what tempeh is made of, how to prep tempeh with one of our favourite recipie.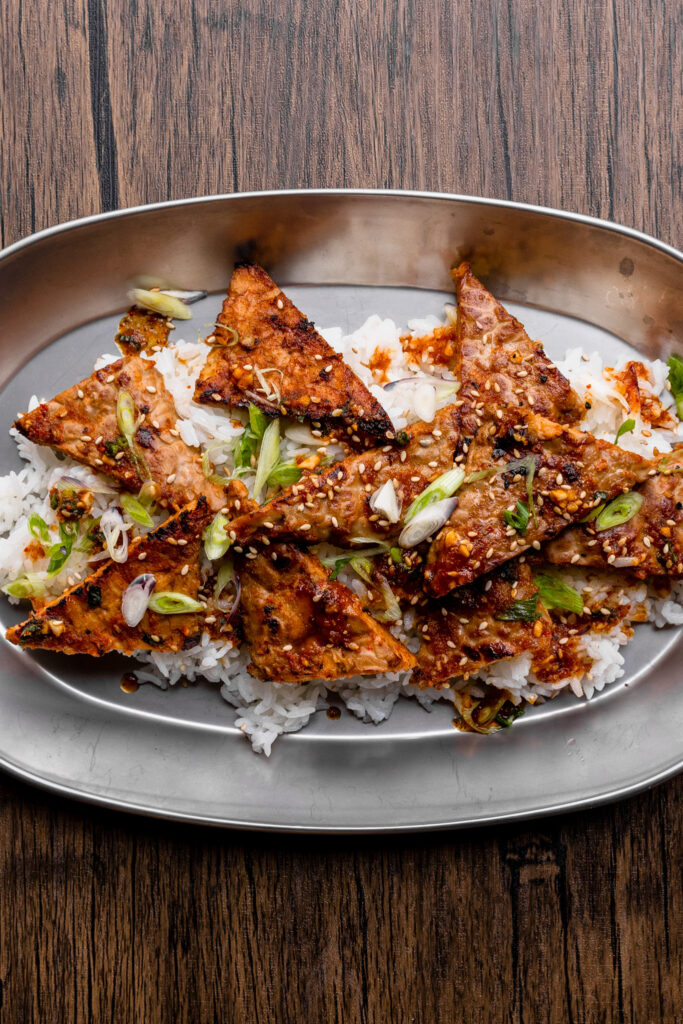 What is Tempeh?
Tempeh is a fermented soybean-based protein source. It kind of looks like someone mashed together a bunch of beans and then baked it into a cake. The texture is firm enough to be sliced or crumbled easily. Tempeh has a very mild flavour and is almost flavourless when it is uncooked. Nevertheless, it absorbs marinades and flavours well, and if prepared properly, tastes amazing!
Tempeh vs Tofu
Initially, we thought tempeh and tofu were the same things when we started eating less meat and exploring vegetarian protein options. Both sources of protein are derived from soy, but they're quite different.

Tofu is made from fermented soy milk, but tempeh is made from fermented soybeans that are pressed tightly into a compacted bar. Store-bought tempeh is typically made with three main ingredients: soybeans, water, and brown rice.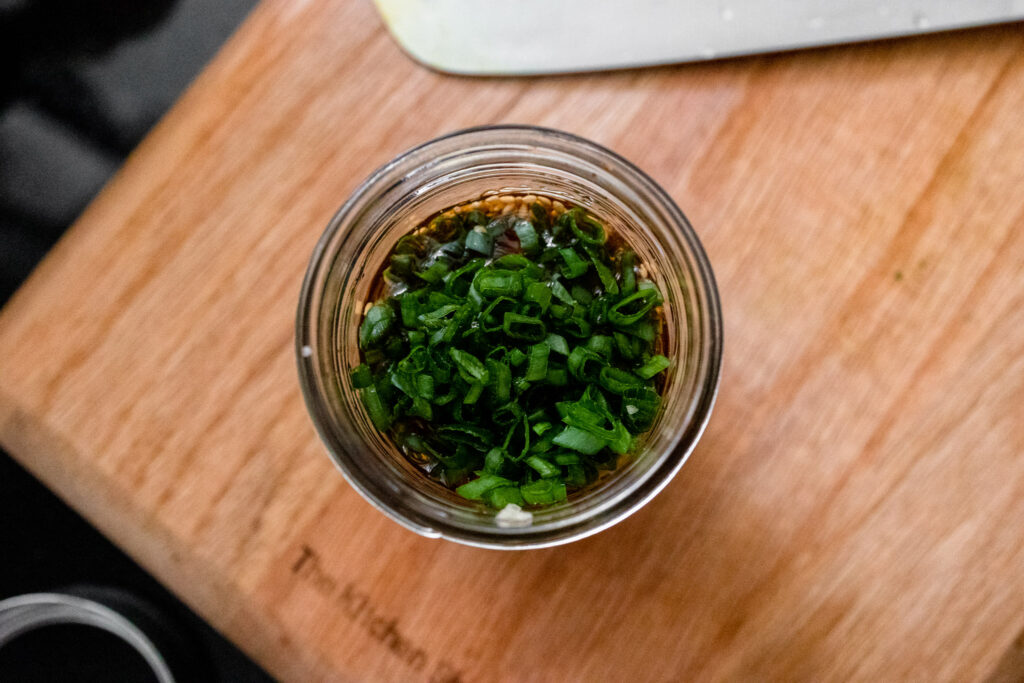 Easy Homemade Korean Barbeque Marination
As we mentioned, tempeh has a nutty-mushroom flavour as opposed to tofu. Using spices to create marinades that have strong flavours is the key. This Korean BBQ marinade is sweet, salty, and full of Asian flavours. To make the marinade, whisk together all the ingredients in a bowl. You can also use a mason jar and shake up all the ingredients together.
How to cook the Tempeh?
The tempeh can be cooked in many different ways. The most popular way to prepare it is to pan-fry it, but the recipes below offer a few different methods including frying, baking, and even air-frying it. Cooking Tempeh is very simple and requires little prep work.
First, you'll want to cut the tempeh. There's really no right or wrong way to do this and the only difference that it will make is in the cooking time. This time we cut them into triangles, however, you can also cube or crumble them.
Tempeh Marination. Marinating tempeh isn't always necessary. We prefer marinating it first if we are cooking it on its own with little or no sauce. However, if we are mixing it into a sauce, soup, or something with many flavours, we don't always bother. This time we made a Korean barbeque sauce for marination (refer to the recipe below)

We've marinated tempeh for 10 minutes, 30 minutes and overnight. They all work but obviously, the longer you let it marinade the more flavourful the tempeh will be. Do know to marinate them overnight if you don't want them to be too salty.
Cook the tempeh. To pan-fry tempeh add a little oil to a skillet and set over medium heat. Once hot, add in the tempeh and cook until browned on all sides. About 10-12 minutes total. You can also bake tempeh, place the tempeh on a lined or greased baking sheet and bake for 15-20 minutes, flipping halfway through. The bake time will depend largely on the size that you cut the tempeh.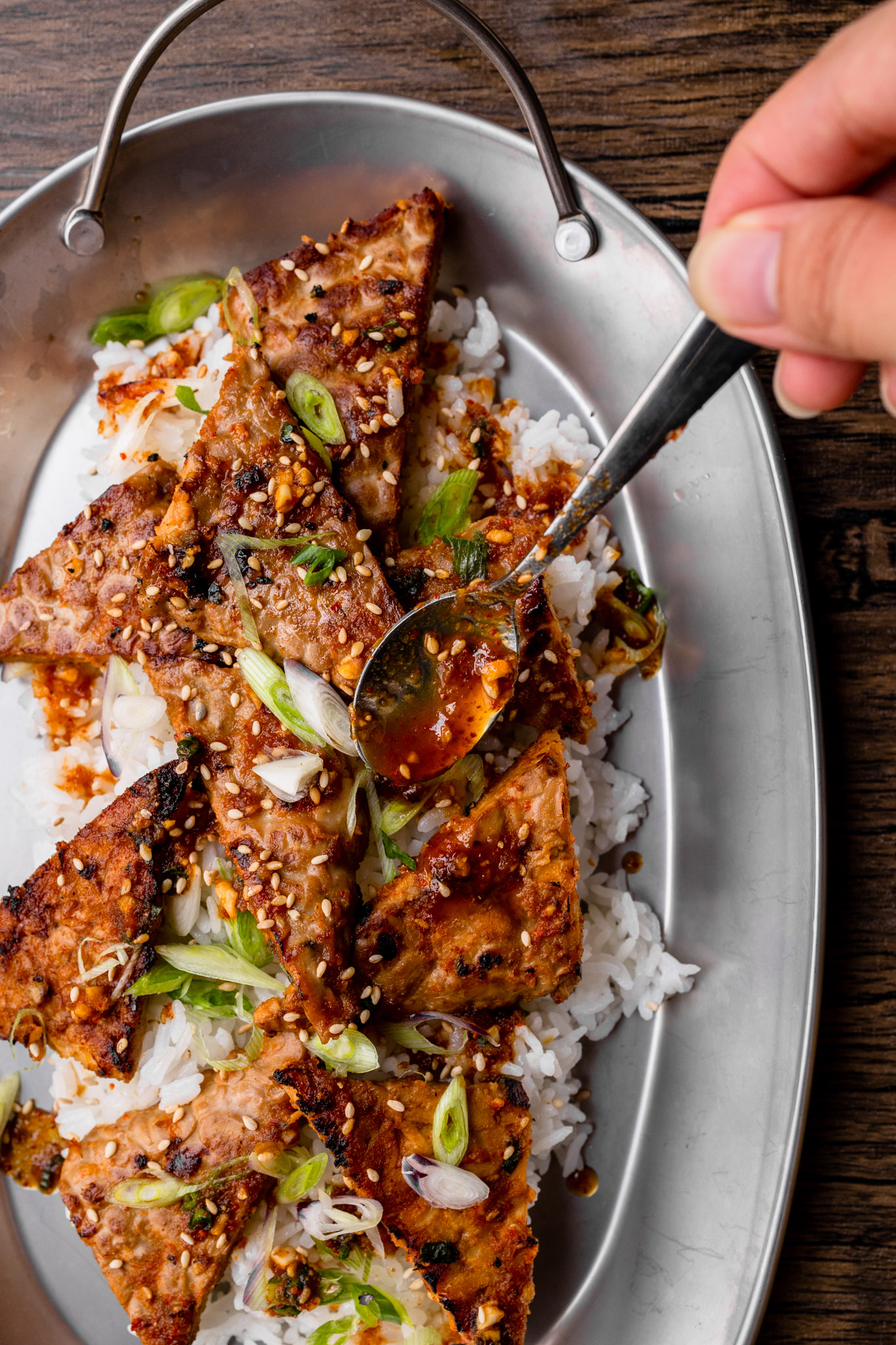 If you recreate any of these Korean Marinate Tempeh with Rice let us know how you liked it by leaving a comment and rating below or by tagging us on Instagram, we love seeing all of your tasty recreations!

xoxo, Joe
Korean Marinade Tempeh with Rice
Ingredients
1 package of tempeh, roughly 8 oz

cooked rice

scallion, for garnish

sesame seed, for garnish

Korean BBQ Marination

1/4 cup low sodium tamari (60ml // or soy sauce)

2 tbsp coconut sugar (24g)

1 tbsp sesame oil (15g)

1 scallion, chopped (10g)

3 tbsp apple sauce (45g)

3 minced garlic cloves (9g)

½ tbsp sesame seeds (7g)

1 tbsp grated ginger (15g)

1 tsp black pepper

½ tsp Korean red pepper flakes, optional
Methods
Prepare the tempeh by cutting it into cubes, triangles, or thin slices.
Add all the ingredients into a bowl and stir until combined. Alternatively, add all the ingredients into an airtight jar and shake until combined. You can either store the marinade in the refrigerator or freezer as is or marinate the tempeh. 
Add marinade over tempeh in a freezer-safe container or bag and toss until tempeh is fully coated in the marinade. Each marinade is enough for one package of tempeh. Refrigerate and let the tempeh marinate for at least 30 minutes.
To pan-fry tempeh add a little oil to a skillet and set over medium heat. Once hot, add in the tempeh and cook until browned on all sides. About 10-12 minutes total.
When it is done, served it over the rice and garnish it with scallion and sesame seeds. You can drizzle over more sauce if you like.