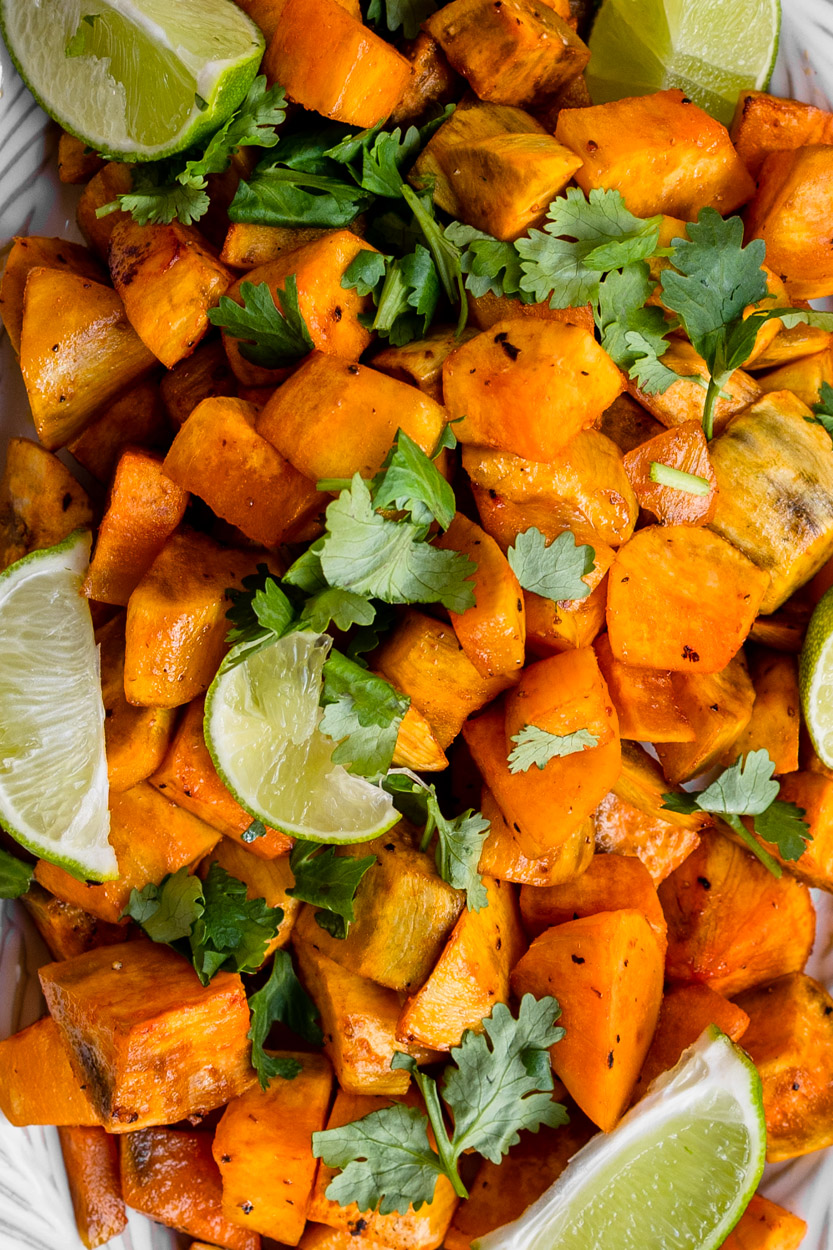 While we have been meat eaters for many years, we are still very new to going vegan. For now, our vegan diet consists of potato, tempeh, and lots of tofu. However, even with only just these 3 ingredients, there are many ways and flavours we can make use of and have fun enjoying them. Here are our Top 8 Vegan Recipes for the Fall!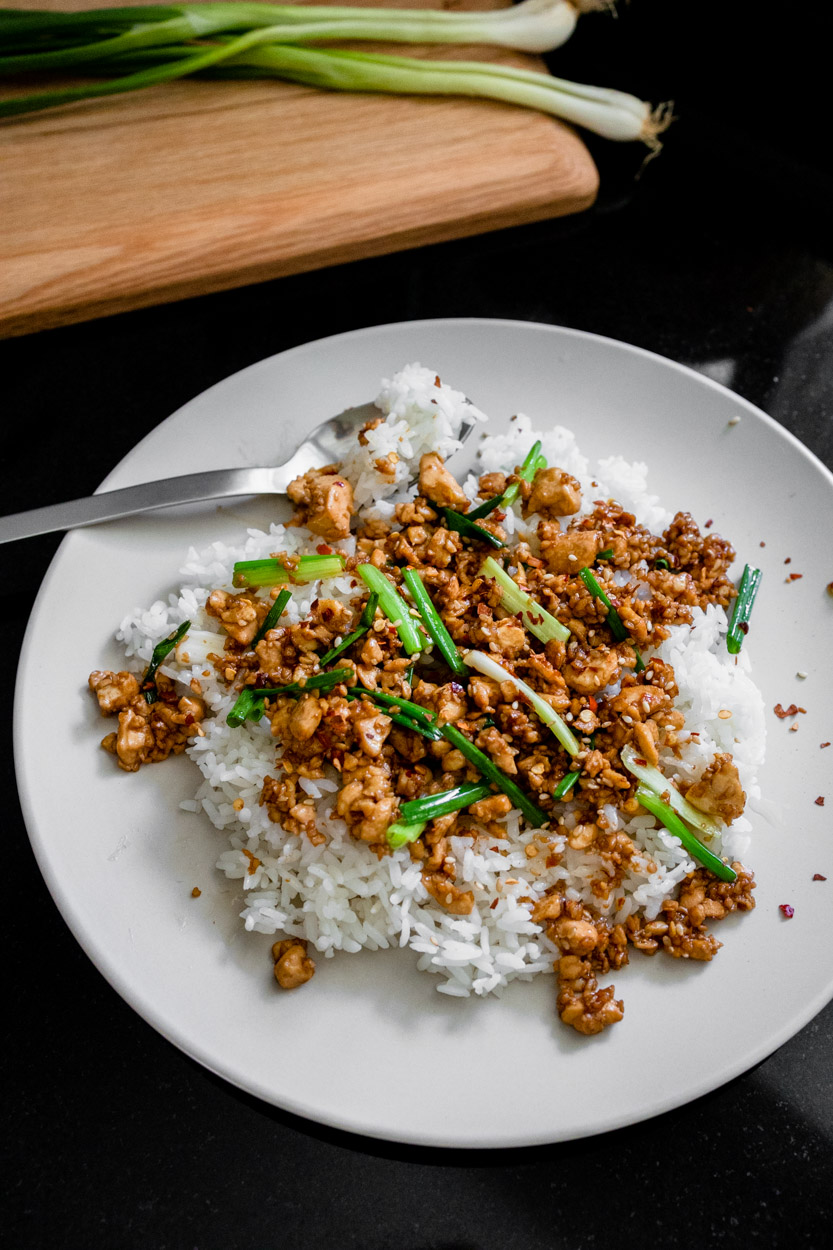 You will fall in love with this Soy and Scallion Tofu bowl instantly. If you are a vegan or decide to have a meatless Monday (just like Angela), this recipe shows you how to make tofu taste like teriyaki meat without a fuss. You can enjoy the juiciest, well-seasoned bowl without worrying about your plant-based meal tasting like grass.

The crispy-crumbly texture and the juicy, savoury flavours of this simple tofu stir-fry are oh-so-lovable. Scooped over a pillowy bowl of steaming white rice, it's a new (to us) kind of comfort food and we are all about it.
Sweet potatoes are a staple food in many parts of the world. They are a good source of fibre and potassium, When did you first decide to let sweet potato slide into your diet, forcing some old buddies out? I know people who did it for the hype of how healthy sweet potatoes are (usually compared to potatoes). It's higher in fibre, and lower in Glycemic Index(half of the potato's value), and because it was once overlooked, its mauve-orange appearance feels fresh and chic.
Teriyaki Tempeh Rice – this recipe comes together in just 15 minutes and is sure to be a crowd-pleaser in your home! It's packed with flavour and has a ton of plant-based protein. I'm glad the pictures now reflect how absolutely delicious this recipe is!

This is a healthy, vegetarian/vegan take on beef and bak coy, my Chinese take-out dish of choice growing up. It's just as delicious and satisfying! And like most of the dinner recipes you'll find here, this one is pretty easy to toss together — no cooking experience needed. Everything is cooked in one skillet so you don't have to worry about cleaning a bunch of dishes either. Hooray!
Years back we tested our very first spam musubi and ever since it has been our favourite to-go snack/ quick bite for the lunch. However, we couldn't enjoy it as much as we could as spam is one of the unhealthy options and not to mention it is kind of overpriced. Therefore, with A vegan twist on the classic spam musubi, this tofu musubi will win over our hearts!
For those who don't know what is spam musubi, it is basically big sushi with spam on it with seaweed wrapping over it. You could prepare it ahead without the seaweed and refrigerate it for the next day. Although, we are sure that you won't keep any after you did it. All you need is to microwave it for 30 seconds and wrap the seaweed over like an onigiri.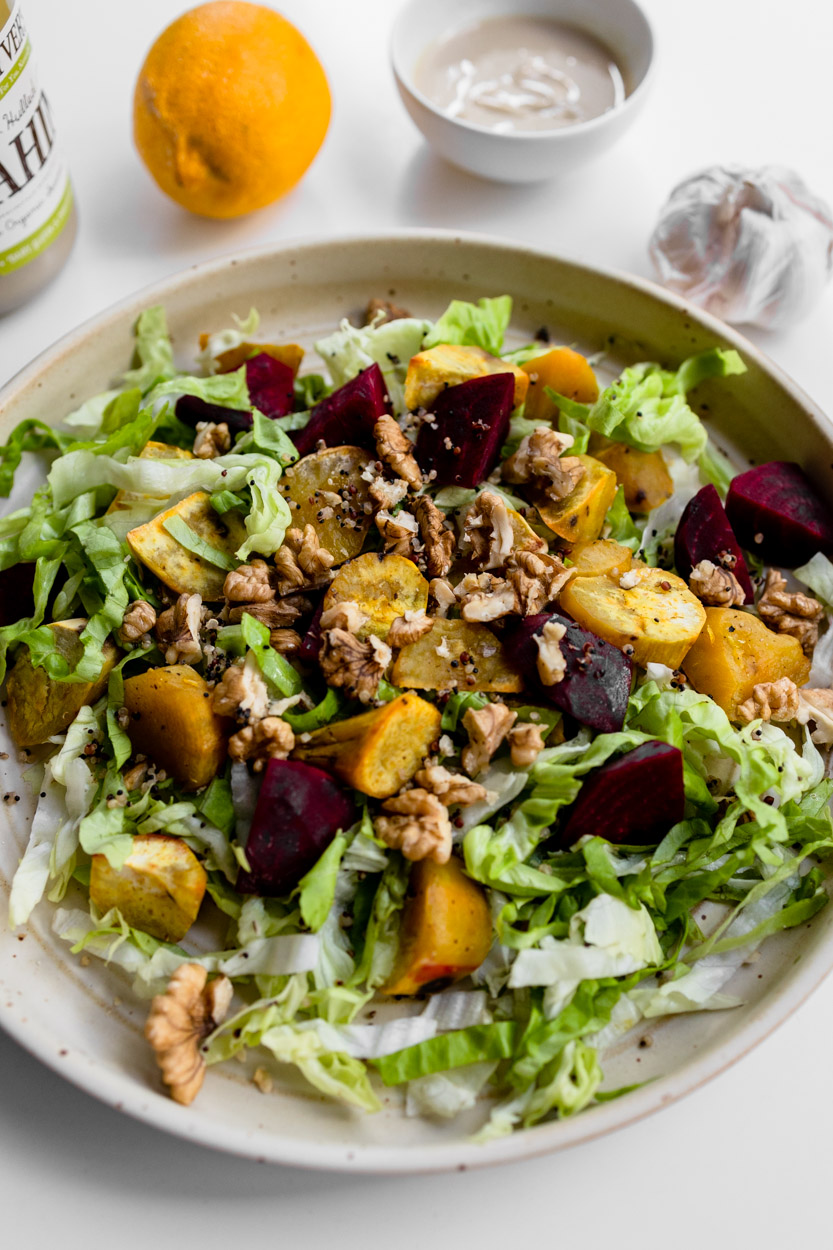 This colourful Fall Harvest Salad combines so many great textures and autumn flavours. Loaded with roasted sweet potato, fresh crisp beetroot, quinoa, and toasted walnut, this fall salad is tossed with lettuce and a delicious homemade tahini lemon dressing. It's healthy, wholesome, nourishing, and filling. Plus, it's a gorgeous and colourful salad to put on your holiday table this year. Enjoy this for dinner and save the leftovers for lunch the next day!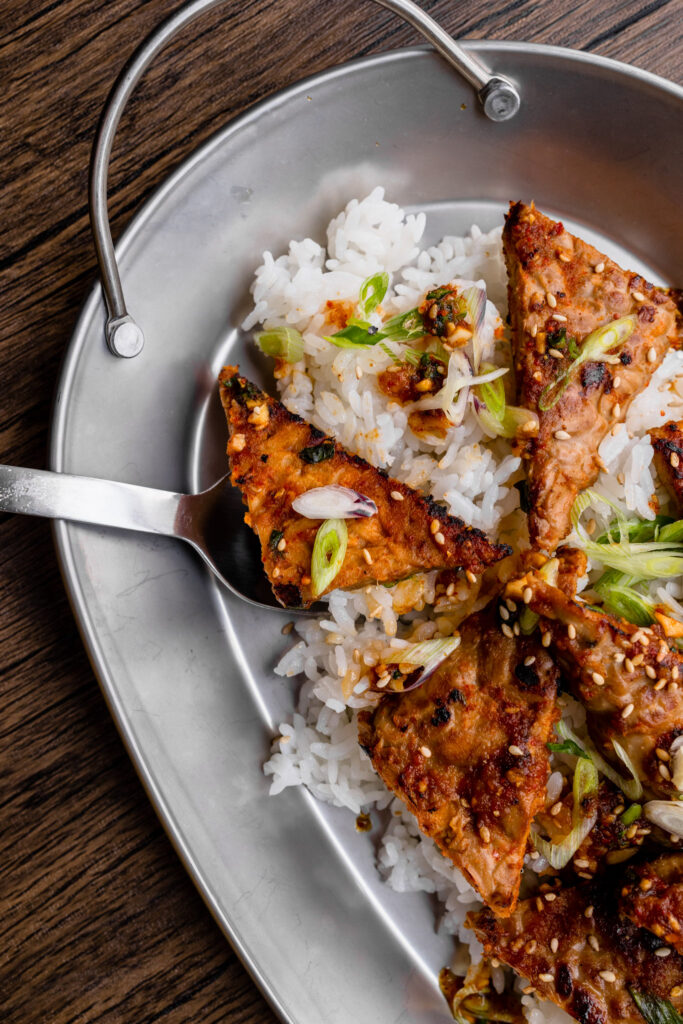 As you know we have been trying to improve our diet for the past year by introducing healthier options such as vegan, replacing our refined with grain, choosing a healthier cooking method and more. In the past year, my knowledge of vegan food is minimal, I always thought they are plain. However, as time passes and we learn more about it, there are days we could replace them with our meat. This time we pick up another new ingredient – tempeh.

As we mentioned, tempeh has a nutty-mushroom flavour as opposed to tofu. Using spices to create marinades that have strong flavours is the key. This Korean BBQ marinade is sweet, salty, and full of Asian flavours. To make the marinade, whisk together all the ingredients in a bowl. You can also use a mason jar and shake up all the ingredients together.
This vegan pasta bake is everything you want from a saucy cheesy pasta dish! it's a firm favourite in our house and for a good reason! With colder days creeping up we crave comforting meals that are delicious and easy to make. This is actually one of Angela's signature dishes so she's the inspiration behind it, and we've tweaked it with some of our favourite things!
Our Vegan Pasta Bake is packed with ingredients, topped with our favourite vegan cheese, and baked to perfection. It makes for a perfect weeknight dinner that freezes and stores very well. Leftovers, anyone?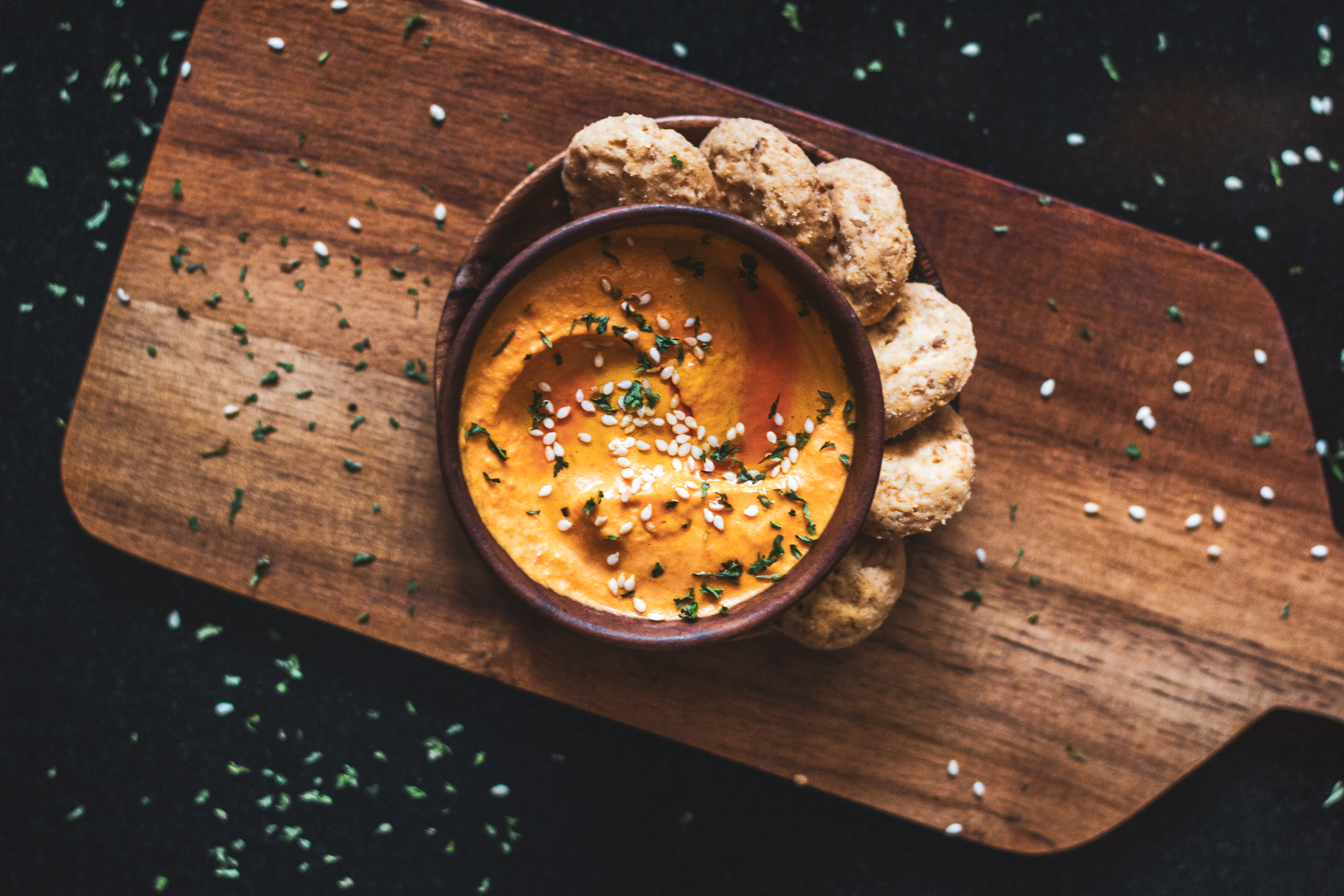 We fell in love with hummus the first time Angela tried it a few years ago, but we've always made the traditional version until I try a store-bought roasted red pepper hummus and it tastes even better! Unfortunately, the store-bought hummus had white sugar, refined sunflower oil and other nasty ingredients, so I prefer to make this homemade hummus and it tastes even better.
We eat hummus as an appetizer with some crudités (we love carrots!) or with homemade tortilla chips, salad dressing or as a side dish, but my favourite way to enjoy this delicious dish is spreading the hummus over a baked pizza crust and I also add chopped tomatoes, sweet paprika, extra virgin olive oil and some olives, it tastes really awesome!
Some people manage to go vegan overnight and if that's the right approach for you, fantastic. But don't be concerned if you feel you need more time. Like any other lifestyle change, going vegan not only takes getting used to it, but it takes time to determine what will work best for you. It's not a one size fits all experience and there are numerous approaches you can take. Which are your favourite recipes?
xoxo, Joe