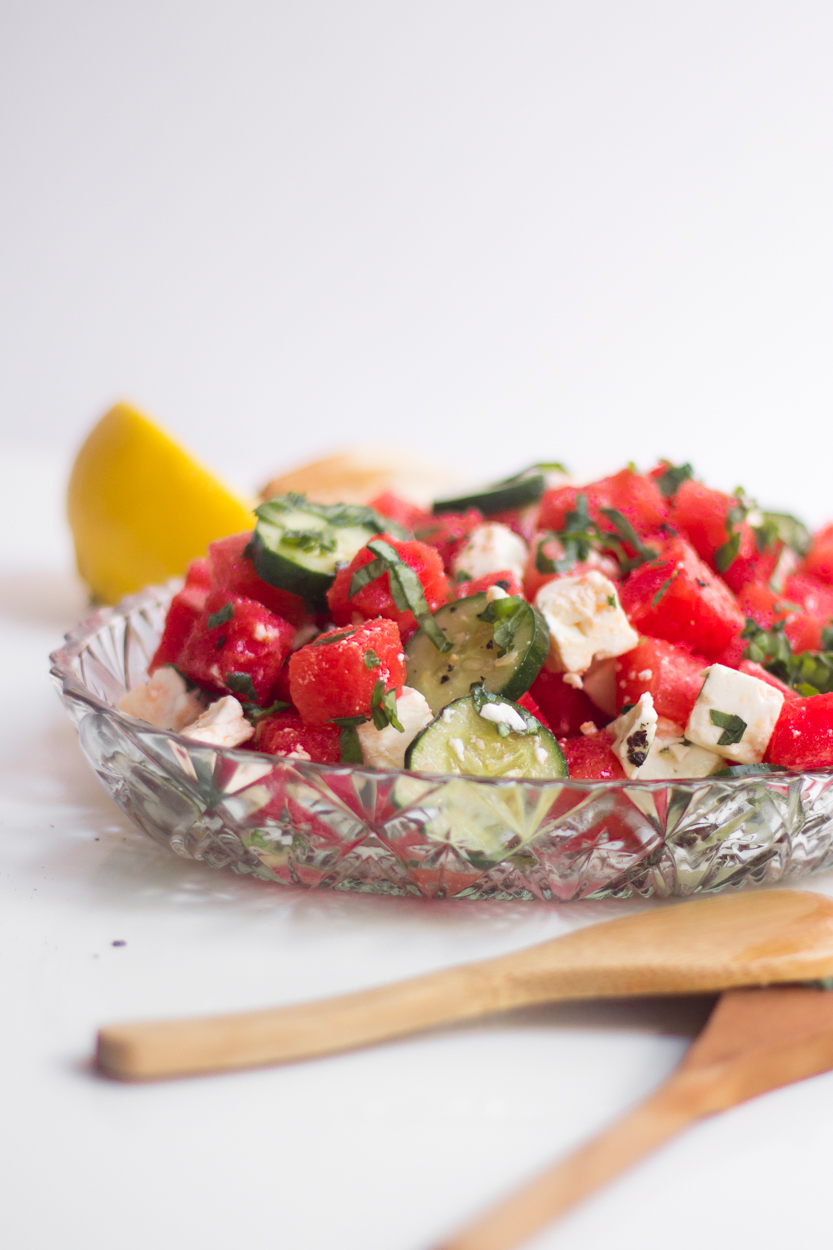 When it is time for summer, my summers consist of two things: the beach and watermelons. While it is still best to stay indoors, we love to have some watermelon in our patio instead! It was our thing. While it's easy to enjoy the watermelon with just a spoon but tastier to make it into our favourite snack.

This watermelon salad is full of sliced cucumbers, crumbled feta cheese and mint, all tossed in an easy lime dressing. A simple yet unusual summer salad that's sure to get rave reviews. Watermelon feta salad is one of those flavour combinations that sound odd but just works so well together. Add some crisp and refreshing cucumbers and mint to the mix, and you've got a fresh and colourful side dish that everyone will love.
How to make this salad?
For this recipe, you'll need to cube the watermelon, sliced cucumbers, crumbled feta cheese and mint leaves. A simple olive dressing goes over the top of the salad and everything is tossed together for a fresh and colourful dish. The sweet watermelon with the salty feta is a flavour pairing that may sound unconventional, but it truly is amazing.

Block feta is the best
Just as a heads up, it can be tempting to buy the pre-crumbled feta because it's more easily available and ready to just dump into a salad. However, the blocks of feta are much more flavorful. With this watermelon cucumber salad, any type of cucumber is fine as long as you remove the seeds before slicing.

Shapes of the watermelon
We cut our watermelon into chunks because it's quicker and easier that way. However, you can use a melon baller if you're looking for a more elegant presentation for your watermelon feta salad.

Add your mint last
I add the mint at the very last second, as cut mint can turn brown over time. Small, whole mint leaves or thinly sliced pieces of mint are best suited for this watermelon salad.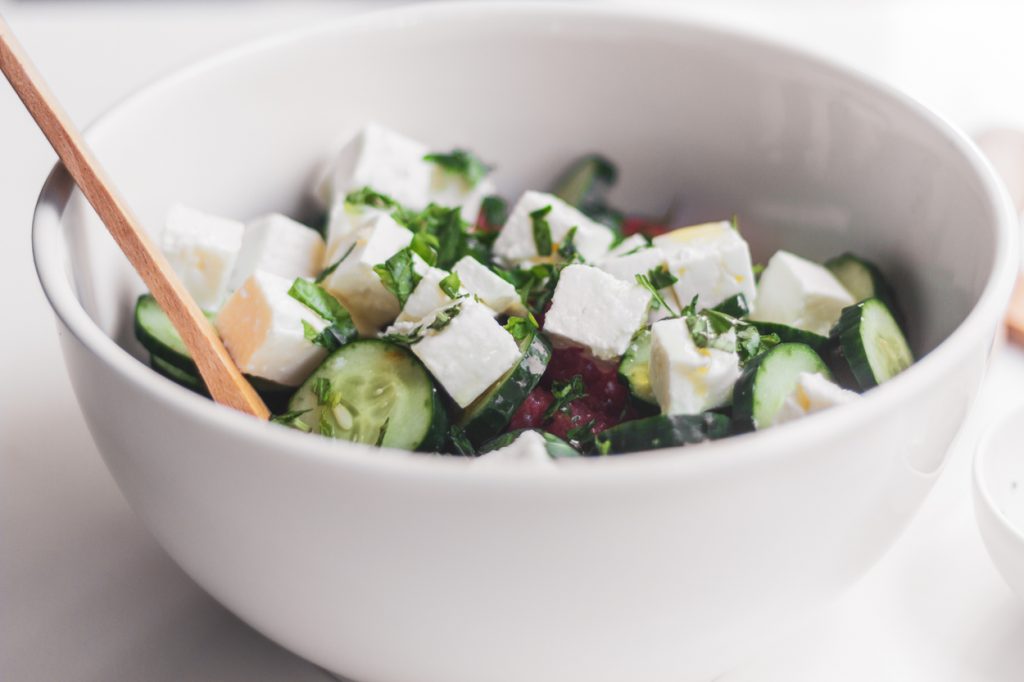 Is watermelon salad good without olive oil?
This watermelon cucumber salad is still delicious without the dressing. However, the dressing ties all the flavours together and really completes the dish. Although we love the dressing, it's not necessary for this watermelon salad to still be a refreshing delight.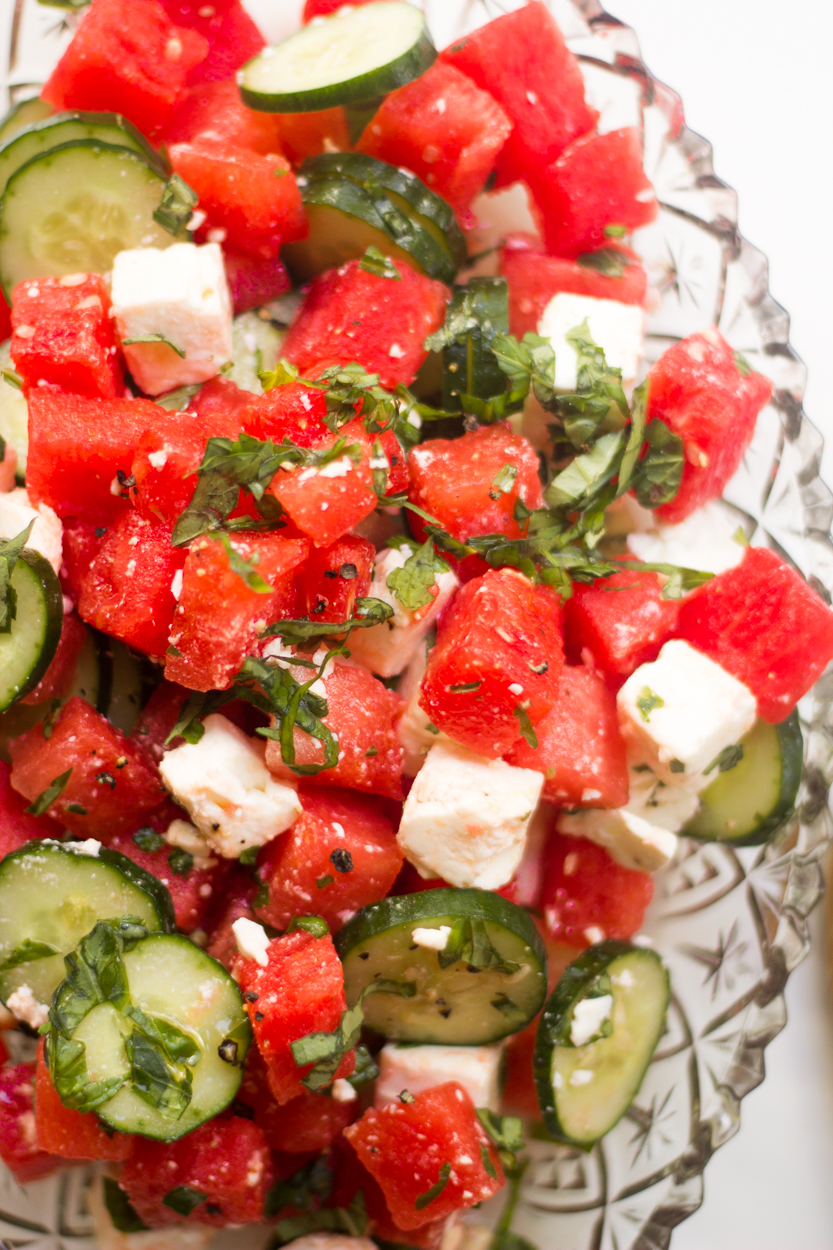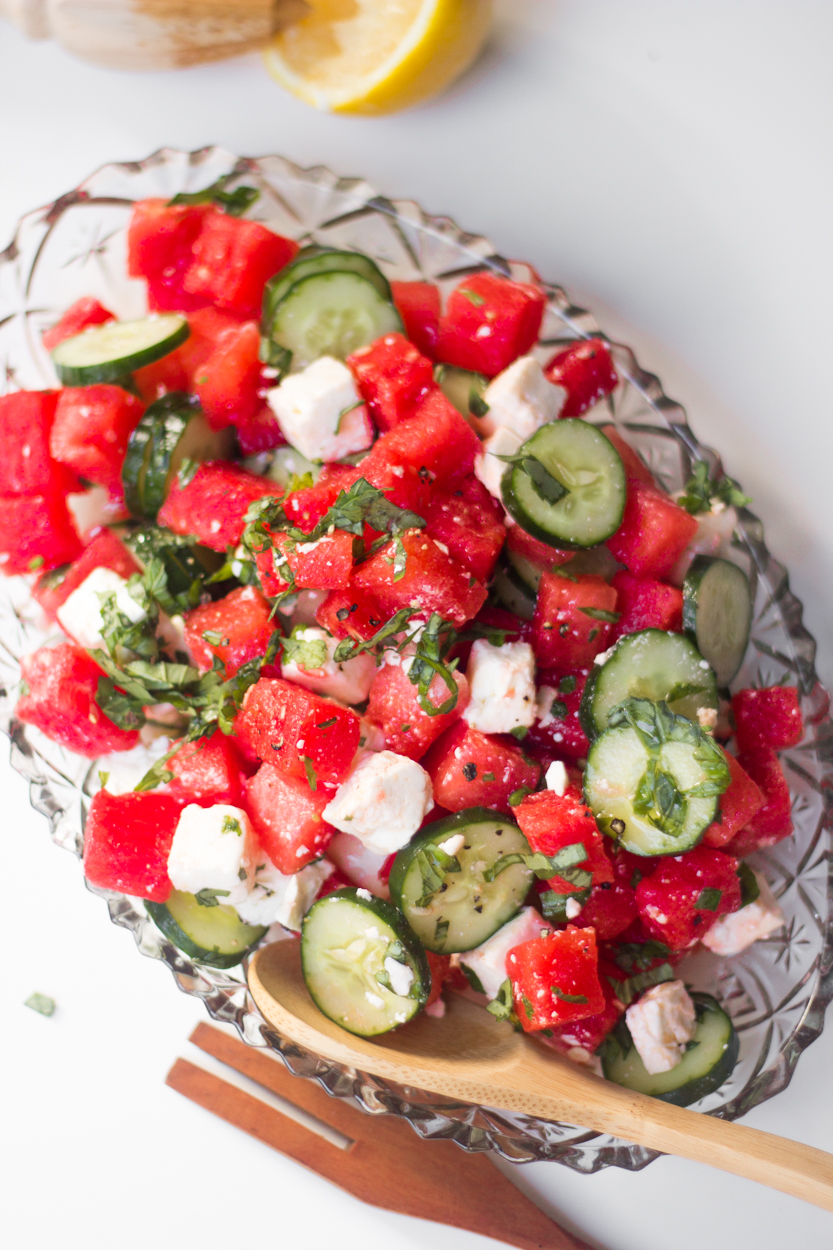 We haven't made this salad as often as we should! We've brought it back out into the light this summer because we was reminded of how easy and delicious it is. It's always a great hit at get together or just at home for a snack or side dish.

xoxo, Joe
Watermelon Salad with Cucumber and Feta
This refreshing Watermelon Feta Salad with Mint is perfect for summer. Sweet ripe watermelon salad combined with feta cheese and fresh mint is simply dressed with olive oil and lime juice. It's a sweet-and-salty combination that looks just beautiful on the table for a backyard cookout, a potluck, or even a Sunday brunch!
Ingredients
3 cups watermelon cubed or balled

1 1/2 cups sliced cucumber seeds removed

2 tablespoons mint thinly sliced or small mint leaves

1/3 cup feta cheese crumbled

3 tablespoons olive oil

salt and pepper to taste
Methods
Place the watermelon, cucumber and mint in a large bowl.
In a small bowl, whisk together the olive oil, and salt and pepper.
Drizzle the dressing over the melon mixture and toss to coat. Sprinkle with feta and serve.