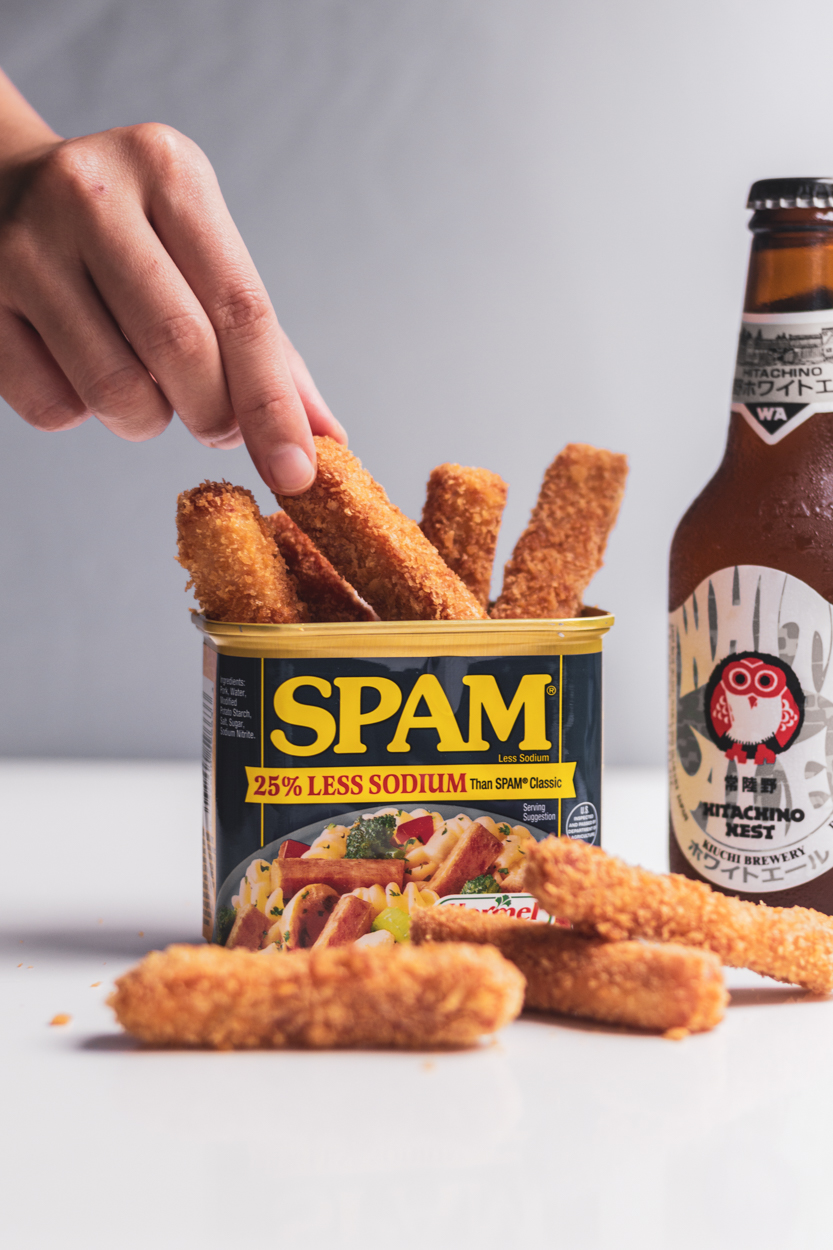 Who doesn't love indulging in a guilty pleasure every now and then? Shopping, delicious food and new kitchenware, what's yours? I love covering sweetcorn in cheese and popping it under the grill for a stringy, cheesy, finger-licking treat, with a real heat bite. The guilty pleasure is far simpler: cheap cheddar cheese on a chip, combining fat and sugar in a mouthful.

Honestly, there is time I want to order SPAM fries in the diner to fix my guilty pleasure but my hand never allow myself to point it on the menu when the server approach. But these days I had these sudden cravings for spam fries that knock on my door again. So I beg Joe to make it with me. None of us like uncooked, straight from the tin SPAM. How my mom cooks it, usually will coat it with a layer of egg batter and pan-fry it. But we decided to up the game but make it all time crunchy and fix your guilty needs. Are you ready to join us for upgrading your spam fries as those serving in the restaurant? I bet you can do better than those $10 per serving SPAM fries!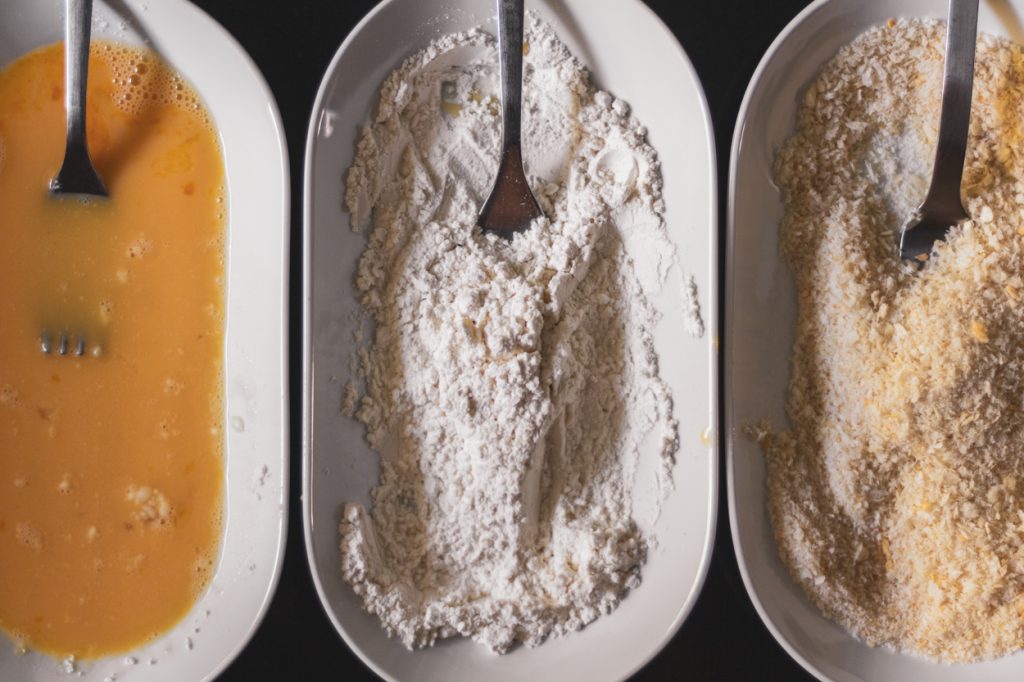 Dip, Powder, Dip and Coat
Apart from your SPAM, you need 3 basic staples in this recipe; egg batter, flour and breadcrumb. Remember the simple step as following, Dip, Powder, Dip and Coat.
Dip – Firstly dip your SPAM matchstick it in egg batter, make sure you give it a full wash
Powder – Follow with a lightly powdering of the flour, allow the egg absorb the flour on it surface.
Dip – Repeat the first step, dip in the egg batter again.
Coat – Let the breadcrumb seat well on the egg batter and you can set aside for frying.
Tips for making Spam Fries
Cut them into any shape you want; we usually cut the Spam into about 15 pieces so they resemble wedge fries.
Add some spices if you want to season the flour; we like the paprika, garlic, and pepper, but you can let your imagination and taste buds run wild.
When doing the dredging, we use our hands for the flour and breadcrumb stations. I use a fork for the egg station, however, as it can get a little messy.
You want about 2 inches of oil in the bottom of a fairly large frying pan. The temperature should be about 270 C. If you don't have a thermometer, you can drop a small bit of flour in, if it sizzles and bubbles, you'll know the oil is up to temperature.
Lastly, if you want the Spam fries a little healthier, you can use Spam light.
Can I Pre-made them?
Other than the Mini Corn Dog, this Spam Fries is one of our favourite pre-made food. While we bet that there won't be leftovers thus we always make more to freeze it. Keep it in a zip-lock bag (like below) or reusable bag. You can keep it in the freezer for up to a month. For a healthier way you can even heat it in the oven without un-freezing it. For the oven, we heat it for 10 minutes at 270 C.
And there you have it, a quick 5-step recipe on how to make luncheon meat fries. Jazz up your plating skills by serving the luncheon meat fried in the tin can that they came in!
xoxo, Angela
Crunchy Spam Fries with beer
Savoury, crispy and enticingly more-ish Spam fries will really surprise you. Indulge in these guilty secret treats!
Ingredients
1 can of Spam, cut into about 15 wedges

3/4 cup of all purpose flour

1 cup of bread crumbs

2 beaten eggs

1 tsp of paprika

1/4 tsp of garlic powder

1/2 tsp of ground black pepper
Methods
Cut the Spam into the shape of French fries – about 15 wedge fries. Set them aside.
Add the flour to a mixing bowl. Add in the paprika, garlic, and pepper. Stir until it's well combined. Crack the eggs into a second bowl, and the put the bread crumbs in the third bowl.
Using tongs or your hands, dredge the spam in the flour and roll it until it's well coated. Next, put it in the egg mixture. Lastly, dredge it in the bread crumbs. Set the pieces aside on a plate.
Add some oil to a frying pan. You'll need it about 2 inches deep. Over medium high heat, bring the oil up to about 350 degrees F. If you don't have a thermometer, sprinkle a small bit of flour in the oil. If it sizzles and bubbles, the oil is up to temperature. Place the spam fries in, in batches, and fry them for about 45 seconds on one side. Using your tongs, flip them, and fry them for an additional 45 seconds on the other side. Set them aside on a plate lined with a paper towel and repeat the process for the remaining batches.
Serve and enjoy your spam fries.