When coming to Japanese food we love all kind of the noodles they have; from Ramen to Udon. And never forget about the light tasting soba. We planned to share our favourite soba salad but instead, we brought home a package of pink noodles that we mistaken as Soba. But instead, it is Ume Sōmen.

Sōmen noodles are similar to soba, but they're made entirely with wheat flour and the dough, made pliable with the addition of oil, is stretched very thin. However, this beautiful pink somen is made from plums which in Japanese called Ume. Traditionally, they're drizzled with a spicy dressing and served cold on very hot days. As they are made from plums, they presented with a delicately sweet flavour which pairs so nicely with the spicy dressing. 
Sōmen vs Soba
As compared to Sōmen, Soba is slightly thicker and it presents an earthy texture from the combination of wheat and buckwheat flours. It took a long time to cook as compared to Sōmen.
Soba
Add dried noodles to boiling water for 5 to 7 minutes (reduce the time for fresh noodles). Be sure to cook, drain, and rinse, before adding them to a broth or a salad. 
Sōmen
Cook some in boiling water for 2 to 4 minutes before draining, rinsing, and adding to soups or tossing with sauce.
As you can see that Sōmen are very thin noodles made of wheat flour, less than 1.3 mm in diameter. The one we chose is in Japanese pickled plum flavour thin noodle.
How to make the Sesame Sauce?
Like any noodle recipe, it comes down to the aromatics and the sauce to give a plain noodle it's flavour. And again, with somen, you want to keep things simple. And that means a simple sauce is in order.
The ingredients for this sauce are:
1 tsp of sugar
1 tsp of sake
1 tsp of sesame oil
1/4 tsp of doubanjiang
1 tbsp of soy sauce
The sauce comes together quickly, just like the cooking of the somen noodles. If you like a spicier bite, add a pinch of red pepper flakes or 1/4 teaspoon of chili garlic sauce to the mix.
When it comes to sesame oil, be sure yours is fresh. Sesame oil has a short shelf life and will deteriorate in quality once it's been opened if not stored correctly. I keep mine in the refrigerator, but also always have a fresh bottle as a back up in my pantry.
To toast your sesame seeds, use a dry pan over medium-high heat. Move the seeds around often in the pan to avoid burning. Don't skip this step, it toasting totally makes the difference.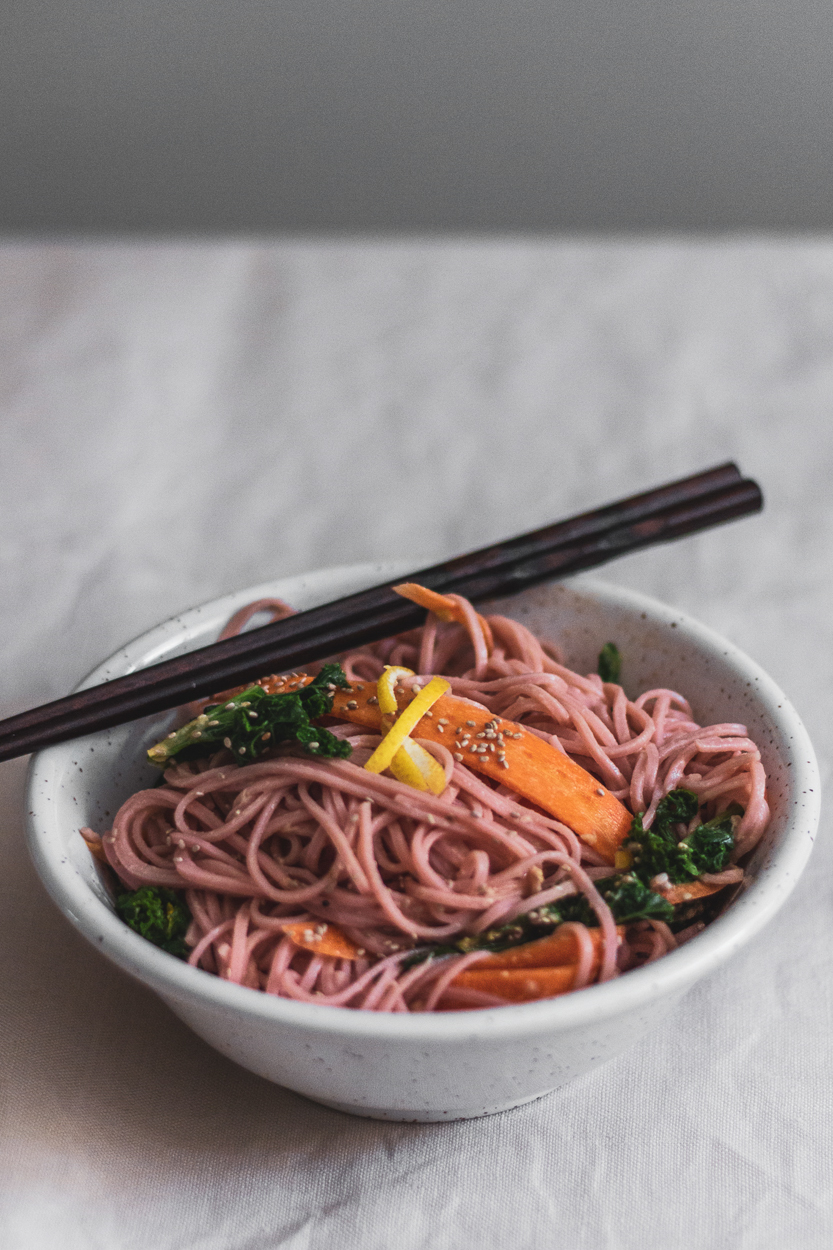 This Cold Ume Somen with Sesame Sauce recipe ticks all of our favorite recipe-making boxes. It's fast. It's easy. It's healthy. It's totally flavorful. And it goes with so many of our favorite mains, and it even makes a main meal all in itself.
xoxo, Angela
Cold Ume Somen with Sesame Sauce
With this somen noodle recipe, our family never looses appetite.
Ingredients
200g of kale, cooked and drained

200g of carrots, thinly sliced

4 servings somen noodles

1 tbsp of a sesame seed (for garnish)

Sesame Sauce

1 tsp of sugar

1 tsp of sake

1 tsp of sesame oil

1/4 tsp of doubanjiang

1 tbsp of soy sauce
Methods
Place the kale in a pot of boiling water and cook for a minute. Drain and cool it aside. In the mint time thinly slice the carrot.
In a bowl, combine all the ingredients in sesame section. This is the sauce.
Cook the somen noodles and run under cold water. Drain well and plate the noodles. Place the kale and carrot on top and pour over the sauce. Garnish with some sesame seed.