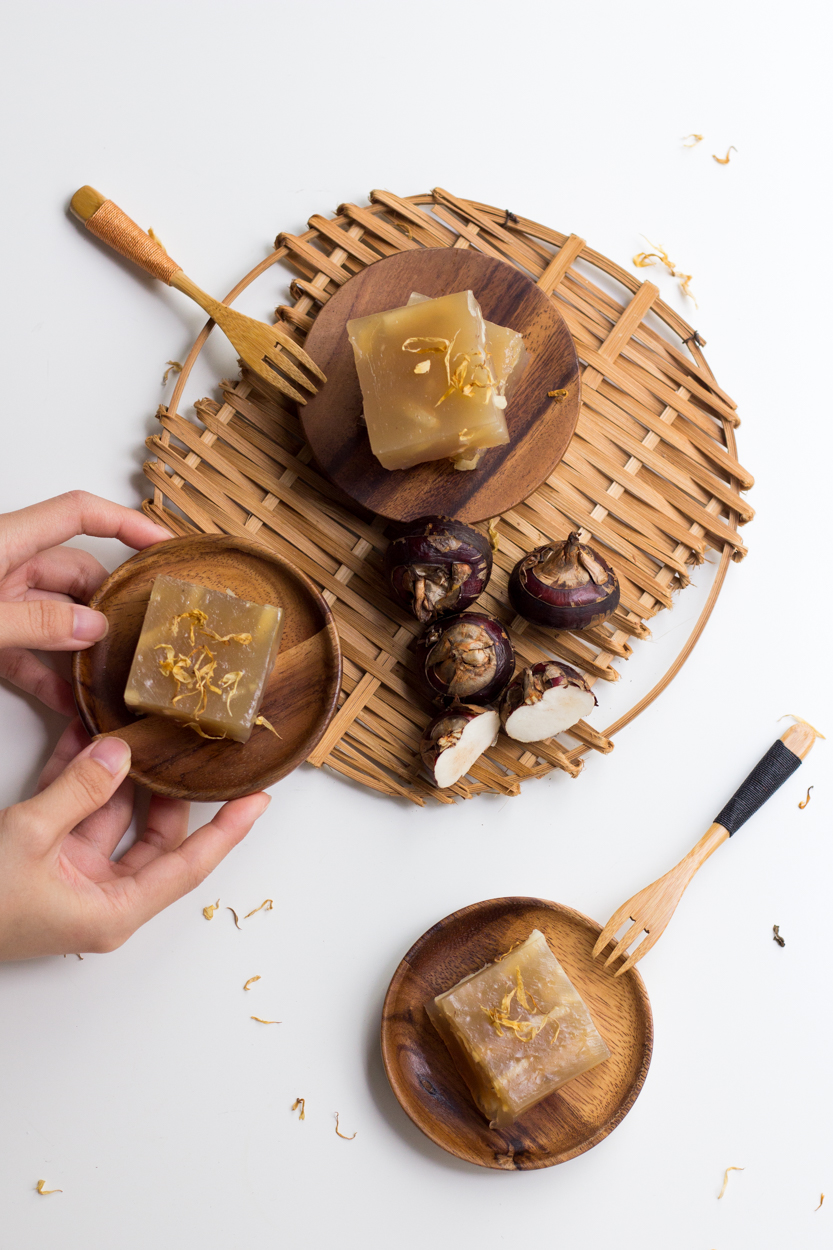 We have been brainstorming what to make during this #covid19, digging online and our recipe book. As the weather has been so warm lately we decided to make something cooling, and we came across this Water Chestnut Cake from the book – The Way of Kueh. There are many interesting Kueh in the book, not to mention it has a detailed explanation that you will never miss a detail.

Have you ever encountered with Chinese water chestnut cake in dim sum halls? They look yellow and transparent and present a sweet taste. This Chinese Water Chestnut Cake is unique in its taste.  It's subtle.  It's not a jelly though it has the translucent characteristics of jelly when hot.  And it's not a cake at all either.  Its texture is harder than jelly and it's not too sweet and there is the wonderful crunchy fresh sweetness of the water chestnut bits. Let's get started!
The Main Ingredients
Water Chestnut Strach
To make this cake you will need to get some water chestnut flour or 馬蹄粉.  You can find it at your Asian grocer or supermarket, we got it at Phoon Huat.  This flour is actually more of a starch and is also used as a thickener and as a crispy coating for deep fry.

Water Chestnut
Freshwater chestnuts, or 馬蹄, of course.  To check for freshness give all the water chestnuts a squeeze.  The fresh ones will be rock hard.  The not so fresh chestnuts will feel soft. For the beginner, it's okay that there is mud these chestnuts grow in the mud and you will just need to give it a rinse to get it off.

Slab Sugar
The last consideration is that of the sugar.  The kind of sugar traditionally used is the slab sugar, or 片糖, which is a slab of soft barely refined sugar cane that the Chinese love to use for desserts for the rich taste and shiny gloss that it provides. The slab sugar comes in different variations of colour that will also affect the colour of your food, lighter brown to darker brown.  I used the darker brown for my cake for the extra depth of flavour.  Or if you would like to have a white water chestnut cake you could use regular white sugar instead but the taste will be sweet but not as complex.
If you have gotten your ingredients ready, all you need is cook the syrup and prepare the starch slurry ready. Combine them well, make you stir it constantly pervert from burning.

Once steamed, let the cake cool completely before attempting to slice it.  Otherwise, you're gonna get some weird looking slices.  To serve your wonderful treat slice the water chestnut cake into 1/4-1/2″ thick slices and lightly fry on each side until golden and heated through.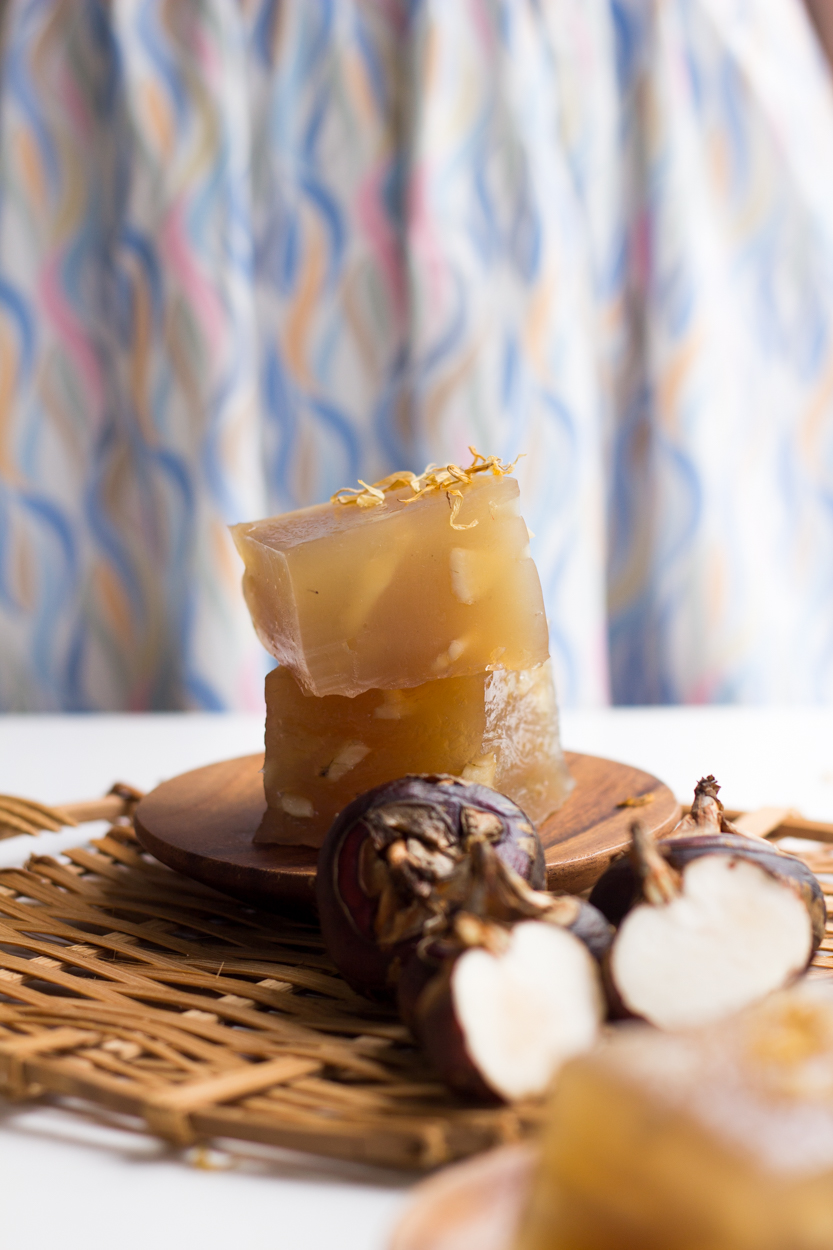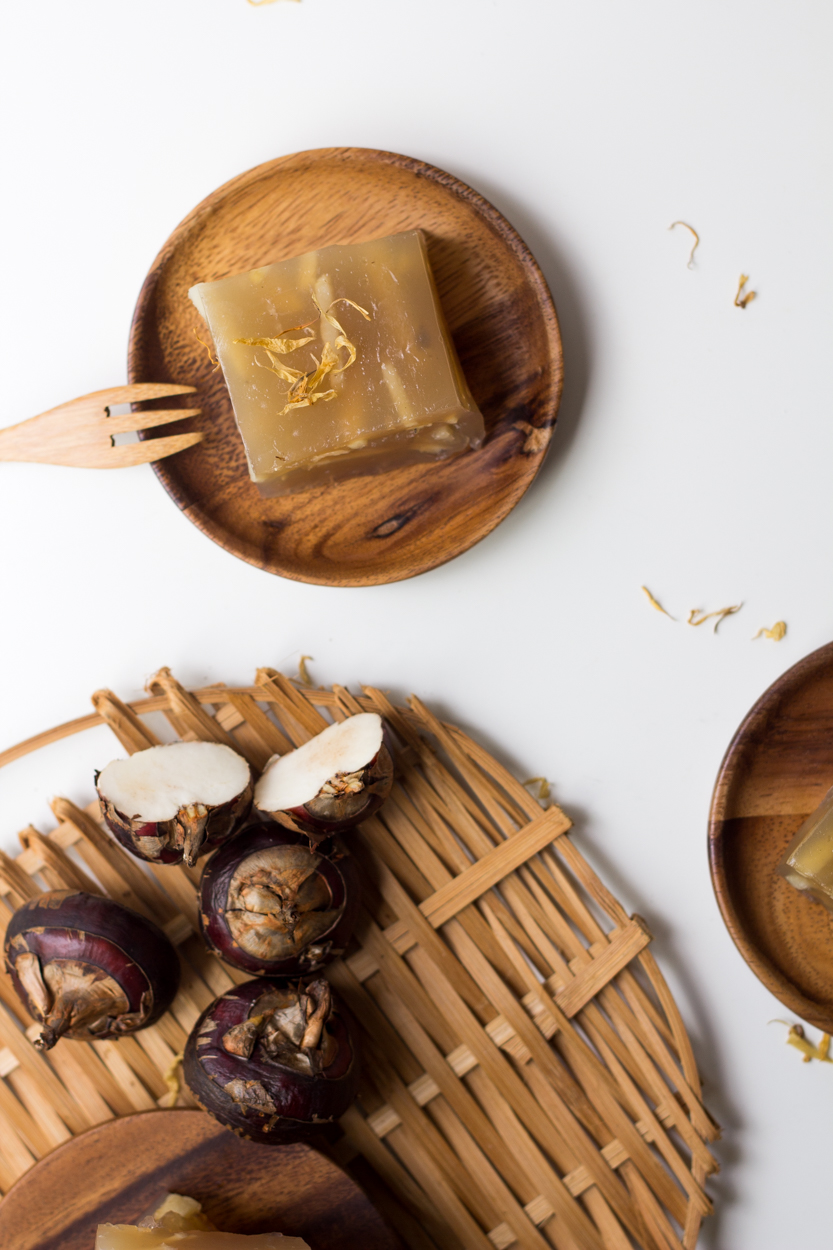 Can't wait to try more recipes from the book The Way of Kueh and share it with you. I hope that you like this recipe, let us know if you have try it out in the comment box below.

xoxo, Joe
Water Chestnut Kueh
A Cantonese treat, mandatory for Chinese New Year. Mostly found in restaurants, it is easy to make at home.
Ingredients
starch slurry

225 g water chestnut starch

600 g water

syrup

650 g water

330 g sugar *

25 g pandan leaves, cut into 1 cm shreds

200 g peeled fresh water chestnut, cut up

15 g lard
Methods
Make starch slurry. Whisk water chestnut starch and water together until smooth, cover and let it stand for 20 minutes.
Get your steamer ready. Lightly grease the base and sides of a 20 cm square pan, at least 5 cm deep, with lard.
Make syrup. Combine water, sugar and pandan in a pot, cover and cook over low heat, stirring occasionally, until sugar dissolves and mixture just reaches a simmer.
Strain syrup into a clean pot and set over medium heat. Add water chestnuts and lard, and bring everything to a full but gentle boil. Switch off the heat, cover and let the syrup seat for 2 minutes,
Give starch slurry a good whisk, then pour it into the pot in a very slow, thin stream while stirring constantly with a spatula. The batter will rapidly thicken into an opaque texture. Turn on heat to low, and stir batter constantly until thickens into a creamy, custard-like paste.
Scrape the paste into the tin. Steam for 20 to 25 minutes until Koh is translucent and fully cooked.
Transfer pan to rack to cool. The Koh will shrink and pull away from the pan sides as it cools, and should then un-mould smoothly. Serve while still warm.
Notes
* The Koh's colour comes from the sugar you use. We have use peen tong here, a moss-gold tint and resonant flavour.