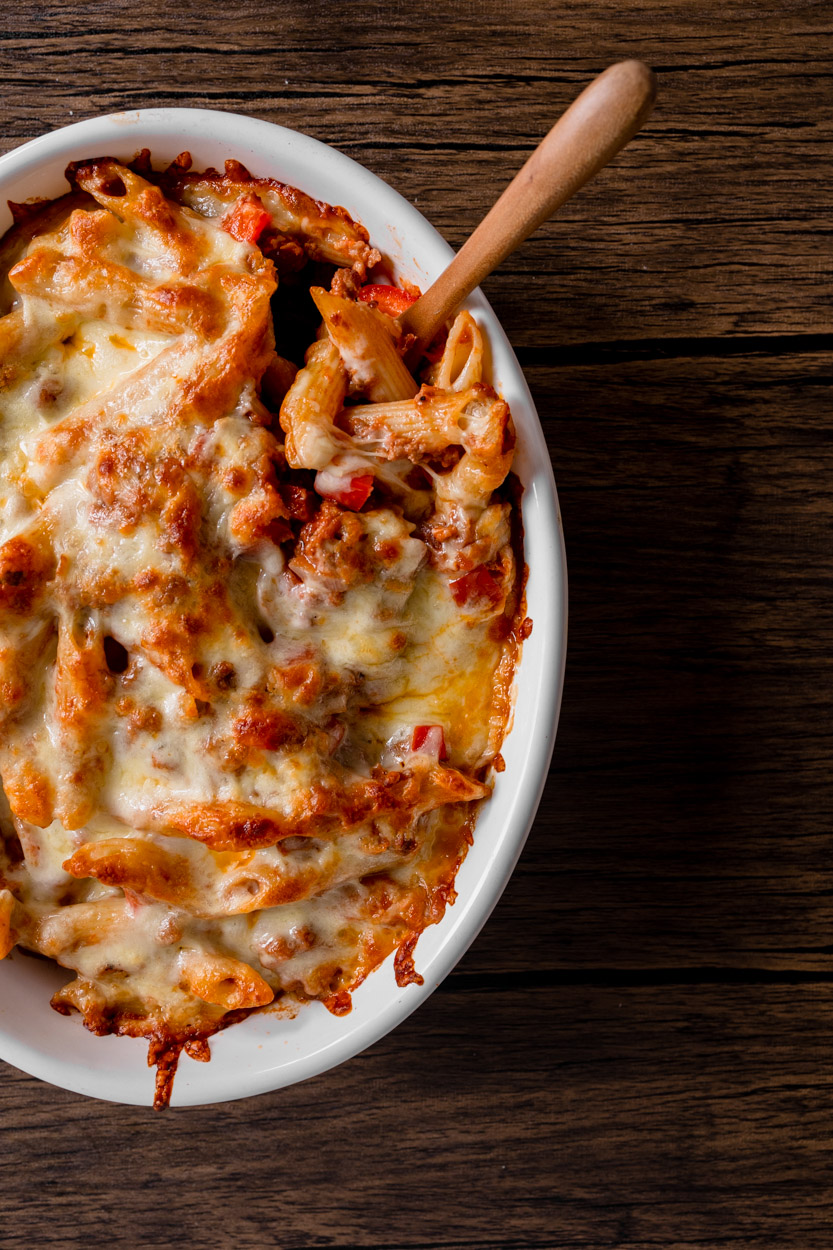 This vegan pasta bake is everything you want from a saucy cheesy pasta dish! it's a firm favorite in our house and for a good reason! With colder days creeping up we crave comforting meals that are delicious and easy to make. This is actually one of Angela's signature dishes so she's the inspiration behind it, and we've tweaked it with some of our favorite things!

Our Vegan Pasta Bake is packed with ingridents, topped with our favorite vegan cheese, and baked to perfection. It makes for a perfect weeknight dinner that freezes and stores very well. Leftovers, anyone?
What ingredients do you need?
Impossible minced meat: It is one of our go-to ingredients when we want to go vegan and replace our meat. While it tastes very different from the beef we usually have but the texture is 100% similar to it.
Choice of vegetables: We uses chopped onion and bell pepper here, but you can add in the things you like such as mushroom, lentils, peas, and more. Sometimes when we are feeling fancy we like to add in some herbs like basil leaves.
Tomato Paste: We use ready-made pasta sauce here, but you too can use tomato pasta and water as replacements.
Cooked pasta: When cooking your pasta at a good amount of olive oil and salt for the right texture and to maintain the colors.
Mozerella cheese: We use shredded mozzarella cheese here.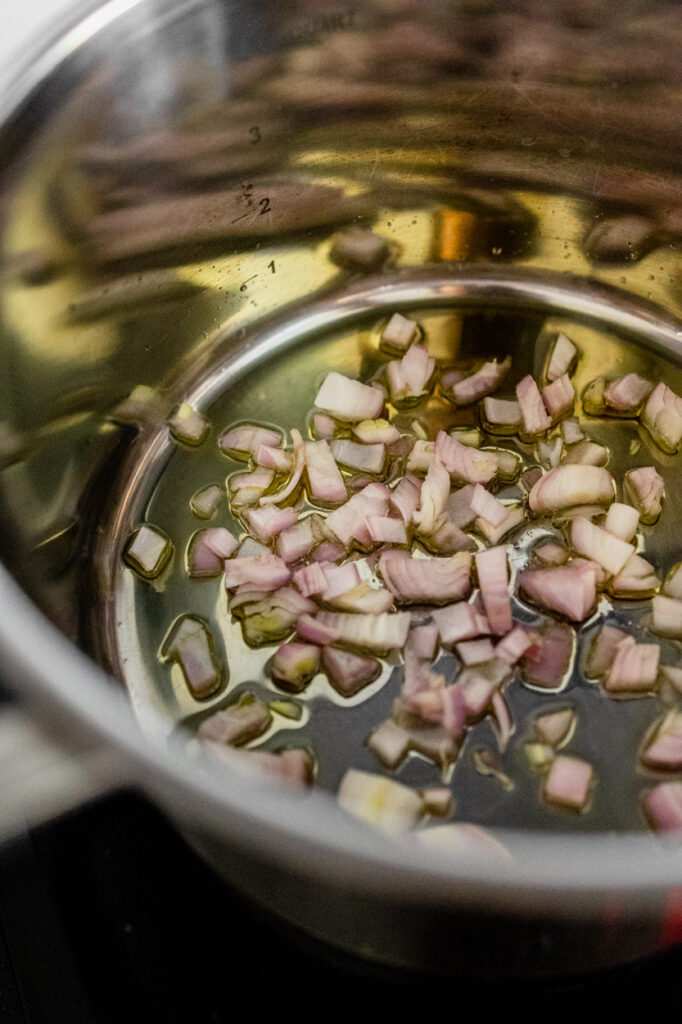 How to make Vegan Baked Pasta
You will find full instructions and measurements in the recipe card at the bottom of the post. This is a summary of the process to go along with the process photos.
Put the pasta on to cook. When it's cooked, drain it, cover it (to prevent it from drying out) and set it aside.
Prepare your bolognese sauce. Add chopped onion and crushed garlic to a pot with olive oil and fry until softened. Add chopped bell pepper and cover the pot for a minute and allow the bell pepper to soften. Then remove the lid from the pot and add in the impossible minced meat, stir and cook well before adding in the tomato sauce. We like to stir in the pasta and soak it will the sauce for more flavour.
Assemble it in an oven-proof dish. Filled the dish with the pasta and top it generously with cheese. Bake uncovered at 430°F for 20 minutes until golden on top.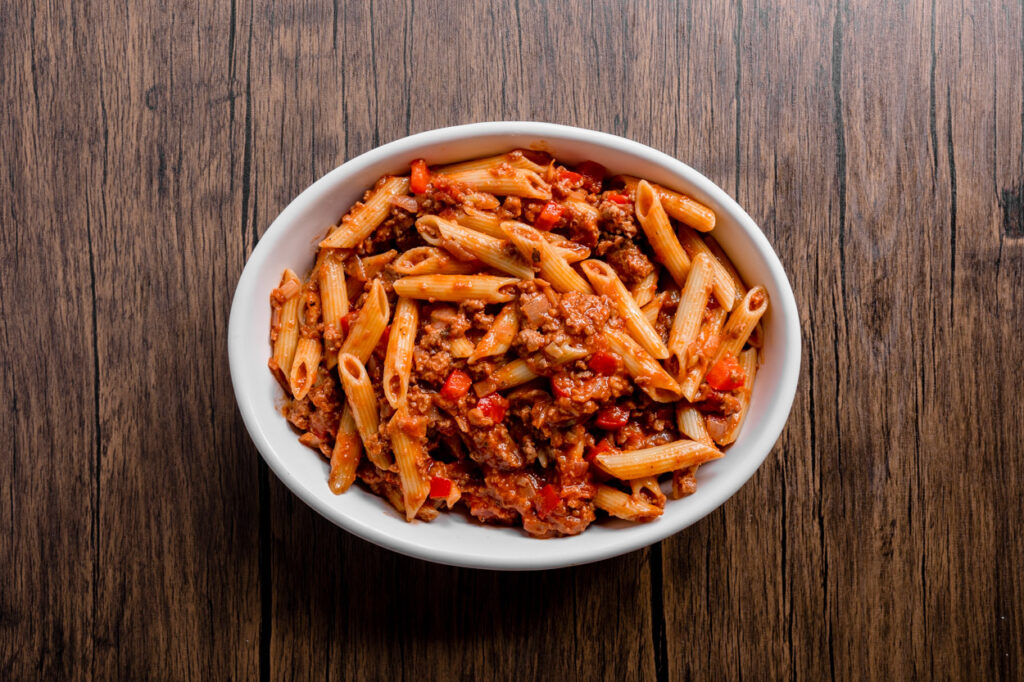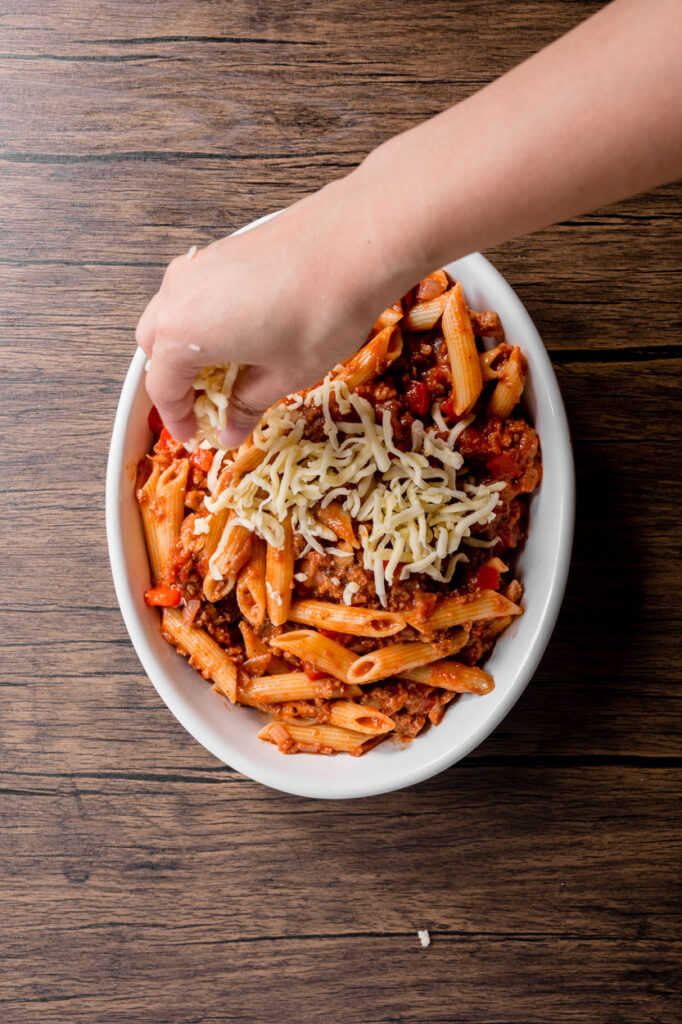 xoxo, Joe
Vegan Pasta Baked
Ingredients
Bolognese Sauce

1 red onion

4 garlic cloves

1 red pepper

2 tins (800g) of chopped tomatoes

175ml/3/4 cup water

2 tbsp tomato sauce

1 tsp sugar

1 tbsp mixed dried herbs

Pinch chili flakes

1 pack of impossible meat

Rest

350g/12.5 oz penne pasta

25g/1/4 cup vegan cheddar, grated

25g/1/4 cup vegan mozzarella, grated
Methods
Pre heat oven to 180C/350F.
Finely chop the onion and place in a saucepan on medium heat with some oil. Leave to fry for a few minutes.
Mince the garlic and finely chop the red pepper and add to the pan. Cook for about 10 minutes until the onion and pepper are soft.
Add the chopped tomatoes, water, finely chopped sun-dried tomatoes, tomato puree, balsamic vinegar, sugar, mixed herbs, and pinch of chili flakes (optional). Bring to a gentle simmer and leave to cook for 15-20 minutes. It should have thickened and deepened in color, add a little more water if you need to whilst cooking.
In a separate pan, heat some oil. Cut sausages into small chunks and fry until browned and crispy. Set aside.
Make the white sauce. Add vegan butter to a small saucepan on low heat. Once melted add the flour and mix until it forms a roux/paste.
Gradually add the milk and whisk continuously until smooth. Add the vegan cheddar and whisk again until melted and thickened. Set aside.
Cook pasta until al dente. Drain and place in an oven proof dish.
Taste and season the tomato sauce and pour over the pasta with the cooked sausage. Stir well.
Sprinkle the vegan cheddar and mozzarella on top and place in the oven for 20-25 minutes.
The cheese should be melted and the sides crispy and bubbling.