We promised that you fell in love with this Soy and Scallion Tofu bowl instantly. If you are a vegan or decide to have a meatless Monday (just like Angela), this recipe shows you how to make tofu taste like teriyaki meat without a fuss. You can enjoy the juiciest, well-seasoned bowl without worrying about your plant-based meal taste like grass.
While we've enjoyed tofu all the time, recently we'd rarely made any tofu dishes at home except, exclusively, from putting them into soup or making them into dumplings. Motivated by bon appetit we did this Soy and Scallion Tofu Bowl for our lunch where Angela insist to have a meatless meal on that particular day. We replace the ground meat with tofu and seasoned with sake, mirin, and soy sauce. This is the most simple way to replica the "teriyaki sauce".
Everyone has an opinion on tofu, and here's ours: we love it… when it's prepared the right way. If you've never worked with it before, cooking tofu can be daunting. But once you learn a little about it, it couldn't be easier to prepare tofu well!
Why tofu?
Tofu is a soy-based food that's made from curdling soy milk and forming it into a solid block. It's a good source of plant-based protein that can be used in all sorts of ways. It's a great addition to vegetarian and vegan diets, but even if you're a meat-eater, we urge you to try it. In these tofu recipes, you can treat it as a meat substitute, but rather we treat it as something unique and delicious in its own right!
What kind of tofu should you use?
Here comes the lead of the dish, Tofu! There are four types of tofu, and choosing the right kind is important. In grocery stores, it ranges from silken to firm and extra-firm. Soft silken tofu would be my choice for blending into desserts or slicing into miso soup, but if you're serving it as a main dish or topping it onto bowls, extra-firm is what you'll need. It has a heartier, denser texture and less water content than other types of tofu, which worked out perfectly.
How to deal with Tofu?
Although it is extra-firm tofu there is still much water contain. To remove excess water, let the tofu sit 20 to 30 minutes to let the water drain from it. However, we prefer to treat our tofu with the below steps.
Transfer the tofu directly onto the serving plate from the package instead of putting it first on a cutting board, when using silken tofu in a cold dish. Sliced tofu will be easily smashed and is very difficult to transfer it once sliced.
Use a knife to cut the edges of the tofu to separate it from the plastic pack first. Then, you only need to quickly flip the package and the tofu will land on the plate in one piece.
Wrap the tofu with paper towel, with heavy object lying on top.
Let the tofu sit 20 to 30 minutes, to let the water drain from it, and you will have a much drier tofu.
Soy and Scallion Tofu
The crispy-crumbly texture and the juicy, savoury flavours of this simple tofu stir-fry are oh-so-lovable. Scooped over a pillowy bowl of steaming white rice, it's a new (to us) kind of comfort food and we are all about it. Here's how easy this Soy and Scallion Tofu Bowl is to make:
Heat a skillet over medium-high heat.
Add the garlic and sesame seed, sauté until the garlic is browned.
Add the tofu, cook and toss the tofu occasionaly. Using the spaulat break the tofu into smaller pieces. Cook until the tofu is slighly browned.
Add in the scillion and seasoning, cook until the liquid is almost evaporated. Serve on top of the rice!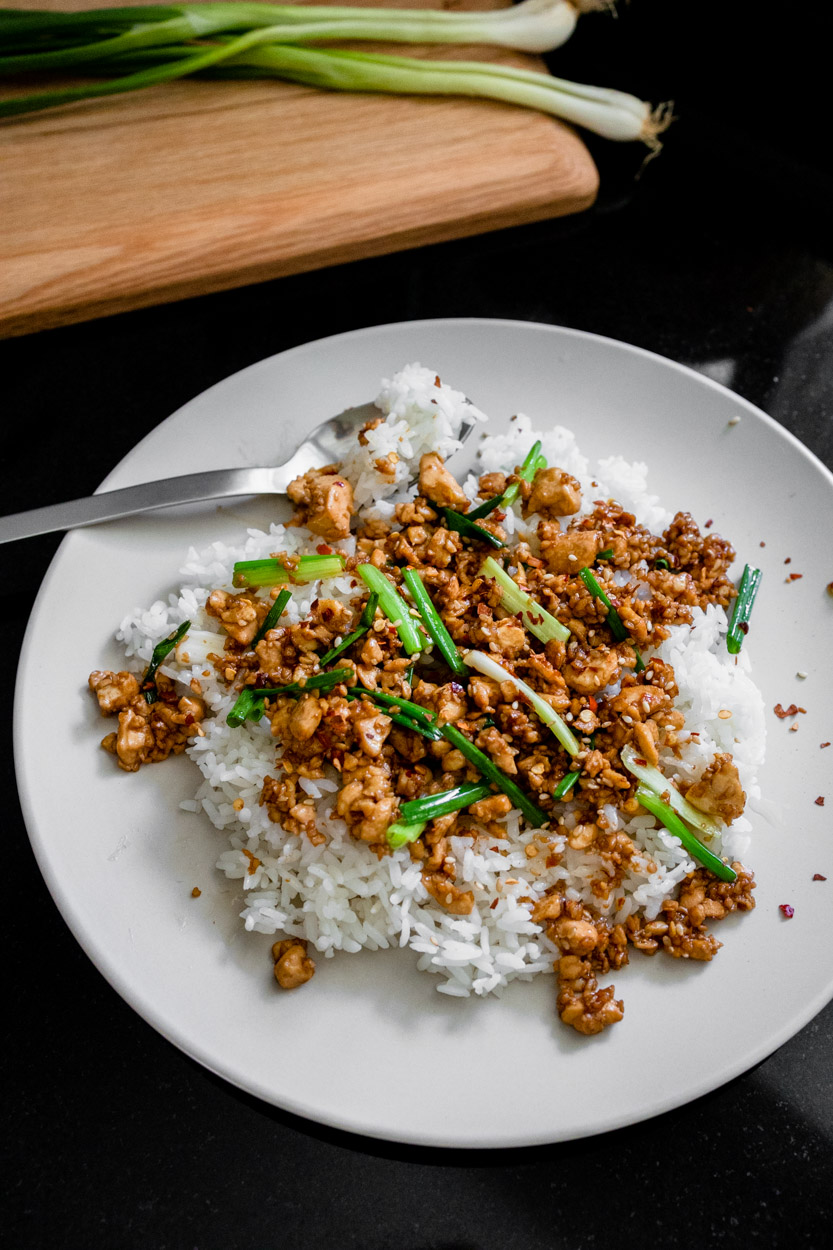 A few words about the ingredients. This dish uses very minimal seasoning so that everything stands out. You need to use fresh scallion and good soy sauce to make this dish works. Tofu is so fantastic for a meatless and carb-conscious dinner, and this was so delicious! We can see there will be a lot more tofu dishes in the future.

xoxo, Joe
Soy and Scallion Tofu Bowl
Ingredients
1 block firm or extra-firm tofu, drained

2 tbsp. vegetable oil

2 garlic cloves, smashed

1 tbsp. toasted sesame seeds, plus more for serving

1 tsp. Aleppo-style pepper or ½ tsp. crushed red pepper flakes, plus more for serving

3 scallions, chopped into 1″ pieces

3 tbsp. soy sauce

2 tbsp. mirin (sweet Japanese rice wine) or 1 Tbsp. pure maple syrup

2 tbsp. unsalted butter (*optional if you are vegan)

Cooked white rice (for serving)
Methods
Heat oil and garlic in a large nonstick skillet over medium. Cook, turning once, until garlic is golden, about 3 minutes. Add 1 tbsp. sesame seeds and 1 tsp. Aleppo-style pepper and cook, stirring, until fragrant, about 30 seconds. Add tofu, increase heat to medium-high, and cook, tossing occasionally and breaking tofu apart with a wooden spoon, until it begins to crisp in spots, about 5 minutes. Stir in scallions, soy sauce, mirin, and butter and cook until liquid is almost completely evaporated about 3 minutes.
Divide rice among shallow bowls and spoon tofu mixture over; top with more sesame seeds and Aleppo-style pepper.