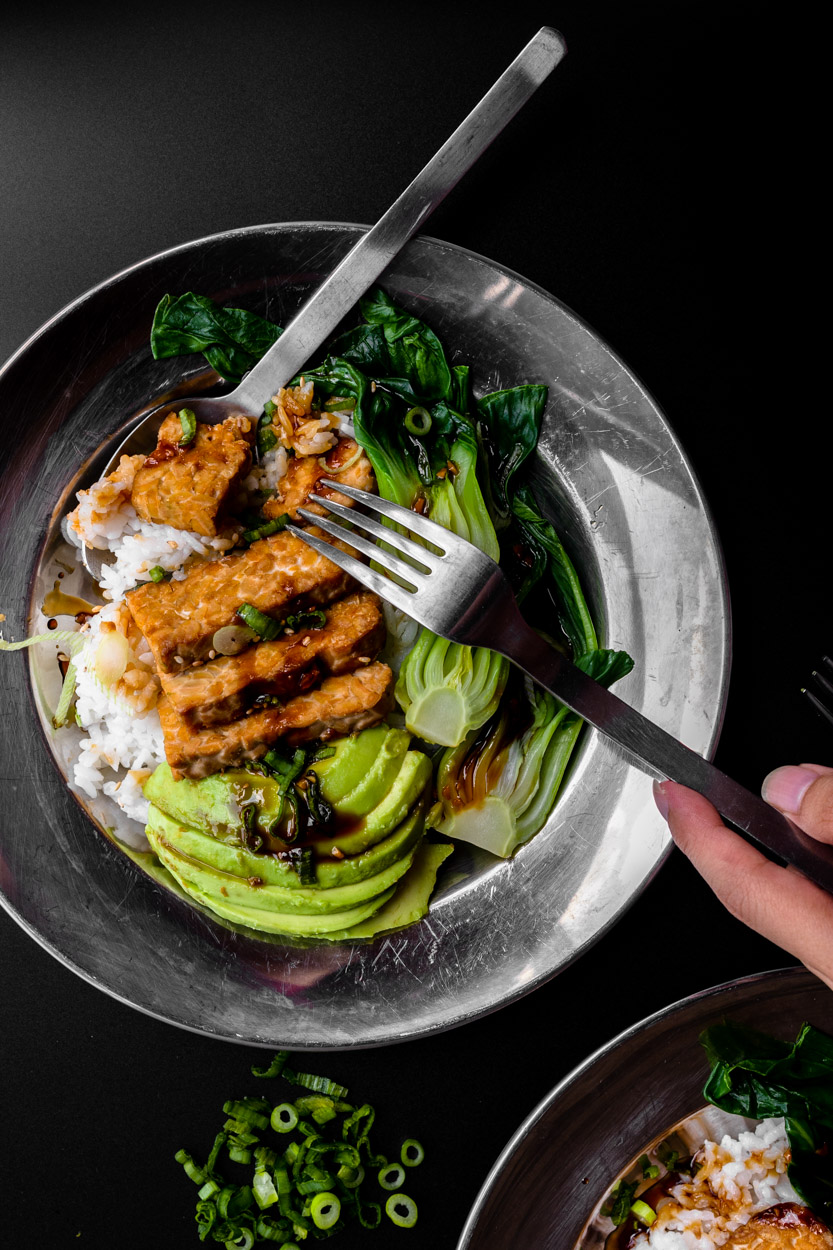 Before knowing what is vegan, we had never heard of tempeh. In fact, tempeh was one of the last plant-based "staple" foods we tried. Before even giving it a fair shake, Joe even decided "nope, tempeh is not for her", as it looks plain and dry. However, with the right cooking method and sauces to accompany it her views on it changes and we know it will change yours too.
Teriyaki Tempeh Rice – this recipe comes together in just 15 minutes and is sure to be a crowd-pleaser in your home! It's packed with flavor and has a ton of plant-based protein. I'm glad the pictures now reflect how absolutely delicious this recipe is!

This is a healthy, vegetarian/vegan take on beef and bak coy, my Chinese take-out dish of choice growing up. It's just as delicious and satisfying! And like most of the dinner recipes you'll find here, this one is pretty easy to toss together — no cooking experience needed. Everything is cooked in one skillet so you don't have to worry about cleaning a bunch of dishes either. Hooray!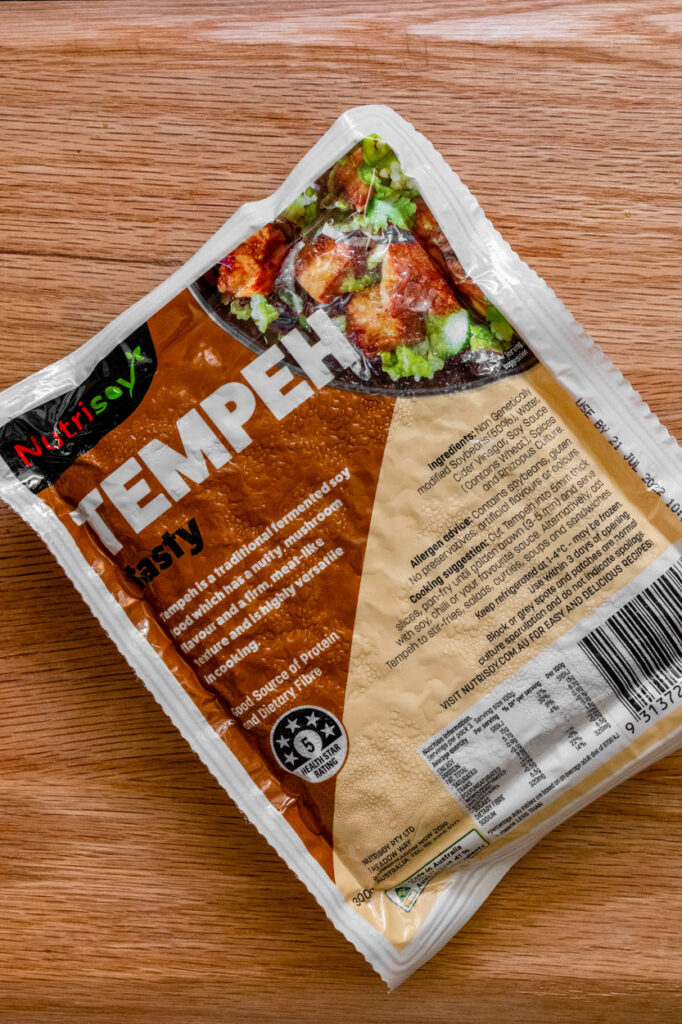 What is Tempeh?
Tempeh is an Indonesian plant-based protein source. Tempeh is made from fermented soybeans shaped into blocks, though store-bought tempeh often contains grains and beans as well. Despite its high protein content, it offers many health benefits as well. As an example, it is packed with calcium, manganese, phosphorus, and iron! We got ours at this premium supermarket Little Farms which have many options for organic product.

They have plain and marinated tempeh for you to choose from. Well, the plain one is a healthier choice and has the flexibility to customize the flavors but on the other hand, it will take a while for the marinate to get absorbed into the tempeh. For someone that like quick meals, we decide to opt for one that is already marinated, and the one we have is the tasty version where it was marinated with soy sauce and ginger.
How do you cook Tempeh?
As we have it marinated, we will skip that step and move on to cooking. Many choose to cook the whole piece and have it cut into smaller pieces only after cooking. However, we like every small piece to be crispy on every side, thus we cut them into long pieces or cubes before cooking them, you can pan-fry or bake them in the oven.
Pan-fry; On a heated pan, drizzle it with a good amount of oil. spread the tempeh evenly on the pan and pan-fry every side till brown. We usually kept ours longer on the pan as we like them slightly crispy.
Bake; Spread the marinated cubes on a parchment-lined baking sheet, and transfer them to a 425-degree oven for 10 minutes. After 10 minutes, remove them from the oven, and brush more of the marinade over the cubes. Bake for another 10 minutes, until the cubes are charred around the edges. Enjoy!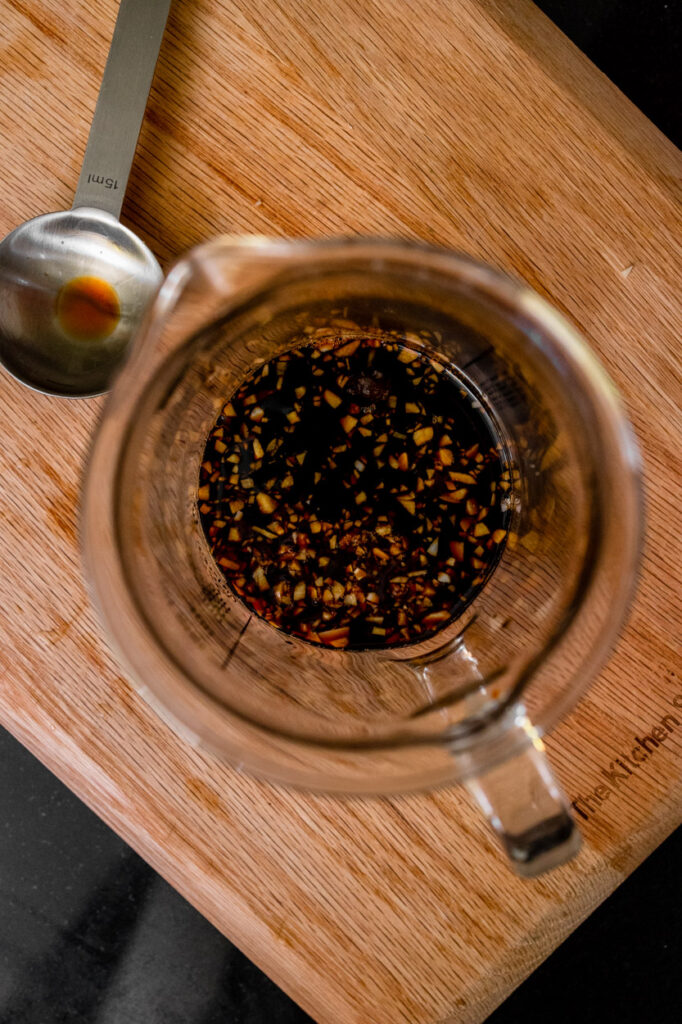 Soul of the dish – Homemade Teriyaki Sauce
Teriyaki Sauce has become one of the most popular seasonings outside of Japan because of its savory taste and versatility. There have been a lot of questions about how to make your own teriyaki sauce without purchasing the store-bought version. Well, you can make them at home, what's the best thing about homemade teriyaki sauce? The most delicious sauce goes well with anything you serve it with, and it only takes 4 simple ingredients! Keep it on hand all the time since it's so easy.
Our favorite Homemade Teriyaki Sauce recipe is by Just One Cookbook, while it is already perfect we make a little twist to it based on our taste. You will need;
Soy sauce – If you are more well-off use Japanese soy sauce it has deeper flavors. However, we also do use the Chinese soy sauce sometimes, but the high sodium content may affect the taste.
Mirin – This is Japanese sweet rice wine. It adds a delicate sweetness and fragrance and gives the sauce a nice luster.
Sake – When added to a sauce, sake intensifies the flavors of the other ingredients.
Sugar – Sugar adds sweetness and balances the savory taste of the teriyaki sauce. It is also crucial to give the sauce its sticky texture. We don't use honey or maple syrup because they have a strong flavor. But, if that's your preference, go ahead but take care as it burns easily.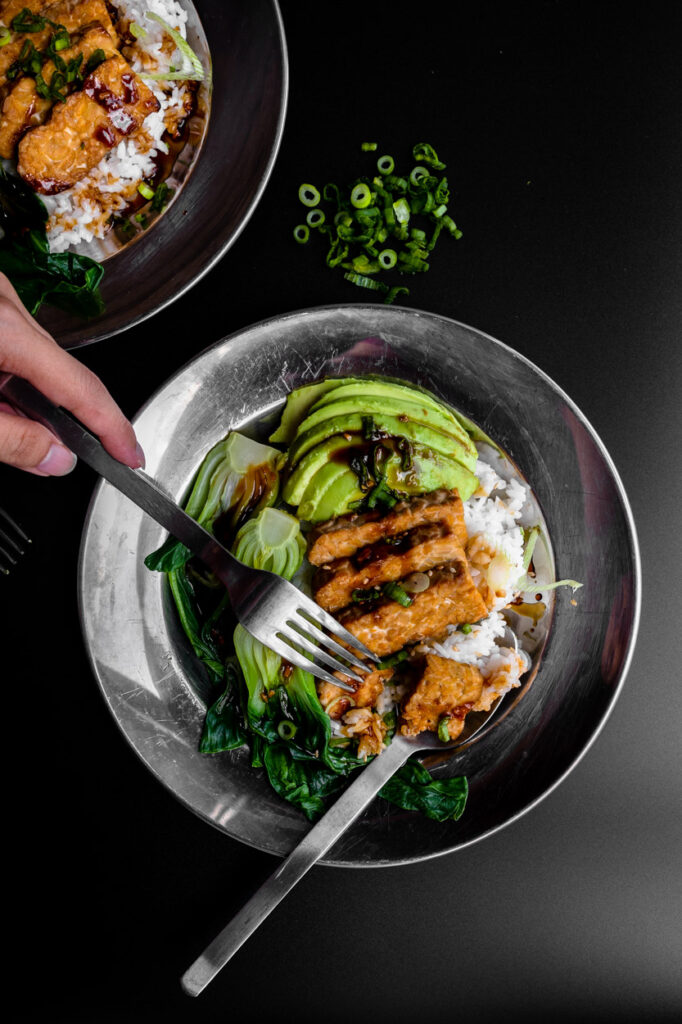 This is one of the recipes we like to make when we are busy, as it can be done in just a few simple steps.

xoxo, Joe
Teriyaki Tempeh Rice
Ingredients
1 package spicy tempeh

1 tbsp extra virgin olive oil or avocado oil

cooked rice

Your choice of veggie, we choose bak coy and avocado for ours

Teriyaki Sauce

4 tbsp soy sauce

1 tsp sesame oil or olive oil

2 tbsp maple syrup

1 tbsp apple sauce

½ tsp minced garlic

½ tsp cornstarch

Toppings

Sesame seeds

Scallions
Methods
Prepare the ingredients: Cut tempeh into triangles or squares. Place oil in a pan and sear the tempeh for 3-5 minutes on each side until crispy. At the side, blanch the vegetable in boiling water and keep it aside. Using a mason jar mix teriyaki sauce ingredients.
Assemble all the ingredients and served.