This colourful Fall Harvest Salad combines so many great textures and autumn flavours. Loaded with roasted sweet potato, fresh crisp beetroot, quinoa, and toasted walnut, this fall salad is tossed with lettuce and a delicious homemade tahini lemon dressing. It's healthy, wholesome, nourishing, and filling. Plus, it's a gorgeous and colourful salad to put on your holiday table this year. Enjoy this for dinner and save the leftovers for lunch the next day!
Roasted Sweet Potato
Let's start with the main ingredient of this dish – Sweet potatoes are incredibly versatile as a side dish for whatever protein you're serving, or as an add-on to salads (in this case) so you stay satisfied for longer. They're amazing boiled, baked, sautéed, and fried. One of the easiest and most useful ways to cook sweet potatoes is to roast them. For perfectly roasted sweet potatoes every time, abide by these 4 simple rules.
1. Roast at a super high temperature. Low and slow roasting brings out the natural sugars in fruits and veggies. Since sweet potatoes bring plenty of sweetness already, we opt for a higher temperature for roasting. This way, they get a nice golden char on the outside, while maintaining a custardy smooth core.
2. Cube 'em up. Unless the goal is to bake your potatoes whole, cutting them into 2.5cm cubes means a faster cook time and more surface area per bite for delicious caramelisation. Aim for equally sized potato pieces so that each piece cooks at the same rate.
3. Ditch the skin — or don't. This is totally up to you. Personally, we don't like the flavour and texture of sweet potato skin, but there's no harm in not removing it!
4. Flavour them. Here's where you choose your own adventure. Dried spices like cumin, chilli powder, turmeric, or curry powder all pair nicely with the sweetness of sweet potatoes. Freshly chopped hearty herbs like rosemary, thyme, or oregano work well, too if you want more flavour. For us, salt, pepper, and olive oil are the basic.
Preparation for Hearty Fall Salad
It's a simple salad where you can make in 30 minutes. You can start your morning by boiling and roasting the quinoa and sweet potato before your morning routine. All you need is to combine all the components and enjoy them.
Sweet Potato: dice and roast the sweet potato for 25-30 minutes at 220 degrees until slightly browned and tender.
Quinoa: in our experience, the sweet spot for light, fluffy quinoa is right in the middle. We use 1 3/4 cups water for every cup of quinoa. Any more water and the quinoa gets mushy. No less, and it's too dry.
Mixed Greens: the best thing about this salad is that it works well with a variety of different greens. You can use a mix of baby kale, spring mix, and spinach or you can go with butter lettuce, crisp romaine, arugula or a mix of all three.
Beetroot: The radish adds even more crunch and texture to this hearty salad. If you have never added beetroot to your salad, you are really missing out. They add such a great flavor. We recommend slicing them thinly if you doesn't like the taste of beetroot, we dice it like the sweet potato.
Roasted Walnut: do we even need to say anything else? perfectly crunchy, roast it with the sweet potato in it's last 5 minutes.
Creamy Tahini Lemon dressing
This is key to the salad. A mix of tahini, lemon, and minced garlic. It's so creamy, tangy, and even a little spicy. It pairs wonderfully with the flavours in the salad and is so quick to mix up too!
When the walnut is all roasted, toss the salad with the vinaigrette – serve it up, and enjoy!
Make-ahead and Storage Tips
Leftovers – this salad makes the perfect lunch the next day. Store leftovers in the fridge in an airtight container for up to 3 days.
Make-ahead and meal prepping – If you want to prepare this salad in advance we recommend storing the massaged lettuce, roasted sweet potato, and quinoa together in a sealed container in the fridge. Add the toppings, beetroot, and the remaining dressing just before serving.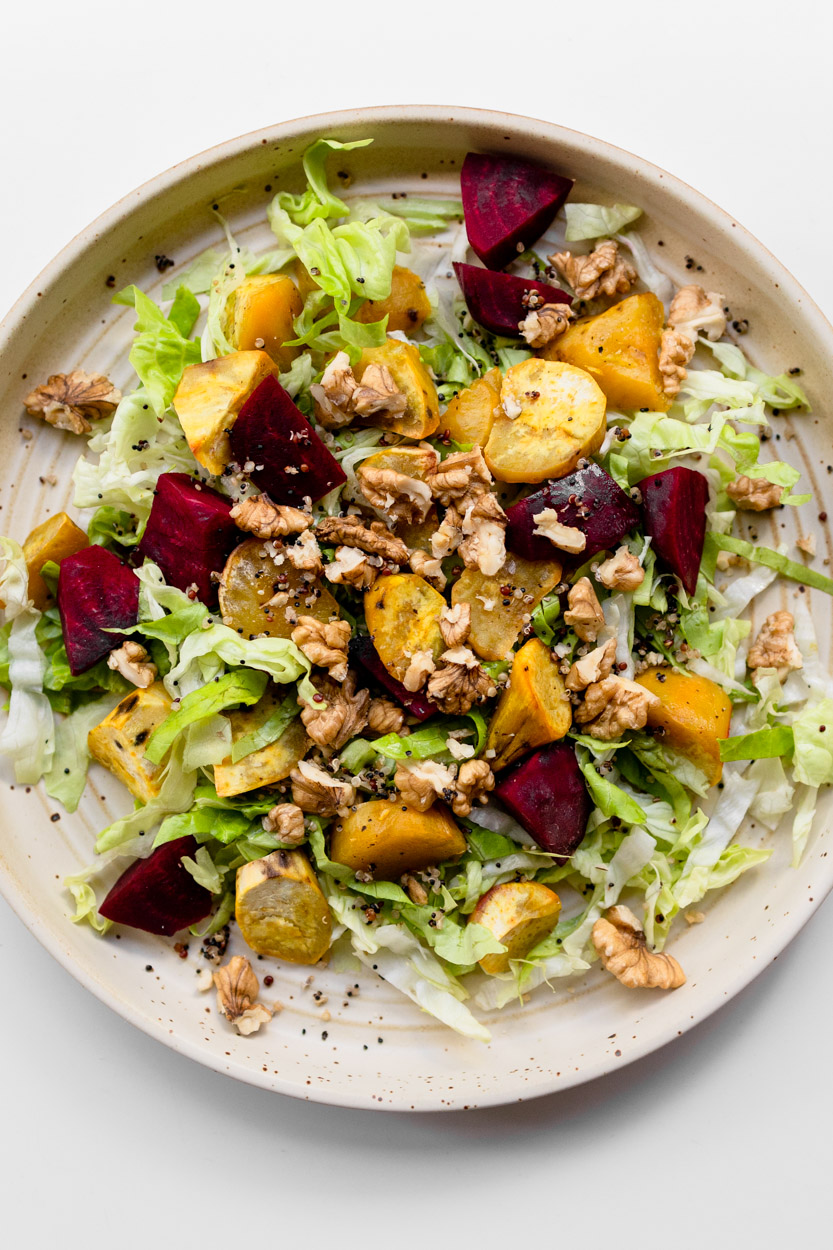 Not only is this so pretty on a dinner table, but it's totally delicious too. Sweet, tangy, and spicy with so many autumn flavours, plus an awesome crunch too. Great for every occasion from family dinners to Thanksgiving!

xoxo, Joe
Fall Harvest Salad
Ingredients
For Salad:

1 small butternut squash peeled, seeded, and diced

½ tablespoon olive oil

salt and freshly ground pepper

⅔ cup (120 grams) raw quinoa

1 cup (240 ml) water

2 cups (130 grams) chopped kale leaves

2 small apples cored and sliced or diced

Topping

¼ cup (30 grams) pecans roughly chopped

Tahini Lemon Dressing

3 tbsp of tahini sauce

4 tbsp of lemon juice

1 tsp of minced garlic

salt and pepper to taste
Methods
Roast the Sweet Potato: Preheat the oven to 400°F (200°C). On a non-stick pan, toss together the sweet potato, olive oil, and a pinch each of salt and pepper. Transfer to the oven and roast for 20 -25 minutes, flipping halfway through cooking, until the squash is tender. Remove from the oven and let it cool completely.
Cook the quinoa: Rinse the quinoa and drain. In a small saucepan, combine the quinoa with water and bring to a boil uncovered. When it starts to boil, reduce the heat to medium-low, cover, and simmer for 20 minutes or until the water is absorbed and the quinoa is light and fluffy.
Make Dressing: Whisk all the ingredients together in a bowl (or shake together in a mason jar) until combined. Taste and adjust the salt and pepper.
Place the lettuce in a large bowl and pour half of the dressing over the top. Use your hands to gently massage the dressing into the lettuce for about 30 seconds, until it starts to soften. Add the quinoa, roasted sweet potato, and beetroot into the bowl with the lettuce and toss to combine. Divide the salad between 3 plates, then top with the chopped walnut. Drizzle the remaining dressing over the top, and serve.