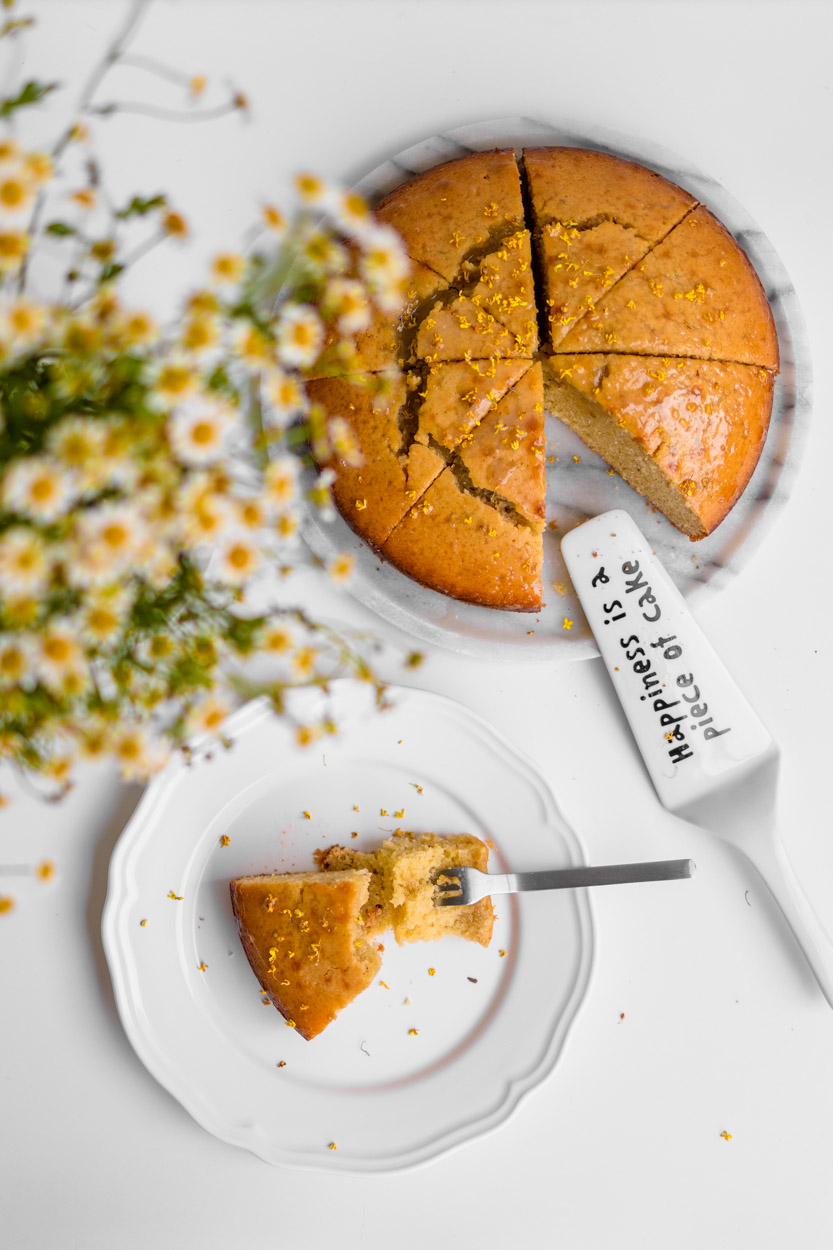 Osmanthus has been one of the flower tea we love to use in our food recently. We have been trying to use it in all kind of drinks such as SweetOsmanthus Soda, and IcedOsmanthus Latte using our Homemade Osmanthus Sugar. We have been wondering how to use theOsmanthus Sugar in desserts, and with the inspiration fromOsmanthus Coconut Jelly, we made this Osmanthus Pound Cake.

ThisOsmanthus Pound Cake is a moist, dense yet airy crumb, with a subtle sweetness from the addition of osmanthus syrup and vanilla. It's the perfect dessert dressed up with whipped cream and berries (or just a scoop of ice cream), or the perfect breakfast and afternoon tea cake.
In previous recipes, we have mentioned the benefit of Osmanthus Sugar. Where, it is a well-known herb that can improve skin, detoxify the body, reduce thick saliva in the throat and boost lung health. Not to mention incorporate them in the cake give a light flora fragrant and texture. While the main ingredients is Osmanthus Sugar, the oil we used in this recipes is also the highlight.
Do you need to use coconut oil?
Coconut oil is a great substitute for shortening, butter, margarine, or vegetable oil in baking. (We generally don't substitute butter, since butter has health benefits of its own.) Over the past few years, we have gradually moved to replace most oils with coconut oil and have found it works very well. Compare with other oil the results using coconut oil will make your bakes taste a bit lighter and with a touch of coconut.

While coconut oil does give a different flavour to this cake but it is not compulsory to use it. Change the coconut oil to any avocado oil, and vegetable oil, it will be a success.
Replacement of self-raising flour?
In most of my cake recipe, we use plain flour, as it can be used in many other places and dishes. However, to make this recipe simpler, we use self-raising flour. However, if you only have plain flour-like us or couldn't get on hold toself-raising flour. For the 1 cup of self-rising flour in this recipe, substitute 1 cup of all-purpose flour sifted together with 2 teaspoons baking powder.
This cake is easy to make even without a mixer, as it doesn't require you to whisk. With a spatula and bowl, you can incorporate them well without using much strength too. Pulling together the batter is easy peasy. But once it gets into the pan and hits the oven, that's where things get a little tricky. Why? This cake develops a very deep, brown crust. That crust is part of the full-bodied flavour of the resulting cake. However, it can quickly burn if you're not watching it.
As all ovens are different! So at the halfway mark, be mindful and keep a closer eye on this cake. The goal is to get a deep brown crust while avoiding burning. You'll need to reduce the oven temperature and tent the cake. This extra step also prevents you from prematurely poking the cake to test for doneness, which may result in it collapsing in the centre.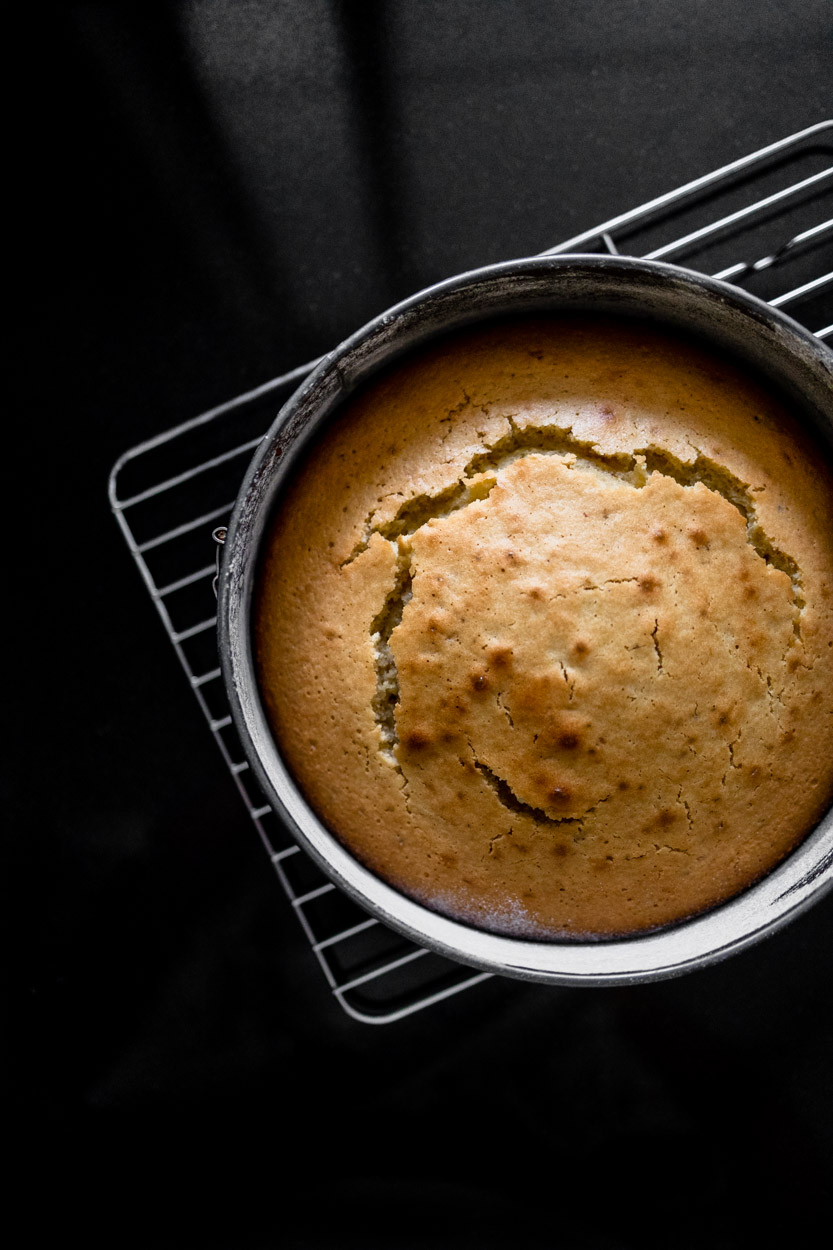 Making Osmanthus Glaze
To glaze or not to: The glaze in this recipe is meant to cover the entire cake, and the result is almost like a deliciously glazed cake doughnut. It adds an extra hit of sweetness, and it makes the cake prettier! That said, we've enjoyed this cake both glazed and unglazed in equal measure.

How to make the glaze: In a measuring jar with a mouth, whisk together the sifted powdered sugar, milk, and osmanthus syrup until you get a smooth glaze. Start with 4 tablespoons of milk and only add the last tablespoon if the glaze looks too thick. Pour over the cooled cake.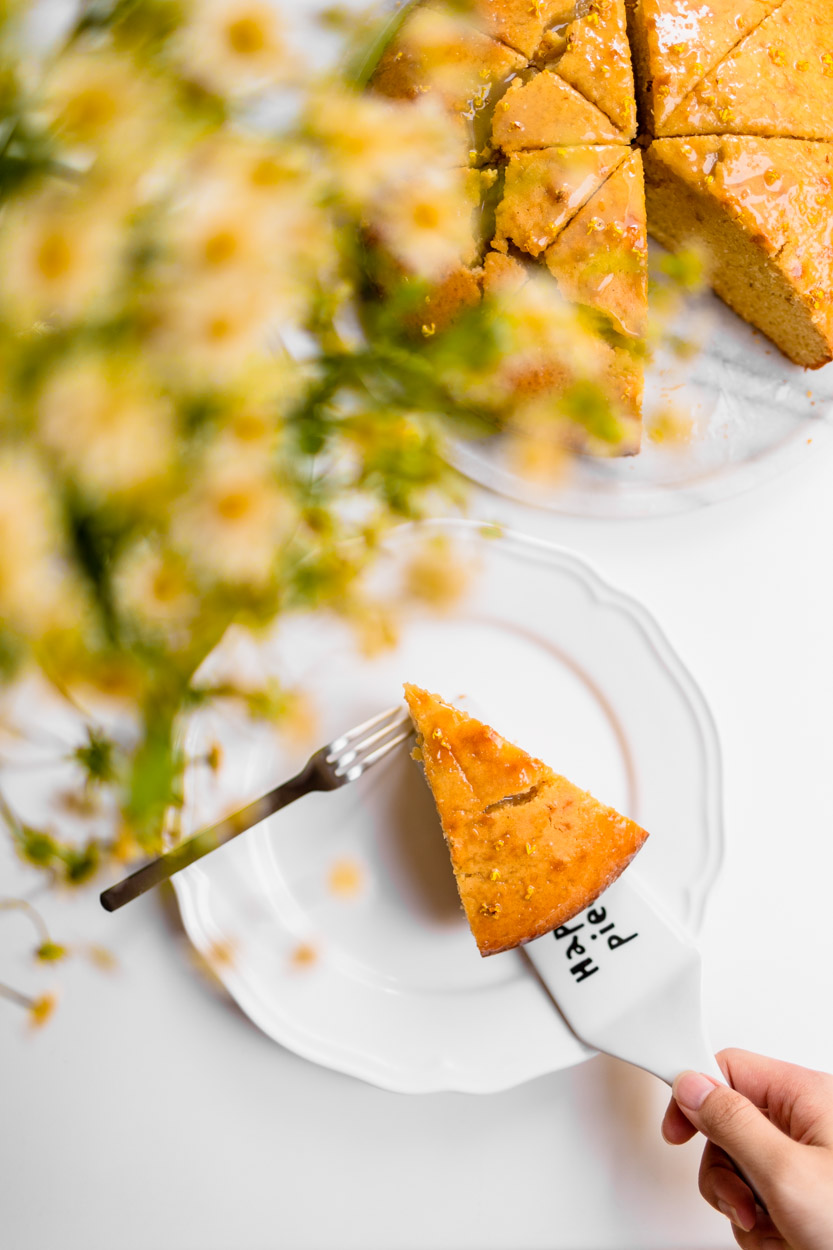 You could also enjoy this pound cake with our Longan Osmanthus Tea making a good tea time during this spring. We love to enjoy them with a view of our garden, and we hope you will like it too.
xoxo, Joe
Osmanthus Pound Cake
Ingredients
1/2 cup unsalted butter (at room temperature)

3/4 cup granulated sugar

1 teaspoon vanilla extract

1/2 cup oil (we've used neutral flavoured coconut oil, regular coconut oil, avocado oil, and vegetable oil with success)

4 large eggs

1/4 cup osmanthus sugar

1 1/3 cups almond flour

1 cup self-rising flour (plus extra for dusting)

1/2 teaspoon salt

FOR THE GLAZE (OPTIONAL):

2 cups confectioner's sugar

4-5 tablespoons milk

2 tablespoons osmanthus sugar
Methods
Preheat the oven to 400°F. Grease and flour a 9-inch round springform pan. You can also use an 8-inch square pan, but the pan should not have a dark non-stick coating, or it's likely it will burn.
Add the room temperature butter, sugar, and vanilla extract to the bowl of an electric mixer fitted with the paddle attachment. Beat on medium speed until light and fluffy, 1 minute. If your coconut oil is solid, add it at the same time as the butter. If it's liquid, add it after the butter and sugar have had a chance to cream together.
The mixture may be a little separated if you are using liquid rather than solid coconut oil. That's okay. Scrape the sides of the bowl, and then add the eggs one at a time, beating well with each addition. It should be golden in color and thickly emulsified. Mix in the osmanthus syrup. Give the bowl another scrape to make sure everything is mixed evenly.
In a separate bowl, whisk together the almond flour, self-rising flour, and salt. Turn the mixer speed to low, and gradually add the dry ingredients in three batches.
Pour the mixture into your prepared pan. Immediately place into your preheated oven, and bake for 25 minutes. Reduce the oven temperature to 375°F, and tent the cake with foil. Bake for another 10-15 minutes.
The cake is done when a toothpick inserted into the center comes out clean. NOTE, poking the cake prematurely may cause it to collapse in the center. (If this happens, it'll still taste good, so don't worry!). Remove the cake from the oven to cool. It should be a deep brown color.
Cool for 20 minutes before removing the cake from the pan. A paring knife around the rim of the pan helps loosen it. Let cool completely on a wire rack before glazing.
If glazing the cake, whisk together the sifted powdered sugar, milk, and osmanthus syrup until you get a smooth glaze. Start with 4 tablespoons of milk and only add the last tablespoon if the glaze looks too thick. Pour over the cooled cake.