Do you want something savory, crispy but salubrious for dinner? You will be in love with Roasted Peppers & Brussels Sprouts, it matches the description above. It's a very simple dish that requires just a 20 minutes of your time.
This recipe was inspired by a small bowl of Roasted Brussels Sprouts I tasted a couple months ago. With the skin of the Sprouts stayed crispy and within juicy. For those who follow our blog notice that we have a love-hate relationship with Brussels Sprouts. Still, it is still as our favorite ingredients for dishes.
The roast vegetable can be very easy if you manage a few handful of tips. The time, temperature and seasoning. The reason I say so as there is the time we roast vegetable for dinner, we roasted it for too long and it turned out dry with burn smell. Even you manage your time well, if the temperature is too low or high it will not stay crispy and within juicy if you didn't add enough oil, it then to be very dry and brittle.
Seasoning is always the most important note as nothing will taste good without good seasoning.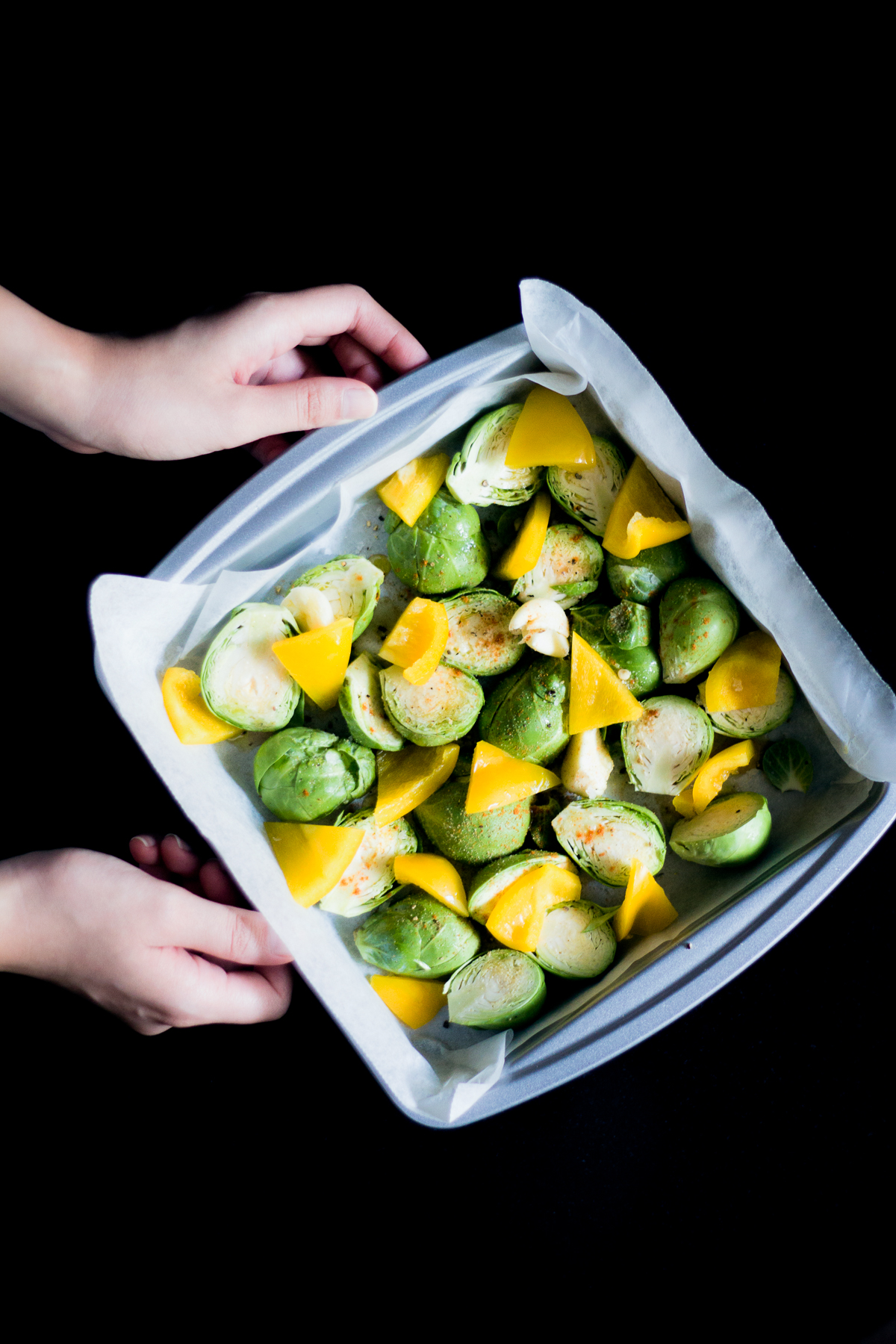 Like we say, this is dish this very simple, you just have 3 steps before you indulge it favors. Wash, Cut and Roast them. Isn't it the most simple things of all? For those who don't cook, this is as easy as cooking the instant noodle. Try this dish to impress people on your social media.
Brussels sprouts have been one of our favorite ingredient in the past year, as it not only taste good but it's also a beautiful vegetables. Some promising tips for you while handling this vegetables;
They can stay fresh in the refrigerator for up to a week and a half, so they are good candidates for keeping on hand.
To make sure the leaves are softened and properly seasoned, give them a good massage before adding anything else.
Raw Brussels sprouts love a dressing with fatty and assertive flavors. Remember dress it with lots of olive oil, as it dry up fast.
Ingredient |
1-1/2 pounds

 

brussels sprouts, halved, stems and ragged outer leaves removed*

3 tablespoons

 

extra virgin olive oil

1 yellow peppers, small cube

3/4 teaspoon

 

kosher salt

1/2 teaspoon

 

freshly ground black pepper

1 tablespoon

 

balsamic vinegar

2 teaspoon

 

honey
Method |
Preheat oven to 425 degrees.
Line a baking sheet with aluminum foil. In a large bowl, toss Brussels sprouts with 2 tablespoons olive oil, kosher salt and pepper. Transfer the Brussels sprouts to baking sheet and roast, stirring occasionally to ensure even browning, until tender and caramelized, about 20 minutes.
Place Brussels sprouts back in bowl. Add remaining tablespoon olive oil, balsamic vinegar and honey and toss to coat evenly. Taste and adjust seasoning if necessary, then serve.
Make them take a photo, send us an email, tag us on Instagram, tweet us, anything. More stories on our #stellerstories, we want to see yours! It would make the day!
xoxo, Joe