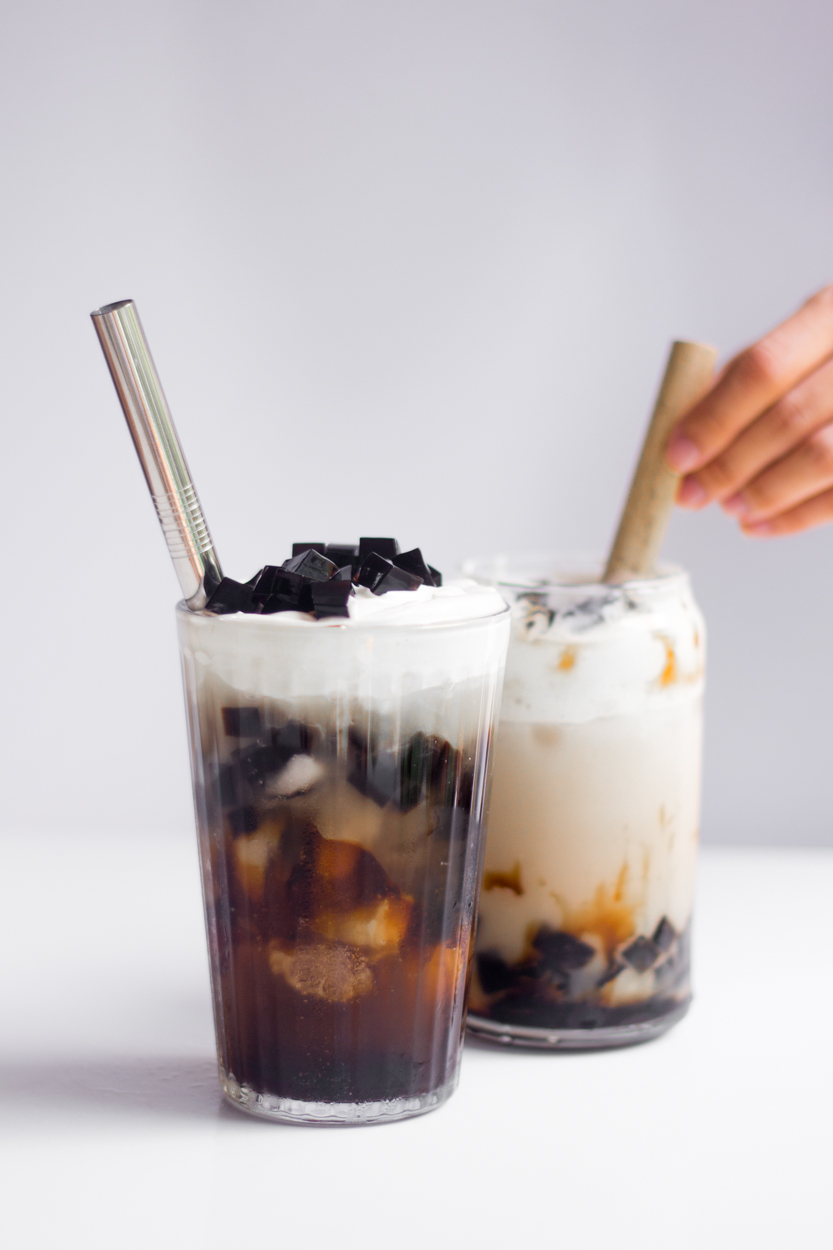 In Summertime, especially in Singapore, a glass of chilled grass jelly is the best thirst quencher on warm sunny days. Don't be mistaken, this is not a bubble-tea, yes, from far it looks like one but it's defiantly a healthier version of it! It is a must-drink summer delight, we drink this since we were a kid. Unlike our grandmother traditional recipe, we make some twist with our recipe.

In the old day, my grandmother will make her own Grass Jelly and boiled a big pot of Pandan Rock Sugar Water and chilled them in the fridge for us to drink it. It is so sweet and cool for a hot sunny day! However, it may be too sweet for us right now so we make a tweet in the recipes. We will make the sugar syrup make with water and plenty of ice, add in the chopped grass jelly and topped with cheese foam. It is not too sweet with a little hint of saltiness, it works so well for a summer day!
Easy Making Cheesefoam
It's not that hard to recreate your own cheese foam as you only need 3 ingredients; cream cheese, sugar and whipping cream. Make sure your cream cheese is at room temperature if not you won't be able to have a smooth texture. The combination of creamy, slightly sweet and salty cream cheese foam, topped over cold green tea is something to marvel at. All good beverages that we have come across. We recommend doubling up the ingredients and keeping the whipped cream mixture covered in the refrigerator so you can use it daily in your morning or afternoon tea!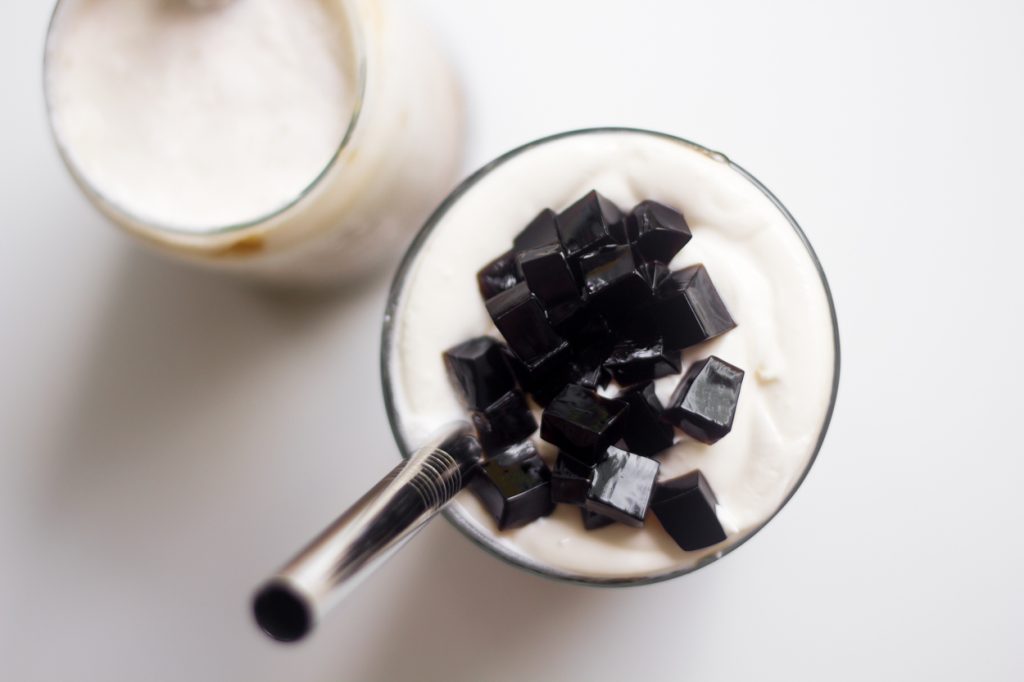 What's Grass Jelly?
Grass jelly is made by boiling the aged and slightly oxidised stalks and leaves of Platostoma palustre (Mesona Chinensis) with potassium carbonate for several hours with a little starch and then cooling the liquid to a jelly-like consistency.

The benefit of Grass Jelly
Grass jelly is often used to help reduce blood pressure, balance blood sugar and protect against diabetes and liver disease. The report notes that it may also:
Act as an antioxidant to fight free radicals
Fight off potentially harmful bacteria that can cause sickness and infection
Protect against cancer
Boost the immune system
It is the best refreshment you can consider for the Summer. Keep yourself cool with Grass Jelly with Cheesefoam. Not to forget to serve them with reusable straws, don't forget that saving the earth is not just a period of moments but a long life journey. Hope you enjoy this simple drink!

xoxo, Angela
Grass Jelly with Cheesefoam
Ingredients
grass jelly (cut into cubes)

2 tbsp of brown sugar syrup
(1 cup of brown sugar + 3tbsp of water; boiled till thicken)

Cheese-foam

85g of cream cheese (at room temperature)

85g of whipping cream

3 tbsp of sugar

salt
Methods
Cheese-foam
In a medium mixing bowl, add the caster sugar and cream cheese. Beat on high until smooth and creamy. About 3 minutes with a hand mixer.
Add in whipping cream and sea salt to the mixing bowl and beat until thick and frothy but still slightly runny. About 3 minutes with a hand mixer.
Combine the drink
Add in the brown sugar syrup starting from the side of the cup. Then add in your ice, follow by grass jelly and water. Spoon whipped cream mixture on top of iced green tea.  Optional – sprinkle a little sea salt on top.