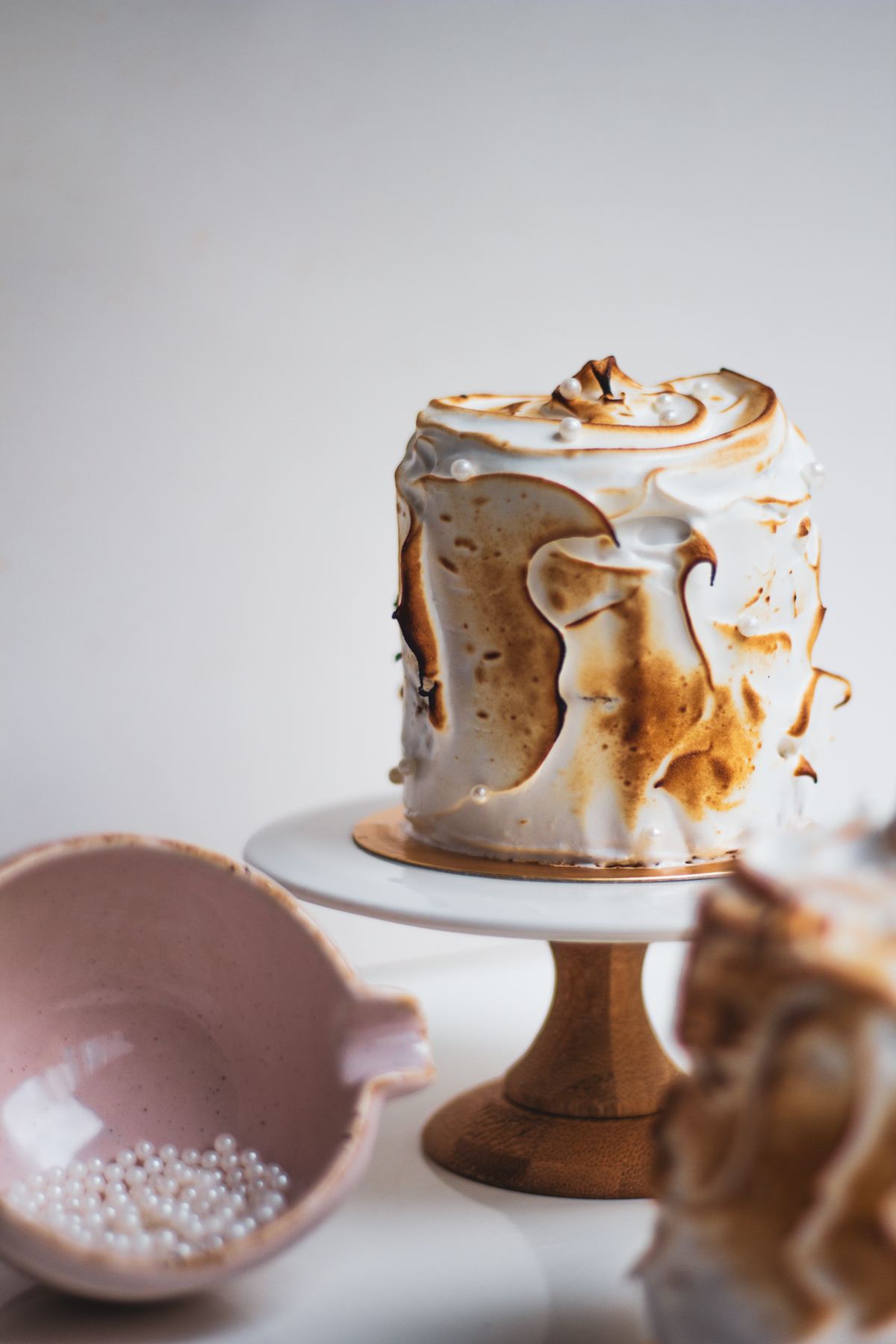 Who says that it has to be autumn for a pumpkin cake, it should be the all-rounded season! If you only have pumpkin cakes during autumn that will be so wasted. As it is not at our home for sure, we love the pumpkin in all its favours – it also classy and sweet by its natural scent and taste.

So just the other day, Joe and I decided to make a 4-layers mini pumpkin cake with all of our favourites within one! You will love it like we do – pumpkin, caramel and coated beautifully with meringue.
This recipe is super straight forward (aka way easier than making pumpkin pie). Whisk together the dry ingredients – flour, pumpkin pie spice, baking powder, baking soda, and salt. In a separate large bowl beat together the oil, caster sugar, eggs, pumpkin, and vanilla extract. Carefully beat the dry ingredients into the wet ingredients about 1/2 at a time. Be careful not to overmix the batter. Spoon the batter into the prepared pan, smooth the top, and bake.
This cake will bake for 15 minutes. When in doubt – bake the cake for a few more minutes. This cake is very moist so the chances of it drying out are slim/non-existent. If your cake is gummy or starts to sink – that means it wasn't baked for long enough.
Is Pumpkin high in sugar level?
While you are having pumpkin, the natural sweetness will make you worried about the high sugar content. A cultivar of a squash plant and known for its distinct colour, pumpkins are low in calories and contain many nutrients such as protein, calcium, fibre, iron, provitamin A and vitamin C.

Based on the reading we studied, Pumpkin has a high glycemic index, but a low glycemic load at 3. This means that as long as you stick to eating a single portion of pumpkin, it shouldn't significantly affect your blood sugar levels. However, eating a large amount of pumpkin could drastically increase your blood sugar. Therefore with a balanced healthy diet, a slice of pumpkin cake wouldn't cause you much harm compared to the fast-food you might have consumed.
Which ingredients to use?
Can I use pumpkin pie filling?
No, unfortunately, canned pumpkin pie filling and pumpkin puree are not interchangeable. Pumpkin pie filling includes sugar, thickeners, and many other ingredients and therefore will not yield the desired results. You can also make your very homemade pumpkin puree, with just a few simple step.

Swiss meringue vs Italian meringue
Use your favourite meringue recipe to top the filling. We prefer using Swiss meringue which cooks the raw egg whites and sugar over a double boiler before whipping until stiff and glossy. Swiss meringue is more stable (which means less weeping will occur) and adds to that marshmallow-texture we like. Cover the cake with Swiss meringue then caramelize the meringue with a blowtorch or bake for another 20 minutes at a low temperature before serving.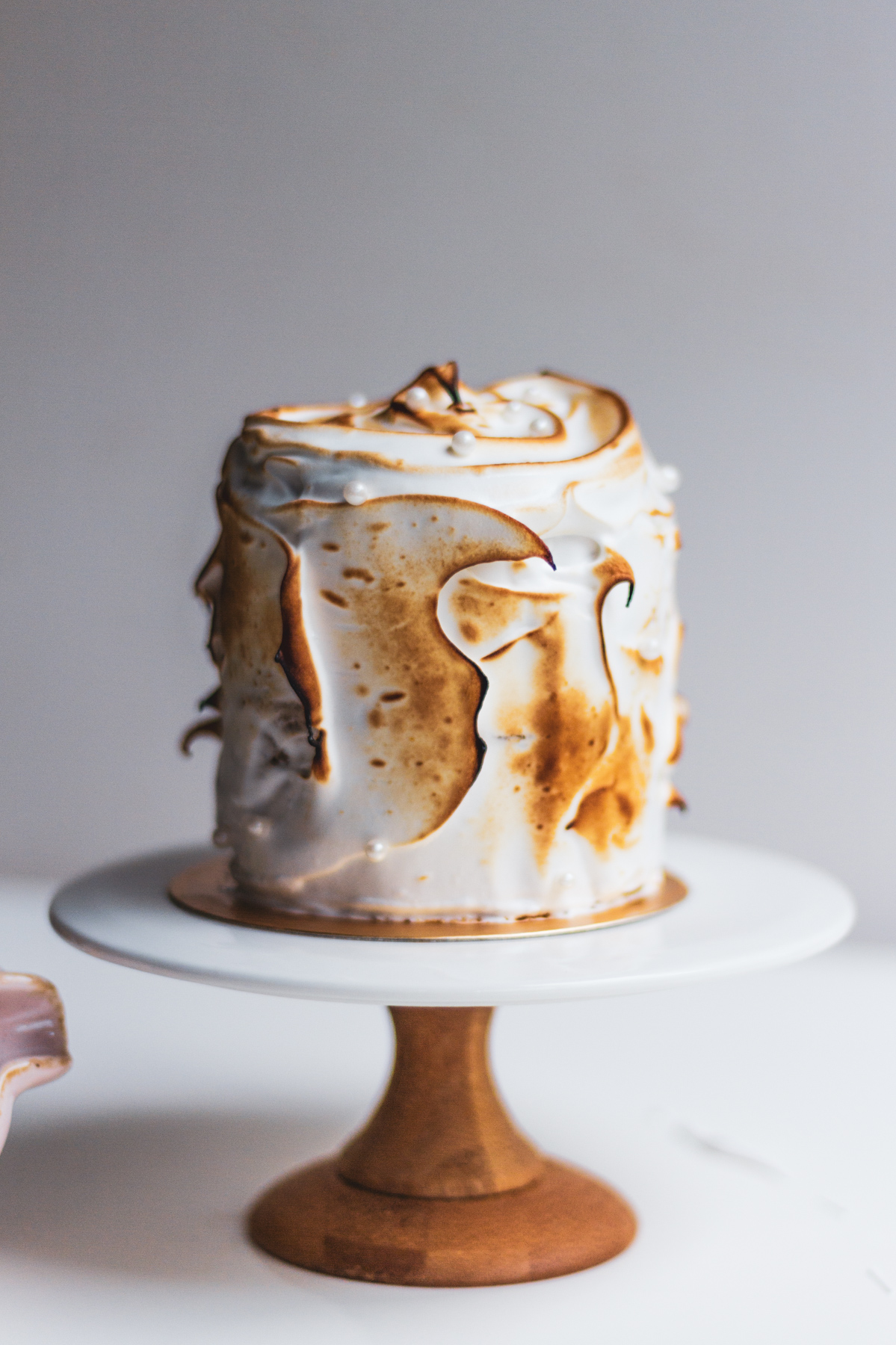 This may not be a simple cake to make but it is moist and filling for the dessert day. We love to prepare the caramel filling beforehand and leave it in the fridge for future use. It makes everything easier. Give this cake a try and let us know in the comment below or on our Instagram for the result.

xoxo, Angela
Mini Pumpkin Cake Coated with Meringue
This is a delicious version of my favorite ever pumpkin cake, where we use both grated pumpkin, pumpkin puree and sour cream instead of grated carrot and apple sauce/peach puree.
Ingredients
Pumpkin Cake

150 g butter

1 3/4 cups grated pumpkin

3 large eggs

150 g (2/3 cup) granulated sugar

65 g (1/3 cup + 1 1/2 tbsp.) light brown muscovado sugar, firmly packed

180 g (1 1/4 cups) all purpose flour

2 tsp. baking powder

1 1/2 tsp. baking soda

1/4 tsp. flaky salt

1 tsp. ground cinnamon

80 ml (1/3 cup) sour cream

80 ml (1/3 cup) pumpkin puree

Caramel Filling

150 ml (2/3 cup) milk

100 ml (1/3 cup + 2 tbsp) heavy cream

1/2 vanilla bean

3 large egg yolks (save egg whites for frosting)

4 tbsp. (55 g) granulated sugar, divided

2 tbsp. (17 g) cornstarch

pinch of salt

1 tbsp. (15 g) butter
Methods
Pumpkin Cake
Heat oven to 350°F (175°C). Butter a 30 x 40 cm/ 11 x 16 inch sheet pan and cover with baking paper.
Melt the butter and set aside to cool.
Peel and grate the pumpkin.
Beat eggs and sugars until fluffy and lighter in colour and texture, about 3 minutes. Add the melted butter and beat until combined. Mix flour, baking powder, baking soda, salt and cinnamon in a bowl, then stir into the batter until just smooth. Add grated pumpkin, pumpkin puree and sour cream to the batter and stir until combined. Pour the batter into the prepared pan and smooth with a spatula.
Bake for about 16-18 minutes, or until a cake tester comes out clean. Let cake cool completely before cutting out rounds with a 6,5 cm/2.5 inch cookie cutter. Wrap the rounds in plastic wrap or store in an airtight container if not using immediately.
Caramel Filling
Pour milk and cream into a saucepan. Scrape the seeds out of the vanilla bean and add seeds and bean to the saucepan. Cook over medium heat until mixture comes to a boil. Remove from heat.
In a medium bowl, whisk together 1 tbsp sugar, cornstarch, salt and yolks. Set aside.
Put the remaining 3 tbsp of sugar in a heavy-bottomed saucepan. Place the pan over medium to high heat until the sugar starts melting around the edges. Turn the heat down to low and stir carefully with a spoon until sugar is melted and golden brown. Be careful not to burn the sugar! Stir in the butter.
Very carefully pour some of the hot milk mixture over the melted sugar (it will bubble up so make sure to be careful as this stuff is hot!). Add the milk mixture little by little, then heat until everything is melted again.
Slowly pour half of the hot milk mixture over the egg mixture to temper the eggs. Pour everything back into the saucepan and remove the vanilla bean.
Whisk over medium heat until the mixture becomes very thick. Put the saucepan in a cold water bath, stirring every now and then to prevent a skin from forming. When mixture is cool, pour into a clean bowl and cover with plastic wrap, pressing the plastic wrap against the surface of the pastry cream. Put the bowl in the fridge until pastry cream is cold and thick – about 2 hours, but preferably longer.
Assemble
Put the first small cake layer on a small plate or cake stand. Spread with a layer of the pastry cream, then put the next cake layer on top. Repeat until you've used four layers for each little cake. Put the cakes in the fridge while you prepare the frosting.
Meringue
Pour egg whites and sugar in a clean and heatproof bowl (preferably stainless steel or glass). Put the bowl over a saucepan with simmering water. The bowl should fit snugly, and the simmering water should not be touching the bowl.
Whisk the sugar and eggs constantly with a whisk until the mixture reaches about 65°C (about 140-150°F). If you don't have a sugar thermometer, just rub some mixture between your fingers. If the sugar has melted and mixture is hot to the touch, it's ready.
Remove the bowl from the heat, beat until white, fluffy and cool to the touch with a stand- or electric mixer. This step can take about 5-10 minutes. Stir in the lemon zest.
Cover the cakes with meringue frosting and toast the meringue with a kitchen torch.