When tomatoes are in season, it's the perfect time to include them in just about every dish. If you have a lot of these little red gems on-hand, you'll want to know how to make sun-dried tomatoes in the oven. It's a great way to make them last longer and add flavour to so many dishes. But don't be intimidated — making this homemade sun-dried tomatoes recipe is surprisingly simple!

You can make batch after batch of these oven-dried tomatoes, and have loved tossing them in everything from salads to soups, pasta, pizzas, frittatas, sandwiches, biscuits, pestos and more. We've also found that — if you happen to make an extra batch while you're at it — people love receiving these little gems as summertime gifts. And if you pop a freshly-dried batch in the freezer, they can keep there for up to 3 months! Let us get started now!
3 Ways to make Sun-dried Tomatoes
Dry them out in the sun – The obvious way. Simply arrange on a rack, sprinkle with salt, and place in the hot sun. Unfortunately, weather can be unreliable and humidity can be a problem.
Dehydrator – Homemade sun-dried tomatoes can be made in a dehydrator, but it's a speciality tool that not everyone has. If you do, you can follow the oven-dried tomato recipe below but dry in the dehydrator for 6-8 hours instead.
Oven – Our favourite method! No special tools are required and everyone has one. Get instructions for how to make sun-dried tomatoes in the oven below!
Choosing the Right Ingredients
As this is a simple dish, we usually pay more attention to the ingredients that needed to be used;
Tomatoes – We used cherry tomatoes, but Roma or grape tomatoes are great to use. San Marzano tomatoes are also excellent because they don't have a lot of pulp or seeds. Small to medium tomatoes have less water and seeds, meaning they dry out faster and hold their shape better after drying, so we don't recommend using ones larger than Roma tomatoes.
Sea Salt – Helps get the extra moisture out of the tomatoes, and adds flavour.
Olive Oil – You can use this for serving or storing, but it's optional. If you do use it, get a high-quality extra virgin olive oil.
Italian Seasoning – Optional, but adds extra flavour! Use store-bought or make homemade Italian seasoning. You can also just pick individual dried herbs, such as oregano, rosemary, thyme, or basil.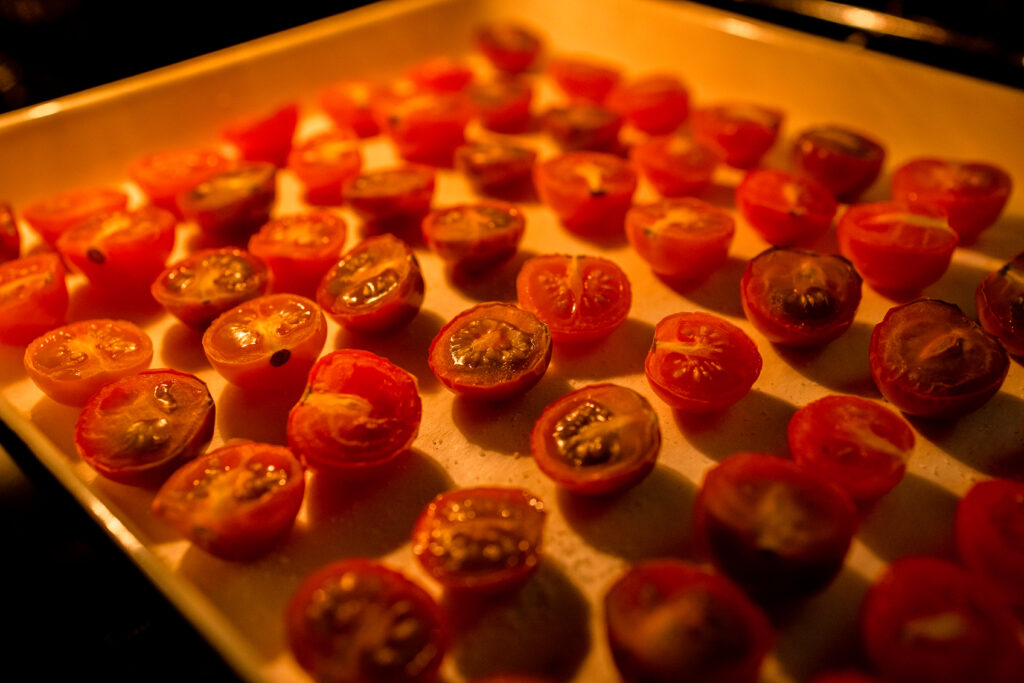 How to make Sun-dried Tomatoes in Oven?
Prep your tomatoes. Super simple — just slice the tomatoes in half lengthwise*, spread them out in an even layer cut-side-up on a parchment-covered baking sheet, then season with salt.
Slow roast. Now comes the patient part — the tomatoes will need to slow-roast in the oven for about 2.5 to 3.5 hours at low heat (250°F), or until they reach your desired level of dryness. You don't need to flip or rotate the tomatoes during this time, but I do recommend keeping an eye on them near the end to ensure that they do not burn.
Serve or store. Then once your tomatoes are done, they're ready to serve or add to a recipe right away! Or see below for storage instructions.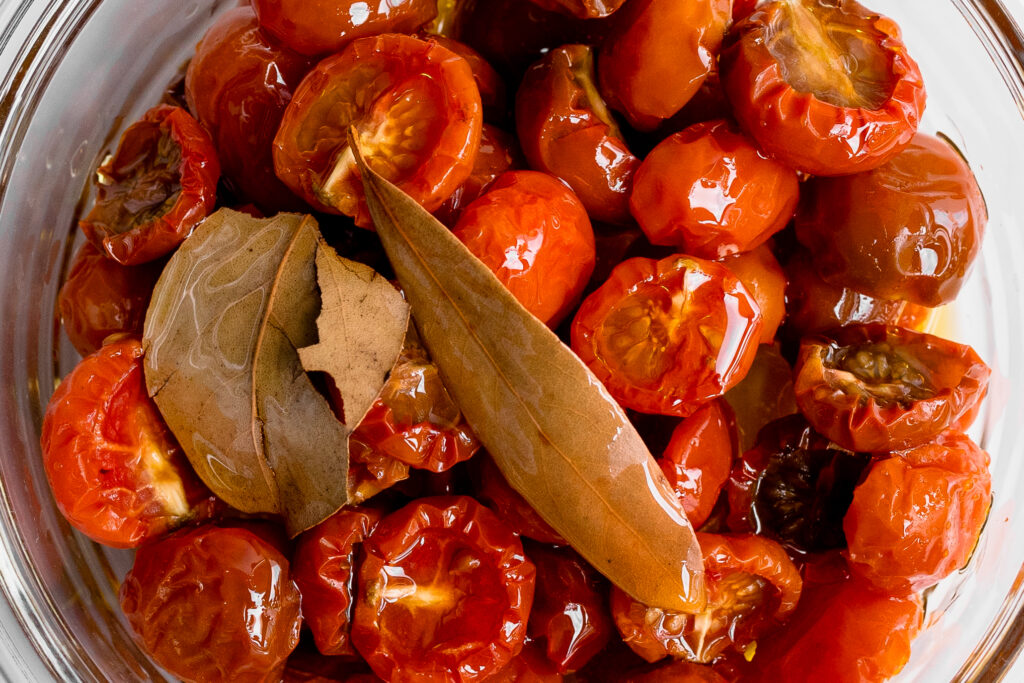 How to Store Sun-dried Tomatoes?
As we are making them in a huge batch thus there may be some leftovers for later use, and below are the ways we store them to keep them fresh;
Refrigerate sun-dried tomatoes. Place them in a small jar then drizzle with olive oil (you will need quite a bit) until the tomatoes are completely submerged. Place a lid on the jar to seal, then refrigerate for up to 4 days.
Freeze sun-dried tomatoes. Spread the sun-dried tomatoes out in an even layer on a parchment-covered baking sheet or plate. Then transfer to the freezer for at least 2 hours, or until the tomatoes are frozen. Remove and transfer the tomatoes to a freezer-safe bag, squeeze out any extra air, and then freeze for up to 3 months.
There are so many delicious ways to cook with sun-dried tomatoes! We especially love adding them to salads, soups, pasta, pizzas, frittatas, sandwiches, biscuits, pestos and more. Can't wait to share with you our recipe for using them. The possibilities are endless – share with us your version! Take a photo of yours, send us an email, tag us on Instagram, tweet us, anything. We love to see yours!
xoxo, Joe
Make Sun Dries Tomatoes at Home