The Chinese-style Spicy King Oyster Mushroom Salad is a delicious, refreshing cold appetizer. There's only a little prep involved, and it's sure to satisfy. If you're like me, you've already incorporated king oyster mushrooms into your regular mealtime rotation because they're so easy to prepare and versatile! With Sichuan chilli and red & green chilies, we're making a spicy salad filled with gingery, garlicky goodness. 
In the summer, people like to make cold salads 凉拌菜 (liángbàn cài) with whatever they have on hand to minimize cooking and heat. In fact, the concept is similar to making salad, but lettuce is not the main ingredient. We're using king oyster mushrooms in this recipe, but you can use any vegetables you prefer: carrots, celery, zucchini, cucumber, broccoli, cauliflower, eggplant, peppers, or string beans. There are also some traditional Chinese ingredients you can add, such as tofu, seitan, five-spiced tofu, bean threads, seaweed, wood ears, noodles, and so on.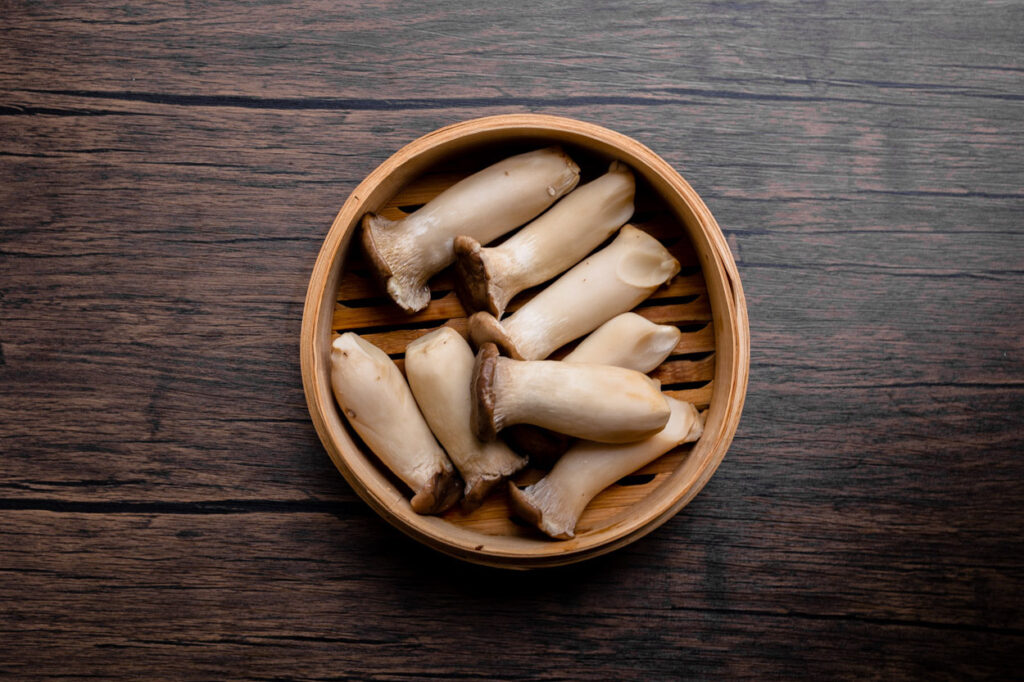 King Oyster Mushroom
King oyster mushrooms have a lovely name in Chinese called "leg mushrooms," describing their lovely shape, similar to chicken legs, as well as their special texture. Similar to chicken, it has a lovely flavour and texture. Kung pao mushrooms and deep-fried mushrooms can also be made with it.
Is it better to steam or boil?
For this salad, steaming is the best way to avoid the mushrooms absorbing too much water during cooking. When mixing with the seasonings, wait for a while until all the flavours are well blended, then mix in green onions and peanuts.
How to prepare it?
The king oyster mushroom should be slightly washed and any dirt on its surface should be removed. Then halved. Place in steamer and steam for 10 minutes until softened. Steaming can avoid the mushrooms from absorbing extra water in the mushroom and thus can present a stronger flavour from the seasonings. Let the mushroom cool down before tearing them into smaller strip.
Seasoning is Key
To complete this dish the seasoning is key and you may need a bit time to prepare them. What you need are;
Fresh chilli; we use both green and red chilli for the colours and bit of heat
Toasted peanuts; you could get the ready toasted peanuts from the supermarket to save time. For us we get the raw peanuts from the wet market and toast it in the oven for 20 minutes at 200C.
Minced garlic and ginger; this both are the basic yet key to making chinese food, it added frangant to the salad. Do not minced them too fine as we still want a bite of them
Spring Onion/ Corriander; the key to preparing them is make sure they are dry well before chopping into diced as you want chruncy vegatable
Seasoning; oyster sauce, sesame oil, salt and sugar, sichun chilli powder helps to elevate the dish
The sequece of combining them is imporant, start with add fresh chilli, sichun chilli, spring onion, garlic and ginger. Then drizzle hot oil on surface to work up the aroma. Try to spread the aromatics. Add oyster sauce, sesame oil, salt, light soy sauce and toasted peanuts, mix well. Set aside for 5 minutes. Let the sauce and the mushrooms combine well.
The spice and juiciness of the mushroom taste exactly like what we have in the Hotpot store Hai Di Lao, we always have been craving for it when we wanted something vegan and spicy. Now it can be easily made at home.

xoxo, Joe
Marinated Abalone Mushroom
Ingredients
6 King oyster mushrooms , halved

½ tsp. salt

½ tsp. sugar

1 tbsp. pepper powder , mix in 1 tsp. pepper flakes

1 dried chili pepper , cut into small sections

2 fresh Thai red peppers , cut into small circles

1 tbsp. chopped garlic

½ tbsp. chopped ginger

3 tbsp. hot oil for drizzling

1 tbsp. oyster sauce

1 tbsp. light soy sauce

½ tbsp. sesame oil

1 tbsp. toasted peanuts

chopped spring onion
Methods
Steaming Slightly wash the king oyster mushroom and remove any dirty on surface. Then halved. Place in steamer and steam for 10 minutes until softened.
Shredding Transfer out, slightly cooled and then shreds by hands.
Drizzling hot oil Add salt, sugar, dried peppers, fresh pepper circle, pepper powder, garlic and ginger. Then drizzle hot oil on surface to work up the aroma.
Other seasonings Add oyster sauce, sesame seeds, sesame oil, light soy sauce, mix well. Set aside for 5 minutes.
Presenting Mix in chopped spring onion and coriander. Transfer to serving plate and decorate with chopped spring onion on top .