Carpaccio is a dish that originated in Veneto, Italy. The original preparation consisted of thinly sliced raw beef slices served with lemon juice, olive oil and shaved parmesan. The term carpaccio has later expanded to include all sorts of raw meat or fish preparations where the toppings or dressing on top consists of some sort of variation of lemon juice and olive oil.
This variation that I have put together is inspired by traditional carpaccio but uses cold smoked salmon. To me, smoked salmon carpaccio is the ultimate spring or summer dish! In this recipe, smoked salmon gets lightly marinated in a lemony-shallot dressing then topped with crispy pan-fried capers, and garnished with fresh dill. You can then serve this dish as-is or on top of crostini, crackers, or heck…you can even serve this on a freshly toasted bagel for an elevated lox brunch situation!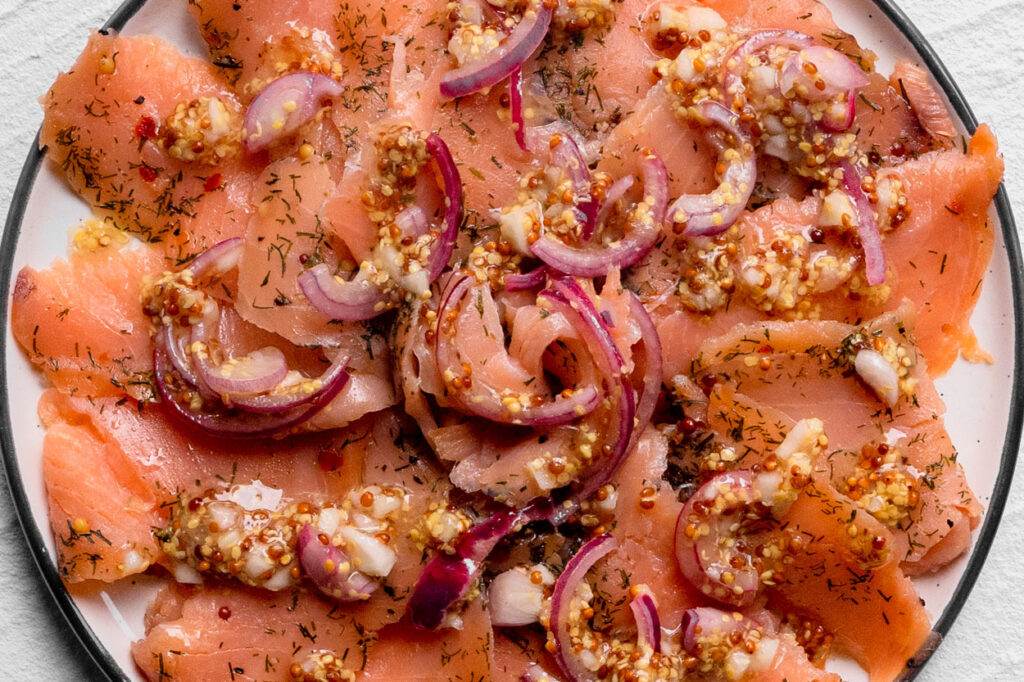 I absolutely love this appetizer and it would be perfect for an Easter Sunday appetizer or brunch as well!! I hope you all enjoy this easy, elevated appetizer. 
xoxo, Joe
Spicy Smoked Salmon
Ingredients
FOR THE DRESSING:

¼ cup good extra virgin olive oil

1 clove garlic minced

1 tablespoon fresh lemon juice

1 teaspoon grainy dijon mustard

1 small shallot halved lengthwise and thinly sliced into half moons

FOR THE SALMON:

½ pound center-cut smoked Atlantic salmon *I get mine from the deli at Central Market

1 tablespoon loosely chopped fresh dill or more to taste

freshly cracked black pepper for garnish

crostini for serving
Methods
For the Dressing:
In a bowl, combine all the dressing ingredients and whisk until well combined. Set aside while you prepare the capers.
For the Smoked Salmon:
Cut the smoked salmon into 2-inch pieces and arrange on a large plate in a single layer.
Spoon the dressing over the salmon evenly. Next, top with crispy capers. Lastly, finish the dish with fresh dill and cracked pepper. Serve alongside crostini.