Inspired by the cookbook Bento Power by Sara Kiyo Popowa – the Onigirazu aka 'onigiri sandwich', it is a new idea of sandwiching your ingredients rather than wrapping your filling in the rice. This method is so much easier than theonigiri where many skills are needed when shaping the onigiri. Still, some patience is needed when wrapping it up, as you don't want your filling to drop when you are enjoying them.

This is also a recipe whereby there is no right or wrong. You can use any rice and filling that your like, go wild with it! However, in this recipes, we would like to share with you one of our favourite combination – Tamago Onigirazu with Bacon & Cucumber. You could also find some simple guideline to follow so that nothing goes wrong.
Prepare your Rice
Japanese Rice, brown-short grain or any mixed grain rice is welcomed for this recipes. For use, we have a combination of Japanese and bamboo rice that we got from our trip at Scoop Wholefood. The bamboo rice tastes almost the same as the Japanese Rice but it has a light fragrance to it. While the Japanese Rice is already a great choice, the bamboo helps to add a depth of colour and frangant. Follow our instruction here to make the perfect rice!

If you use warm rice, the steam will help to 'glue' the nori wrap together. However, make sure the rice is not hot, as we don't want to turn the nori wrap soft. We like to use cool rice, as it is the most safer ways to ensure our nori wrap is still crunchy. However, cool nori wrap will be more sticky thus while wrapping, use a slighting wet hand to handle the rice.
Prepare your Filling
All the mains filling ingredients you need are mentioned in the title – Tamagoyaki (Egg Roll), Bacon and Cucumber. While the bacon and cucumber are easy to prepare, as you just have to pan-fry/ bake the bacon till browned and sliced the cucumber thinly.

Here comes the tricky part, making of tamagoyaki, it has been years of practising to just make a presentable one. We always thought that we need a tamagoyaki pan to perfect it but no, using our round non-stick pan you can do it so. All you need is practising and patience. When we first started making tamagoyaki we referred to just one cookbook recipe to assist us (we will soon do our own tutorial for you soon). The tamagoyaki need to be cool before cutting them up thus you could make them ahead overnight, it helps to save time if you are preparing it for a rush morning.
Assemble it Now, Eat it Later:
It may seem like a complicated dish when you first start to wrap them up but once you get a hang of it, you can use this phrase to describe it as "a piece of cake". To ensure the onigirazu is tightly wrapped up, make sure you start and end with rice. Also makes sure the moist ingredients won't touch the nori sheets.

We did a try out before cutting all the filling ingredients. We want to make sure it has a similar length to make the layering more consistent. This dish is best made in the morning with fresh rice and eaten the same day! As leaving it overnight in the fridge will give you dry and hard rice. After getting a hang of it, this could be your lunch staple.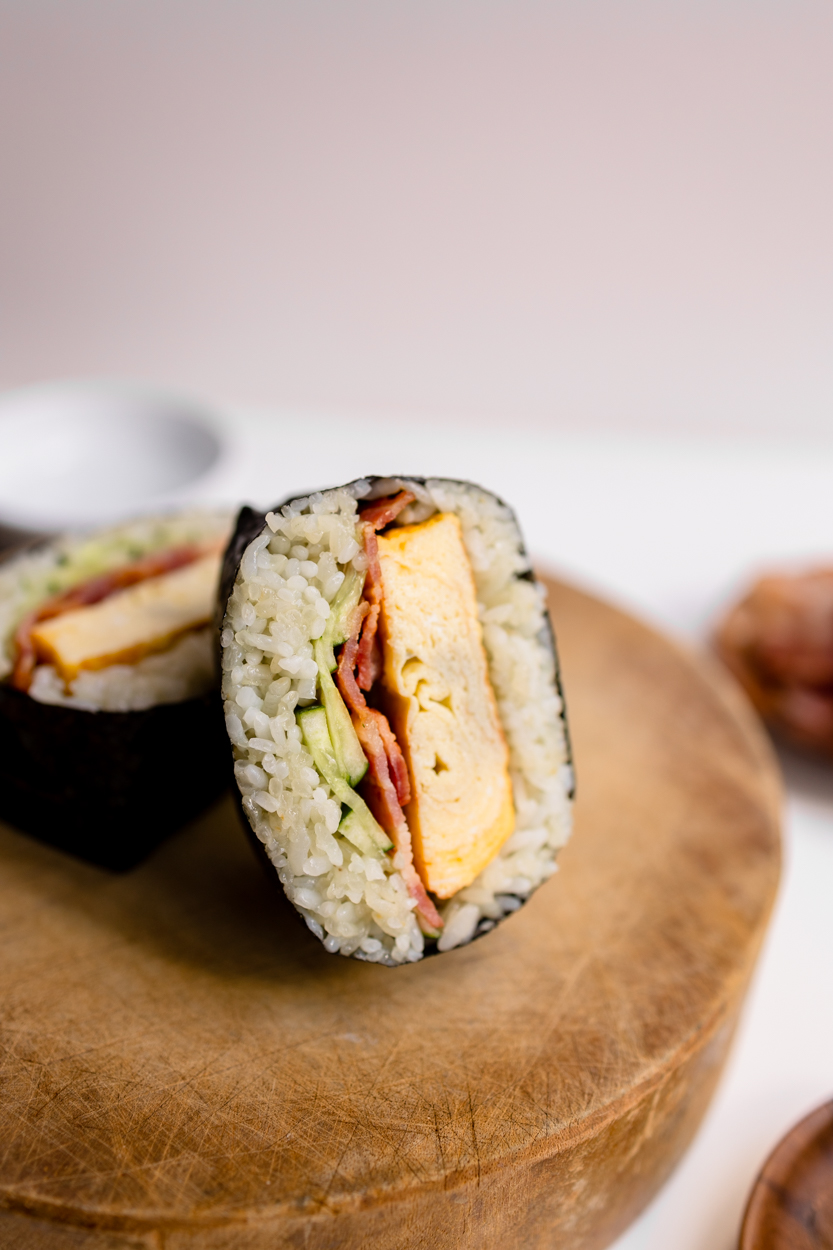 Endless combination and flavour! For the non-risk taker, stay tuned to us if you don't want to try out your own combination. There will be more other ways and combinations of onigirazu coming soon!

xoxo, Angela
Tamago Onigirazu with Bacon Cucumber
Ingredients
1 cucumber, thinly sliced

5 bacon, pan-fry till browned

2 cups of cooked sushi rice , room temperature

4 sheets of nori

Tamagoyaki

4 eggs

2 tbsp of mirin

1 tbsp of soya sauce
Methods
Prepare the Rice: Place rice in a large saucepan, add water to cover, and swirl rice with your hand (water will become cloudy). Drain through a fine-mesh sieve and return the rice to the saucepan. Repeat the process until the water is clear when mixed with rice (3 or 4 times). Drain rice a final time and cover sieve with a kitchen towel; let rest 15 minutes (this will help the grains hydrate evenly).

Return rice to the same saucepan and add 2 cups of water. Partially cover the pot and bring it to a boil. Stir once, cover, and reduce heat. Simmer until water is mostly absorbed and rice is very fragrant and tender 10–12 minutes. Remove from heat and let rest, covered 10 minutes. Fluff rice with a large spoon, re-cover the pot and let sit 5 minutes before serving. Cool it before use.
Prepare tamagoyaki: In a pan coated with oil, pour your egg mixture layers by layers like making pancake sheets, in low heat slow roll the egg up when it is slightly cooked. Add in the egg and continue rolling them up till your finish the egg mixture. Using the pan flipper we try to shape and make the tamagoyaki rectangular. Cool it in the fridge for 4 hours or overnight for later use. Cut it into equal length, same as the other filling you have.
Prepare the filling: Slice the cucumber with the skin peeler for thin equal slices. Pan-fry or bake the bacon till it is browned. Cool it before cutting them into equal length.
Wrapping it up: Start with the nori sheet, layer it with rice, bacon, cucumber, tamagoyaki and end it with the rice. Fold the 4 corners to the middle of the nori sheet. Only halved them up before consuming it, we don't want the rice to dry up.