In our 10 days trip to Melbourne, we have been enjoying all the delicious food and cafes. However, there is one day we ended our day earlier thus we decided to cook. As we mentioned during our South Melbourne Market post, we ended up having 2 red beets during the "To Market To Market Tours". So why no cook them?
We love everything about Melbourne, especially the market with fresh ingredients with reasonable pricing. We ended up getting our all-time meat – beef. Looking at all the delicious and crispy vegetables, we got the carrots.
We didn't want to get any seasoning as we are only cooking for a meal. Thus we both prayed hard that there is something for us to use in the Airbnb's kitchen. We ended up having some butter and salt. Usually, I will cook the steak with oil, butter, garlic, and rosemary. However, we ended up using butter and seasoning with salt and pepper.
I guess it is the ingredients we got on the market are too fresh, they were delicious even without much flavoring.
Little tips for you when it comes to cooking the steak;
Before you start, get the steak out of the fridge and allow it to come up to room temperature about one hour before cooking – frying or grilling it from cold will stop the heat from penetrating to the middle as efficiently. You also need to make sure your pan, griddle or barbecue is super hot before you begin – this will help to caramelize the meat, essential for a delicious crust.
During cooking, aim to cook your steak medium-rare to medium – any more and you'll be left with a tough piece of meat. Turning it every minute or so will make sure you get a really even cook.
After cooking, leave it to rest and rub with a little extra virgin olive oil or butter for an incredible, juicy steak.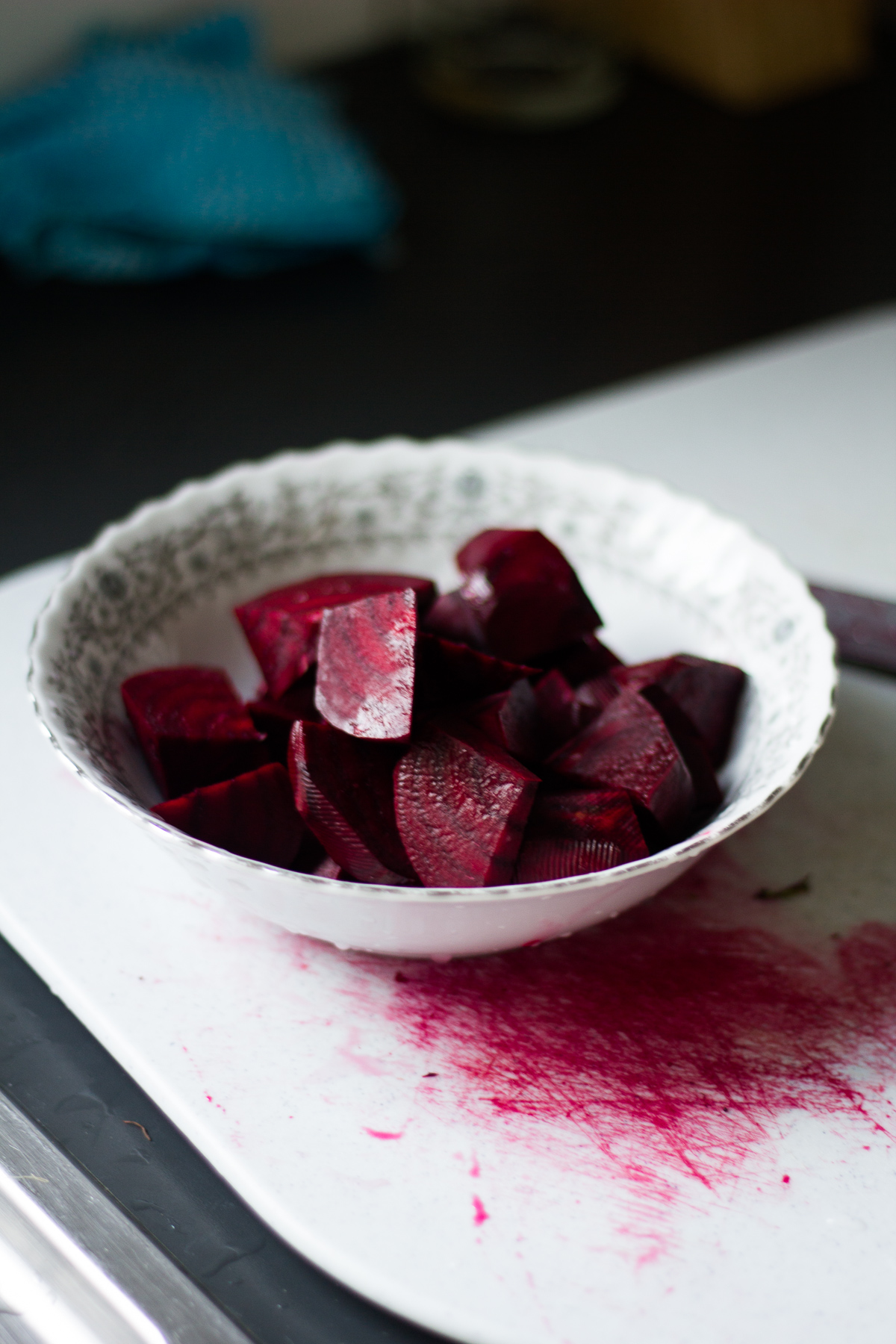 Ingredients |
400g of Sirloin Beef
2 Beet Root (cut them in cube)
6 Carrots (Separate the leaves with the carrot)
3 tbsp of butter
Pinch of salt and black pepper
Method |
We seasoned both the beetroot and carrots with salt and pepper. Pan-grilled the beetroot and carrots with a great amount of butter until soft.
Rub the steak all over with a good lug of butter and a good pinch of sea salt and black pepper. Add the steak to a hot pan. Then cook for 6 minutes for medium-rare, or to your liking, turning every minute. Once cooked to your liking, rest the steak on a plate that can collect all the lovely juices for 2 minutes.
If you try it, don't forget to share your picture on Instagram, Facebook, or Twitter with #byplaincanvas. Thank you so much for reading, and till next time!
xoxo, Joe