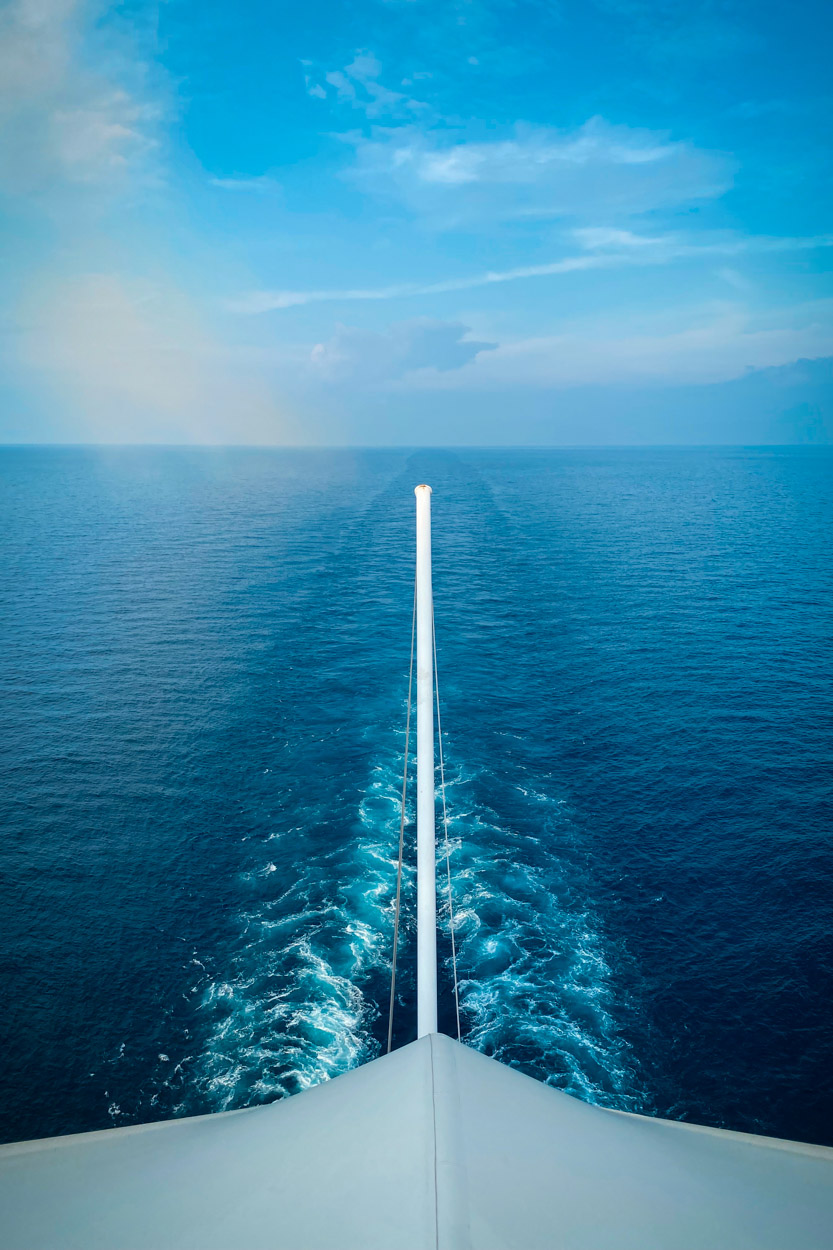 This is a long overdue post that we want to share with you readers but took us a while to do so. The last memory we have from our visit to cruise since young was an image from our old photo. We never got interested in visiting one as to our concept we are spending money to eat and sleep in a boat. (We later slap our face after experiencing going on one.)

When it was first announced that Royal Caribbean was launching "cruises to nowhere" from Singapore, we thought the idea sounded insane. Well, months later with no future travel insight, we found ourselves pulling up to Marina Bay Cruise Centre to board the cruise to nowhere for 3 nights, our first ever cruise! Moreover, our parents and we really need a getaway from this small city.
Before the Trip
A month before…
The food and beverage packages are a little unclear but basically, your meals are complimentary onboard. There are plenty of restaurants, but not all of them are included in your cruise price. Royal Caribbean will send you emails after your cruise booking, tempting you to add on extras. We didn't opt for any of the packages however we will do get some wifi for the next time. Don't worry if you didn't get any and change your mind. You can book the speciality restaurants onboard, for a set price per meal (and you can order as much as you want).

A few days before…
Before boarding the cruise you must also have a PCR test to be negative, which is included in your cruise price. An email will be sent to you requesting for PCR test booking. I felt totally okay but not the case for Angela, it was uncomfortable. So overall, it feels relatively safe to board a cruise with a thousand other people!

Hours before…
To be more careful an ART test will be done on the day for extra safety. You will be required to book slots for these check-up using their app – Royal Caribbean. It will be your go-to once you're on board, but it also has your boarding details. The check-in process was really smooth and took about 30 minutes after we have our ART result.
When you are now on Board
Mentioning before the importance of the Royal Caribbean app. After much scanning of our pass on the app, being set up with our 'tracelet' (which you must keep on at all times, except in the pool/your room) and going through immigration, we found ourselves on level 4 of the gigantic Quantum of the Seas, being directed to our room on level 11. Our set sail passes were slotted into our room number on the door, with our names printed on the front of them. These will be your lifeline when you're on board, so do not lose them, you need them everywhere.

Once you're in your room, it's advised to book everything you'd like to do onboard through the 'my calendar' option on your app. We had selected 'my time dining' so we needed to make sure we reserved our dinner slots in the main dining area, as well as the shows etc that we wanted to see. Everything books up really quickly, so make sure you book it all on the first day. There are so many activities to do, some free, some you'll pay extra. There are shows, martini classes, pub quizzes, bumper cars, rock climbing, indoor skydiving, surfing, the North Star, music performances, the casino, shops, and so much more.
Activities to do on a Cruise
Bumper Cars
Using the Royal App, you'll be able to book your desired slots for bumper cars. The slots come in 15 minutes blocks so you'll be able to enjoy as many times as you wish during these blocks that you book. Entry is only allowed with bookings via Royal App which means that queuing is not allowed.

For the rest of the Seaplex activities such as gaming consoles and Fussball tables, you'll have to book them physically at Seaplex itself.
Swimming
There are several swimming venues throughout the ship. There's an indoor pool, an outdoor pool and our favourite venue, the Solarium. There, you'll be able to enjoy hot tubs, cool indoor pools with amazing views out to sea! A little small tip for you is to visit the hot tubs after 10 pm, there is almost no one there. You can enjoy the tub and have a good rest later.
Headliner Shows
There were 4 headliner shows during our cruise to nowhere with Quantum of the Seas. This includes Gold Art Duo, The Beatlemaniacs, Starwater and Sequins and Feather. We head to almost all of them, however, if you only want to choose on the Starwater is the best choice, the cast, song, costume and show is perfect.
Rock Climbing & Flow Rider
FlowRider is located at Seaplex, deck 15 at the aft of the ship. You'll have to register and sign an indemnity form before waiting in line for your turn. As they're not open throughout the day, remember to check out the Royal App for the opening hours of FlowRider. We didn't get to try this as we "are not adventurous" enough.

Similar to FlowRider, just head on over to the Seaplex at Deck 15 (Flowrider and Rock Climbing is right next to each other) and wait in line for your turn to scale the walls! We are lucky that we didn't need to wait for very long, head there in the morning instead of the afternoon, there will be fewer people.
There are so many other things you could do such as heading to the gym, there are also a lot of "hands-on" activities such as towel folding, napkin folding and the making of pop-up cards that you could join. Many of these you need to head down early for a seat as you couldn't book a slot using the app. There are also a few paid activities for those who want more such as Ripcord by iFly and North Star which is an observatory onboard the Quantum of the Seas that brings you up to a height and rotates to the port and starboard side of the ship.
Food on Board
There are so many food options on the cruise, for us, the Complimentary Dining Venue is more than enough. Below are the options provides for you; Windjammer, Main Dining Room, Cafe Two70, Cafe Promenade and Sorrento's Pizza and Seaplex Dog House. Generally, most of the food is alright, however, the Main Dining Room, Cafe Two70 and Sorrento's Pizza is probably our favourite among all places. Head over to therantingpanda for more detailed reads on the food onboard. However, we would love to share our experience of dining in the room.

Previously based on the P2HA rules and regulations, those who are unvaccinated couldn't dine-in in the restaurant, in-room service is provided from the unvaccinated instead. Due to medical conditions, our father couldn't get his vaccination and thus room service. Before the night end, you need to submit your order through the QR code provided. It will serve the same thing the main dining room provided. One thing that is inconvenient is that you can't ask for more food if you need more. We take turns accompanying our father to dine-in the room, while one good thing is that you don't need to travel to the restaurant.
Tips you don't want to miss
Money
All charges and prices onboard are displayed in USD. This means that when you're purchasing anything on the ship, be it luxury bags or even a cup of latte, they will be coded as a foreign transaction on your credit card. You can link this card to your sailing during check-in.

Electronics
All charging ports on the ship are US standard ports. There are also no USB ports available in the stateroom.
Remember to bring your travel adapters or you'll be left with empty devices the whole trip.

Communication
As we didn't opt for the wifi, you must be wondering how did we communicate with each other? We purchase a lightweight walkie talkie on Taobao and surprisingly it works well.

Last sailing day / Disembarkation
The ship will reach back in Singapore at 6 am on the last day of your trip. A simple breakfast will be served to your room (during P2 HA) before 7 am. If you have no luggage, then you can disembark anytime after 8 am. However, if you do, you'll be assigned a baggage tag and specific timing. The entire disembarkation and immigration process was quick and took only 20 minutes.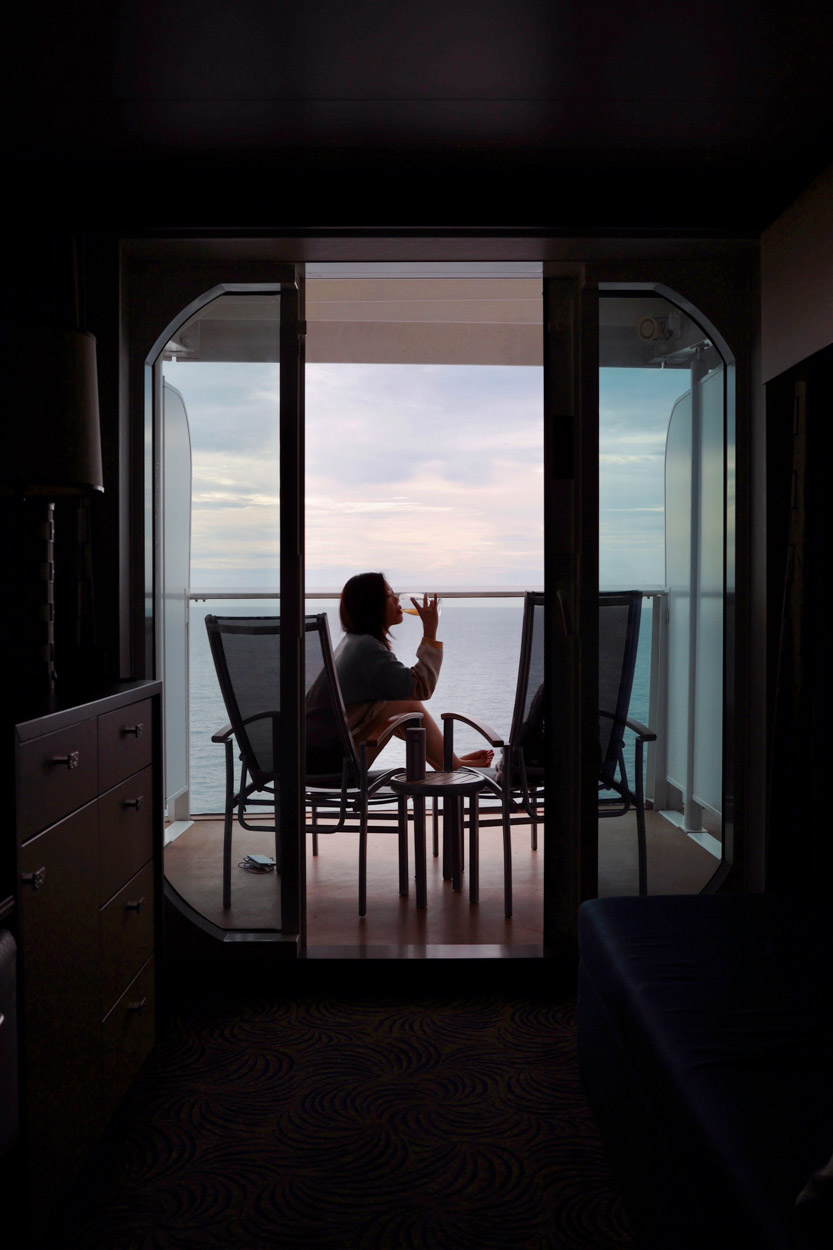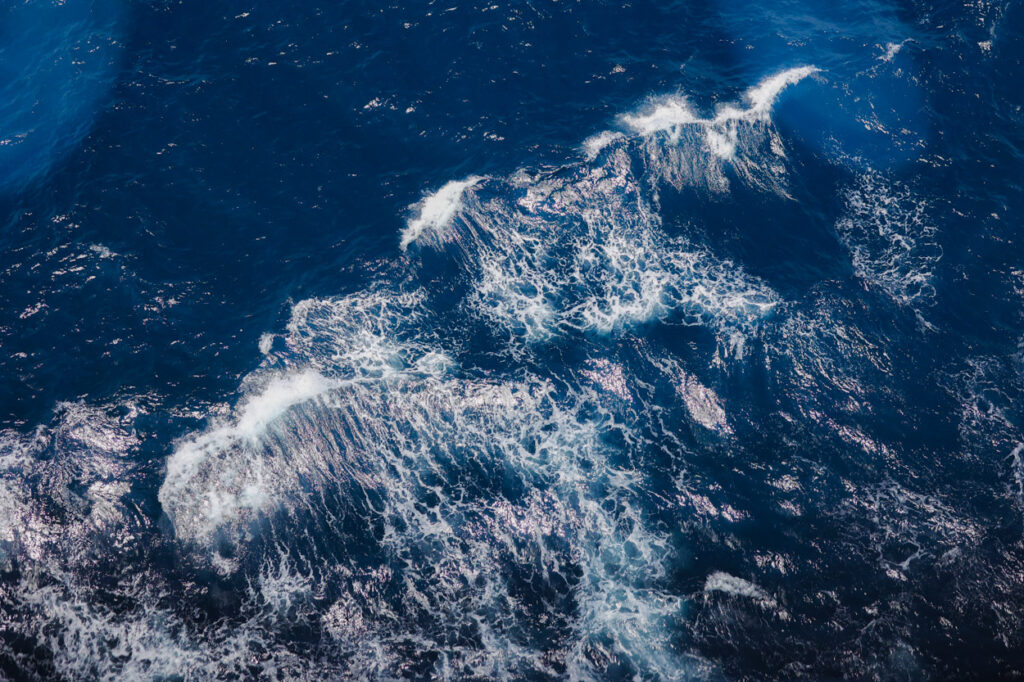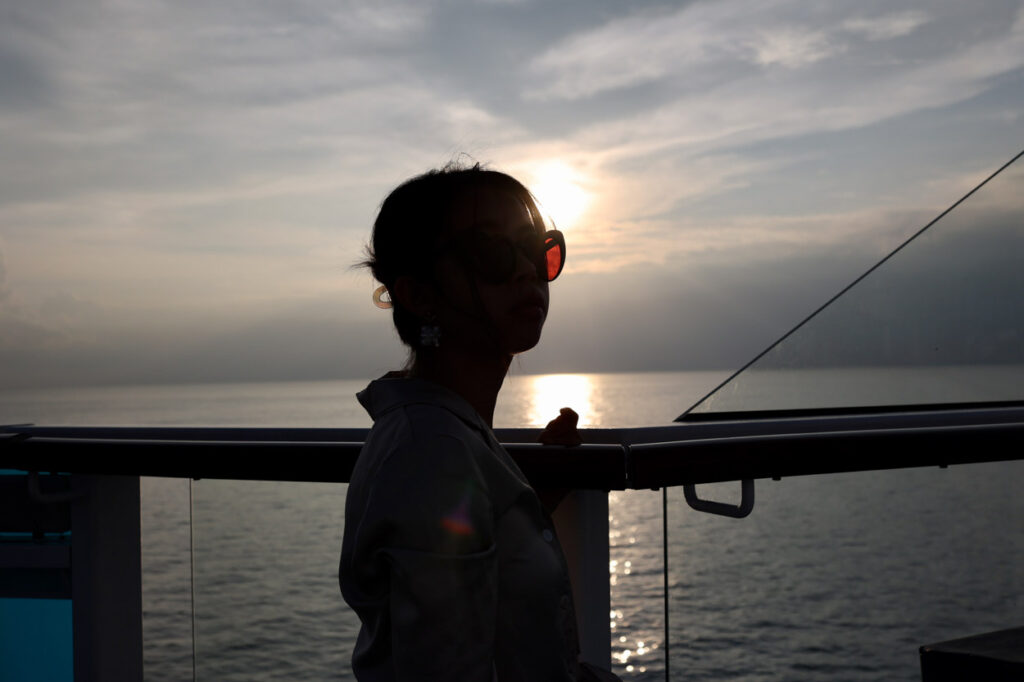 We'd booked the 4D3N cruise, which actually only gives you 2 full days on board. All we wanted to do was relax, drink and eat and we found the best place to do that as an adult couple was the Solarium – located at the front of the ship, it's an adults-only area with an indoor pool, hot tubs, bistro and a bar. We spent the majority of our time on board in this area, reading, drinking and people watching.

Before we knew it, the last night was upon us and we had an early call time of 8 am to depart. Again, the procedure is super organised and simple to understand. You are assigned a time to leave, stick your tag to your bag, deposit your tracelet in a bin on the way out and simply walk off the ship. After a quick scan through immigration, we were in a Grab and heading home. Coming home so early we were pretty tired, so went straight back to bed once we'd arrived, feeling very much like we'd had a great holiday and break.

It is a much fun experience but busy at the same time as we need to take care of our parents. However, we really love to daydream all day looking at the sea. Want to head back and experience more of these.

xoxo, Joe