With Wild Rocket's demise and Restaurant Labyrinth's move deep into exploring Singapore's terroir, there aren't that many solid options for old-school modern Asian fare. The debut of 15 Stamford by Alvin Leung ("15 Stamford") at The Capitol Kempinski Hotel Singapore is one of our highlights during our Staycation trip in early April.

Serving breakfast buffet catered to hotel guests in the morning, 15 Stamford transforms into a modern Asian eatery by lunch and dinner, with an a la carte menu of modern Asian dishes that combine South East Asian flavours with minute elements of flavours represented in Leung's restaurant Bo Innovation in Hong Kong. In the after-hours, you could also end your night with their signature rum collection at The Bar at 15 Stamford.
Ambience at 15 Stamford By Alvin Leung
Located at level 1 of The Capitol Kempinski Hotel, 15 Stamford By Alvin Leung is a 150-seater restaurant with a glitzy ambience. With monochromatic tiled floors and a good stream of natural lighting, it is also a backdrop for an IG-worthy meal. The luxe brown leather chairs and dim lighting also make for a romantic and private spot to celebrate anything! In the morning with a lesser crowd, their amazing server told us which are the area for good photos.
Breakfast
On the 2nd morning of our staycation, we head down to 15 Stamford for the breakfast. If you're wondering whether it's worth paying for breakfast, the answer is yes, yes, thousand times yes. The Capitol Kempinski Hotel, quite simply, has the best hotel breakfast services in whole Singapore yet. It is also one of the reasons we choose the hotel as our birthday staycation, as the review for the breakfast is so good and it didn't disappoint us.

Due to safety measurement, we were told to scan the QR code to view the menu on the phone. We almost overeat as we want to fully discover the menu. After orders are taken, you're invited to partake of a power shot. A mixture of apple and carrot, or orange and grapefruit was offered, and yes, all juices at 15 Stamford are freshly squeezed. You'd think this would be the standard at 5 Star hotels.

After orders were taken, the baker came to the table with the "pass around service". It's basically a selection of all the day's bread, portioned out to your plate or toasted on request. But before you tuck into your bread, wait for the Wagon Trolley, a standard feature at Kempinski hotels. This larder on wheels features honey on the honeycomb, truffle honey, dark chocolate spread, white chocolate spread, passion fruit chocolate spread and all sorts of goodness. The truffle honey in particular is a must-try. It was cloying like regular honey, but with an unmistakable aroma of truffle. The server recommends having their truffle honey with their yoghurt and we are addicted to it.

We tried most of the selection on the menu for both western and local selection, and it is pretty much to a good standard, especially the french toast that was highly recommended by the server. Therefore, when you are unsure of what to order (as the selection is so wide), don't be shy to ask for a recommendation from the server. They are honest and really know their food for the day. You probably might discover a secret menu (please do share with us)!
Lunch
Before we check-in, to the room, we head off to 15 Stamford for our lunch (brunch actually) as they served valuable lunch set menu prices at S$34++ for two courses and S$42++ for three courses, and for the quality of the food you get, that's a tremendous value. As we are heading kki sweets for desserts hence we ordered the two courses meal.

For starters, we had Japanese Swordfish (Vine Tomato, Pomelo, Kyuri Cucumber, Coriander Emulsion) and Foie Gras Kaya Toast (organic egg foam, kaya gel, milk toast, +S$8 supplement). The Kaya toast was good, but theJapanese Swordfish was outstanding. Fusion cuisine can often go so wrong, and but not at 15 Stamford.

For the mains, we had the Barramundi, and Bak Kut Teh. The meat on the Bak Kut Teh was falling off the bone, and while Gordon Ramsay may chafe at the idea of grilled watermelon, what does he know? This worked out great. They are not the fancier plating on earth however the barramundi taste was so great.

"They really know how to make sauces!", that is the only one phrase both of us agreed for lunch. We all know that a good sauce is the soul of the food.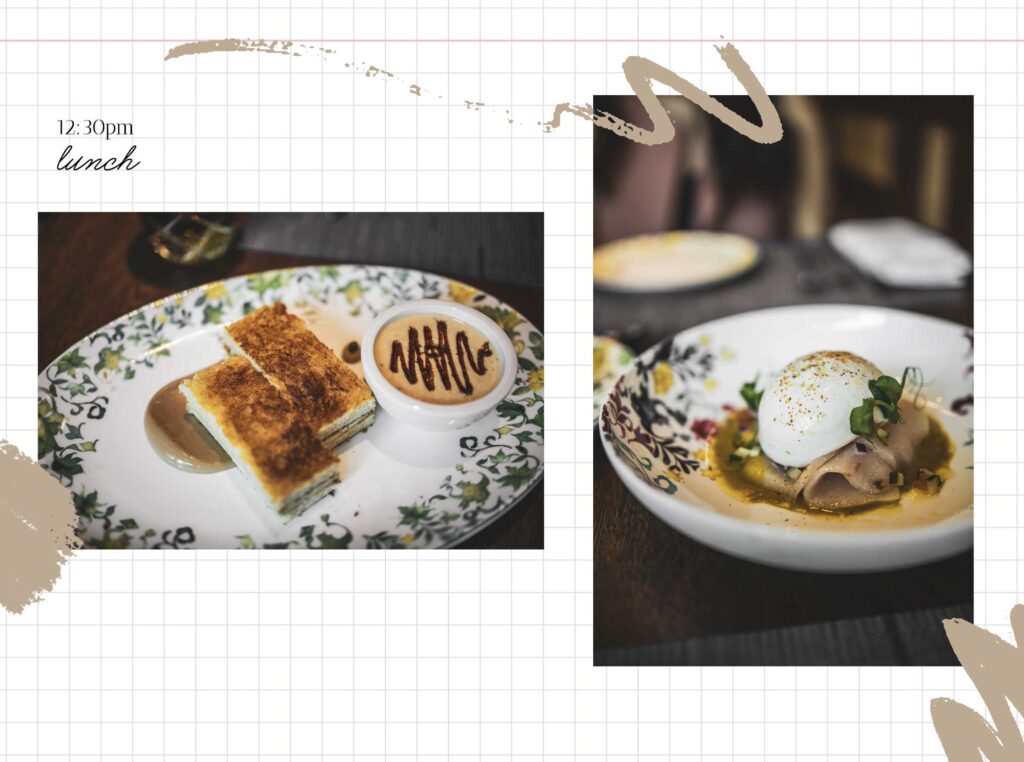 After hours
Located at the entrance before the main dining of 15 Stamford. It's a great way to spend your night before heading back to your room for a bath. Surprisingly it's not too busy for a Wednesday night, we got our seat as soon as the server saw us.

At The Bar at 15 Stamford their signature is their rum collection. Angela ordered their signature PLANTATION 1840 ($24), while I order the Peranakan Old Fashion ($22). They are not stingy with their alcohol, but the percentage ofalcohol it's too much for me. However, seem like you will have a better personal experience if you would prefer a seat at the bar, as you will have the chance to know more about the drinks with the bartender.

While we still prefer the MO Bars where they served unique cocktails for your relaxing night. But was told that every day at 8.00 pm a bell will be rung 5 times and everyone sitting at the bar will be given a small cocktail. Would really want to head back to test it if it is true.
Experiencing the different timing at the same place, offer you a different kind of experiences each time you visit them. With the services and quality of their foods, we will totally head back for second times, as the menu provide a wide range of dishes that we have yet to experience them all.

xoxo, Joe