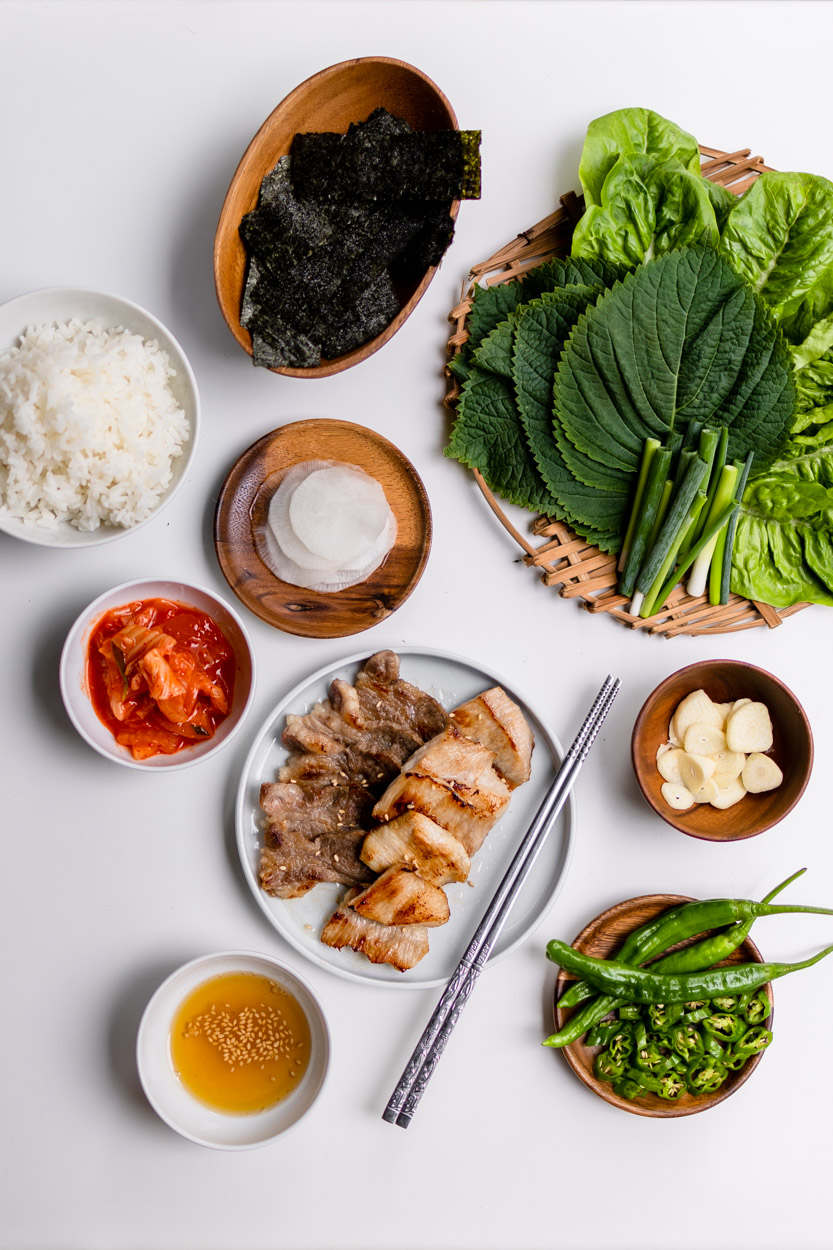 We all love that wonderful experience of going to a Korean BBQ joint with friends. There's the camaraderie of sharing rounds of soju and beer while cooking seasoned meat over the fiery heat of a tabletop grill. Going home and smelling like barbecue and garlic. This summer might not be the best time to sit around sharing food at a smokey restaurant, but don't fret. You can still have that happy, communal experience at home with family or just a few friends.
If you don't have a tabletop grill, you can use a tabletop burner fueled by butane, your propane camping stove, or even a plug-in electric frying pan. It's best to do this outdoors so that your house doesn't smell like an all-you-can-eat BBQ joint. But if you love being the pitmaster, by all means, just fire up your barbecue and do the cooking for your guests.
Start at a good Korean market for most of your ingredients. If you have a Shine Korean nearby, you're good. Even if you don't have a Korean or Asian market nearby, all is not lost. You can still get all the ingredients you need at a regular supermarket, too.
Meat (Kogi) : the hero of the day
Before anyone jumps in with a well, actually, I know that you could easily put together a phenomenal pescatarian Korean-barbecue meal, and, with a few tweaks, even a vegetarian one. There are plenty of meatless options available at a Korean barbecue spot, but let's be real—meat is the star of the show.
So, let's talk about that meat. If you're throwing a Korean barbecue feast at home, you have plenty of cuts of meat to choose from that can be prepared in a variety of ways. Beef and pork are the most commonly used proteins for barbecue. The common types are split into two kinds, naked and marinated meat. As marinated meat tend to burn easily when cooking, we love the naked one best, as we are able to taste the original flavour of the meat.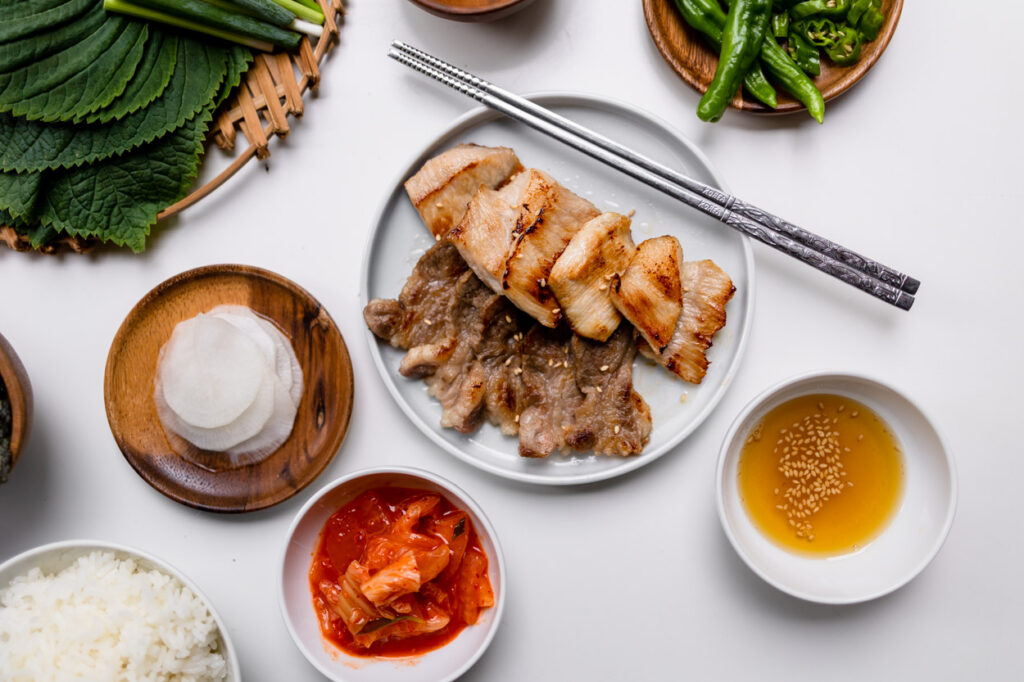 The sauces: Sesame-Salt Dip
No matter what meats—or seafood, or vegetables—you decide to grill for your Korean barbecue feast, we are always been serve with ssamjang and sesame-salt dip as the dipping condiment. While ssamjang is commonly used and many favourites we prefer the sesame oil with salt as it tastes simpler. Slathered the sauce on lettuces and perilla leaves, which are then wrapped around pieces of grilled meat for parcelled bites of barbecue.
The Ssam: Lettuces and Perilla Leaves
To make these wrapped meat parcels, you'll need some greenery, in the form of lettuces and perilla leaves. Perilla leaves, often sold as "sesame leaves" at Korean markets, come from the same mint family as Japanese shiso, and they have a grassy, slightly anise-y flavour that plays an excellent foil to the richness of grilled pork and beef.
As for lettuces, leafy varieties, like red leaf or Bibb, are key here, since the leaves need to be large and sturdy enough to hold ingredients without tearing, but also flexible enough to wrap around these items. Avoid rib-heavy lettuces, like romaine, which snap too easily down the center when rolled up.
The lettuce and perilla leaves act not only as handheld wrappers for grilled meats and ssamjang but also as a refreshing vegetal and herbal contrast to those ingredients. It's important to take good care of the leaves so that they stay bright and fresh and don't arrive at the table limp and sad. Wash and dry the leaves thoroughly, and store them on a platter under a damp paper towel in the fridge until you're ready to serve the meal.
Banchan: the side dishes
Korean-barbecue feast would be complete without a spread of banchan to take up any extra real estate on the table. Banchan is an umbrella term for the small side dishes that help stave off the onset of palate fatigue from all the meat consumed during a marathon barbecue meal.
These can include pickled and fermented vegetables, including kimchi in all forms; marinated greens, like watercress or spinach; white radish pickles; and more. Though you'll win major points for preparing banchan yourself, there's no shame in picking up prepared pickles and the like at a Korean market when you're meat-shopping for this meal. There's plenty to worry about already with the grilling; no need to bite off more fermented cabbage than you can chew.
Speaking of which, try throwing some large pieces of Napa kimchi on the grill while you're cooking the meat. You can thank me later.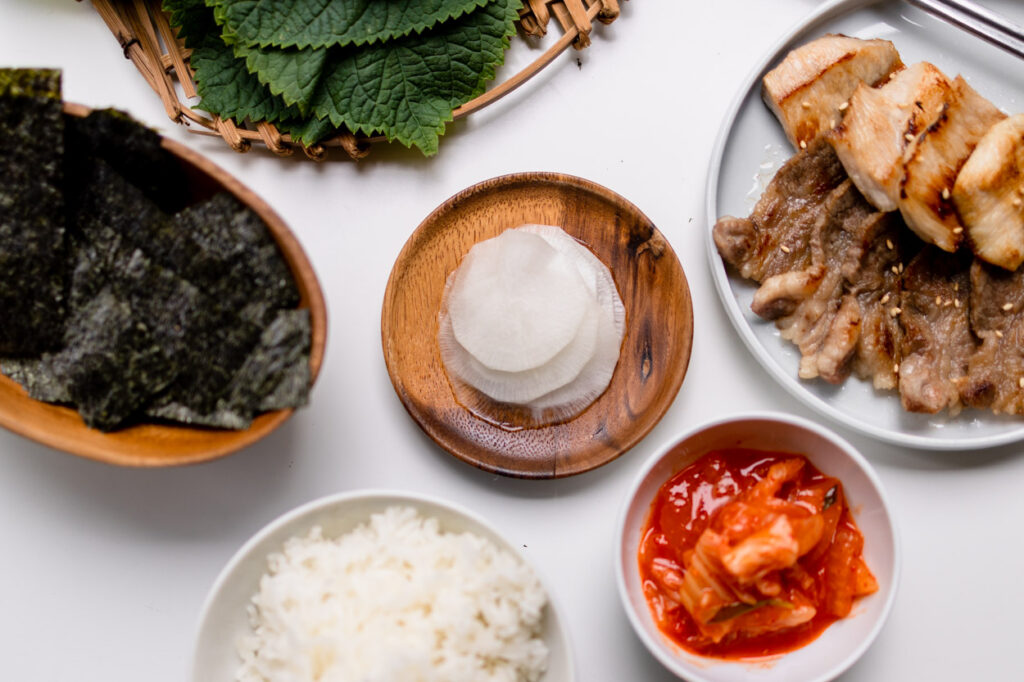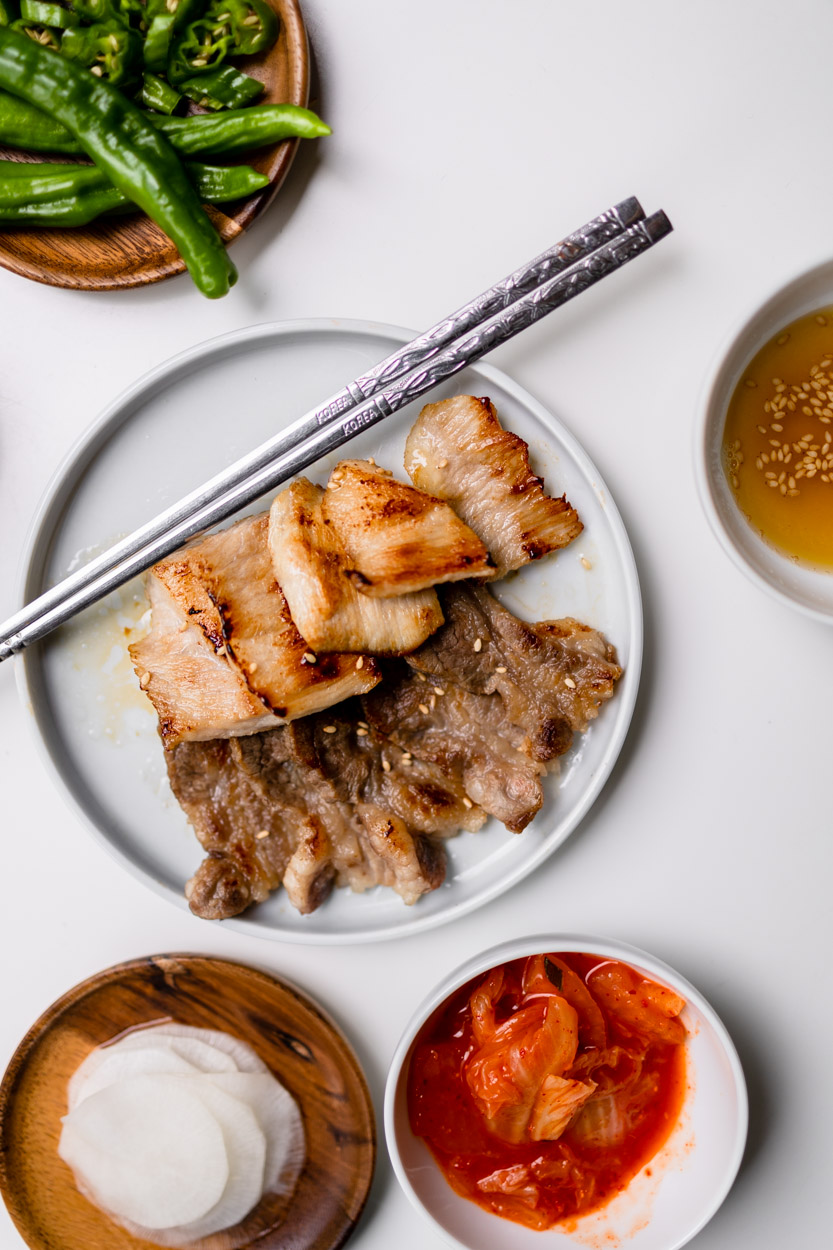 Last, like all barbecue, nothing mixes better with grilled meats than a cold beer. For a Korean flair, try soju, a vodka-like liquor that goes especially well with pork. Now you don't have to rush to the Korean BBQ restaurant to experience your favourite way to enjoy the BBQ meats, you can simply prepare it at home without a fuss.

xoxo, Joe