Both of us, who is an ardent aficionado of all kinds of tea. During the autumn you can't spread us from enjoying them too. Thus we decide to make our very own blend of autumn tea, using fruits dried and combined with some green tea, dried herbs, and flowers. It was so soothing and refreshing.
The best thing about this is that you will not need to use added sugar, as the dried fruits will release their sweetness during the tea infusion. Besides, that perception of sweetness is further heightened due to the sweet fruit flavours.
After the first attempt the result was unimaginable thus we wanted to recreate that as a gift for our friends. Here is how we did it, let's us get started!
For this autumn tea blend, we start we a base of Honeydew Green Tea for Tea drop that we got it last autumn from our Melbourne trip. Green Tea is more delicate in flavour and nature compared to black tea. Although white tea will be the best choice. Still, we ended up using this Green Tea as it also has the benefits of antioxidants and minerals.
The second layers of the tea we added dried flowers such as roses and marigold. We have a big jar of dried roses we gold from a herbal shop along Bugis Street. I always some of them to any of my tea as the fragrant and taste of it help to calm me down. Not to mention roses are great for the ladies, as it helps to ease menstrual pains.
Moving on as it autumn we added bits of Marigold for Spice Garden in as a natural colouring for the tea.
During the autumn, the weather is slightly colder than usual. Thus we ended up added the stars anise. The stars anise are able to warm up your body during the cold days at the same time it is great for the people with a cough and flu.
Lastly, our main lead of this tea blend the citrus. We used lemon this time, as a lemon tea can never get wrong. However, you can replace them with grapefruit or oranges. We tear some of the lemons into small pieces and place them in the jar.
Here you go, you now have your very own blend of tea for this wonderful autumn.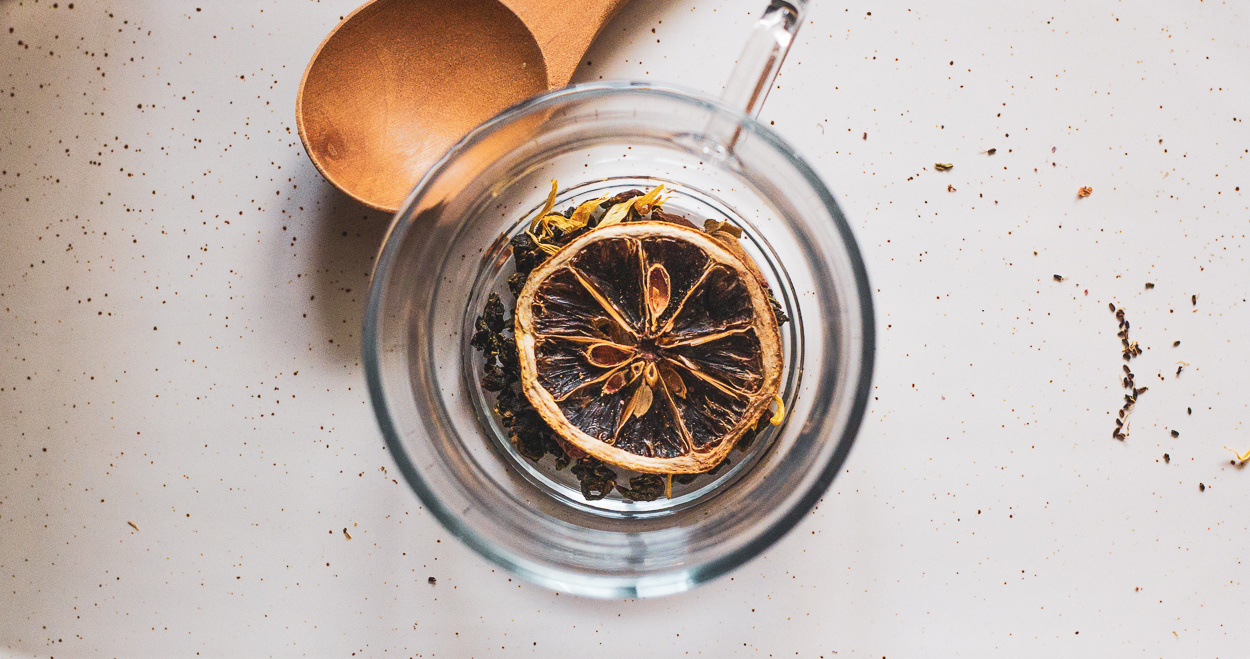 Time to enjoy this cup of tea! As we know the temperature of the water is always an important condition when brewing tea and coffee.
Green Tea: 1-3 minutes | 160° to 180° F
White Tea: 2-5 minutes | 160° to 190° F
Black Tea: 3-5 minutes | 200° to 212° F
For us, we are using Green Tea, as they are easier to brunt thus a lower temperature is used.
How do we brew the tea?
Place the tea in the pot, filling one-third of the pot. Given that tastes are different, strength preferences come into play as well as not everyone has a scale in their kitchen, 2 grams is approximately  1 tablespoon of loose tea leaves.  The other factor that comes into play is the size of your tea leaf.
Once your kettle is done heating your water and turned off, pour the hot water into the french press.  Stir gently and cover with the lid. Let your tea steep for the recommended steeping time.  For green tea, this is 1 -3 minutes.
Pour into your favourite cup, add a slice of dehydrated citrus, sit back, sip and relax.  Another nice thing about this tea is the brew smells just as heavenly as the blend.
There are many varieties of commercially available teas of this kind. After all the research, and try and error, we are been limited to the ingredients we can use. Thus we decided to invest a food dehydrator at home, you can easily make your own copycat Teavana tea creations – all for a fraction of the cost and it is so much fun.
Take a photo of your version, send us an email, tag us on Instagram, tweet us, anything. We love to see you trying out our recipe!
xoxo, Joe