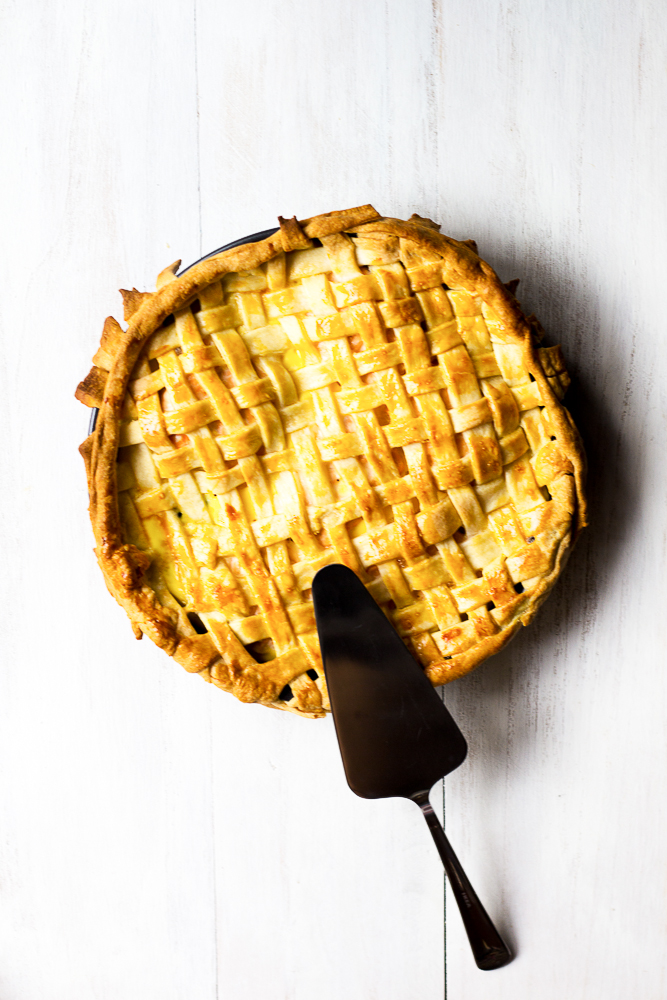 A good pie recipe is great to have in your repertoire, because, to others, it seems a little fancier than it really is. Usually, people like having the crust on the bottom of the pie. However, for us, we have them on top. The options for fillings are endless, from ham to sun-dried tomatoes and goat cheese. Thus, this golden brown beauty of a Salmon Spinach Pie with a Lattice top, creamy filling and all. And guess what? We all do love it!
What we love about this pie/quiches is that they easily come together in just under 60 mins, and make a great option for a tasty breakfast, or for a quick-fix lunch paired with a salad. One of my favorite ways to enjoy it is for brunch during the weekend. But it would also make a nice starter or side for any weeknight meal.
The possibilities for quiche fillings are endless. For this spinach and salmon quiche, I've used 8 very simple ingredients including fresh eggs, cream, milk, spinach leaves, salmon fillet, Parmesan, onion and fresh aromatic herbs such as basil.
If you want to jazz up the recipe, add some other veggies to the quiche, pumpkin would make a great addition this time of the year. Play with the cheeses too, I like to stick to one or two, I usually go for grated Parmesan or cheddar, soft goat cheese or crumbled feta. They're all easy to find, with flavors that work well in a pie/quiche.
Ingredients |
1 sheets (350g approx) savory short pastry
1 medium onion, finely chopped
500g bag spinach, tough stems removed and roughly chopped
5 eggs
500ml cream
200g salmon fillet
1/2 cup grated Parmesan cheese
freshly ground black pepper and a little salt
Method |
Preheat the oven to 180 C.
Gently cook the onion in a frying pan with a film of oil until tender. Add the spinach to the pan and cook until wilted and excess water has been evaporated. Whisk the eggs and cream together in a bowl until combined.
Arrange the onion and spinach mixture over the pastry base. Distribute the salmon through the dish and then sprinkle with Parmesan cheese and dill. Season with pepper and a little salt. Pour over the egg mixture. We did a woven lattice pie crust for the pie, and give it an egg wash.
Now you can bake it in the lower part of the oven for 30-40 minutes, remove from the oven while there is still a slight wobble in the filling in the center. This will set as the quiche sets.
Share with us your making! Take a photo of yours, send us an email, tag us on Instagram, tweet us, anything. We love to see yours! 
xoxo, Joe.