Been a week since we came back from our trip from Japan. However, it is still holiday for us as Christmas is just around the corner. The older we get and the less we care about presents, the more we care about holidays that revolve around big feasts and merriment and being cozy and autumnal.
One of the things we love to do during the Christmas is bread making. Inspired by mynameisyeah's Orange Juice Challah we modify her recipe and make our very own Plain Challah. This Challah is a braided bread with your favorite seeds or nuts. It might seem hard to make at the beginning but it got better after a few tries.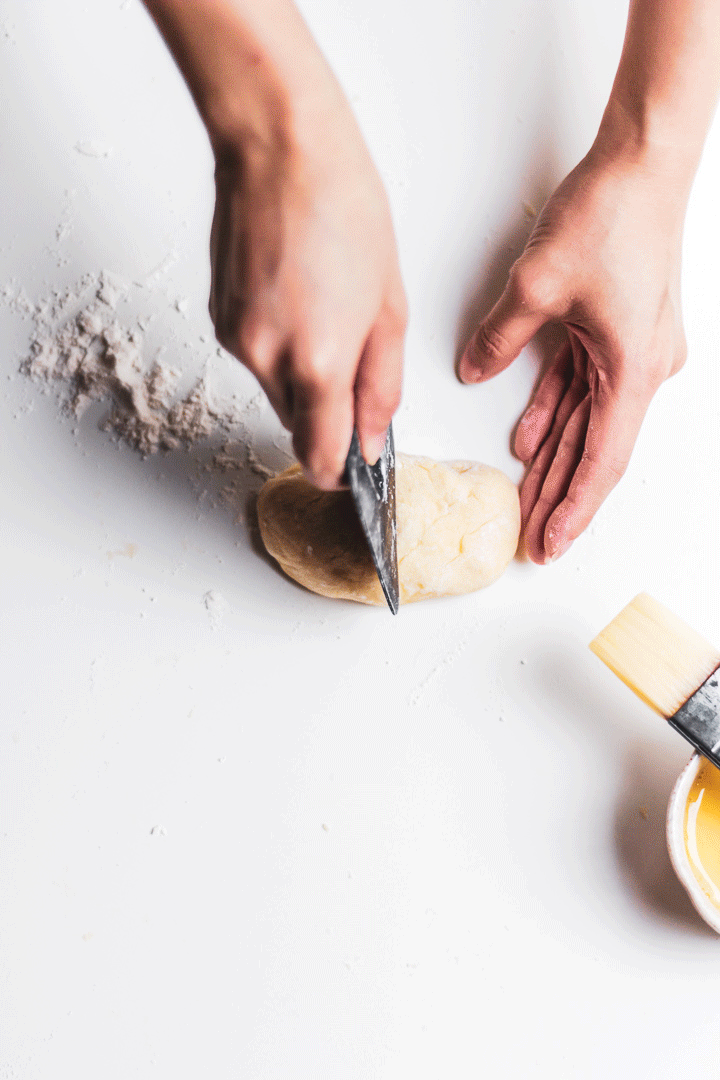 It would be equally at home as a turkey sandwich or as a sweet french toast, it's a versatile little loaf! We've made twelve mini loaves here, but you can totally make fewer larger loaves, just increase the baking time.
Ingredients |
2 1/4 tsp of active dry yeast

2 cups of warm water
6 cups of all-purpose flour, plus more for dusting

1/4 cup of sugar
1 1/2 tsp of kosher salt

2/3 cup of flavorless oil, such as canola or vegetable oil

2 large eggs

egg wash: 1 large egg beaten with 1 tbsp of water

sesame seeds/ sunflower seeds, for sprinkling
Method |

In a medium bowl, combine the yeast, and warm water. Let it sit for about 5 minutes, until slightly foamy. meanwhile, in a large bowl or the bowl of stand mixer, combine the flour, sugar and salt. in a medium bowl, whisk together oil and 2 eggs.
Add yeast mixture and egg mixture to the flour mixture; stir to combine. knead, either by hand on a floured surface or with a dough hook on medium speed for 7 to 10 minutes, adding more flour as necessary (but resist any urge to add too much!), until you have a smooth and slightly sticky dough.
Transfer dough to a large oiled bowl. cover with plastic wrap and let stand at room temperature until doubled in size, about 2 hours. (alternatively, chill dough in refrigerator overnight, then let stand at room temperature for 1 hour before shaping.)
divide dough into 8 pieces. divide each into 4 logs and shape according to the gif above (alternatively you can make mini swirls or mini 3-strand braids or even just blobs!). place on 2 baking sheets lined with parchment paper, spacing evenly apart, cover loosely, and let rise 30 minutes.
Preheat oven to 375ºf. in a small bowl, whisk together the remaining egg and 1 tablespoon water. brush rolls with egg wash and sprinkle with sesame seeds. bake until they are golden and have an internal temperature of 190ºf; begin checking for doneness at 18 minutes. transfer to a wire wrack to cool slightly and enjoy.
Challah is best eaten within 24 hours, after that it's ok if you toast it or use it for french toast. it also freezes well!
Take a photo of your version, send us an email, tag us on Instagram, tweet us, anything. We love to see you trying out our recipe!

xoxo, Joe