This Tempura Donburi is loaded with light, crispy shrimp and vegetable tempura. With a side of miso soup, plenty of dipping sauce, and a cup of Japanese Sencha tea, you might forget you're eating at home! Any ingredients can be used for tempura, but usually, it is veggies and usually, the protein choice is seafood and the most popular is prawn.
What is a donburi?
Donburi in Japanese translates to "bowl," and is any dish served over rice (and, true to its name, generally in an oversized bowl). It is abbreviated to "don" when added as a suffix to the end of a word. One of our favourites is Beef -don, it is simple and delicious to make.
How to prepare the prawns?
A tip to prepare prawn that we learnt and still remember because we thought it is brilliant is remove the shell from the tail end. Because the shell is overlapped towards the tail end so if we remove from the tail end, all of the shell will come off easily without any force.

In Japan, tempura prawns are always prepared straight and not curled up. To do this, after the prawns are deveined, we score the belly side 2-3 times 1 cm apart and then break the muscle with fingers. You can feel the muscle break when you squeeze the prawn between your fingers. If you don't mind curled up deep fried prawn, that's ok but presentation of dishes are somewhat important in Japanese cuisine.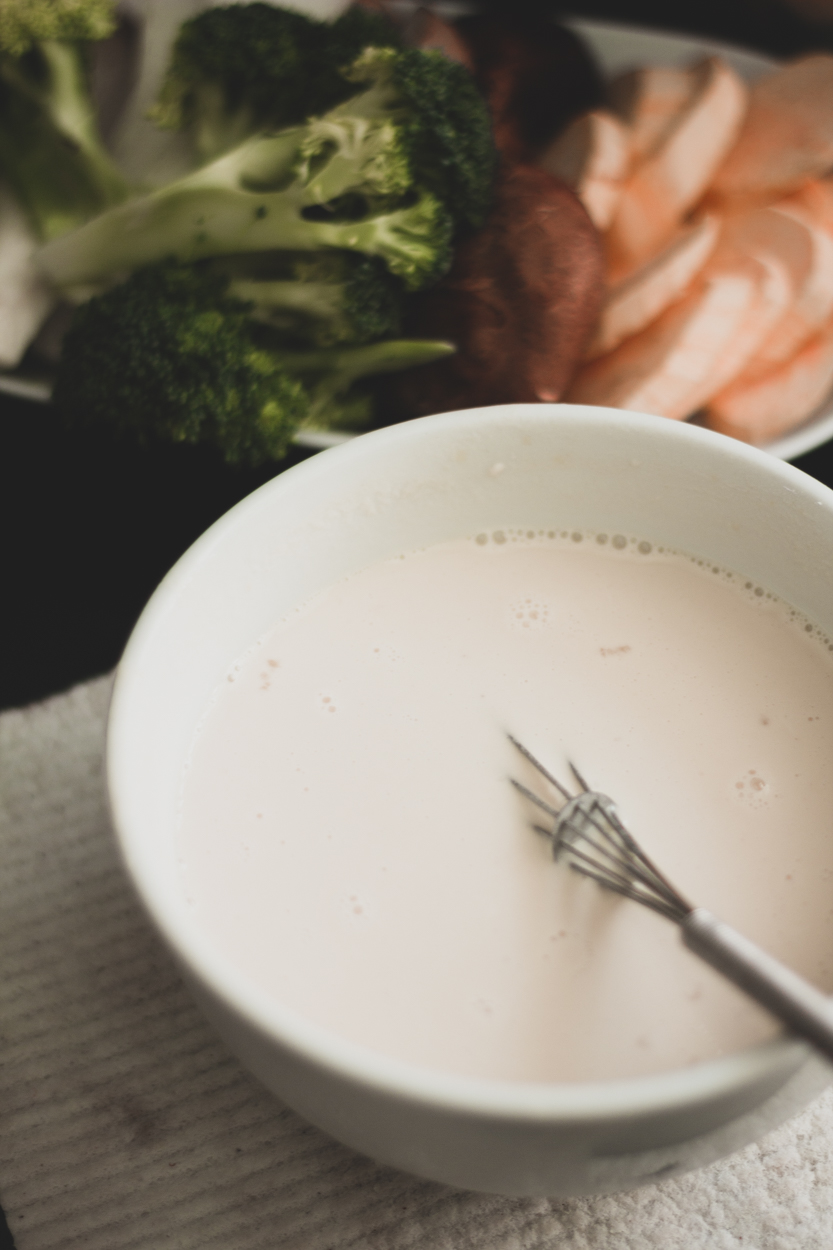 What are some of the vegetable choice?
Here is only some of our favourite vegetables but you can always customise based on your liking
Sweet potato is a must for tempura in our household. It's a bit of a carb overload but oh well. We usually don't eat huge meals so why not indulge with a few delicious Japanese foods every now and then. The potato needs to be sliced thin so it cooks through easily without burning them.
Brocolli; you must be surprised with this but it tastes extremely well.
Mushroom; Shitake, and Oyster Mushroom is our favorite whereby the Oyster Mushroom has this delicious, meaty flavor!
Onion
How to prepare the batter?
There are two ways to prepare the batter – the one with the breadcrumb or without it. So this recipe we decided to make the one without bread crumb, the battering will be less thick.

Refer the battering with breadcrumb at spam fries.

For this recipe, we use a light batter which is a combination of the ice water, cake flour, and egg yolks. No need to get rid of all the lumps—in fact, take care not to overmix it. Pop it in the refrigerator while you heat the frying oil.
How to make light & crispy tempura?
Cutting of vegetables is the key. We preferred thinly sliced sweet potato, thickly sliced onion, and super bite-sized pieces of broccoli and oyster mushrooms. And of course, big whole shrimp with the tails left on!
Keep the batter cold! This helps it adhere to whatever you're frying.
Refrigerate the shrimp as soon as you're done processing them so they don't turn that light orange room temperature color.
Use two pairs of chopsticks or utensils. One to fry with and one to dip with, so you can avoid too much excess batter getting into your fry pot. Use a fine-meshed sieve to periodically remove excess sediment from the oil.
Don't fry tempura too long. It takes a very short amount of time to cook the ingredients through, and tempura should never be too brown. 45-90 seconds or so and a couple of flips do the trick for vegetables, and when the shrimp float and are lightly golden and orange, they're done. 
Double coat your tempura; the first dip in your batter mixture, then lightly coat it with some flour then the batter again. It will give you a nicer coating.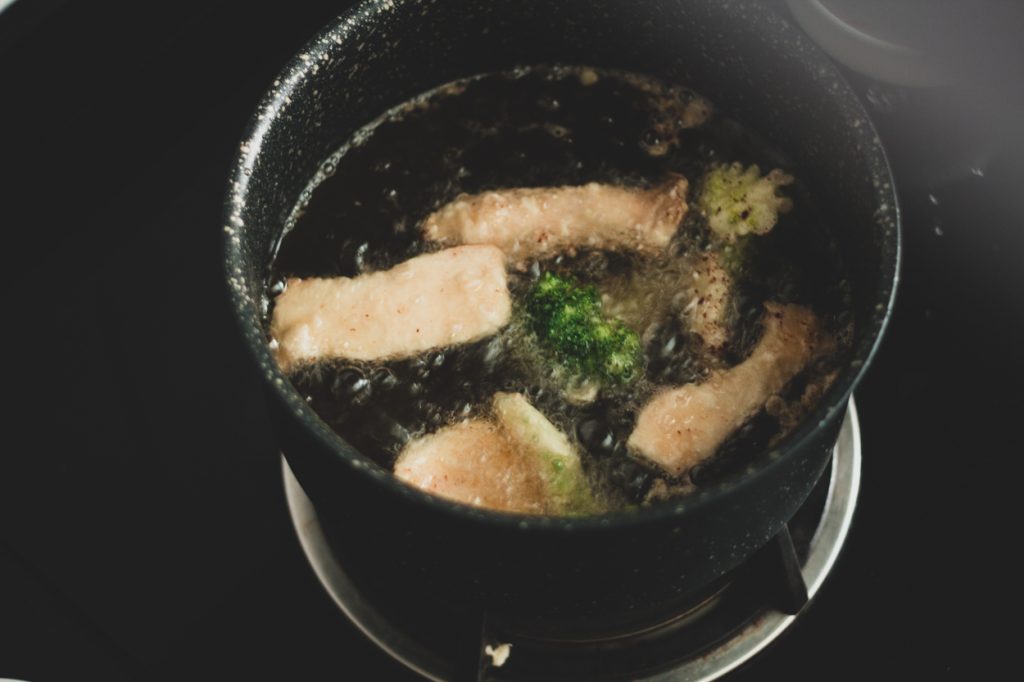 In a small deep pot, heat enough oil to fill it about halfway, over medium-high heat. While that's happening, set up a wire rack over a sheet pan or a platter lined with paper towels. When a drop of the batter sizzles vigorously but doesn't brown too quickly, you're ready to go.
To fry, swirl one piece of vegetable or shrimp in the batter (for the shrimp, hold it by the tail), and lower it gently into the batter.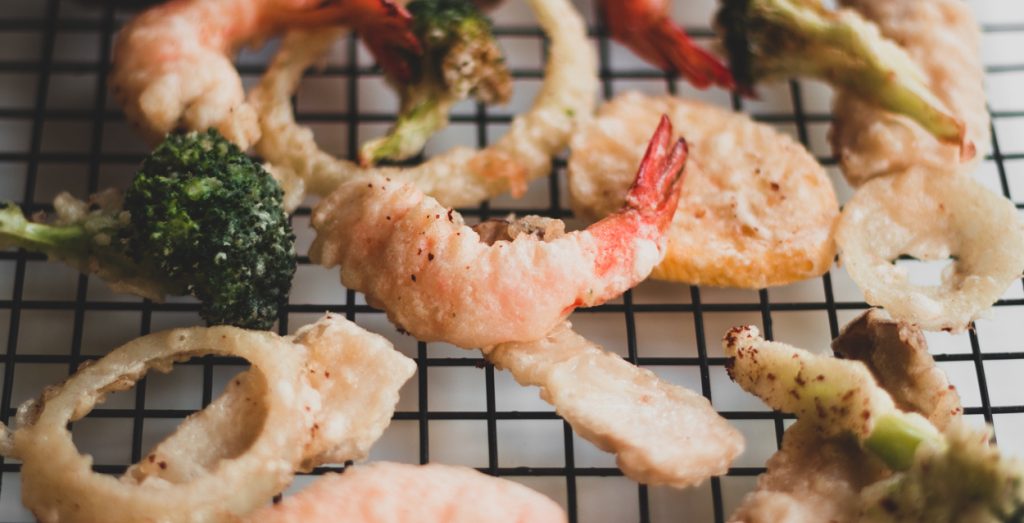 When we are in doubt in what to eat, we always ended up cooking our meal at home. This is a great recipe to be made when you are in doubt as you can use whatever fresh ingredients in your fridge. Using the batter and tips we show you, you are able to enjoy the uniquely and delicious tempura don made just for yourself, isn't that great?

xoxo, Angela
Tempura Donburi
Enjoy a present-day classic Japanese dish with this tendon tempura rice bowl recipe. A type of donburi (a one-bowl meal of rice topped with any meat or vegetable dish), tendon is crisp tempura laid over freshly steamed rice and topped with a delicious light soy dressing. Enjoy for lunch, or as a light evening meal.
Ingredients
2-3 cups cooked Japanese rice

8-10 pcs tempura

1 small onion, sliced thinly

½ cup dashi stock

1 teaspoon of mirin

1 teaspoon of Japanese soy sauce (shoyu)

Salt to taste

Some chopped spring onion for garnis
Methods
In a medium mixing bowl, bring together dashi stock, shoyu, mirin and salt. Pour half of the mixture into a small shallow pan. Bring to boil.
Add in half amount of the tempura and onion, cook until it is almost boiling.
Pour in half amount of the lightly beaten eggs in a thin stream over the tempura.
Add in spring onion and simmer until the egg is almost set.
Gently slide the tempura onto the top of rice in a bowl. Repeat the same process for another serving.