It's been a daunting week with new challeging coming into our life. However, we always make sure time were free for some cooking and "experimenting". While we want something fun, we try to make it easier for more time to spend together. This Marinated Tomatoes will be the perfect side dish for the tiring weekend. We probably won't be stopping anytime soon because it's convenient, low maintenance, and juicy and delicious. If you're fancy enough to have side dishes right now, don't let me stop you from making marinated tomatoes and eating them as a side.

The extent of our "cooking" on a daily basis is soaking tomatoes in garlic, salt, olive oil, lemon juice, and herbs for a little while. Using marinated tomatoes, you can create the illusion that you have cooked something wonderful, when in fact you have just been enjoying the nice weather instead! Let's get started!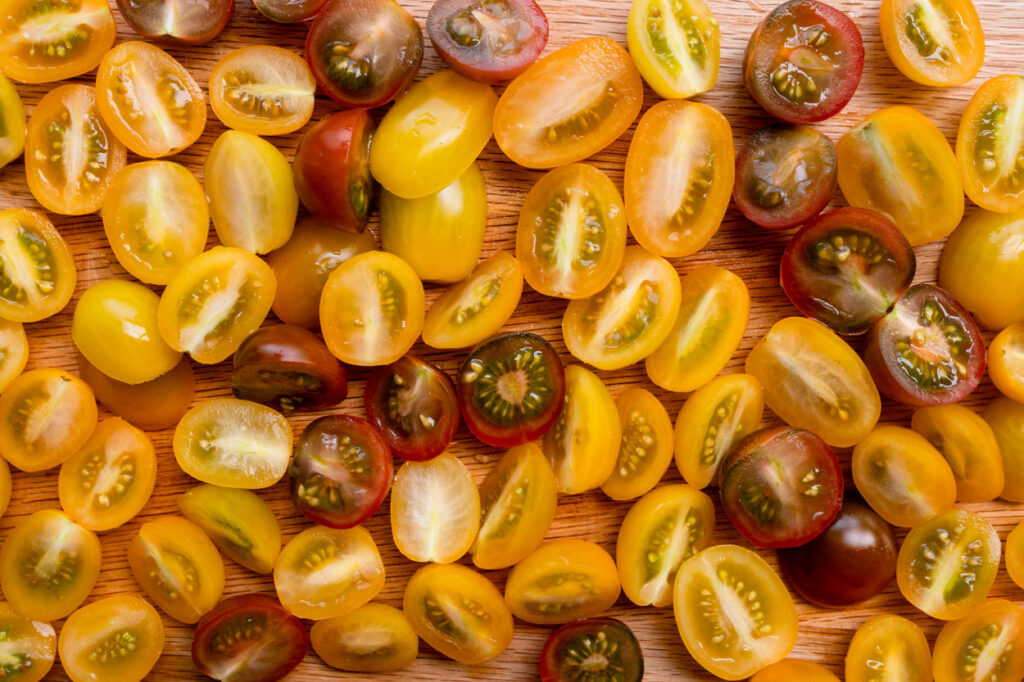 Preparing your tomatoes
We used the 500g of multi-coloured grape-sized tomatoes, but any cherry or even baby tomatoes would work well in this recipe. 1)  Rinse tomatoes and cut them in half. It is easiest to slice with a serrated knife and we slice them through the centre because they look prettier. 2) Add the sliced tomatoes to a glass mixing bowl or container. Add the chopped basil leaves and red onion then pour over 1 1/2 to 2 cups of (2:1 olive oil and balsamic vinegar) or just enough to barely cover the tomatoes. Stir and cover to marinate.
How long should I marinate it?
It is recommended that the tomatoes marinate for at least two hours in order to make them more flavorful. Serve them at room temperature after 4 hours covered – if you have leftovers, chill them afterwards. If refrigerated overnight, they stay fresh for a long time.
If you have leftover tomatoes or want to serve them with breakfast, try serving them as bruschetta. All you need are some toasted baguettes. So easy and good! We hope you enjoy this recipe.

xoxo, Joe
Marinated Cherry Tomatoes
Ingredients
500g of cherry or grape tomatoes, halved or quartered

1red onion, sliced

1 cup of olive oil

3 tbsp of balsamic vinegar or lemon juice

1 tablespoon freshly minced herbs (we like basil leaves)

salt to taste (I use about 1/2 – 3/4 teaspoon kosher salt)
Methods
Toss tomatoes, grated garlic, olive oil, vinegar, herbs, and salt together in a jar. You're done.
Now that the marinated tomatoes are good and tasty, let them sit for a while. Ideally, you should let them soak up all the goodness for 3 to 4 hours on the counter, but you can also leave them for up to 24 hours if you're going to mix them into something, like a salad. Bring them back to room temperature for ideal serving conditions!