If you've ever tasted raw, local honey you'll be amazed at the complexity of its flavour. It's nothing like the stuff that comes out of squeezy bears and depending on what the honeybees were foraging on, the honey can taste naturally of flowers and herbs.

You can create your own even more powerful versions of 'flower honey' by infusing honey with your own delicious additions. However since spring is here we decided to make a Infused Flora Honey.

You can use this Infused Flora Honey on your pancakes, oatmeal, waffles or you can simply have them in your drinks.

Fresh herbs vs Dried herbs
There is some discussion over whether it's safe to use fresh herbs when infusing honey. The short answer is that if you're making infused honey for other people, then you need to use dried plant material. If you're making it for yourself and planning on refrigerating it, then, by all means, use fresh as I'm doing.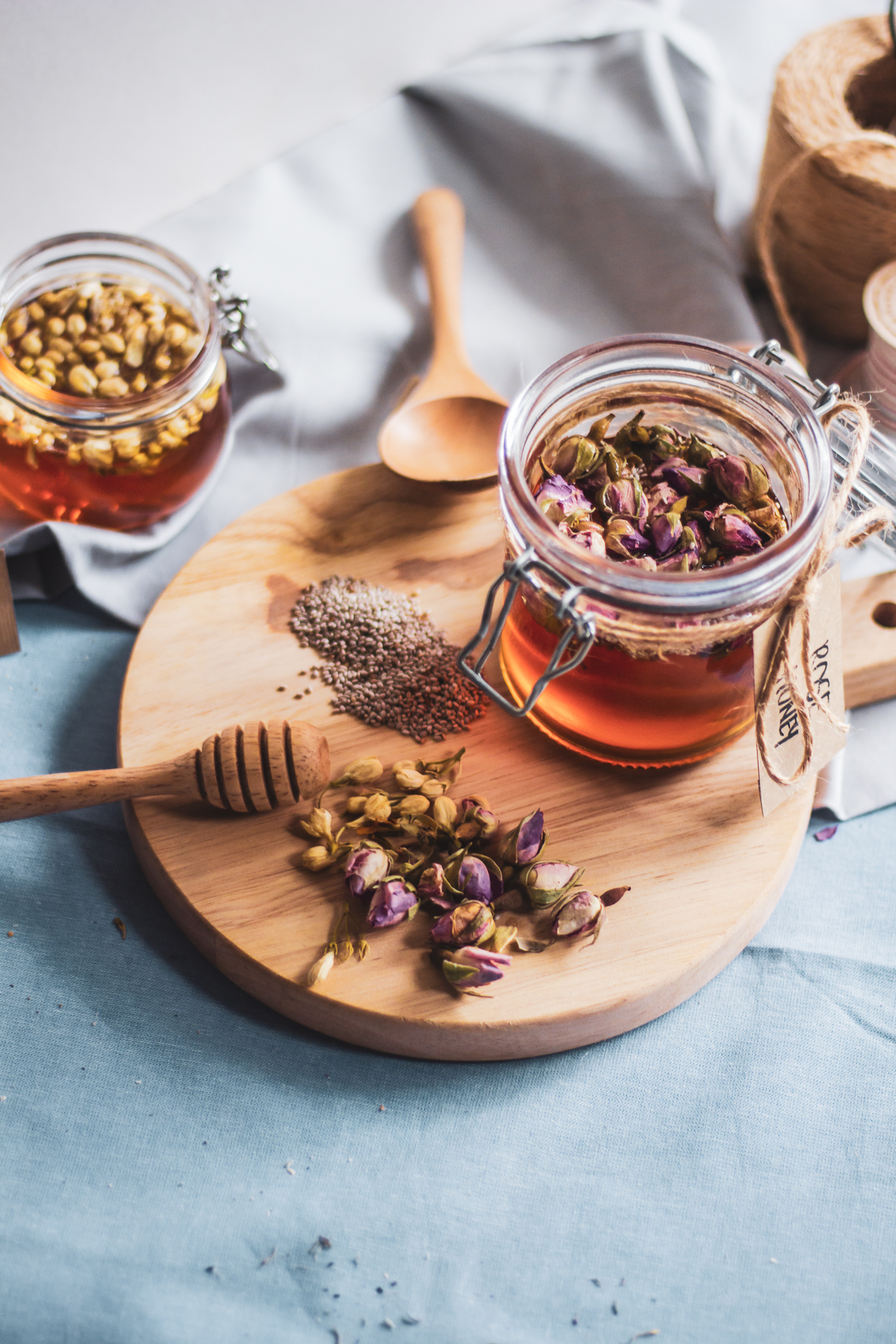 Ingredients |
Light, runny honey
Jars & Lids — you can also re-use the jars the honey comes in
Herbs: Rosemary, Thyme, Peppermint, or your own choice
Spices: Vanilla bean, Cinnamon sticks, dried Chilis, Orange Peel or dried Garlic
Edible Flowers: such as Lavender, Calendula, & Rose petals
Kraft paper circles 5-1/2″ in diameter to decorate
Bakers Twine to decorate
Method |

The process for making infused honey is really very simple. Once made, it can have an indefinite shelf life as honey can last a very long time without any need of artificial preservatives. If you choose to use fresh herbs to infuse in your honey, please refrigerate it and use within a month.

You can also decorate the jars with paper wrappers and Bakers Twine for gifts. I cut out circles of brown parchment paper 5-1/2″ in diameter and tied them with string. You could also write a personal message on the top of the paper or hang a gift tag from the twine. These tags that look like little jars are so cute!
Using just a few ingredients and materials, you can make a delicious golden treat for yourself or handmade gifts for your loved ones.

Xoxo, Joe