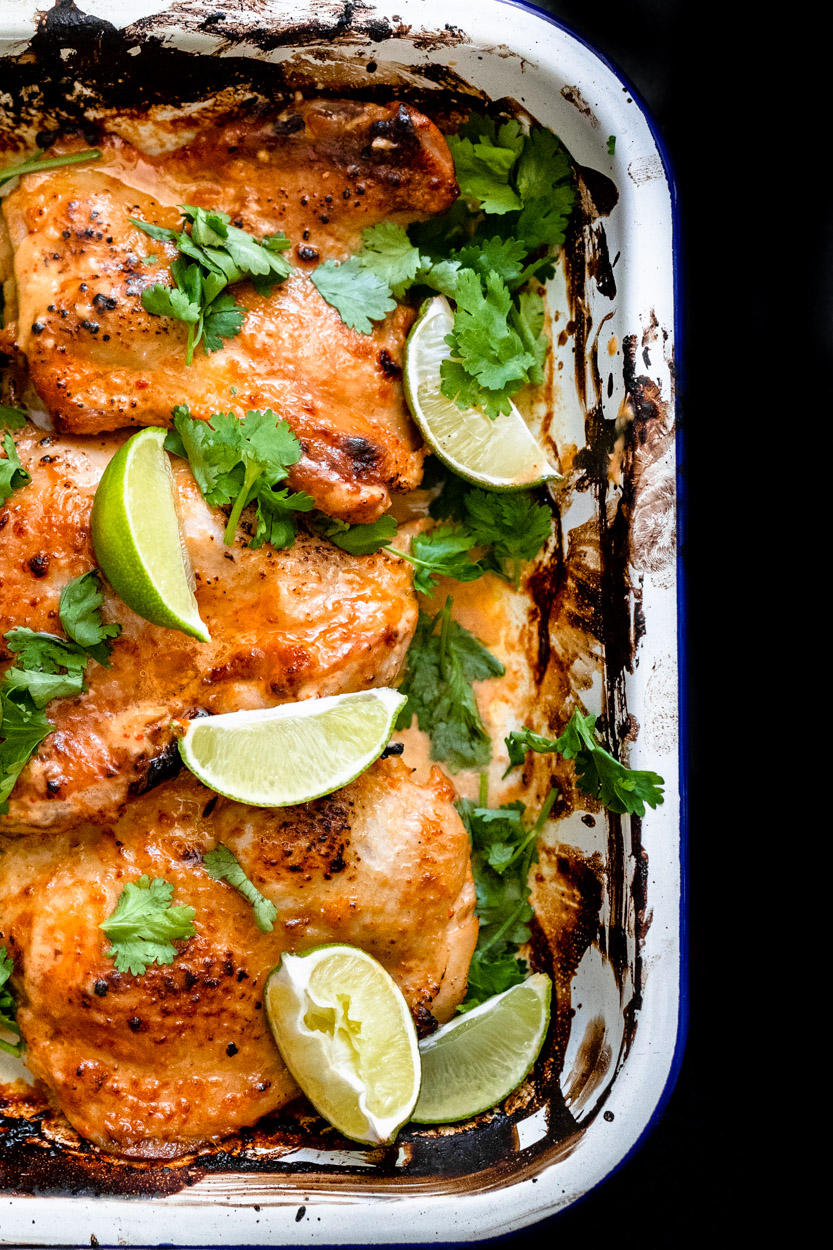 If you put a big platter of these baked spicy coconut chicken thighs in front of your friends or family, we guarantee no one will be able to resist. They don't even have to like spicy food or chicken thighs, and they will be diving in. There's just something seductive about these glazed and charred thighs.

Bon Appétit shared these a few months ago and we were there for it. We quickly gathered all the required ingredients and set to making these for myself.

They are loaded with flavour from the spicy coconut marinade, flavoured with sambal oelek, brown sugar, coconut milk, lime, garlic and ginger. I made a double batch and marinated the meat in half, then reduced the other half and glazed the thighs as they cooked to further layer on the flavour.
Baked Chicken or Grilled Chicken?
OnBon Appétit, they using a griller to grilled the chicken, which will produce a grill mark on the chicken which makes this dish appetizing. Although grilling, on the other hand, produces a bolder flavour and allows fat to drip off the meat, reducing its calorie count. However, baking can be just as healthy as long as you don't add oil, butter and other fats. Not to mention baking tends to give food a more delicate texture and taste. Ended up we choose baking!
How to pick the right cut of chicken?
Chicken is one of the most versatile meats you can cook with. It takes on other flavours really well and is a great base for all sorts of different recipes from across the globe. But don't fall into the trap of cooking mainly with chicken breast. As well as succulent white meat, the dark meat and different joints have masses to offer.

Thigh: Arguably the tastiest part of the chicken, thighs are little parcels of tender, juicy meat from the top of the bird's leg. You can buy them bone-in, or bone out, and with the skin on or off, where we use boneless for this recipe and also the best part of this recipe. Bake on two sides for 10 minutes each at 180 C, end it using the boiler function, boil the skin for 5 minutes till crispy.

Legs: Instead of dividing the legs into drumsticks and thighs, try leaving them whole, then roasting them in the oven or grilling them on the barbecue. They look great served whole on a platter for a party.Bake on two sides for 15 minutes each at 180 C, end it using the boiler function, boil the skin for 5 minutes till crispy.

Breast: Arguably the most popular part of a chicken, you can buy breast either whole or pre-sliced and with the skin either on or off. It will be drier compare to the Thigh and Leg if we use the oven to bake it. Therefore we suggest pan-fry time on 2 sides for 15 minutes till cook.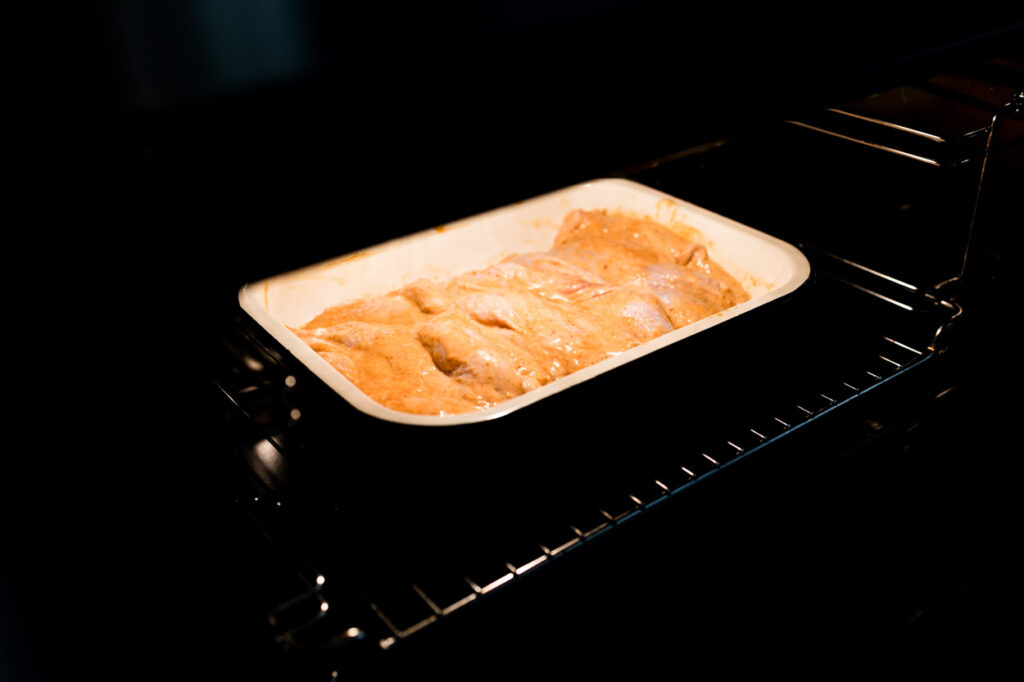 What Is the Best Sambal Oelek Substitute?
Sambal Oelek is a spicy chilli sauce that is popular in Indonesian and Malaysian cuisine. The main ingredients are hot chilli peppers and salt, although lemon, garlic or vinegar are also commonly added. It took us a while to get this Sambal Oelek, thus if you can't get your hands on a bottle of this hot sauce then you're going to need a sambal Oelek substitute that's readily available on the supermarket shelf.

If you need to replace sambal Oelek in a recipe then the best options are sriracha, gochujang, or crushed red chilli flakes. They won't perfectly mimic the original sauce but unless you're an experienced sambal user, you'd hardly notice a change has been made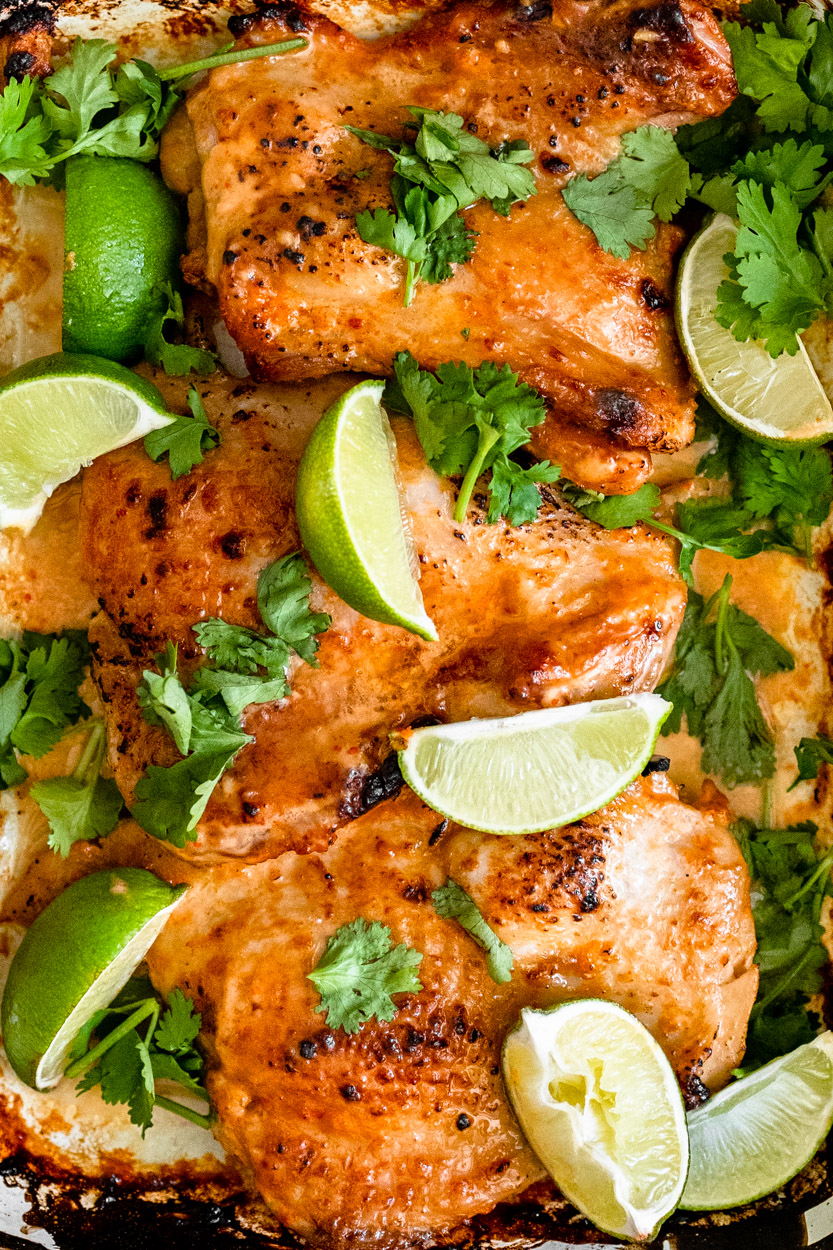 You can have it with rice, potato and all kind of staples as it just go along with anything. We served these on a bed of udon and with a side of Bai Choy, with more reserved sauce for dipping and drizzling. Because more is always more when it comes to, well, most everything that comes out of our kitchen.

xoxo, Joe
Spicy Coconut Baked Chicken Thigh
Ingredients
1 3″ piece fresh ginger

5 garlic cloves

¾ cup coconut milk

¼ cup hot chilli paste (such as sambal oelek)

¼ cup fresh lime juice

2 Tbsp. light brown sugar

1 Tbsp. Diamond Crystal or 1¾ tsp. Morton kosher salt

2 Tbsp. vegetable oil

2 lb. skinless, boneless chicken thighs

1/4 cup cilantro leaves with tender stems

Lime wedges (for serving)
Methods
Preheat the oven to 180C. Finely grate ginger and garlic into a medium bowl. Add coconut milk, chilli paste, lime juice, brown sugar, salt, and 2 Tbsp. oil and whisk to combine. Add chicken and toss to coat. Let sit for at least 15 minutes or up to 4 hours.
Remove chicken from marinade, letting excess drip back into the bowl, and transfer to a rimmed baking sheet. Pour marinade into a small saucepan. Bring to a boil, then reduce heat to medium-low and simmer, stirring occasionally, until slightly reduced and thick enough to coat the back of a spoon, 2–3 minutes.
Place the chicken thigh in the baking tray, bake for 10 minutes on each side. Using the boiler function, boil the skin for 5 minutes till crispy.
Transfer chicken to a platter. Brush with remaining marinade. Top with cilantro and serve with lime wedges alongside.