We decided to start another week on the right foot… with dessert. During a recent trip to our local wet market, I was drawn to all of these gorgeous peaches. I read somewhere that you shouldn't even look at a peach before July. As their season typically ends in September.
So, although people may consider peaches to be more of a winter thing, I can confidently say that they are also a fall thing.
After buying several peaches, I immediately knew that I wanted to make pies. I haven't made one yet this month and one of my favorite things about every season is pie. I really love combining fresh fruits with herbs and pies or galettes are a good opportunity to do that.
For this recipe, I wanted to combine the peaches with lemon and thyme. The flavors are magical together and because it tastes so good, it's hard to believe that it's so easy to make.
My favorite part of this pie recipe (besides how it tastes) is the anticipation of it. Since you can sit back and let the oven do most of the work, you get to really enjoy the smells as they fill the room. The aromas of pies baking always bring me so much happiness – even a Monday can't take from me.
This peach and lemon pie showcase these peaches perfectly, with a deep dish form so as to stuff as many peaches into a single pie as we could… naturally. We've also been itching to use the leaves off my finally-flourishing thyme plant and the touch of thyme lends an incredibly bright and fresh streak to the sweet cooked peaches inside the pie.
The crust itself also has a bit of almond flavor thrown in, for an amazing scent fresh out of the oven, and of course, we couldn't resist finishing off the thick lattice with an extremely generous sprinkling of turbinado sugar for a crunchy, candy-like top.
We can't resist having a mini competition on seeing who did a better pie.
Joe vs Angela. which do you prefer?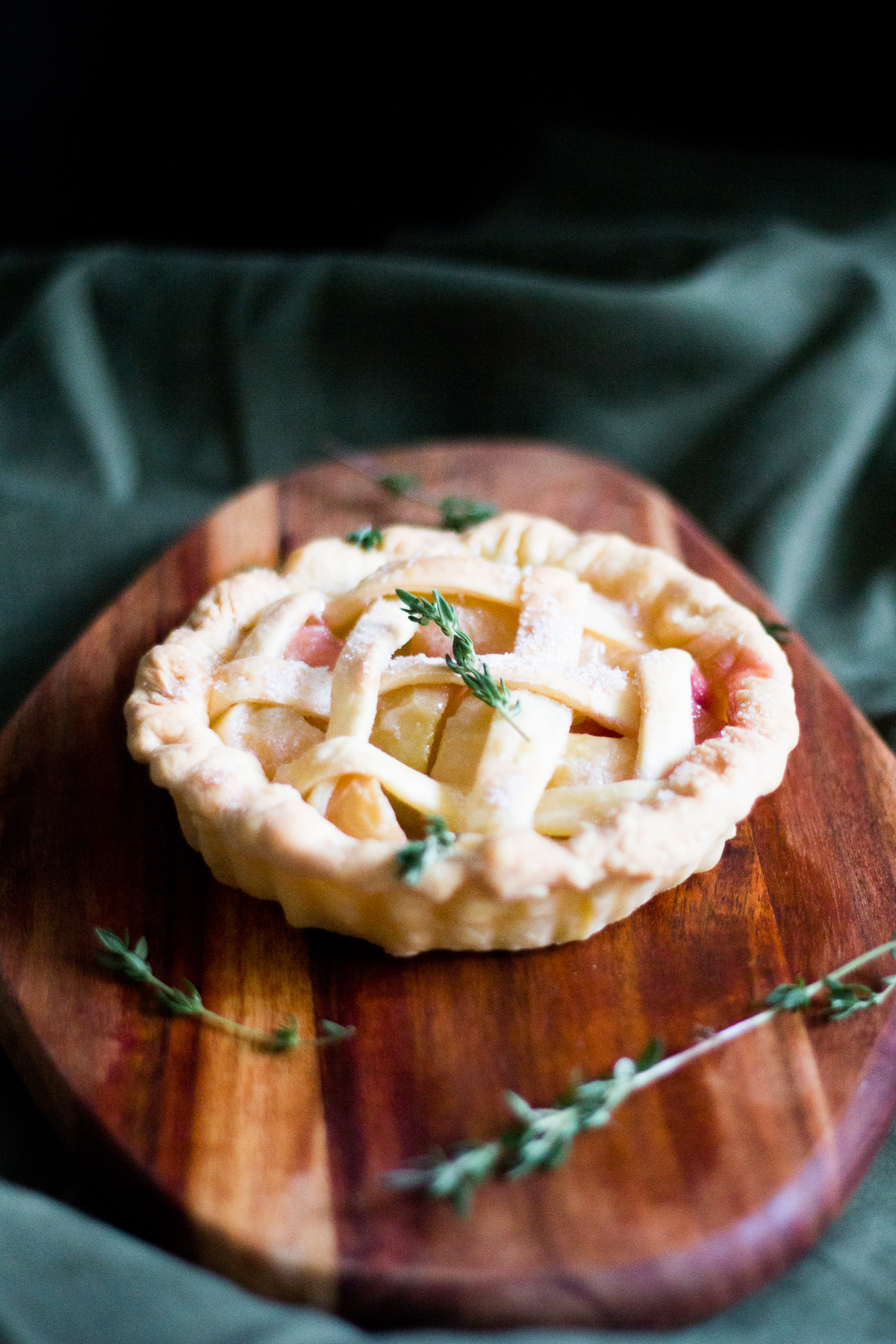 Ingredients |
4-5 large peaches, pitted, peeled and cut into thick slices
1/4 cup sugar
Zest and juice of 1 lemon
1 tablespoon of fresh thyme
2 tablespoons flour
Optional: We used pre-made pie crusts (2 per box), but I highly recommend making your own for a fresh flavor.
Method |
Preheat oven to 180 C. Roll out one roll of the pie crust and line the bottom of a deep pie dish. Refrigerate.
Toss peaches with sugar, lemon zest, and juice, thyme, and flour. Transfer into the pie pan on top of the bottom crust. Roll out the other half of the pie crust. Make the top pie crust of your choice. (Note: We made a lattice crust.) Sprinkle with sugar.
Place a baking sheet on a lower rack beneath the pie pan to catch any juices that might boil over. Note: If you skip this step and the juice boils over, you will have to clean your oven to avoid filling your kitchen with smoke. Bake for 50 minutes to an hour or until the crust is golden and the juices are bubbling. Let cool for about 15 minutes before serving.
Share with us your version! Take a photo of yours, send us an email, tag us on Instagram, tweet us, anything. We love to see yours!
xoxo, Joe