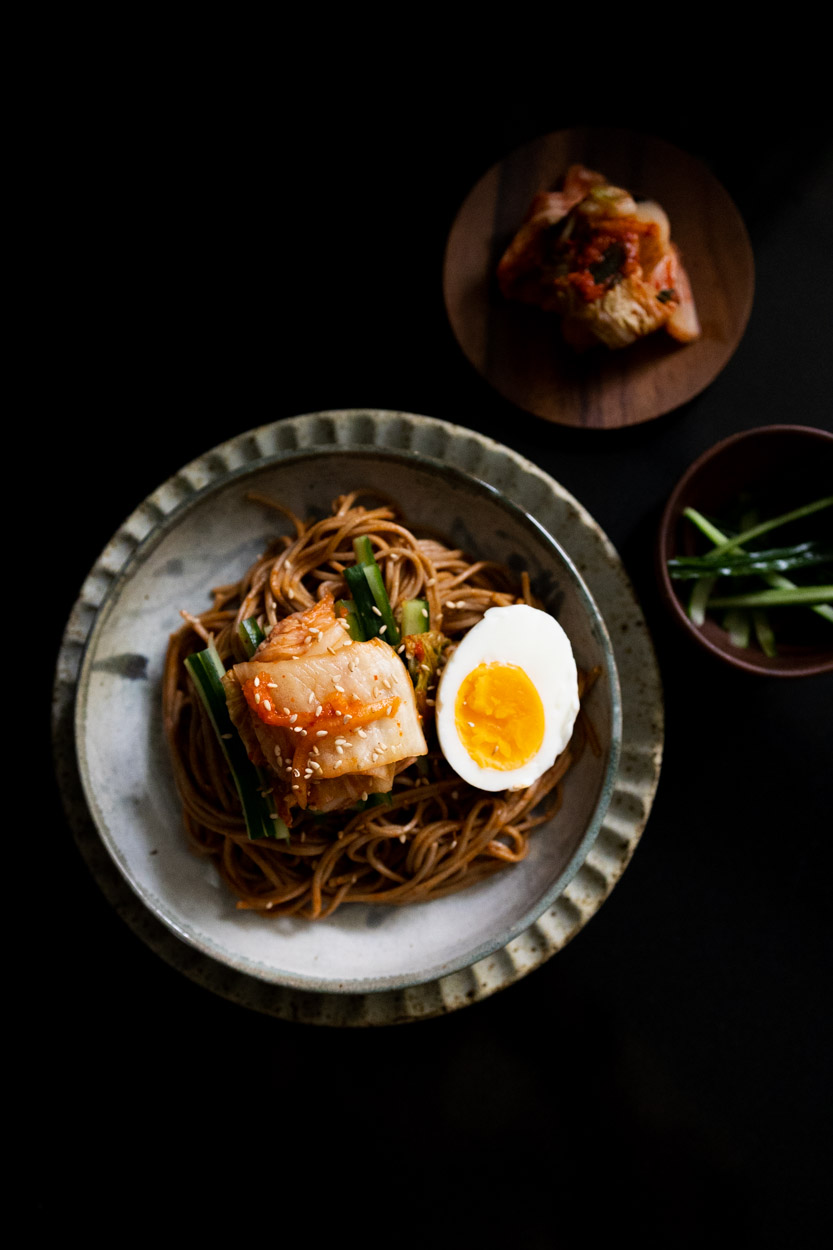 Inspired by the Korean Bibim Naengmyeon we created this fusion dish – Korean Cold Soba. Replacing the buckwheat noodle with Japanese Soba, this noodle dish became more accessible during the humid summer. It's cold, spicy, sweet and tangy. Everything you need is all in one bowl!

Compare buckwheat noodles with Japanese soba, it is less accessible to obtain. In most of the supermarkets, I had to have a bigger selection of Japanese items, whereby for Korean ingredients I have to visit a Korean supermarket for items.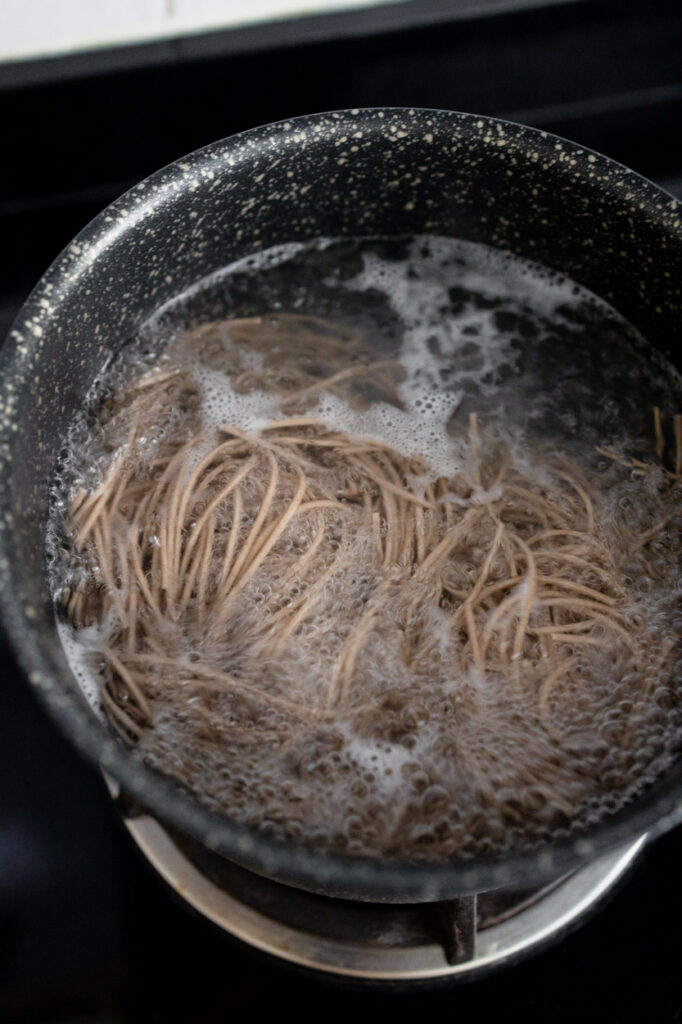 What is Bibim Naengmyeon?
Bibim Naengmyeon is Korean buckwheat cold noodle, served with gochujang, kimchi, pear, hard-boiled egg and some meat. Where many are more familiar with one that is served with iced and beef broth aka Mul Naengmyeon which is more refreshing. However, we are sure with this spicy chilled bibim sauce and sweet, tangy and crunchy kimchi, the Bibim Naengmyeon is a hearty, satisfying meal. The combination of these two is simply irresistible!
Replacing the Noodle with Soba
Both Korean buckwheat noodles and soba noodles are made with buckwheat flour, however, the texture of both noodles is very huge. The Korean buckwheat noodle uses a mixture of buckwheat and sweet potato flour while soba uses only buckwheat flour, thus the Korean buckwheat noodle is chewier in terms of texture.
The soba noodle has an earthy, somewhat nutty flavour to buckwheat soba noodles and they can be served hot or cold. Depending on the brand, you should follow the instructions on the package when cooking dried, packaged soba noodles. Generally, soba noodles cook in boiling water for about seven minutes. To prevent them from sticking together, stir them occasionally while cooking. You want them to be tender but firm and chewy, so cook them until they are al dente. If you plan to serve them hot, rinse them after cooking in a colander under cold running water to stop the cooking process.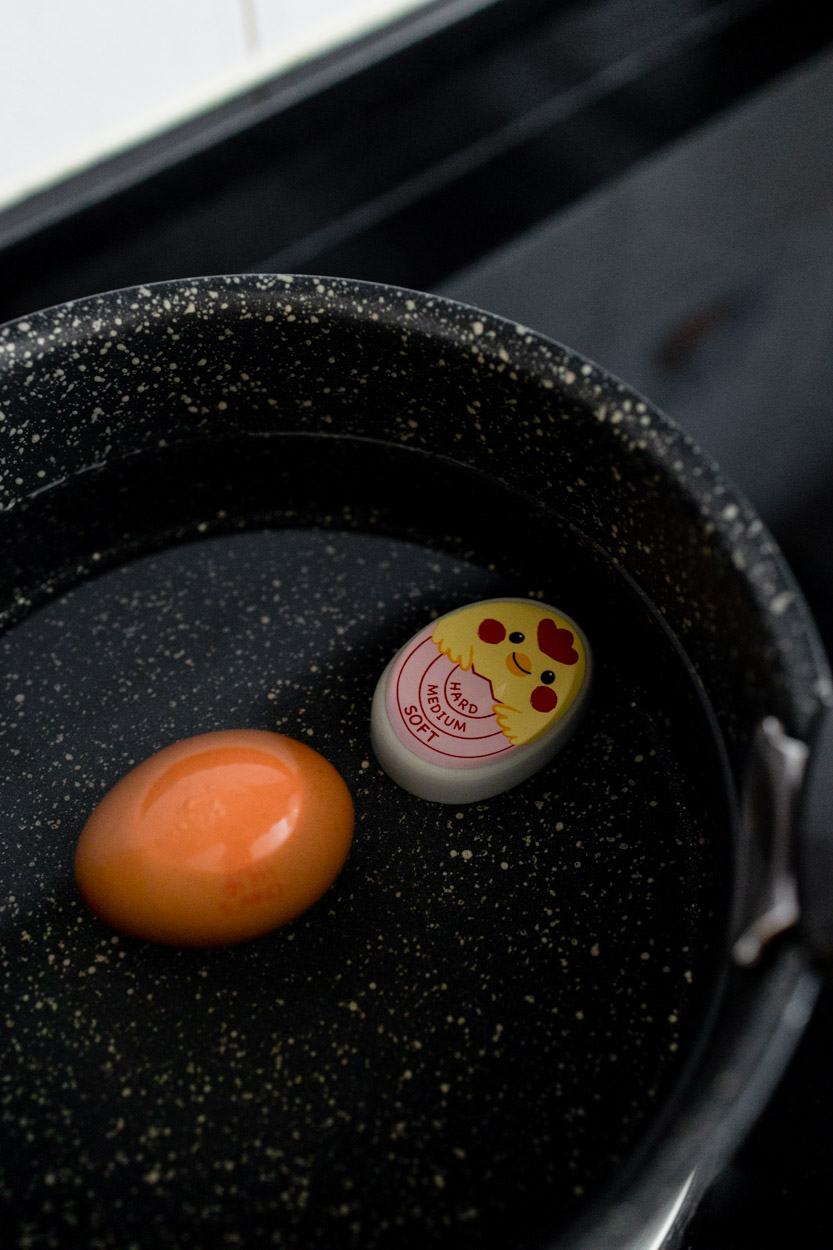 Spicy & Tangy Korean Sauce
For the traditional Korean cold noodle, gochujang is used, however, to make the dish more interesting we add sugar, chilli flakes, minced ginger and roasted sesame seeds to make the dish deeper and flavourful. While the usual way of serving is to top it onto the noodle, and the consumer will mix it before they eat it. For us, we mix the sauce with the noodle first letting it marinate before serving it with the toppings.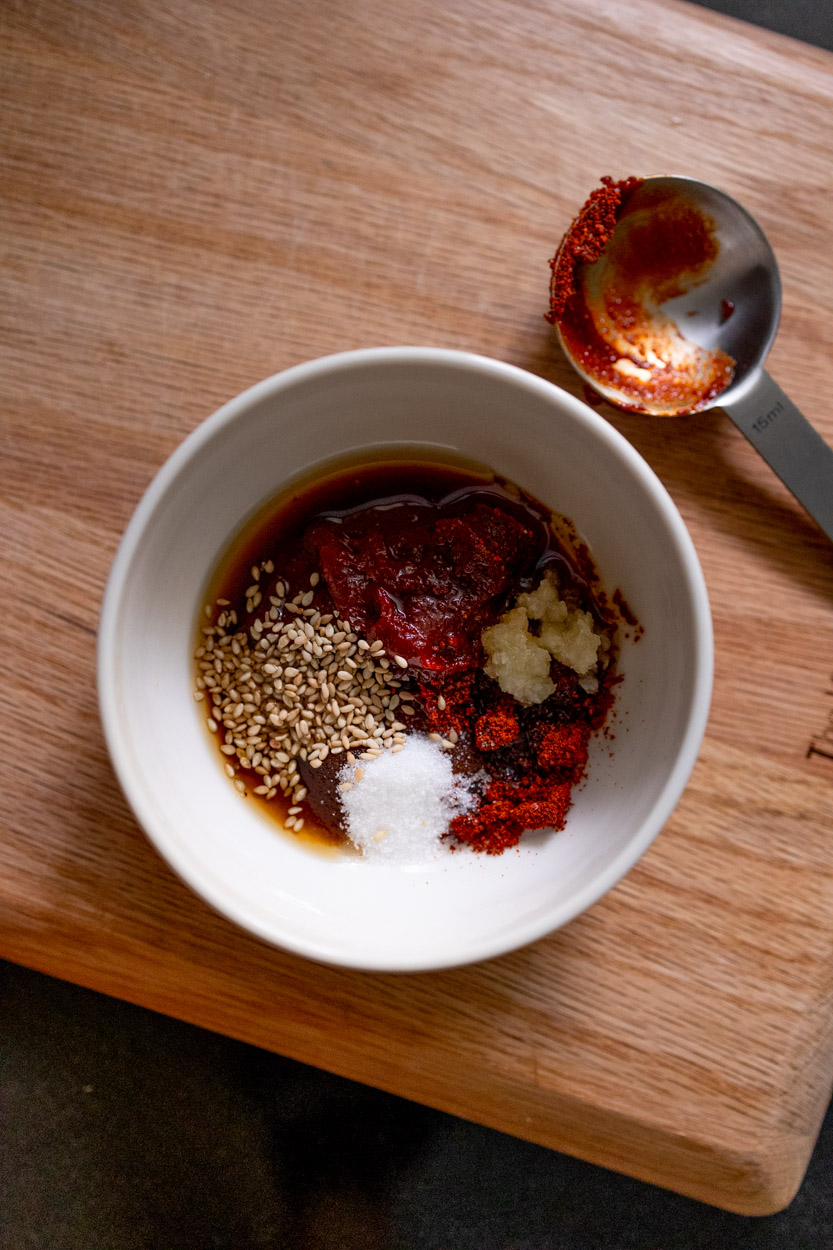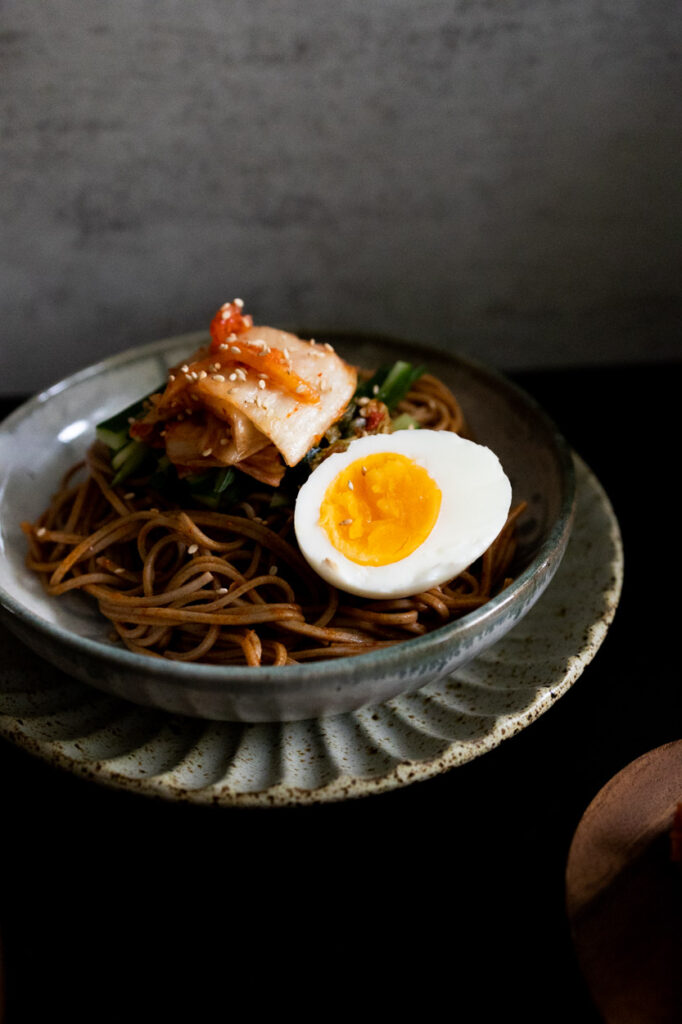 Share with us your version! Take a photo of yours, send us an email, tag us on Instagram, tweet us, anything. We love to see yours!
xoxo, Joe
Korean Cold Soba (Dry)
Ingredients
1 package of soba noodles

Suggested additions to the broth

2 tbsp of gochujang (red chilli paste)

1 tsp of rice vinegar

1 tsp of minced garlic

1 tsp of red chilli flakes

1 tsp of sugar

2 tsp of sesame seeds

Suggested toppings

1 cucumber, thinly slice

4 hard-boiled eggs, sliced into 1/2

Kimchi
Methods
Bring a large pot of water to boil. Follow the instructions on your packet of Korean cold noodles for the length of cooking.
While the water is boiling, assemble your choice of toppings.
Place the packets of broth flavouring into the bowls, along with icy cold water. Reserve a few ice cubes for when you serve the noodles.
When the noodles are done cooking, immediately drain and rinse them in running cold water. Divide them among the four bowls and use a pair of scissors to cut clumps of noodles into more manageable lengths.