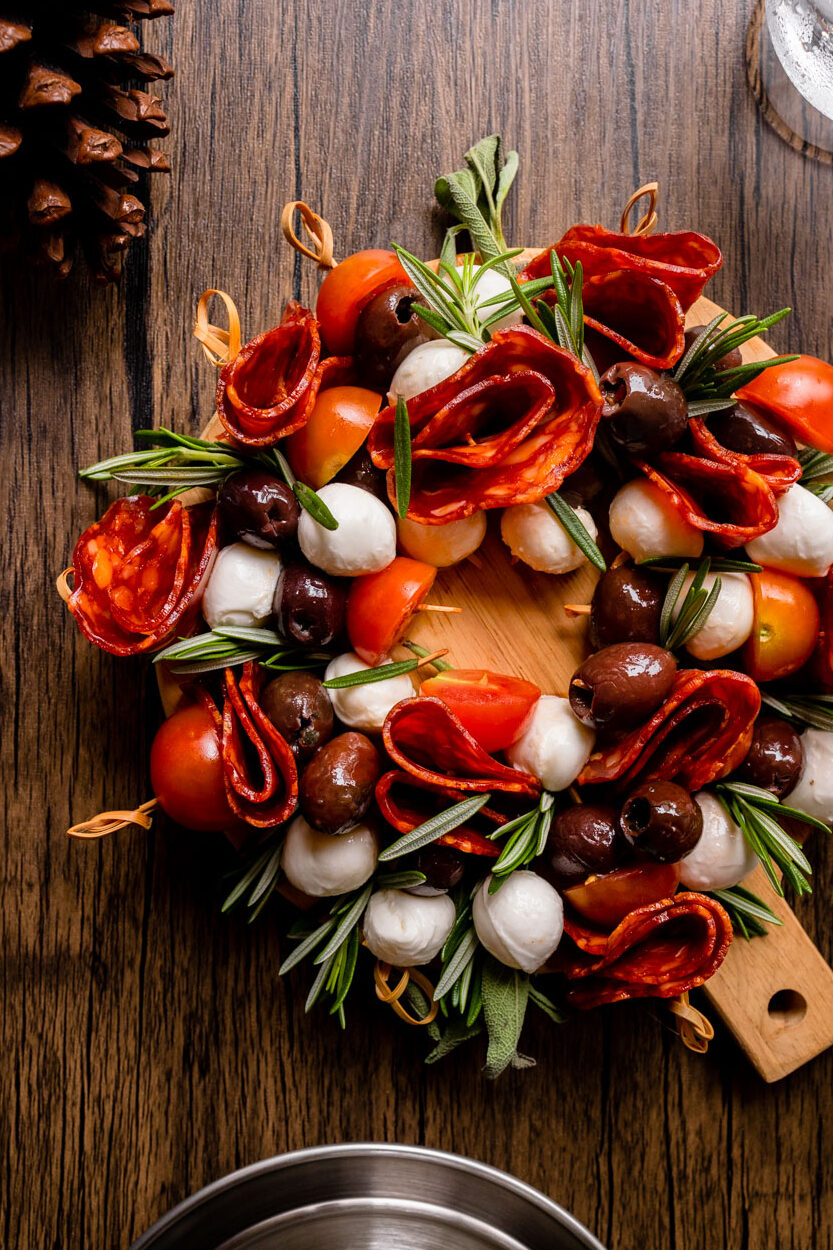 Once Thanksgiving is over, you'll know that the holiday season is just around the corner. It was just January and here we are less than a month from the end of 2022. If you've been following us, you know that Christmas is our favorite holiday season. As the most meaningful season of the year, I give back and am grateful for all the love and joy I have received.
This time of the year we will be busy with an endless list of agendas. While work is burying us, we still find time to do things that we love – and explore ideas in food and drinks. Both Joe and I were thinking since we have the thought of making a Christmas Wreath but we do not have time to pick up the greens why not make an edible one?
It is ready simple and beautiful Antipasto for serving individual items at a party so many fingers aren't touching the food. These skewers can be made quickly and restocked with extra throughout the party. Let us get started.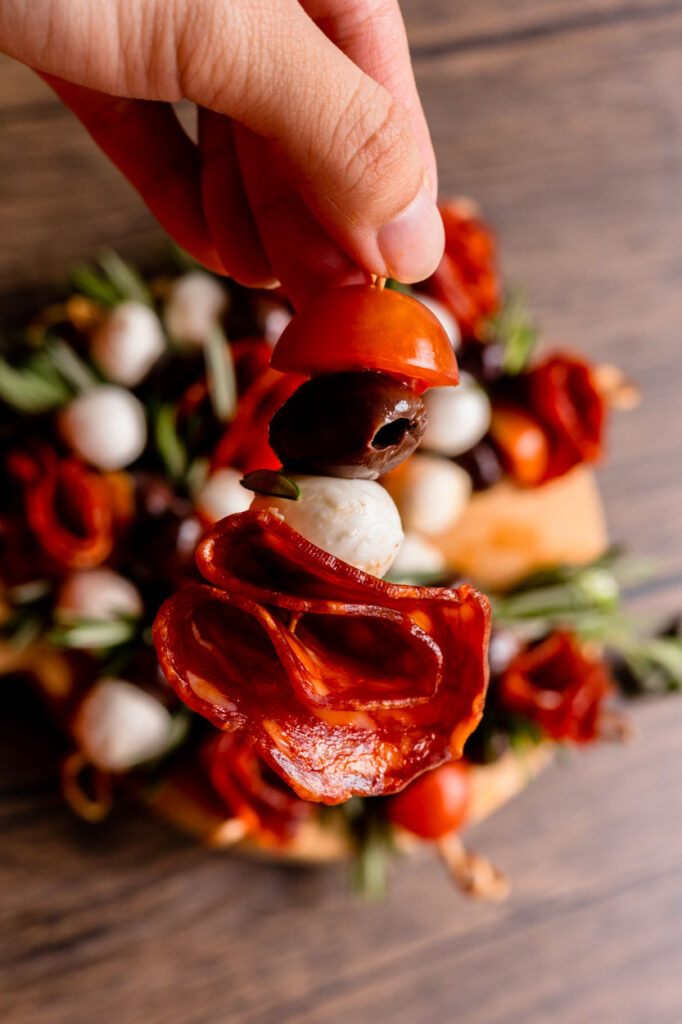 What is Antipasto?
Antipasto is the first course of an Italian meal (it means "before the meal") and typically refers to a small plate of meat, cheese, pickled vegetables, and olives. Instead of serving our antipasto on a plate, we've added them to skewers for this recipe.
Here's what you'll need to make this recipe.
1-pint cherry tomato
½ pound mixed Greek olives
8 ounces fresh Mozzarella balls (we used Ciliegine)
4 ounces sliced salami
1 bunch of fresh rosemary
1 tablespoon olive oil
1 teaspoon balsamic vinegar
pinch of salt and pepper
30 bamboo skewers
Can you use different ingredients for making an antipasto wreath?
Absolutely! The whole idea is to mix and match different ingredients and enjoy. So, you can use whatever ingredients you love. Remember to tick the boxes for cured meat, cheese, and vegetables. This Antipasto wreath recipe is very versatile.
Substitutions and Alternatives
This holiday wreath appetizer is so great because you can truly mix and match whatever ingredients you like. You don't have to stick with the traditional items that you'd find in an antipasto tray.
For a change, try one of these alternative ingredients:
Pickled/smoked meat
Roasted vegetables
Mushrooms
Artichoke hearts
Anchovies
Asiago or cheddar cheese
If you try this recipe please tag #byplaincanvas on Instagram or Twitter. We love to see your photos of our recipes! Also, follow us on Instagram to keep up on what we're cooking up.

xoxo, Angela
Antipasto Holiday Wreath
Ingredients
1-pint cherry tomato

½ pound mixed Greek olives

8 ounces fresh Mozzarella balls (we used Ciliegine)

4 ounces sliced salami

1 bunch of fresh rosemary

1 tablespoon olive oil

1 teaspoon balsamic vinegar

pinch of salt and pepper

30 bamboo skewers
Methods
Thread a mixture of tomatoes, olives, mozzarella, and salami onto each skewer, until you run out of ingredients.
In a small bowl, whisk together the olive oil, balsamic vinegar, salt, and pepper. Drizzle over the skewers.
Arrange the skewers on a large plate in a wreath pattern.
Weave the rosemary amongst the skewers to finish the wreath.