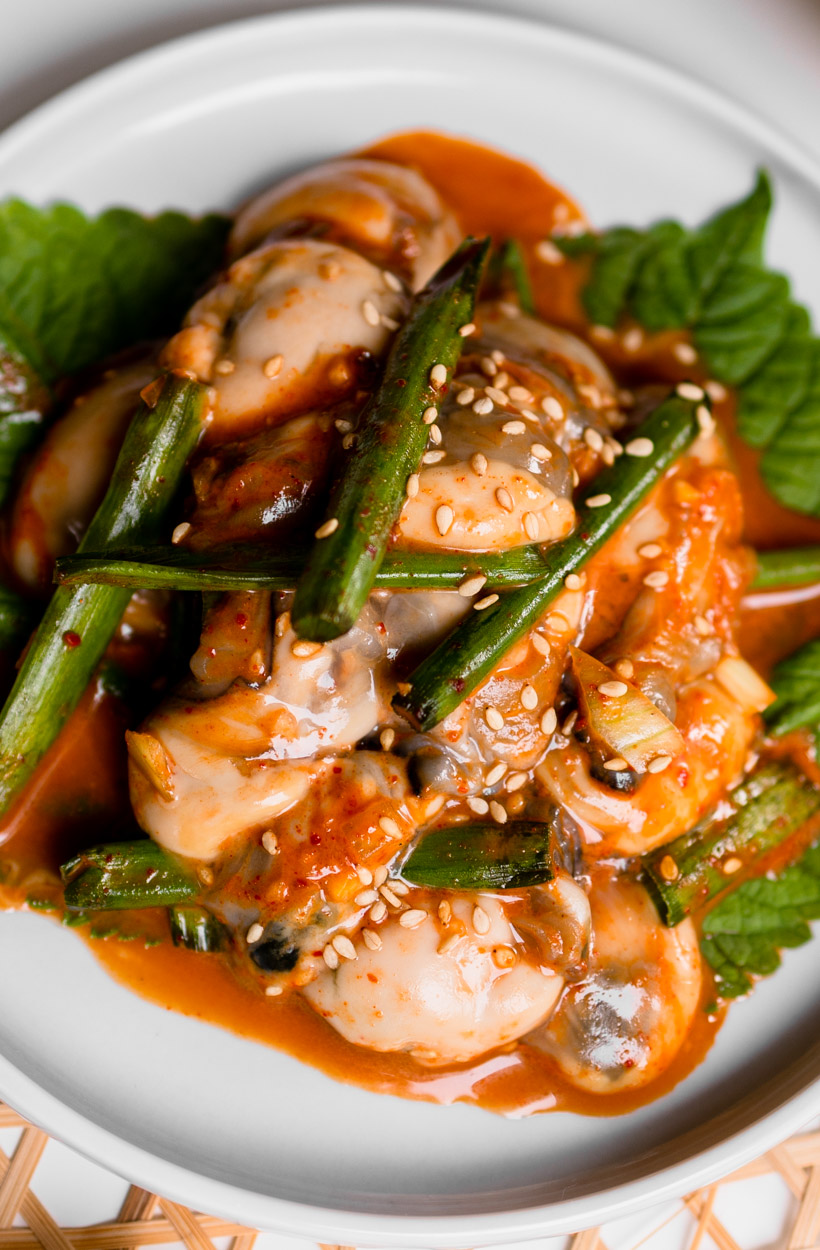 Adapted by Maangchi – Korean Gulmuchim is a simple and easy recipe. After trying this recipe it became one of our favourite side dishes to be made when we have Korean BBQ and Bossam. One of the other reasons that make us fall in love with this recipe is that the simplicity of ingredients needed and all you need is to mix all ingredients together and enjoy them. All you need is oysters and some basic ingredients like onion, garlic, spring onion, ginger and gochujang that we grab in our kitchen.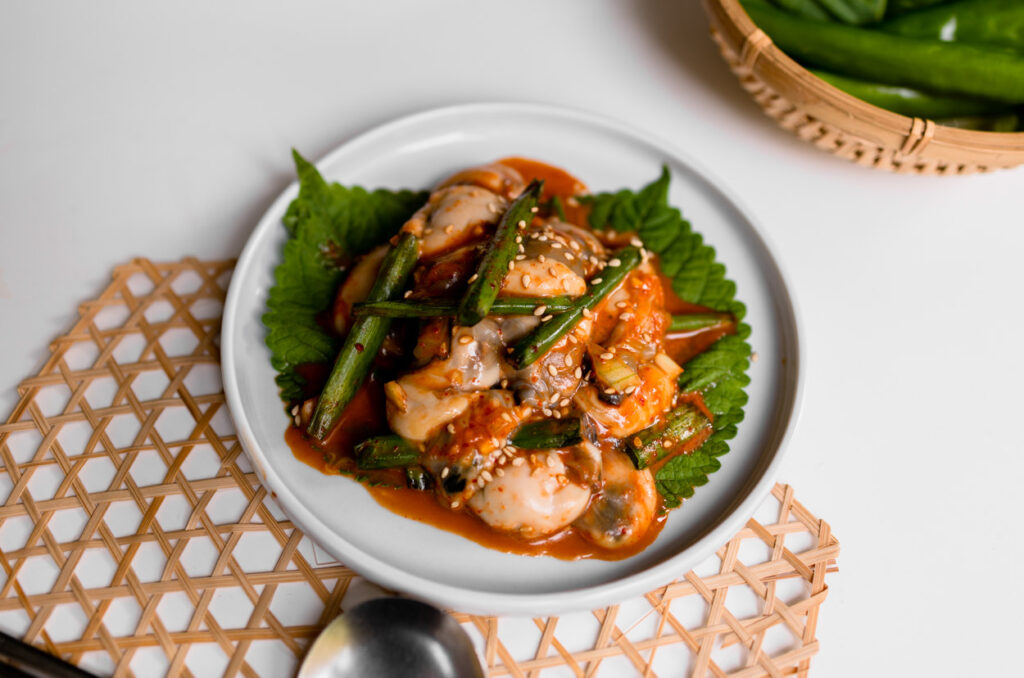 Frozen Oyster vs Fresh Oyster
The star of this dish is Oyster – if our wallet allows it, we will choose fresh oyster, as it makes this dish more finger-licking good. However, it is pricy and time-consuming in preparing it thus frozen oyster is the second-best choice we could have. We got this frozen oyster in our local wet market where it sold one whole big bag for only $10. These oysters are usually those used in the egg omelette where they also taste very good especially with this marination.

How to prepare the frozen oyster? The first thing you do is to thaw them before opening the package. In a bowl put 3 tbsp of cornflour over it and mix it well, and then rinse them off one by one to remove any sediment.Rinse it under the tap water and drain it well before they're ready to mix with seasoning. Wash the oysters a few times and remove any remnants of shell or grainy particles from them especially the frozen oysters.
How does gochugaru differ from gochujang?
I always got confited with Gochugara and Gochujang. Gochugaru translates literally to pepper powder. Gochu means pepper and Garu mean powder. The name Gochugaru refers to the flakes of a moderately hot sun-dried red long pepper. On the opposite hand, Gochujang is a thick, sticky paste utilized in dipping sauces and marinades. Gochujang contains Gochugaru along with various other flavorful ingredients.

After practising and families ourselves with Korean food, we understand better the way to use these two types of seasoning. While you'll be able to use gochujang in your marinade for bulgogi, other meat and also some seafood dishes (like this recipe) to urge a standard flavour profile. you'll also add it to varied soups, stews and sauces. Moreover, use Gochugaru as an all-purpose seasoning to feature heat to almost any dish. it's essential if you're making kimchi.

We wanted both flavour and heat for this recipe and thus we use both here!
Can I make this ahead?
Yes, absolutely! However, if you would like to enjoy them at their best state, only make them 4 hours to every day ahead. If you made more portions, you'll keep them within the fridge for up to every week in an airtight container!
Looking back at the images, it makes us drool again. You can never forget the finger-licking good taste and will keep can keep looking for the freshness and heat!

xoxo, Joe
Gulmuchim (Spicy Marinated Oyster)
Recipe adapted from Manngchi.
Ingredients
500 g fresh cleaned oyster

1 garlic clove, minced

1 green onion, chopped

1 tablespoon soy sauce

1 tablespoon hot pepper flakes

¼ teaspoon sugar

2 teaspoons toasted sesame oil

2 teaspoons toasted sesame seeds
Methods
Combine oysters, garlic, green onion, soy sauce, hot pepper flakes, sugar, toasted sesame oil, and sesame seeds in a bowl and mix well with a wooden spoon. You can keep it in the fridge for up to a week.