In Korean food, Ssamjang Korean spicy dipping sauce is an iconic sauce that serves on the table with main dishes. It has a mildly spicy and salty flavour with a nutty fragrance. And, most importantly it compliments well Korean pork belly bbq (Samgyeopsal). While you can purchase the ready-made dipping sauce in many of the places, most commonly in your local supermarket. In our opinion, it can't beat the taste of homemade ssamjang sauce.
What is Ssamjang Sauce?
This Ssamjang Sauce is a simple, no-cook, stir-together dipping sauce that combines the savoury funk of doenjang (fermented Korean soybean paste) with the sweet heat of gochujang. Toasted sesame oil and seeds provide subtle roasted bitter notes, while fresh garlic and scallions wake everything up with a little allium bite. Spread ssamjang on leaves and lettuces before wrapping them around bites of grilled meat, seafood, and even vegetables.
Where to buy them?
You can find ssamjang by the (green) tub in Korean grocery stores, usually next to other pastes like gochujang and doenjang, and online. If you don't love spice, opt for a ssamjang labelled "mild"; otherwise, pick a brand that catches your eye and go for it—on the whole, store-bought options are fairly similar across the board. 

Regardless of the one you choose, you can adjust it to your taste: Add sesame oil and honey to temper the saltiness, minced garlic or chopped green onions for freshness, or even canned sardines for a pleasant brininess.
How to made them at home?
Or, if you have the ingredients on hand, make ssamjang at home. Adapted from this recipe, my barebones version uses just five ingredients: 2 Tbsp. doenjang (we've found that white miso also works well), 1 Tbsp. gochujang, 2 ½ tsp. toasted sesame oil, half onion, chopped finely and 1 clove garlic, minced. Simply mix the ingredients in a bowl, adjust to taste, add any mix-ins (toasted sesame seeds, diced onions or chile peppers, and even diced nuts are all fair game), and transfer to an airtight container. Depending on your choice of mix-ins, your homemade ssamjang will keep in the fridge for several days and up to two-ish weeks.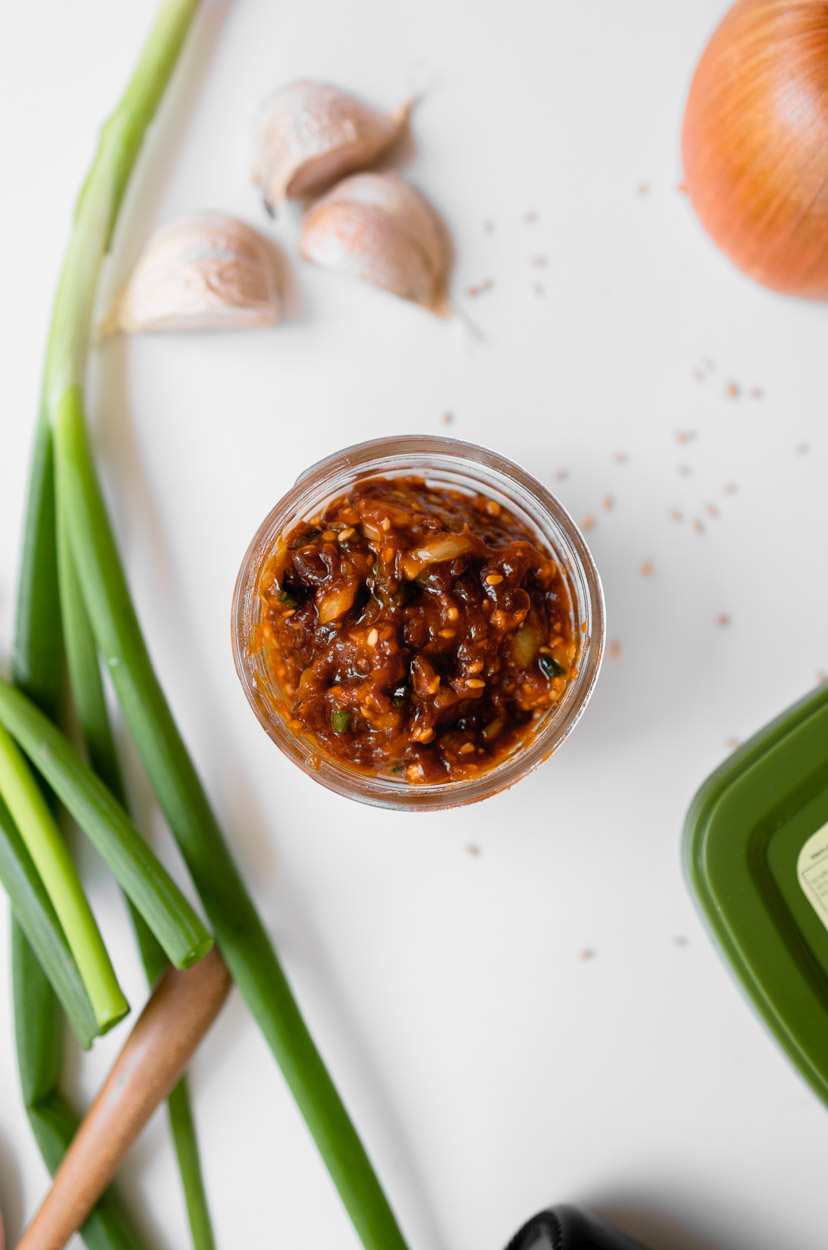 Ssamjang's savoury, bold, complex flavour profile makes it an excellent addition to your fridge's condiment collection, not just an occasional dip to enjoy at Korean barbeque restaurants. Whether you smear it on meat, use it as a dip for your favourite veggies, or wrap it up with rice in steamed cabbage leaves (no, we won't stop talking about this), you'll discover that ssamjang is so versatile it just might become your new favourite condiment. (We won't tell the others.)

xoxo, Joe
Ssamjang (Korean Spicy Dipping Sauce)
Ingredients
1/4 cup doenjang (Korean soybean paste)

2 tbsp gochujang (Korean chilli paste)

2 tbsp toasted sesame oil

1/2 Tbsp honey

2 tsp toasted sesame seeds

1/2 tsp minced garlic

10g onion, thinly sliced

(optional) green onion, thinly sliced

(optional) toasted sesame seeds
Methods
In a bowl combine all the ingredients well. You can store unused portions of ssamjang in an airtight container and refrigerate them until needed. From a food safety perspective consumes within 3-5 days. That being said, I have stored my sauce for 1 – 2 weeks fine. This is not to say that you should do the same, just take the information for what it's worth.