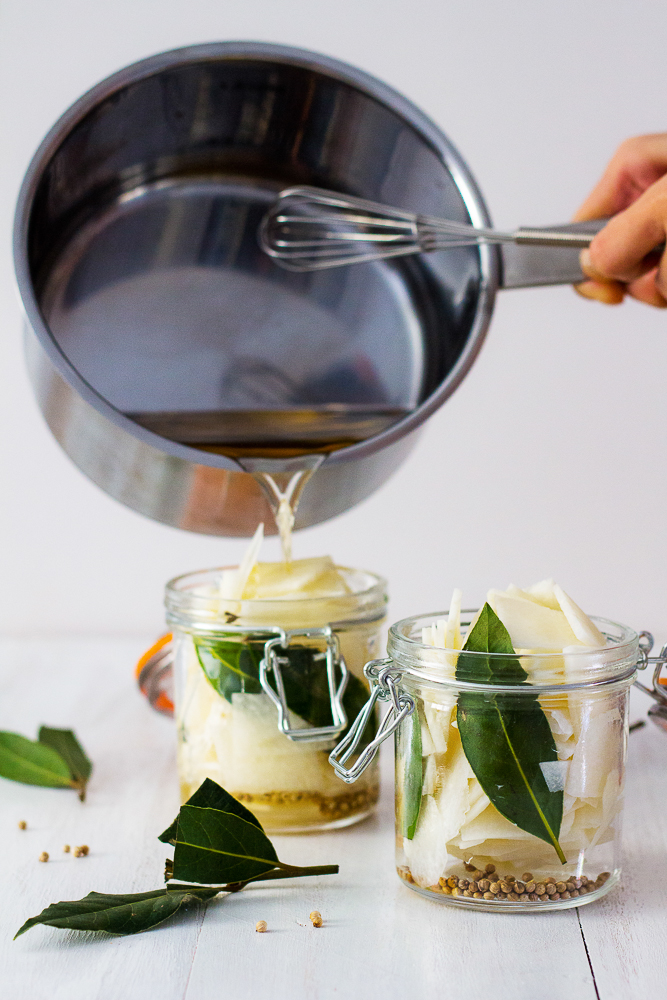 Have you tried our Purple Cabbage Pickled? If you are not a lover of Purple Cabbage, don't worry this week we will be sharing you a brand new pickle – Turnips Pickled. Poor turnip. Sort of a wallflower, this drab white vegetable is easily overlooked at the market. The taste is a bit bland. Pickled turnips will certainly not appeal to everyone, but they are a stunning addition to any spread of salads and look great on a plate next to a sandwich. When I put this Pickled turnips turquoise colored dish the effect was quite stunning.
I find these pickles don't last as long as others, and they're best enjoyed up within a few weeks after they're made. Thankfully they're easy – and inexpensive – to make, so you can whip up a batch in no time. In fact, after my dinner guests wiped me out, I went out and bought more turnips. And now I have another jar in my refrigerator, ready and waiting for the next onslaught of guests.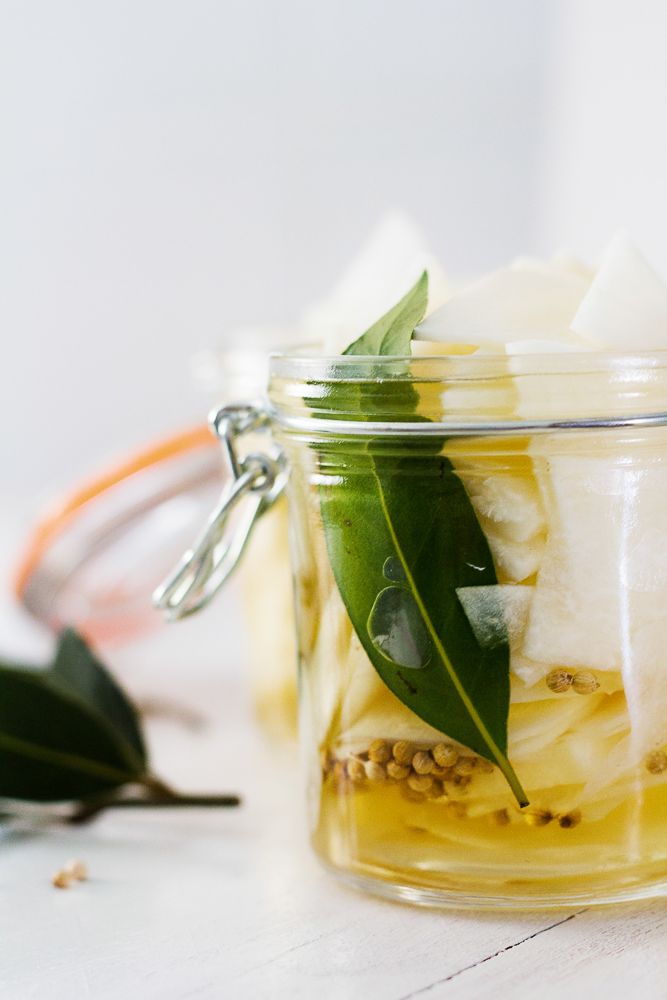 What once seemed a forgettable, not so interesting vegetable, has now transformed into a curiously addicting, stand-apart-from-the-crowd favorite of mine! The once bland flavor is replaced with a quite assertive tang, prominently of vinegar. With turnips and its other root vegetable cousins now in season, this is the perfect time to pick up a few pounds and start preserving these little lovelies into something special! Let's get started with this simple and beautiful recipe.
INGREDIENTS |
a pound white turnips, tailed and peeled
1 tsp of coriander seed
bay leave
¾ cup distilled white vinegar
¾ cup cold water
4 teaspoons salt
METHODS |
Cut turnips into wedges or ½" thick slices. Pack tightly in a quart jar with the coriander seed and bay leave.
Mix the vinegar and water; add salt and stir until dissolved. Pour over the turnips. Cover with the lid and refrigerate for three days. Stir, rotating the vegetables in the jar, and don't hold back from tasting. Refrigerate for three more days, then enjoy.
Stir, rotating the vegetables in the jar and don't hold back from the tasting. Refrigerate for three more days, then enjoy.
NOTE FROM THE TWO SISTERS: These is simple refrigerator pickles that gain zest, character, and crunch over time. Select turnips that are heavy and hard, the smaller the better. The lift should last a month or so refrigerated. The pickles are delicious on their own or alongside a sandwich, a hummus plate with bread—or served with olives and cocktails.
Do stay tuned for more of our upcoming recipes on how we serve these amazing pickles with main dishes.
Please make them and take a photo, send us an email, tag us on Instagram, tweet us, anything. We love to yours! There will be more exclusive stories on our #stellerstories profile thus check it out whenever you can! 
It would make our day! Happy Friday!
xoxo, Joe.