With the most alluring flavour and ready in under 15 minutes, Garlic Butter Prawns is effortless to throw together a meal that can be served over anything!
Don't we all agree, during the hot sticky summer, we preferred simple making meals. Without air-conditional, the kitchen is unbearable and cooking-meals can draggy. So, a huge bowl of this Garlic Butter Shrimp can be found at our dinner occasionally these days. Stir a handful of pasta or drip the freshly baked bread through the lemony, garlicky, buttery sauce for a delicious dinner you clear the bowl in no time.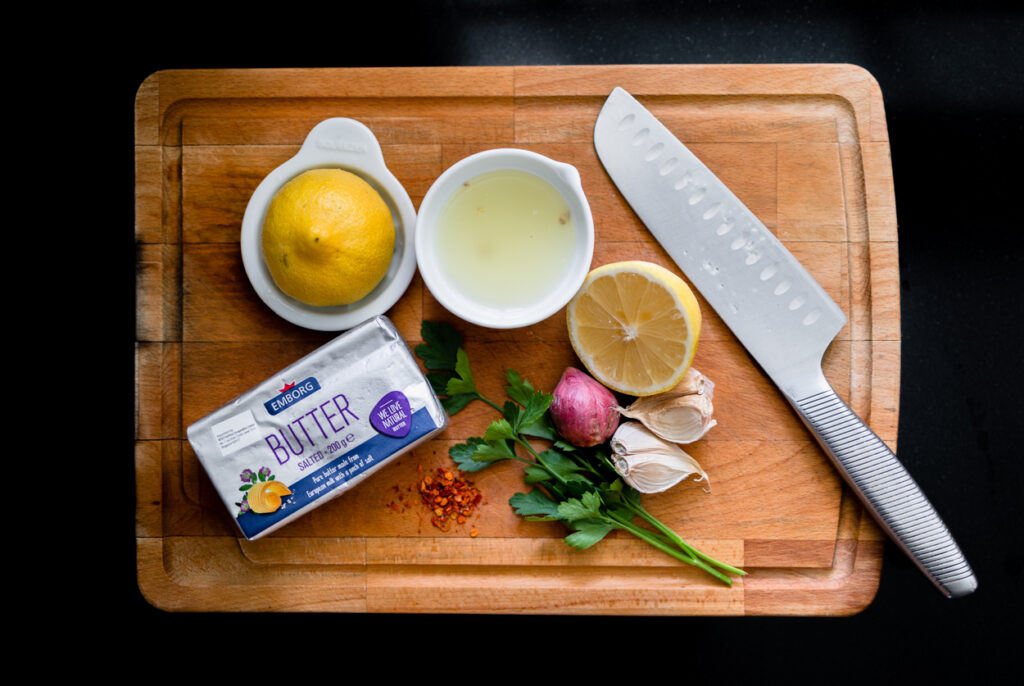 How to cook Garlic Butter Prawn?
To make garlic butter shrimp, we recommend buying the medium size shrimp you can afford. Shrimp size is measured by the number of shrimp per kilogram. For this recipe, we typically use medium shrimp, which are 30 – 40 shrimp per kilogram.
The shrimp get tossed in a pan with plenty of butter, minced garlic, minced shallot and salt and pepper. Be sure to use fresh minced garlic and shallot here, not those that you purchase in a jar. Freshly chopped garlic and shallot just taste better! We also add a sprinkling of crushed red pepper for good measure.
These garlic butter shrimp cook very quickly – all you need is about 2-3 minutes per side, depending on the size of your shrimp. As soon as the shrimp turn pink and opaque, they're done. Be sure to watch carefully so that the shrimp don't get overcooked! Turn off the heat before you add in the lemon juice, lemon zest and chopped parsley, and you're ready to eat! These garlic butter shrimp are great served over pasta or rice, and they even make a great appetizer.
The lemon juice is the key
The huge cube of butter must have scared off you thus by adding the fresh lemon juice and lemon zest (not the store-bought stuff, please for the love of freshness) will balance up the acidy in this dish. Add the lemon juice while the pan is still hot but yet off the heat. We want to deglaze the pan with lemon juice but yet not cook the acid, as heat will turn acid bitter. Add the fresh garlic, those two elements — although rather obvious — are the key to this recipe creating fireworks in your mouth.
Prepare the Garlic Butter ahead
While this is already a fast dish, one tip to make this dish like fast food but taste like heaven is to make the garlic butter ahead. Previously, we make our very own figs flavour butter using the same proceeded you can use this garlic butter in many of your dishes.

Start with softening your butter at room temperature. Chop the garlic and shallot ahead. Mix all the ingredients in a bowl and shape using wax paper or rubber mould. You can store them like your usual butter and use them when you need them. Isn't it easy?
Garlic Butter Prawns, this quick fixed meal will stop your's craving or temptation in no time. It simple and fast to create, it can be your lazy dish when you want to have a quick meal. What stopping you from making it, it will be your home quick fix through out the hot summer.
xoxo, Angela
Garlic Butter Prawns
With the most alluring flavour and ready in under 15 minutes, Garlic Butter Prawns is effortless to throw together a meal that can be served over anything!
Ingredients
1/3 cup butter, divided

4 cloves garlic, minced (or 1 tablespoon)

2 cloves shallot, minced (or 1 tablespoon)

1 3/4 pounds (800 g) shrimp (or prawns), peeled, tails intact

Kosher salt and freshly ground black pepper, to taste

Juice of half a lemon (about 2 tablespoons — add more if desired)

Zest of half a lemon

Fresh chopped parsley, to garnish
Methods
Melt 2 tablespoon butter in a large skillet over medium-high heat. Add the garlic, shallot and cook until fragrant (about 1 minute).
Fry shrimp and add salt and pepper, to your taste. Cook 2 minutes on one side, while stirring occasionally. Flip and cook 2 minutes on the other side until JUST beginning to turn pink.
Cook, while stirring until the shrimp have cooked through (do not overcook them). Take off heat. Taste test, and add lemon juice and lemon zest, salt or pepper, if needed to suit your tastes.
Garnish with fresh chopped parsley and serve over rice or pasta.