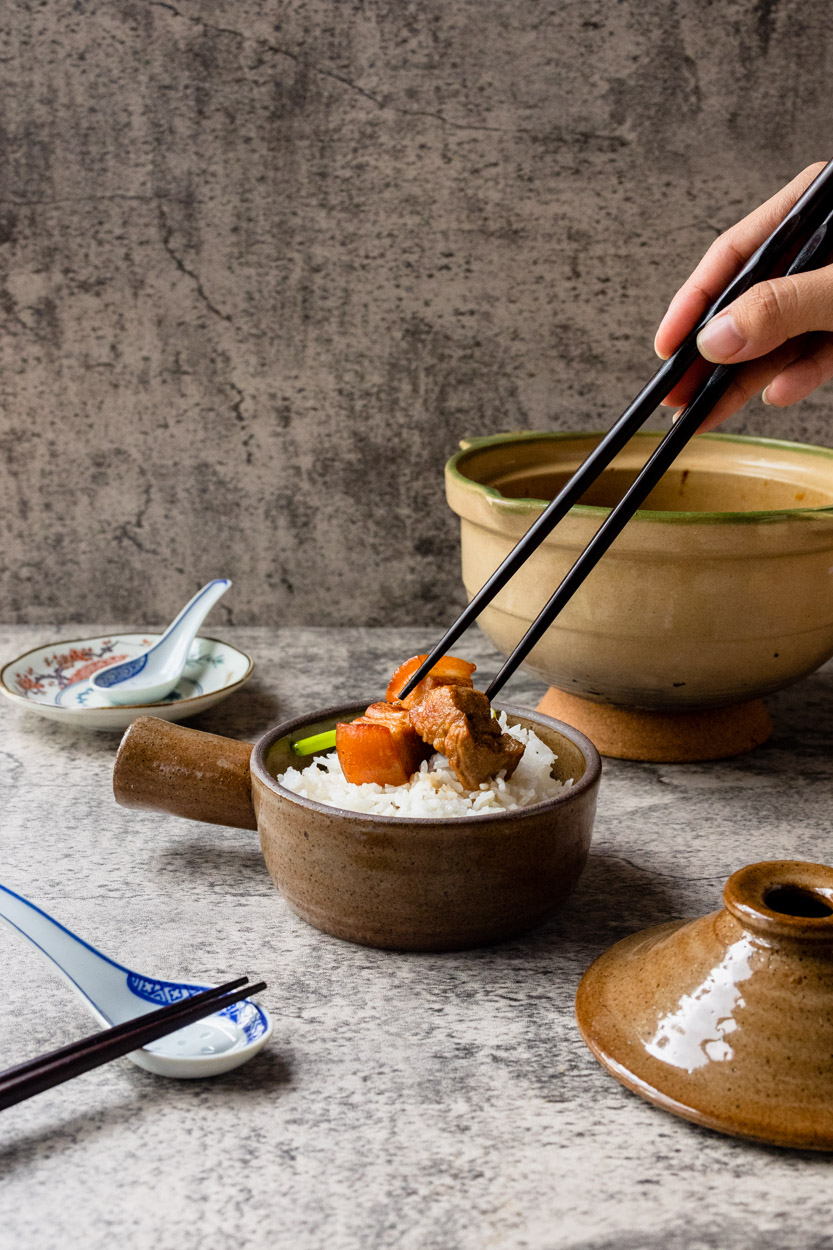 During the Chinese New Year, even we are having a feast we still try to be healthier and avoid eating too much meat. We're no health nuts by any stretch of the imagination…we'd eat anything and everything if we didn't have to worry about the threat of muffin tops.
There are countless times when the two of us walk into a bakery or gourmet shop for the sole purpose of just going in to look. But Shanghai-Style Braised Pork Belly (hong shao rou) is an exception!
So for most of our home-cooked meals these days, we try to stay pretty healthy–lots of veggies. But today, thanks to viewers like you, we're having pork for dinner (and a vegetable, of course). We're just giving the hungry public what they want, after all.
The vibrant red color is festive, and the flavor of pork belly when it's seasoned and caramelized with sugar, soy sauce, ginger and Shaoxing wine is amazing!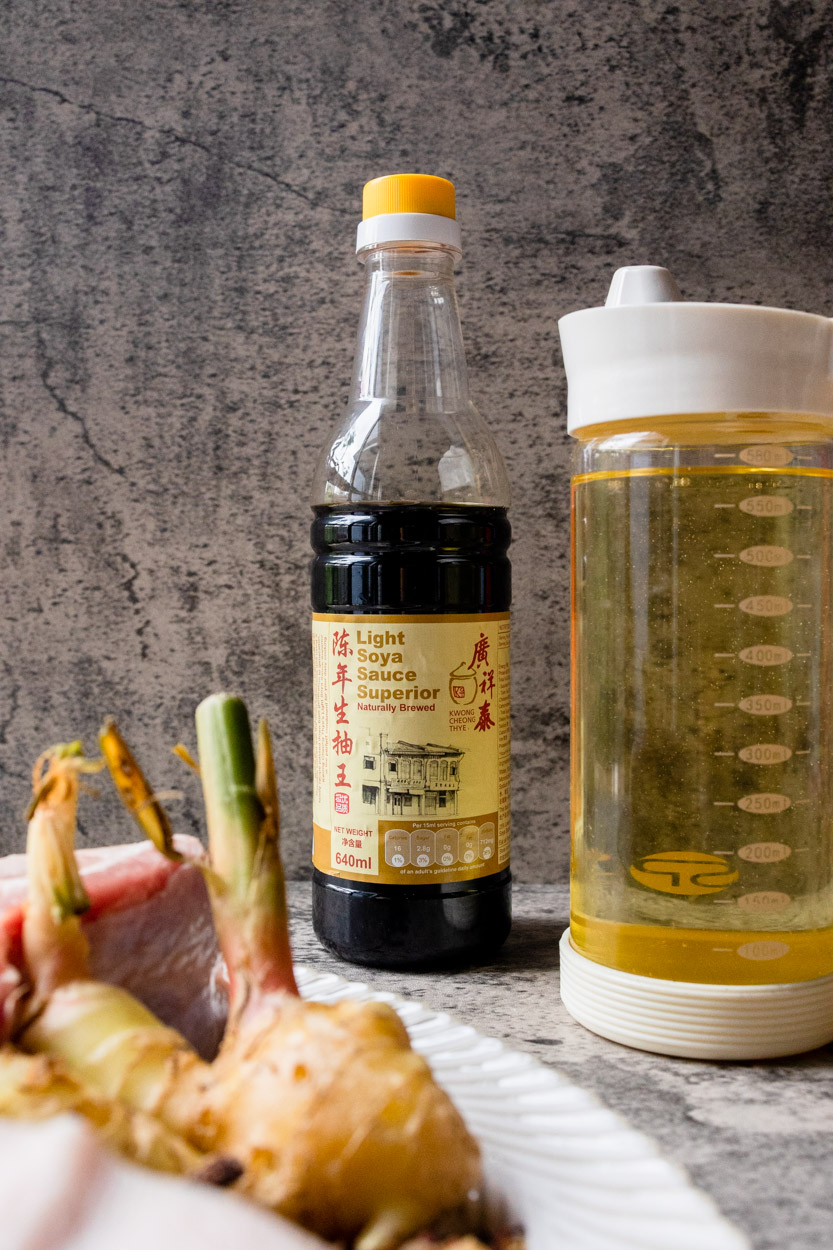 Replacement for the ingredients
Pork Belly
I have been able to find slabs of skin-on pork belly in markets with East Asian ingredients and specialty butchers.

Shaoxing Wine
Shaoxing wine (绍兴酒) is a fermented rice wine originally from Shaoxing in the Zhejiang province in eastern China. I have been able to find it at larger grocery stores with a sizeable wine selection, such as Wegmans, and in markets specializing in Chinese ingredients. Dry sherry can be used as a substitution if you absolutely cannot find it.
Dark Soy Sauce is also known as sweet soy sauce, black soy sauce, or thick soy sauce.
Rock sugar (冰糖, Bing Tang) is a light crystallized sugar with a little less sweetness than granulated sugar. It can be found in markets with Chinese ingredients. If you are unable to find it, substitute with light brown sugar or granulated sugar.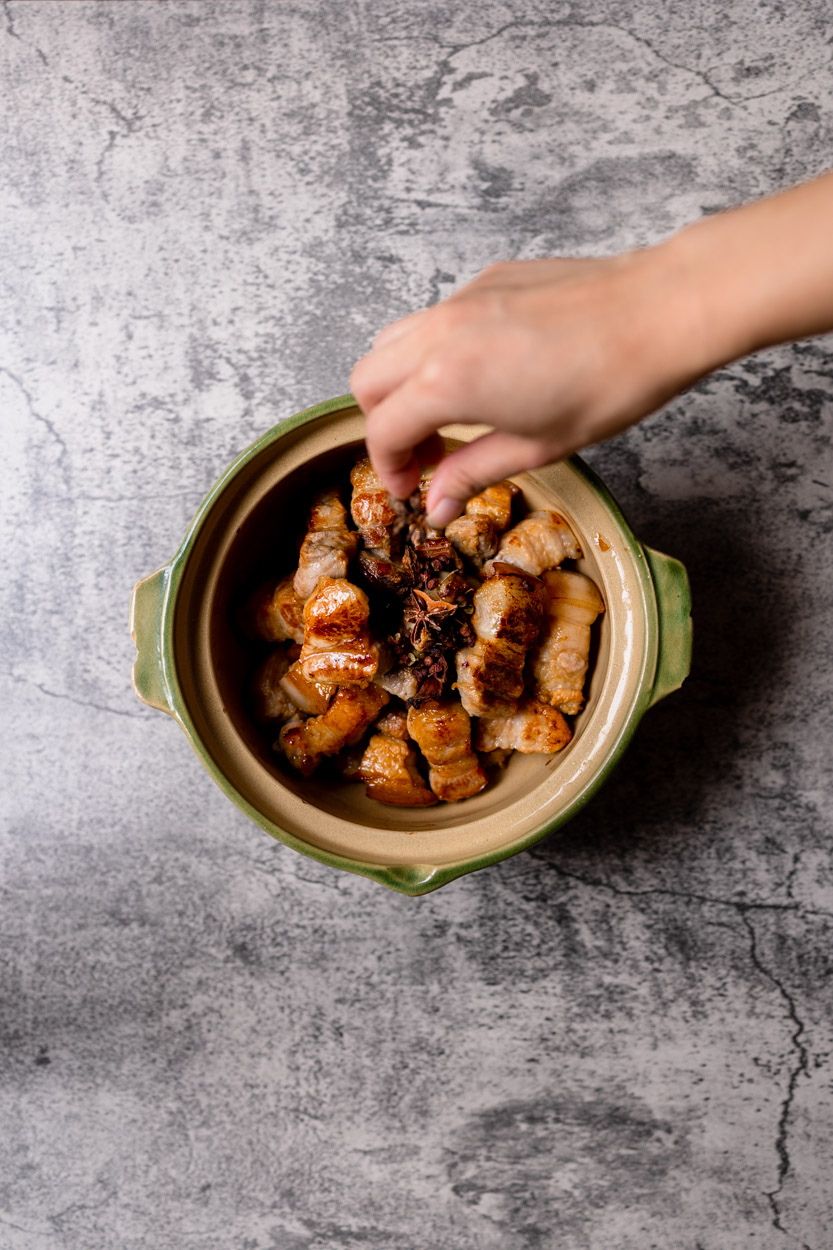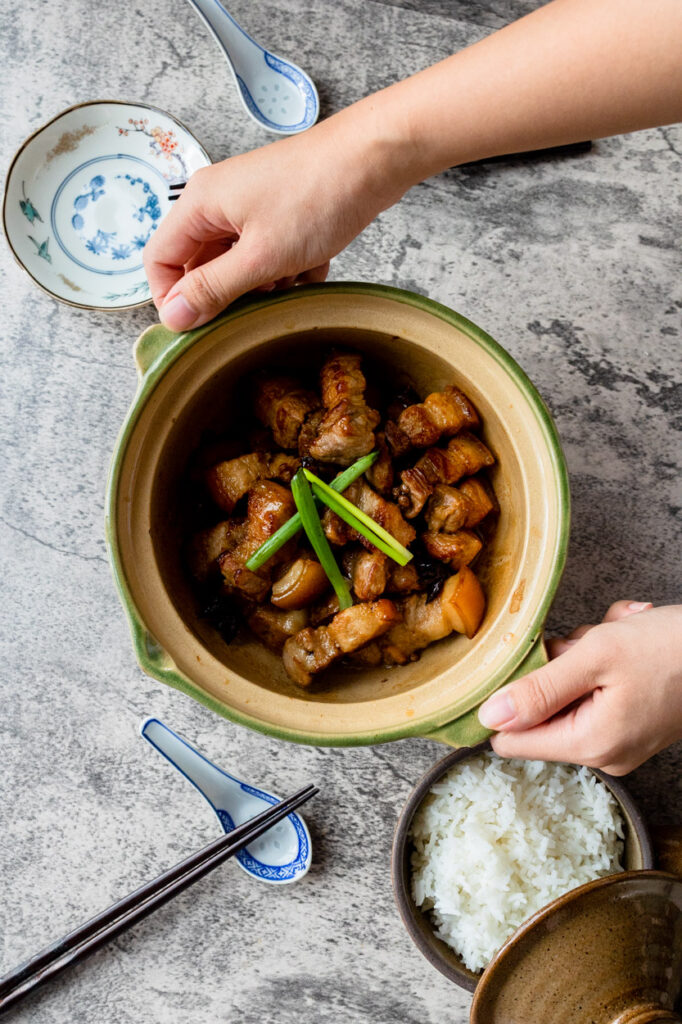 Step to follow for the delicious meat
Briefly cook the pork in water before caramelizing to help remove impurities and reserve the cooking water. Remove the pork from the pot and rinse well with cold water. Make sure to pat dry before adding to the oil/sugar mixture to reduce the amount of splatter.
After searing the pork and combining the ingredients, I transferred the mixture to a large clay pot to simmer. If you don't have a clay pot available, use a wok or large saucepan with a lid.
Add a splash or two more of the reserved water if the mixture gets too dry while simmering. If the sauce is still too watery after simmering, remove the lid and slightly increase the heat to reduce the liquid until thickened and bubbling (stir often to keep the bottom from burning).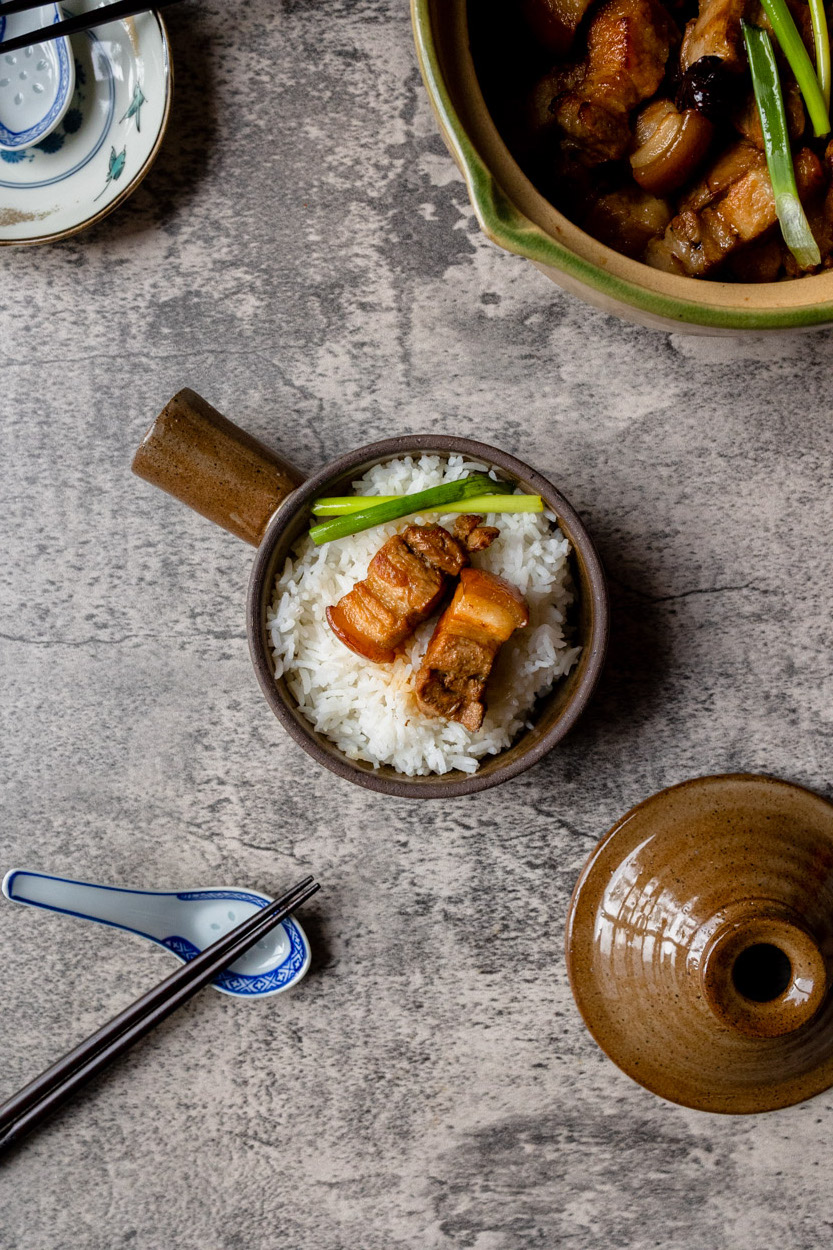 We hope that you enjoy this recipe as we do. Share with us your version! Take a photo of your version, send us an email, tag us on Instagram, tweet us, anything. We love to see yours!

xoxo, Joe
Braised Pork Belly
Ingredients
12 ounces lean, skin-on pork belly

2 tablespoons oil

1 tablespoon rock sugar (rock sugar is preferred or you can use granulated sugar)

3 tablespoons Shaoxing wine

1 tablespoon soy sauce

½ tablespoon dark soy sauce

2 cups water
Methods
Start by cutting your pork belly into 3/4-inch thick pieces.
Over low heat, add the oil and sugar to your wok. Melt the sugar slightly and add the pork. Raise the heat to medium and cook until the pork is lightly browned.
Turn the heat back down to low and add shaoxing cooking wine, regular soy sauce, dark soy sauce, and water.
NOTE: It's very important to the color and flavor of this dish that you have both kinds of soy sauce! Just head to your local Asian market, buy a bottle of each, and it will last you a year!
Cover and simmer over medium heat for about 45 minutes to 1 hour until pork is fork tender. Every 5-10 minutes, stir to prevent burning and add more water if it gets too dry.