Last May, we travelled with our parent to Taiwan, it's supposed to be a warm and humid season but sadly it seems that the raining season (there was a typhoon too) hit early. Still our north coastal was so perfect when everything falls into place.

Arise up as early as 6 am in Taiwan, the sky was bright and we were all prepared for the north coastal trip. Despite Summer we still recommend that you bring some scarf or jacket as by the coast you will feel chilling at all time. Our driver, not only puncture but arrives early and picks up us for breakfast. Right after that, we head off to the highway and that how the journey began. Join us with our photo journey for our unforgettable trip!
Our Itinerary
The last day we travel to the Taiwan North Coast covering places like Yehliu Geopark, Shifen, Jiufen Old Street and more! After a long day of sightseeing, we end our day at one of the most famous night markets in Taipei – Raohe Night Market. Starting the day our driver pick up at our Airbnb at 8 am.

9.35 am: Yong He Soy Milk
Since we planned on visiting a long list of attractions, we decided to have our breakfast on the go. Initially, we included the famous Founder store of Yong He Soy Milk under Zhongzheng Bridge in our food list. But due to time constraints, we didn't make it there. We stopped by one of the Yong He Soy Milk chain stores on our way to buy our breakfast.

11.00 am: Camel Mountain (骆驼峰)
It took us around an hour to reach the North Coast of Taiwan, during the travel time it is the best for you to get some rest as the day is very long. Before heading to Yehliu Geological Park you will pass by this Camel Mountain where the tourist will skip this stop. We encourage you to skip this place if you have difficulties in walking, as it requests some climbing.

One of the mountain peaks close to the coastline has excellent scenery and looks like a dromedary camel. Rest for a while there and listen to the wave, best experience ever.

Address: Yeliu Village, Wanli Township, New Taipei City(Next to Dong'ao Road)

12.10 am: Yehliu Geological Park (野柳地質公園)
Yehliu Geological Park (野柳地質公園) is a cape with eroded rock formations along the Northeast Coast of Taiwan. The rare geological landscape is formed by strong winds, seawater, wave attacks and earth movement on the softer rock layers over the years. Yehliu Geopark is a very popular attraction in New Taipei.

If you're visiting Yehliu Geopark on a weekend or public holiday, be prepared for a crazy queue to take a photo with the Queen's Head. This is the most popular scene in Yehliu Geopark. The iconic honeycombed rock has a striking resemblance to a Queen's head. This is what happened to us.

Entrance fee: NT80
Operating hours: 8 am to 5 pm
Address: 207, Taiwan, New Taipei City, Wanli District
1.30 pm: Release a sky lantern
The little town of Shifen is perhaps most fondly visited by both locals and tourists who participate in its tradition of releasing sky lanterns along Shifen Old Street as a form of good luck. The sky lantern is a colourful paper lantern that you can write down your wishes on before releasing it to the skies or even as some may say the heavens.

As Shifen was previously a thriving coal-mining district during the Japanese Occupation, decorating sky lanterns takes place along the railway track alongside Shifen Old Street. Do expect to pay at least NT$150 – $200 for a simple sky lantern, which can be purchased from the shops nearby the railway track.

Address: 226, Taiwan, New Taipei City, Pingxi District

3.00 pm: Shifen Waterfall
The pass trip to Taiwan we always attempted to go to Shifen Waterfall but we couldn't make it although it just located a15-20 minutes' walk away from Shifen Old Street. Take a casual stroll to the Shifen Waterfalls along a paved path where you will find the entrance to this iconic waterfall that has been nicknamed Taiwan's mini Niagara Falls.

In order to reach the waterfalls, visitors will have to cross a long, wooden boardwalk surrounded by lush rainforests and climb multiple flights of stairs. However, please take care when visiting the waterfall as the attraction is not particularly wheelchair and stroller friendly. (Our parents are too tired to head down but I'm glad that we film the amazing place for them to see)

After about 15 minutes of walking, you will be rewarded with the majestic sights of the Shifen waterfall. Admission to this waterfall is free, by the way!

Address: No. 11, Gan Keng, Pingxi District, New Taipei City 226, Taiwan
Operating Hours: Nov to Jan, Daily: 8 am – 6.30 pm, Feb to Oct, Daily: 8 am – 7 pm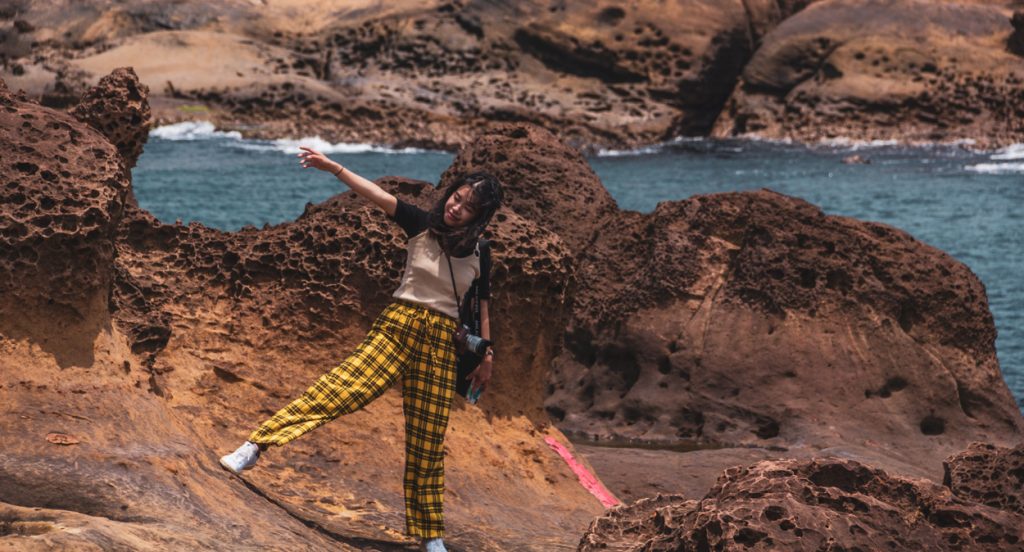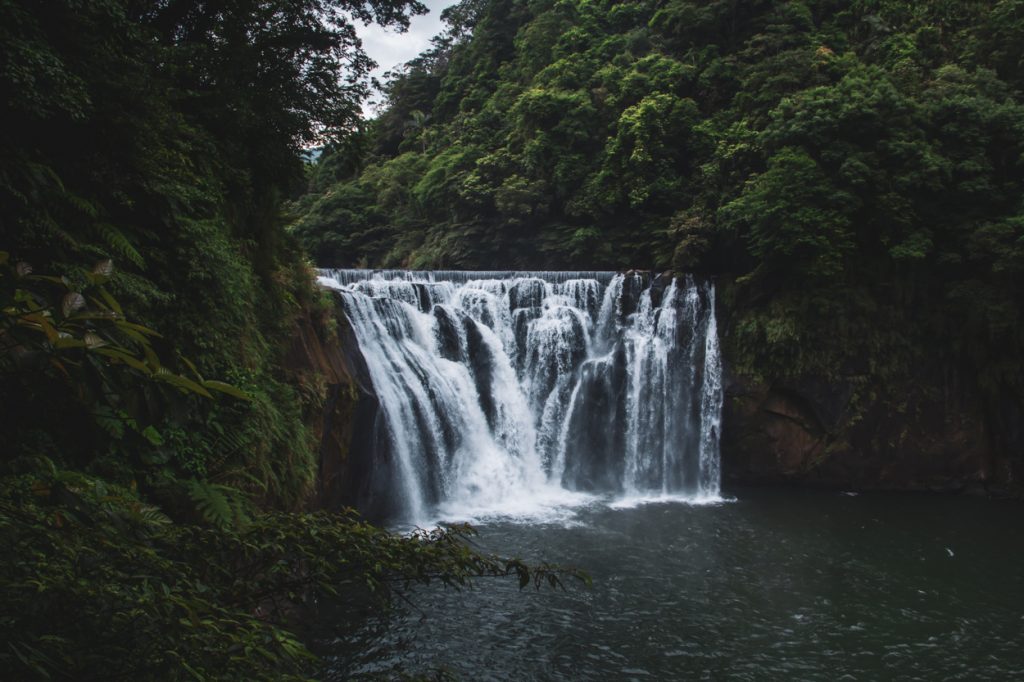 4.30 pm: Golden Waterfall + Yin-Yang Sea
The day has yet come to the end, we decided to head higher up to the mountain close to the sun. The Golden Waterfall is located near the Gold Ecological Park 黃金博物園區, beside the main road. There are no special parking bays around, so Mr Cola has to park the vehicle along the roadside. Surrounded by mountains on three sides, the Golden Waterfall shine a bright yellowish brown as it contains a high level of copper and iron deposits. When it rains, the rainwater will seep into the old mines and carries these deposits down, turning the grassy hillside into a bright orange colour.

Named a UNESCO World's Heritage Site in 2002, Jinguashi is a perfect place to relax and enjoy the fresh amazingly fresh air while surrounded by breathtaking scenery. The surrounding mountains offer some of the most untouched and beautiful scenery in Taiwan. I would certainly recommend anyone to include a visit to Jinguashi area if you are in the area.

As we are getting up higher to the mountain, we get closer to the sun. As it is windy that day we didn't get to feel the heat but we are all sunburn the next day. Remember to bring your sunblock along during the trip.

Address: 224, Taiwan, New Taipei City, Ruifang District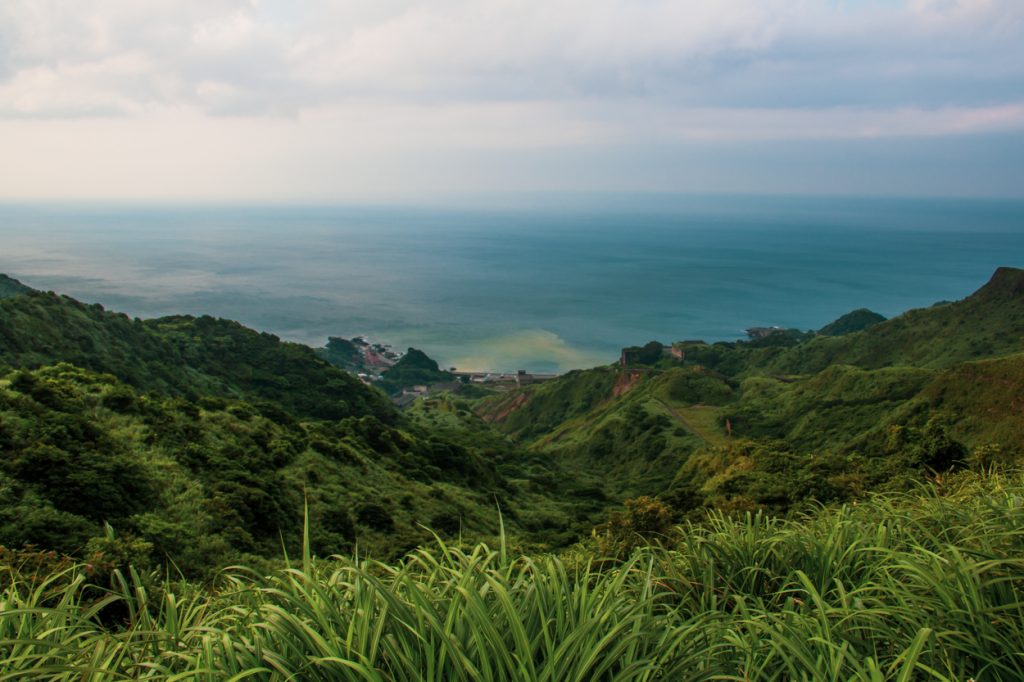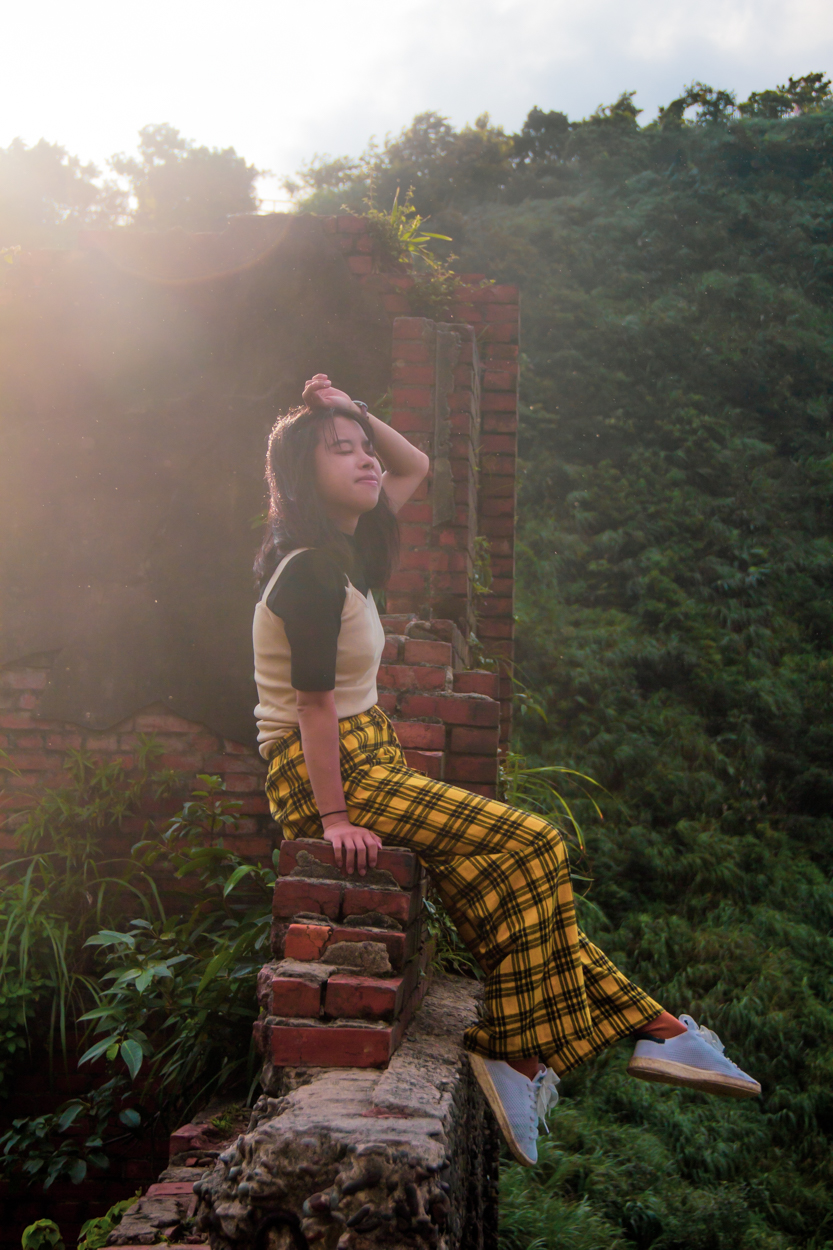 5.30 pm: Jiufen Old Street
Whenever we head down to Jiu Fen Old Street it always reminds me of the animation spirit away. The air was alive with the soft hum of voices, punctuated with cries from food stall owners selling everything from fried squid and deep-fried shrimp balls to barbecued mushrooms and stinky tofu.

There was little natural light in the narrow street. The buildings rose sharply on either side, and most of what you could see of the sky was through glass or clear plastic panels, old, dirty and grimy, compounding the old world atmosphere. The bright lights from the shop fronts lit the dim scene and from above, the ubiquitous red lanterns cast their soft glow.

At Jiu Fen Old Street not only you are able to take beautiful and amazing pictures it is also a food heaven.
Zhang Ji Traditional Fishballs (張記傳統魚丸)
It does not simply only try the fishballs. In fact, you'd be silly if you only buy fishballs from them. Instead, get the Combination Soup that comes with 3 different types of fishballs — meat encased fishballs (Fuzhou balls), squid balls, and regular fishballs.

From the same stall, you also have to try their Braised Pork Rice (滷肉饭) with Braised Egg (滷蛋). Who would have imagined such simple-looking dishes would taste so good. The Combination Soup cost you NT$50/bowl while the Braised Minced Pork Rice cost you NT$35/bowl.

Grandma Lai's Taro Balls (賴阿婆芋圓)
Taiwanese Taro Balls have since entered Singapore's market, coming in an assortment of flavours and toppings. But nothing beats eating a bowl of traditional chewy taro balls in Jiufen Old Street amongst the locals at Grandma Lai's.
7.00 pm – Raohe Night Market 饒河夜市
(*original plan suppose to be Keelung Night Market and driver send us back to our hotel)
Ending the day back to the city. One of the oldest night markets in Taipei, the Raohe Street Night Market 饒河夜市 is packed with food, retail and entertainment stalls. Raohe Street Night Market is the epitome of authentic Taiwanese experience.
Fu Zhou Shi Zu Pepper Bun 福州世祖胡椒
One of the must-try at Raohe Night Market, it serves Hu Jiao Bing, a.k.a. Black Pepper Bun (TWD50, SGD2.24) or "Taiwanese Pepper Bun". It is a piping hot baked bun stuffed with minced meat (pork or beef), scallion, sugar, soy sauce and of course, black pepper. The vendors prepare and bake them in front of you.
As we are all so tired that day, after grabbing our dinner we when back straight to our Airbnb in a cab.
Address: Raohe Street, Songshan District, Taipei City, Taiwan 105
Having your own driver is one of the best travel transport in Taiwan as you can plan the itinerary with your driver, they have lots of knowledge and tips.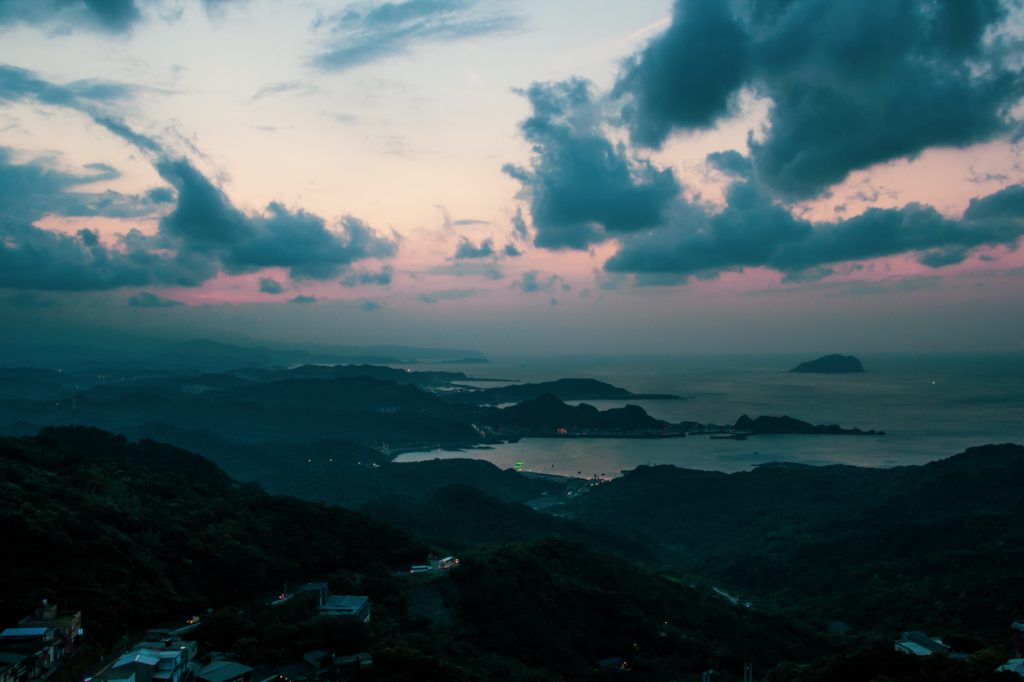 Meet our driver
We were so blessed that our super amazing driver accommodates to our changes very late minute (from a Thursday to a Friday). As we check the weather app did predict that on Thursday it will be raining but Friday won't! But we are damn lucky as our driver usually are fully back-to-back with trips yet he willing to bring us around on his off-day during our travel. (Even managed to change the date!) So if you are engaging him, plan and book him in advance!

跟著風遊台灣可樂Cola 跟着风游台湾旅游专员
Eason Chen (Cola)
https://www.facebook.com/eason979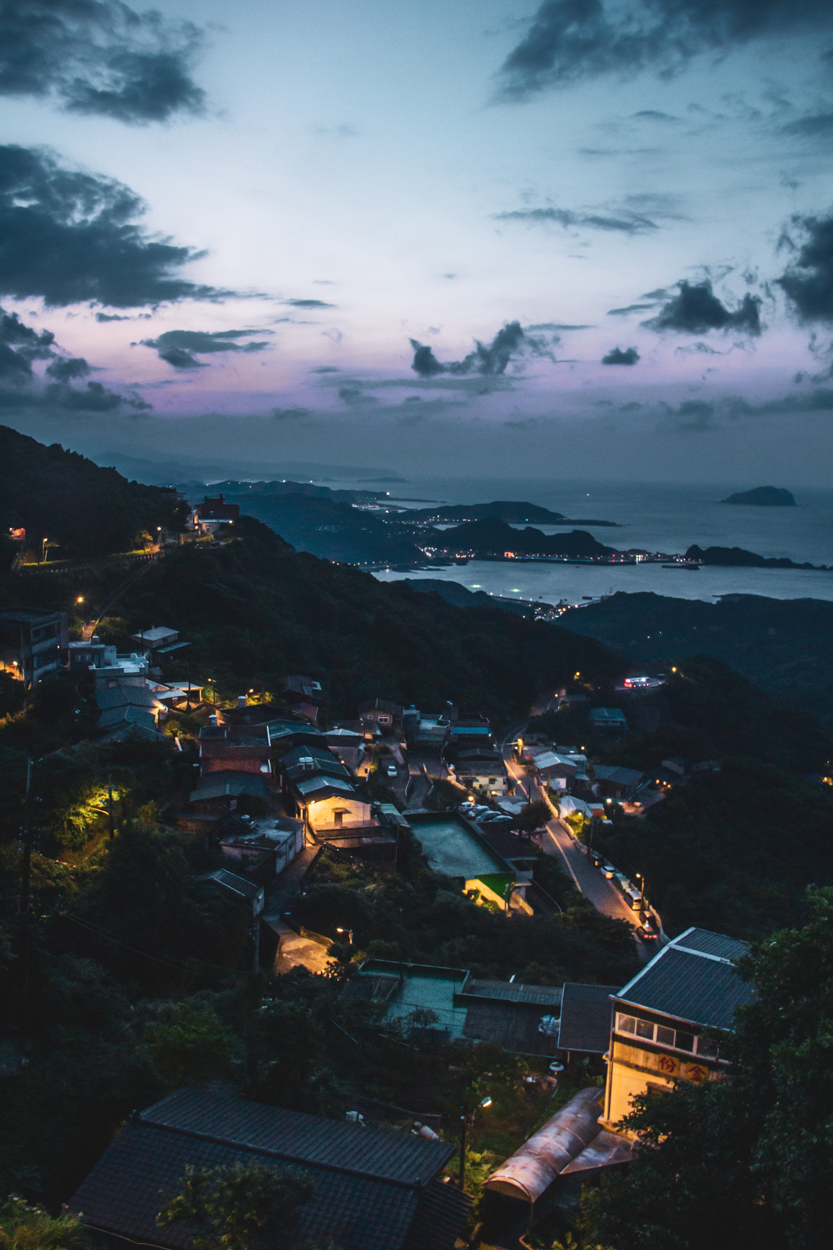 Hopefully, it will be a helpful post for you! Due to the COVID-19, we should stay at home but since there is so much time when we are at home now, we can plan the trip first instead. Please send us your recommendation so we could exchange and get to travel better!

xoxo, Joe