Each Summer, when lovely berries and stone fruit come into season, I love the tradition of making jam! Homemade jam is an incredible way to make the most of all the strawberries, blackberries, and raspberries that fill the farmer's markets and grocery stores.
Around this time of year, there is such an abundance of excess fruit that stores often freeze these berries — making them a freezer staple in my house, and the key to making homemade Strawberry Jam all year around. While the traditional method of making jam is a fun project, it is just that — a project.
My recipe for Easy Strawberry Jam (and more flavors!) turns making jam into a crazy simple process. I make homemade jam with just berries, sugar, and lemon in no time!
What's the difference between Jam and Jelly?
The difference between jam and jelly is really a matter of texture. Jelly has added pectin or fruit sugars which allow the mixture to set into a more gel or jell-o like texture. Additionally, jelly is strained of any seeds, skin, or fruit to form a clear fruit spread.
Jam, on the other hand (like my Strawberry Jam), is simply fruit and sugar cooked together into a thick glossy spread. Jam, unlike jelly, highlights the cooked fruit by keeping in the natural fruits seeds and chunks, which is always my favorite part!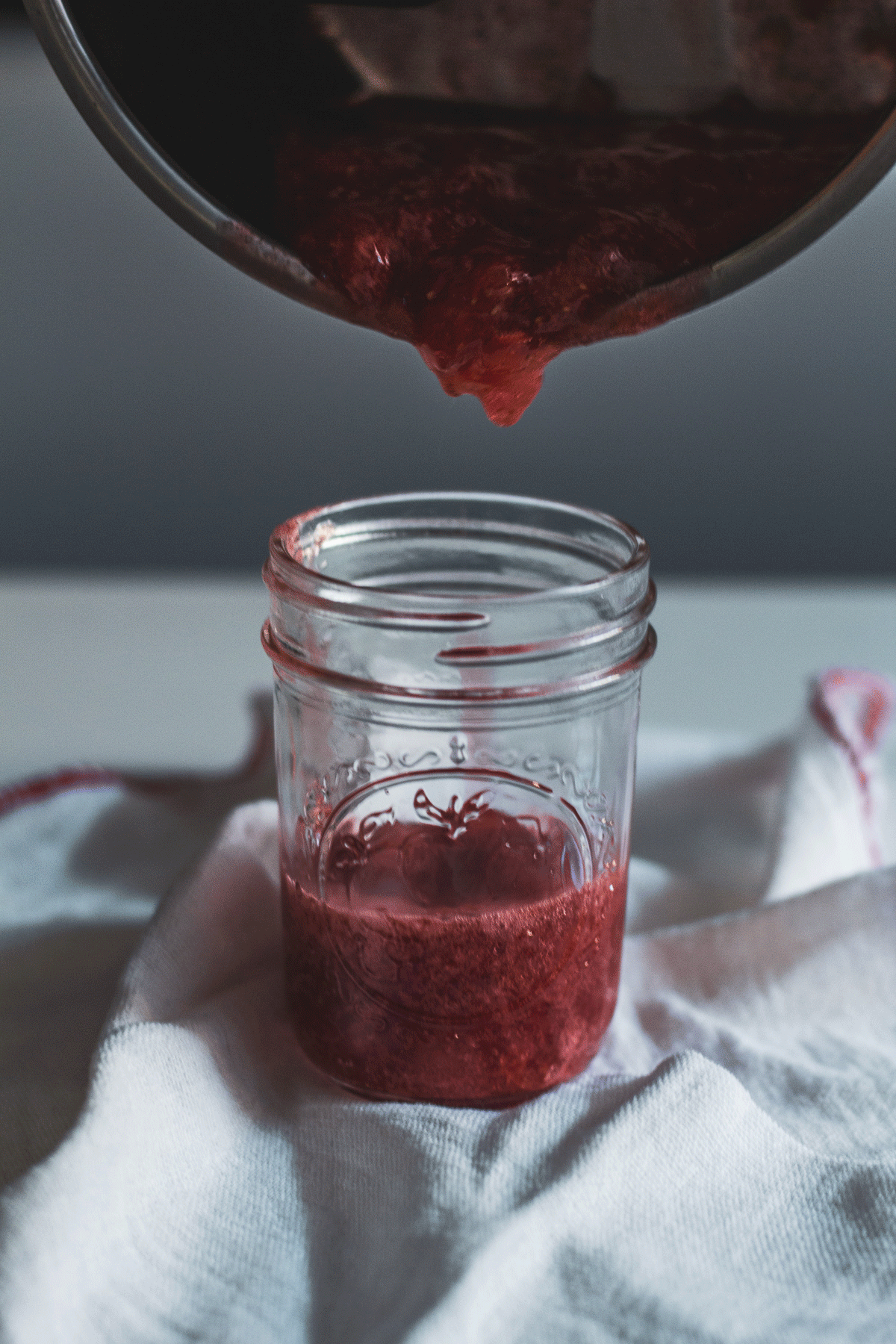 Ingredients |
2 cups (10oz/284g) strawberries *fresh or frozen
1/4 cup (2oz/57g) sugar
juice of 1/2 lemon
Method |
Combine all ingredients in a small sauce pan. Simmer over medium-low heat for 7-10 minutes until the fruit is broken down and the mixture has thickened.
Transfer to a jar or airtight container and refrigerate for 4-6 weeks. And be sure to sterilize your jar by washing thoroughly with soap and water and then placing in the oven at 140°C / 275°F for around 20 minutes. Make sure both the jam and jar are cooled before storing.
As May is the month of Strawberry you will be seeing us making lots of Strawberry Jam for friends and family.

xoxo, Joe