While the Summer approached us quietly with the unlimited free heatwave, salad has become our favourite breakfast and snack. Salad recipes are our favourite way to showcase vibrant, in-season produce – fruits and veggies that are so good on their own that you don't need to do much to make them into a delicious meal. On beautiful, warm days when I'd rather be outside than in the kitchen, summer salads are the perfect solution: they're simple to toss together, but they're totally delicious nonetheless.

With everything from green salads to the Mediterranean, Asian, and beyond, these recipes are perfect for passing at potlucks, serving as dinner sides, and enjoying full meals on their own. Here are our Top 10 Summer Salad for you!
Summer time is the epitome of the no-recipe, recipe style cooking that we like to do. The first on our list is the Fig and Mozzarella Salad – a twist on a classic Caprese salad. The ripe fresh figs replace the tomatoes, making this a fruity yet savoury addition to your dinner table. What could be better than ripe figs, fresh mozzarella, good olive oil and fragrant basil? A perfect lunch or light dinner.

And while you can (and should), grill up some bread, this is lovely served just as is. We also like a good drizzle of balsamic vinegar over ours. You could replaced the fig with any other fruit. We especially love stone fruits in this combination, leaning on plums, apricots, peaches, pluots, you name it! So good.
This grilled chicken salad combines marinated chicken, fresh veggies, and bold Greek flavours all in one tasty and easy dinner. There is a reason this Greek chicken salad with the tastiest tzatziki sauce is one of my go-to supper salads! It starts with yoghurt-marinated chicken tenders (yup, very much what we do with our homemade gyro recipe). But instead of the usual pita wraps, the grilled chicken sits on top of a fresh salad with loads of fresh crunchy veggies and Greek favourites like tomatoes and onion.

But, one of the biggest draws to this Greek salad with chicken is the tzatziki sauce of this salad, not to mention it is delicious yet easy to make. It's a simple cucumber sauce made with fresh dill, red wine vinegar, Greek yoghurt, and garlic. This dish is great for the day when you want something more filling.
When it is time for summer, our summers consist of two things: the beach and watermelons. While it's easy to enjoy the watermelon with just a spoon but tastier to make it into our favourite snack. This watermelon salad is full of sliced cucumbers, crumbled feta cheese and mint, all tossed in an easy lime dressing. An easy, fresh and super light Mediterranean watermelon salad with cucumbers, creamy feta, loads of fresh herbs, and a zesty lime dressing!A simple yet unusual summer salad that's sure to get rave reviews.

*Tip: Cut the watermelon and feta cheese into the same cube form making the dish look more well-composed.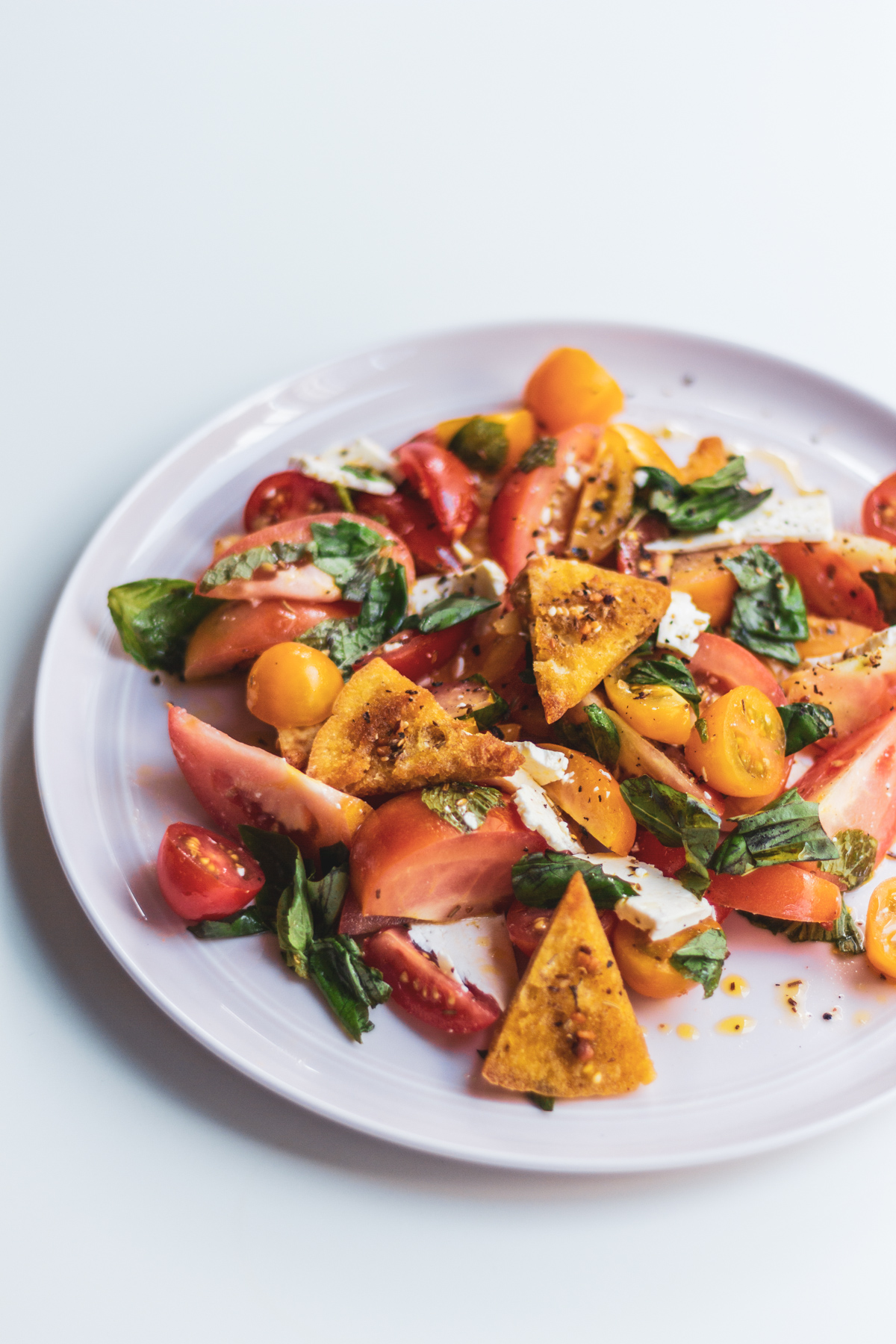 So far you could see the trend of our favourite salad, the keywords will be Mediterranean, feta and bright. We like using bring ingredients during the summer, on the top of our list it is tomatoes. One summer we combined my love for onions with a bumper crop of tomatoes and a homemade oil dressing. The result was this salad that receives thumbs-up approval whenever it's served.

The recipe calls for a mix of heirlooms and cherry tomatoes, but you know what? Buy the best-looking, ripest, most fragrant tomatoes wherever you happen to be shopping, be it the farmers market or grocery store. Or pick them from your own garden, if that's your situation! Good tomatoes should smell like something when you press the skin against your nose and inhale, and they should feel heavy for their size, which means they are filled with juice and are not mealy.
A classic Asian cucumber salad you would like to serve along with your meals. Thus Easy Cucumber Salad (拍黄瓜) is a light and refreshing appetizer. The crisp cucumber is mixed with plenty of garlic, drizzled with an appetizing blend of soy sauce, vinegar and sugar, then finished with a few drops of sesame oil. The sauce is light, yet it has a distinct sour flavour with a hint of sweetness, enhanced by the strong aroma of garlic.

This cucumber salad is a dish we've been eating since childhood. It's one of those easy dinner rotation dishes that we make all the time, especially when it's hot and humid outside and we don't want to turn on the stove to cook stir fry. This cucumber salad only takes 5 minutes to prepare. It's refreshing and tasty. The salad goes very well with pretty much any Chinese dish. Stir-fry, braised meats, noodles, and deep-fried goodies. You name it!
This salad may look more like a winter salad in term of colour but eggplant is one of the vegetables we like to use in our dishes during the summer. For those who are not green vegetable person, this is the best salad for you. We can certainly understand why eggplant can be hard to love, it so often can be bland and spongy when not prepared correctly and quite heavy as well since it soaks up oil so readily.  But just like the aforementioned kale and beets, the key to transforming eggplant haters into eggplant lovers is in the preparation.  In this case, the secret is to heat.
We've added a harissa glaze before going into the oven to accent the mellow creaminess of the eggplant. Honey helps the cut surface of the eggplant caramelize under the heat while the harissa brings plenty of spice to offset the sweetness. There's also garlic and cumin to round out those North African inspired flavours.
What you end up with is a dish that's vibrant with flavour and fantastically creamy. Sprinkle it with some fresh mint to finish or serve it on a bed of lightly dressed greens with some crumbled goat cheese on top for a more substantial meal.
Yes you could never imagine having peas in your salad! However with them in this salad offers great taste with all the health benefits. Above it all, it is super easy to put together. A perfect alternative when you do not know what to cook or do not have a lot of ingredients at home. A zesty grilled shrimp salad, and green peas. The best bright, colourful, and fresh autumn salad, full of grilled shrimp, and peas. All made in under 30 minutes, and all done on the grill. This is quickly going to become your new summer staple salad recipe.

There are days that we all wondering how to have delicious meals yet also controlling our diets. Yes, surely exercising is the most amazing way as it allows you to eat all the food you want but keep you in shape! However, apart from that we also could control the way we prepare our food and the choice that we intake. A healthier choice is always the best option as it gives our skin a boost as well. 
This recipe was inspired by my love of sour flavours and light, nutritious entrees. The pretty salad has an appealing variety of textures. We make it year-round because it's fast and easy to prepare after a long day at work. Although you can use any leafy green in this spicy main-course salad, we suggest rockets because it adds another subtle, peppery layer of heat to the dish. For those who are not much of a salad eater, a little meat to that boring bowl of greens is the solution for you, at least that's what works for me.
This is one of our favourite dressing made at home – we love to make use of the extra citrus we got and marinade into jars for serving. This is one of the non-green salad that we like to eat – it can be eaten like this (a new way of eating fruits) or you can mix them with vegetables too. Add a palate-cleansing pop of colour and refreshing flavour to your next meal with a quick and easy recipe for Citrus Salad with Honey Vinaigrette.

*Tip: Use different kind of oranges and citrus in a bowl, will gives you different level of flavours. Peeling the citrus is the most time-consuming part of this recipe, but it's important to remove as much of the white pith as possible to steer clear of any bitterness.
This dish simply will just take 15 mins of yours and it could be easily prep ahead if you are too busy to prepare on the spot. To avoid the potato too creamy, adding chive and red onion enhances the flavour of the dish. When potato meets potato chips it is doubled the flavour of it and it tastes absolutely delicious! We love sour cream and it is so rare for me to have it without feeling guilty. To spike some of the chip on top allows me to fulfil my temptation of having chips but at the same time, we will not overdose on it as the main leading is the potato salad.
Forget the boring caesar salad, there are many more options the just vegetables and caesar sauce. We like to head to the market and get the fresher ingredients for the salad, as no much technique is used the key for a good salad is good ingredients. Be creative, not to worry about the recipes.

xoxo, Joe