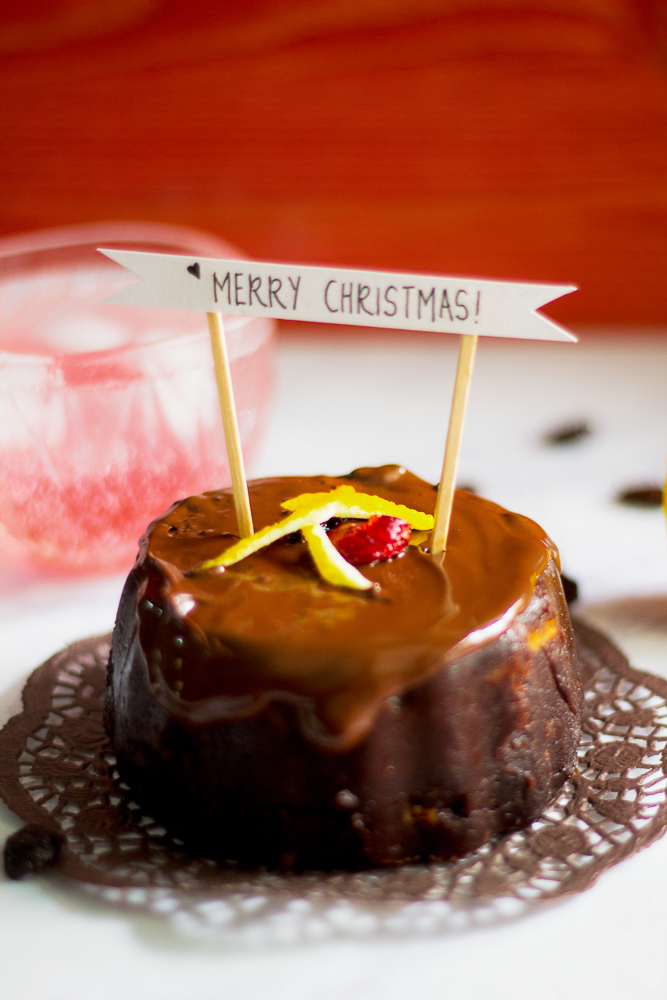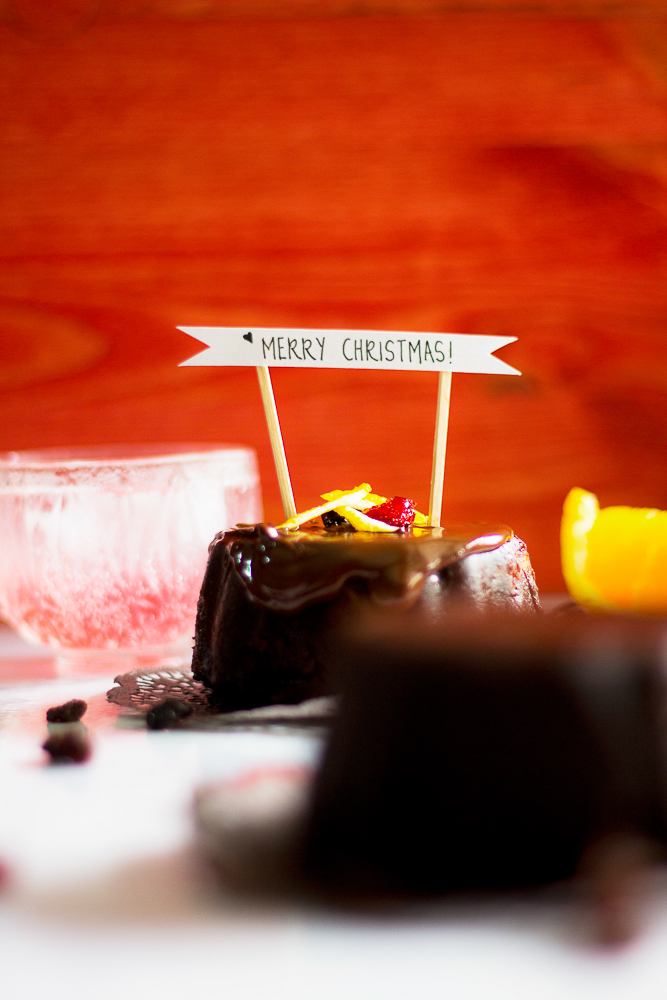 When it come to Christmas pudding is definitely a "Love it or hate it" affair. However, we decided to challenge ourselves to create a Christmas pudding recipe with a twist, something that even Christmas pudding-haters will fall in love with. Both of us come to an agreement that our Christmas pudding was to "add chocolate!!!" as it makes it even more festive. Then, we paired it with orange to create our very own mini Chocolate Orange Christmas Pudding. How could anyone resist this combination?
For those who doesn't know why Christmas pudding is one of the favorite in the UK. As it is a British tradition for making the Christmas pudding. This tradition dates back to Victorian times when everyone in the household gives the Christmas pudding mixture a stir and makes a wish! Although we are not British nor it is our tradition to do so. We find it fun to having it! Despite my pudding is quite non-traditional, it's been very satisfying to create my own Christmas pudding from scratch.
Whilst stirring the fruit, spices, and liquor together, it's very hard not to feel festive and uplifted. We even decided to go with mini Chocolate Orange Christmas Pudding instead. For those of our family and friends whom never try previously, it is the best mass for a gift this holiday season. 
We know that many of you, tradition be damned, are resistant to Christmas pudding, and we do understand why however you must try this. Until you do it yourself, you probably think all that dried fruit is, well, dry, and the pudding heavy. Yet this is far from the case: the fruit is moist and sticky, and the pudding mystifyingly, meltingly light. I shall stop talking and let's begin!
Ingredients |
60 g plain flour
3 tbsp arrowroot powder
2 tsp baking powder
¼ tsp xantham gum
120 g dark brown muscovado sugar
3 tbsp cocoa powder
150g fresh white breadcrumbs
½ tsp ground mixed spice
½ tsp ground cinnamon
Zest and juice of 2 oranges (approx 100ml orange juice)
60ml vegetable oil
80ml water
4 tbsp rum
100 g dark chocolate chips
350 g brandy soaked mixed dried fruit & citrus peel
100g pitted dates chopped into small pieces
Method |
To prepare the pudding mixture
If you can't get hold of ready-soaked mixed fruit, prepare it the previous day by adding the mixed fruit and peel to a bowl with approx 3 tbsp brandy. Leave overnight. Prepare a 1-litre pudding basin by greasing it with vegetable oil and placing a circle of greaseproof paper at the bottom.
Mix the flour, arrowroot powder, baking powder, xantham gum, cocoa powder, sugar, breadcrumbs, and spices together in a bowl. Stir in the orange juice and zest, vegetable oil, water and orange flavoring. Fold in the dried fruits and the chocolate. Transfer the mixture to the pudding basin.
To steam the pudding
Tear off a large square of the greaseproof paper and tin foil, placing the greaseproof paper on the bottom. Create a pleat by making a 1-inch thick fold in the center of both layers. Place on top of the pudding tin and scrunch the foil around the sides to secure. Tie securely with a piece of string.
Fold the excess paper and foil to help make it water-tight. Create a handle by tying another piece of string to one side of the tin (where you made the knot from the previous string) and tying it on the opposite side so you can easily lift the pudding out of the pot.
Place a trivet or upturned saucer at the bottom of the pot (I used a small heat-proof container lid) and place the pudding on top. Fill the pot half way up with hot water and bring to a simmer. Cover the pot with a lid and leave to steam for 3½ hours.
After 3½ hours, lift the pudding out of the pot and leave to cool for a few minutes, until the pudding starts to shrink away from the sides of the tin. Carefully, using a spatula knife, loosen the pudding from the sides and turn over onto a plate.
Tips from the sisters |
For those have never made a Christmas pudding, please don't be put off by the eight hours' steaming – it isn't any work, it just sits happily on its own getting the long slow cooking which is what gives it such wonderful flavor and character. If you can't get rum, use any sweet liquor instead.
This pudding can be stored in the fridge, for up to 6 weeks, however, do wrap it tightly for the freshness. To serve, you can eat it as it is at room temperature, or re-steam it for 2 hours to serve warm. Add some melted chocolate sauce or a scoop of ice cream for an after feast dessert!
Share with us your making! Take a photo of yours, send us an email, tag us on Instagram, tweet us, anything. We love to see yours! 
xoxo, Joe.