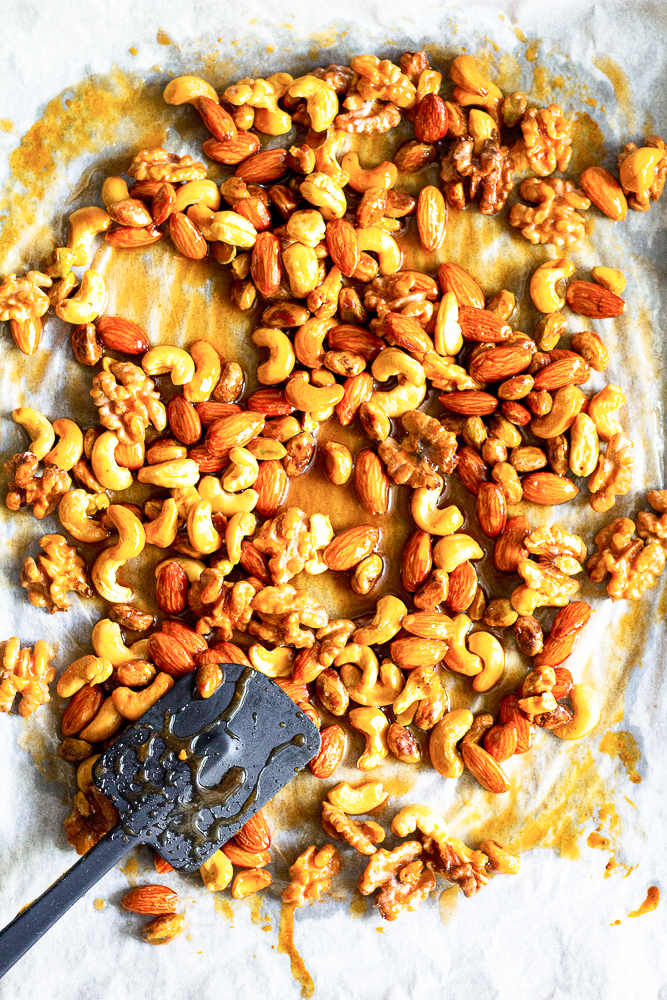 Who doesn't love a little chew on a good walnut or almond at Christmas with a mug of hot choco? Or delving into a bowl of mixed unshelled walnuts and pistachio in the early evening. While cracking them with the old-school nutcracker and combining with a strong cinnamon flavor – hot apple cider.
While, for those who couldn't decide what to get for your Christmas's gift, why not make it your own. This year, instead of buying a whole load of expensive packets of roasted spiced nuts or honey-roasted ones, make your own!
We love this recipe – it is so much more satisfying to serve up nuts that you have roasted yourself, but it's also super simple. You can even keep them in an airtight jar for a week, so make them ahead or give them to someone as a little gift. In fact, we have already roasted two rounds this time of the year and deliver to our family and friends for an early holiday's goodies.
This is a new take on our much-loved recipe. A sweet and salty blend with the heat of cinnamon and the aromatics of butter and honey. Therefore, it is the perfect snack for any occasion: cocktail parties, pre-dinner or as a gift. Honey Roasted Nuts keeps popping up lately on garbanzo beans, veggies, and other dishes in our house and it sounded perfect for a bowlful of warm, toasty mixed nuts.
Ingredients |
400g 6 mini jars
1 tbsp butter
1/4 tsp vanilla extract
2 tbsp water
1/4 tsp salt
2 tbsp brown sugar, plus 1 tbsp extra
160g honey
1/4 tsp cinnamon
100g raw nuts (we used almond, cashews, walnuts and pistachio)
Method |
Preheat the oven to 180º­C. Place a medium pan over a medium heat, add the butter and honey and cook until the butter has melted.
If using bigger nuts, roughly chop some of them up into halves and quarters to make them more bite size. Place all the nuts onto two large roasting trays. Carefully divide the melted butter and honey mix between the two, then scatter over the paprika. Toss to coat all the nuts, then cook for 20-30 minutes, or until golden all over. Carefully shaking the tray every 10-15 minutes to make sure they cook evenly.
Share with us your making! Take a photo of yours, send us an email, tag us on Instagram, tweet us, anything. We love to see yours! 
xoxo, Angela.