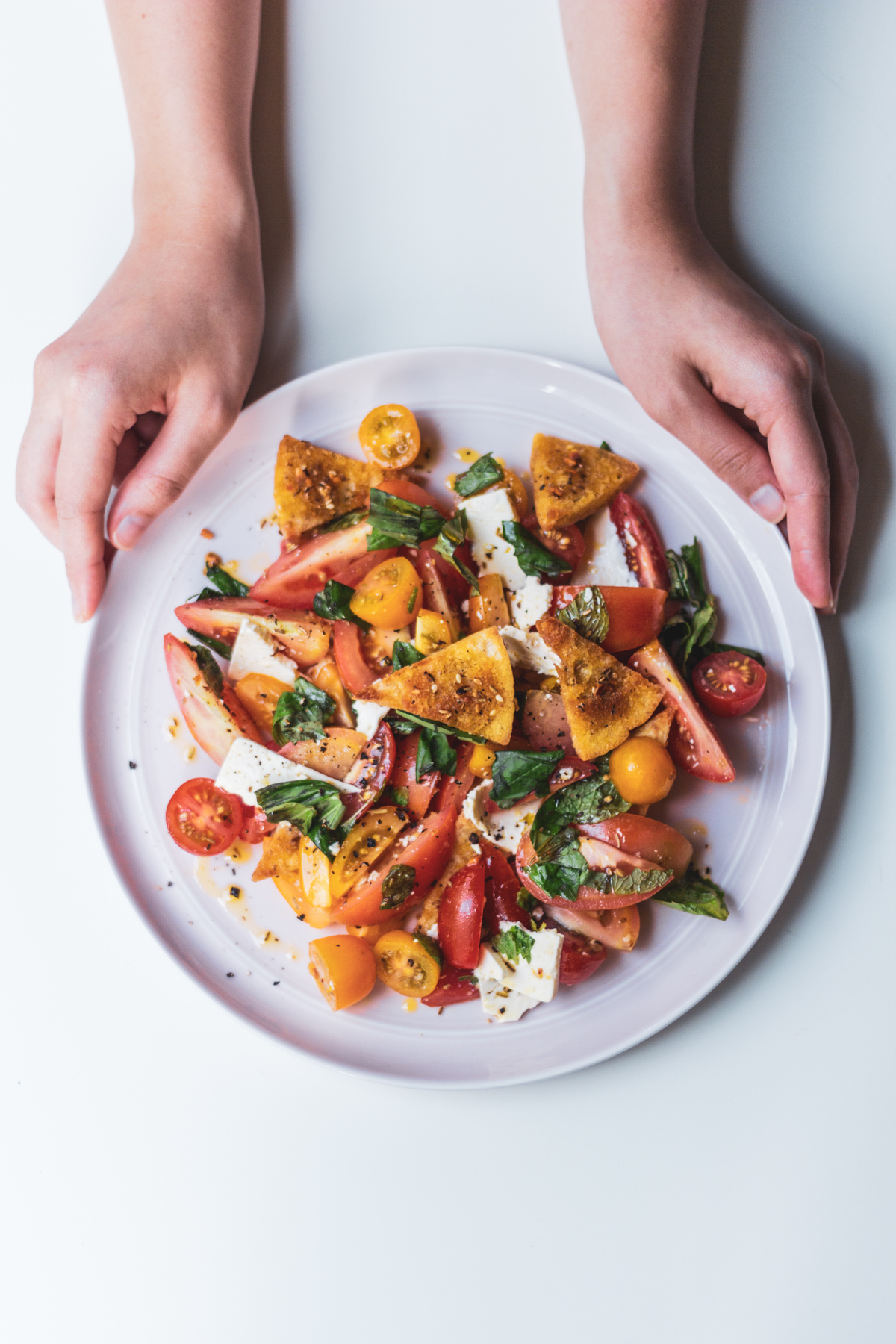 The recipe calls for a mix of heirlooms and cherry tomatoes, but you know what? Buy the best-looking, ripest, most fragrant tomatoes wherever you happen to be shopping, be it the farmers market or grocery store. Or pick them from your own garden, if that's your situation! Good tomatoes should smell like something when you press the skin against your nose and inhale, and they should feel heavy for their size, which means they are filled with juice and are not mealy.
You will expend very little effort making this salad, and yet, it will be very beautiful. Doing all of the things we tell you to do may indeed make you feel that the recipe is a little fancy. One hundred percent of people who have made the salad would make it again; be encouraged. The tomatoes are worth it. You're worth it.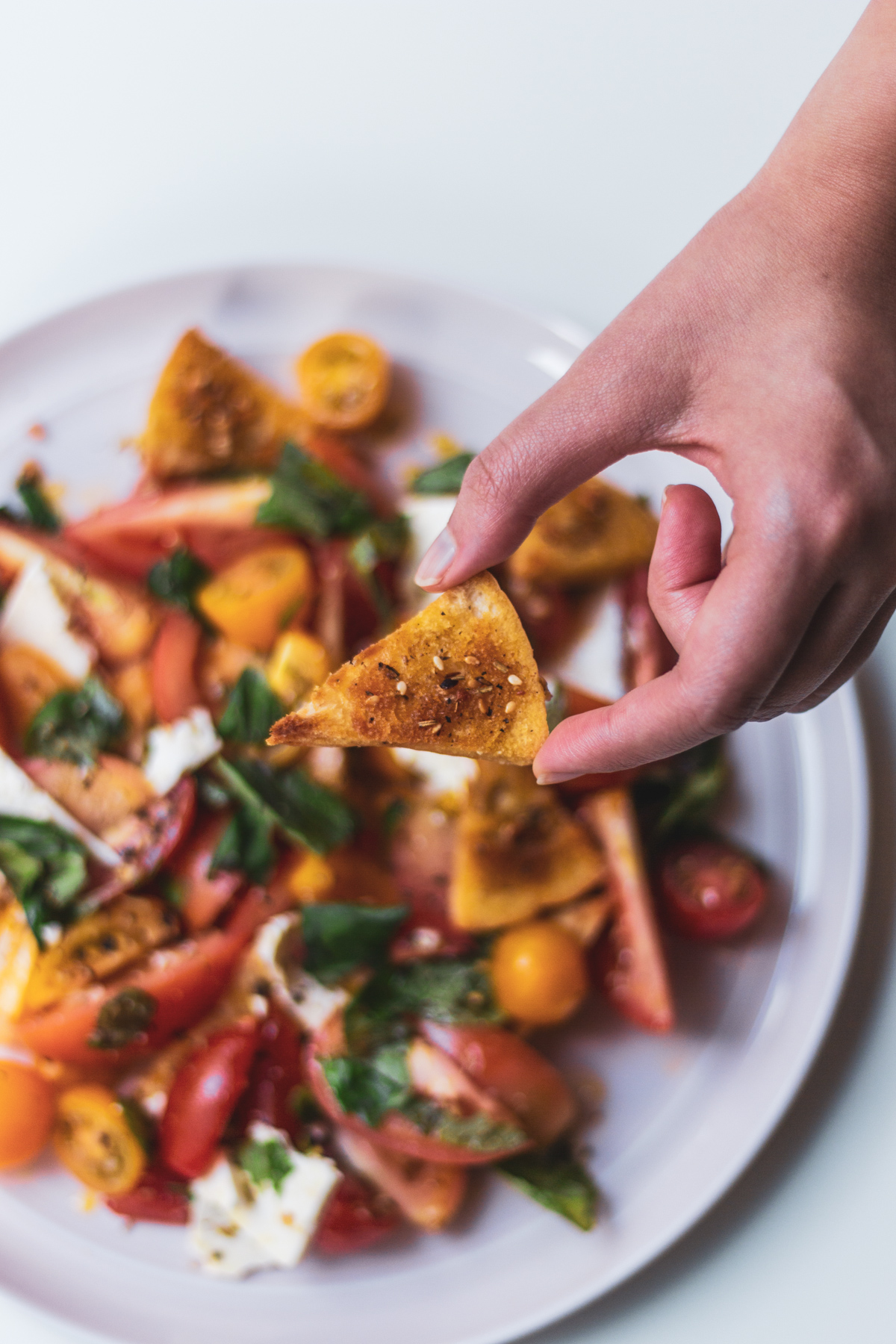 This salad is like a fattoush, but without the cucumbers. It's like Panzanella, without the giant croutons. It's a Greek salad without the grape leaves. It's got all sizes of beautiful tomatoes cut into attractive halves and wedges. It's got planks (not crumbles, and not cubes—planks) of crumbly feta. It's got a fragrant dressing built on za'atar, the Middle Eastern dry spice made with sesame seeds and thyme and sumac and other things depending on who made it or where you got it. It's got a little lemon to dial up the natural acidity of the tomatoes, honey to amplify their sweetness, and garlic to coax out their savoury flavours. It has it all.

If you make our tomato salad, don't forget to tag us on Instagram as @leplaincanvas and use the #byplaincanvas hashtag. I love seeing your takes on my recipes!

xoxo, Joe
Mixed Tomato Feta Salad
Here's the first thing you should make when you want to show off the peak-season tomatoes you've been waiting all year for. A colorful gang of cherry tomatoes and dramatic heirlooms are mixed with zhuzhed-up pita chips, salty feta, and lots of herbs. So elegant! So fancy! And, shh, don't tell the tomatoes, but the real star is the za'atar dressing: Toasty, earthy, and tangy, it'd be welcome on seared zucchini, slow-roasted fish, or corn on the cob. Remember that just because it's an heirloom doesn't mean it'll taste great—your picks should smell incredibly tomato-y and feel heavy for their size—that means they're juicy.
Ingredients
1½ lb. heirloom tomatoes (about 3 medium)

12 oz. mixed cherry tomatoes

1¾ tsp. kosher salt, divided plus more

1 lemon

½ garlic clove

6 Tbsp. extra-virgin olive oil

2 Tbsp. za'atar

2 cups pita chips

1½ tsp. (or more) honey

3½ oz. Greek feta

½ cup basil leaves

½ cup mint leaves
Methods
Using a paring knife, core 1½ lb. heirloom tomatoes, then cut each into 8–12 wedges, depending on their size, using a very sharp chef knife or serrated knife (if your chef knife is dull, it's going to squish your precious tomatoes). Halve or quarter 12 oz. mixed cherry tomatoes (cutting them through their equators will reveal more seeds and make them even prettier).
Transfer tomatoes to a large bowl; season with 1¼ tsp. salt. That salt is going to draw out moisture from the tomatoes, which will intensify their flavor. Stir to gently combine (be careful with those delicate tomatoes!); set aside.
Zest ¼ lemon—you want about ½ tsp. zest (it's easiest to measure if you hold the Microplane upside down so that the zest collects on top and you can scoop it into the measuring spoon). Grate ½ garlic clove. Set aside.
Heat 6 Tbsp. extra-virgin olive oil in a small saucepan or skillet over medium until just starting to shimmer, about 2 minutes. Add 2 Tbsp. za'atar and cook, stirring occasionally, until fragrant and darker in color, 1 to 2 minutes. Stir in reserved lemon zest and garlic. Wait 10 seconds, then remove from heat. (You're looking to cook off the raw flavor of the garlic without losing the brightness of the lemon.) Transfer za'atar oil to a heatproof measuring cup.
Place 2 cups pita chips in a medium bowl. (Yes, we made our pita chips ourselves) Pour 2 Tbsp. za'atar oil over; season with salt. Mix well with a rubber spatula, aiming to coat chips without breaking them into too many pieces.
Slice 3½ oz. feta into thin planks (we like Greek feta because it's easy to crumble, with a pleasant tang), then add to bowl with reserved tomatoes. Tear any large ½ cup basil leaves and ½ cup mint leaves (if you have shears, you can cut them to avoid bruising and browning!) and add to bowl. Drizzle about 3 Tbsp. dressing over and toss to gently combine (your tomatoes are precious, delicate gems).
Add pita chips to bowl (don't leave leftover oil behind—scrape that in too) and fold gently to combine. Spoon salad onto platter, making sure to leave no juices behind. Drizzle with remaining za'atar oil.
Notes
Eat fast for crunchy chips or let sit for a crispy-gone-soggy experience.