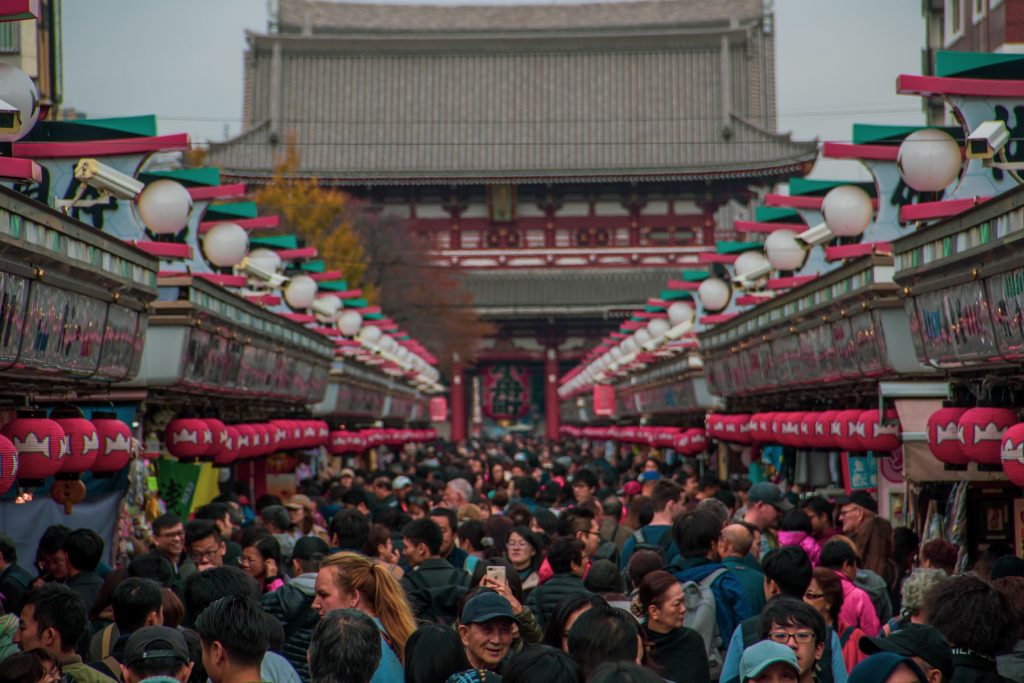 Asakusa (浅草) is the centre of Tokyo's shitamachi (literally "low city"), one of Tokyo's districts, where an atmosphere of the Tokyo of past decades survives. Asakusa's main attraction is Sensoji, a very popular Buddhist temple, built in the 7th century. We stayed fairly close to Asakusa that name Asakusabashi, therefore, we decide to discover this old city during the very first day of our trip to Tokyo. Unlike Osaka and Kyoto, for a certain, it gives out a different vibe. The streets are busy with the Salary Man and in no doubt, it is quiet everywhere.

We kick start our morning by taking the train to in search for this cute little muffin that we found out on a variety show – it called Daily Muffin. What it attracts me was they serve freshly baked sweet and savory muffins.

It's a small shop, but it has a large variety of muffins, plus a few other things like cookies. There's even a cafe area where you can sit and have a drink with your snack. The muffins (which cost around ¥290) come in both sweet and savory options, and the range is great. Some of my favorites are the Japanese flavors, with kinako (roasted soybean) bases, Anko (bean jam) or green tea. The flavors change regularly and include seasonal fruit.

I was so upset after having the muffin as I lost my scarf that hangs onto my bag. It definitely spiled my mood deeply. It only gets better upon shifting to Sensoji.

Daily Muffin
2-3-1 Kuramae, Taito City, Tokyo 111-0051, Japan
Opening Hours: 8 am to 5 pm
Nearby Station: Kuramae Station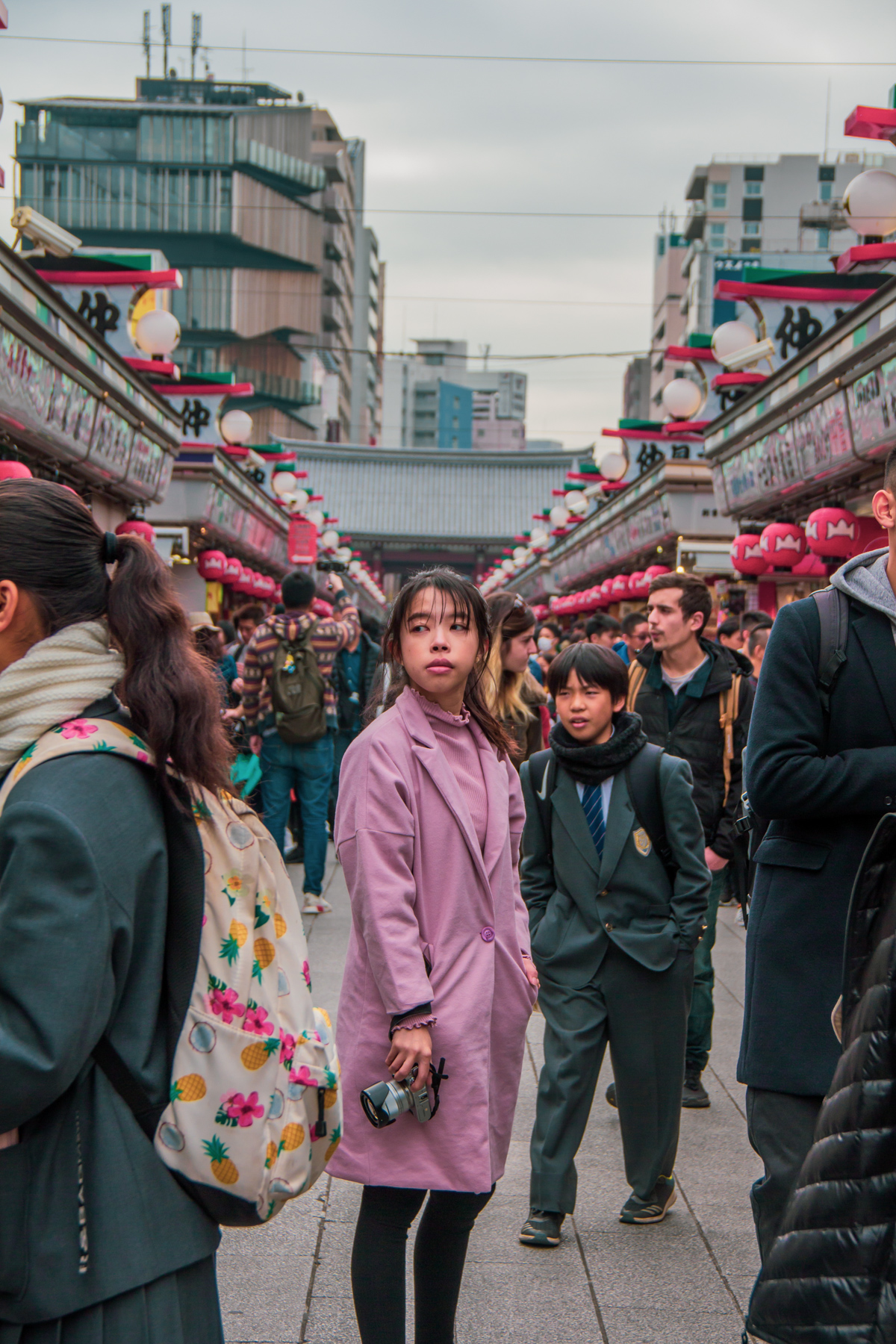 Usually, when we discover a new country, we head over to the cultural tourist information center and see what they could provide us. It helps you to gather maps and interesting informations about the city when you are all alone. I will say that the Culture Tourist Information Center is a very good one, there are many local volunteers that speak English and they could introduce you a different insight into the places of interest. Please do spend some time there and exchange with the locals.

Culture Tourist Information Center
2 Chome-18-9 Kaminarimon, Taito City, Tokyo 111-0034, Japan
Opening Hours: 9 am to 8 pm
Nearby Station: Asakusa Sation

Upon exit the Culture Tourist Information Center, Kaminarimon Gate Senso-Ji is just opposite the traffic. You would find it pretty obvious when the gate display with the huge lantern on the Kaminarimon Gate. Unlike the temples we visit in Kyoto, you don't have to pay entrance fees for Sensoji. After you go over the gate you will be shocked by the sea of human right in front of you. It's the infamous Nakamise Shopping Street before you actually get over to Sensoji. This traditional shopping district, they sell all the lovely goods and traditional snack you can't find elsewhere. The following are some of our favorite food to be found;
– Kimuraya
– Kibidango Azuma; the store is famous for its sweet dumpling made with mochi flour

Tips: Honestly, I won't spend my money here as they are overpriced. As compared to Osaka and Kyoto, Tokyo seems to be much expensive as compare to all. So if you travel to other cities as we do, try to get ask much as you want at Osaka and Kyoto as Tokyo certainly will hurt your wallet!

Kaminarimon Gate Senso-Ji and Nakamise Shopping Street (Orange Street)
2 Chome-3-1 Asakusa, Taito City, Tokyo 111-0032, Japan
Opening Hours: 24 Hours
You will find a purification spot (手水舎) before entering Sensō-Ji in fact all temples in Japan. It is a way of cleaning yourself and showing respect the God.

Due to the popularity of Sensoji, compared to other temples in Japan, they have both Japanese and English translation (another temple would be Meiji Temple, another popular temple to visit). Furthermore, for usually only 100 yen, you can pray and get an omikuji, a slip of paper with fortunes written on it; depending on your fortune, you can either keep them or tie them to a rope (usually you tie them to a rope outside the temple when it reflects you are having a bad luck). While mostly in Japanese, some shrines offer English copies of the fortunes as well.

Sensoji Temple
2 Chome-3-1 Asakusa, Taito City, Tokyo 111-0032, Japan
Opening Hours: 6 am to 5 pm
Nearby Station: Asakusa – exit the train station you will see the Culture Tourist Information Center, Sensoji is just across the street.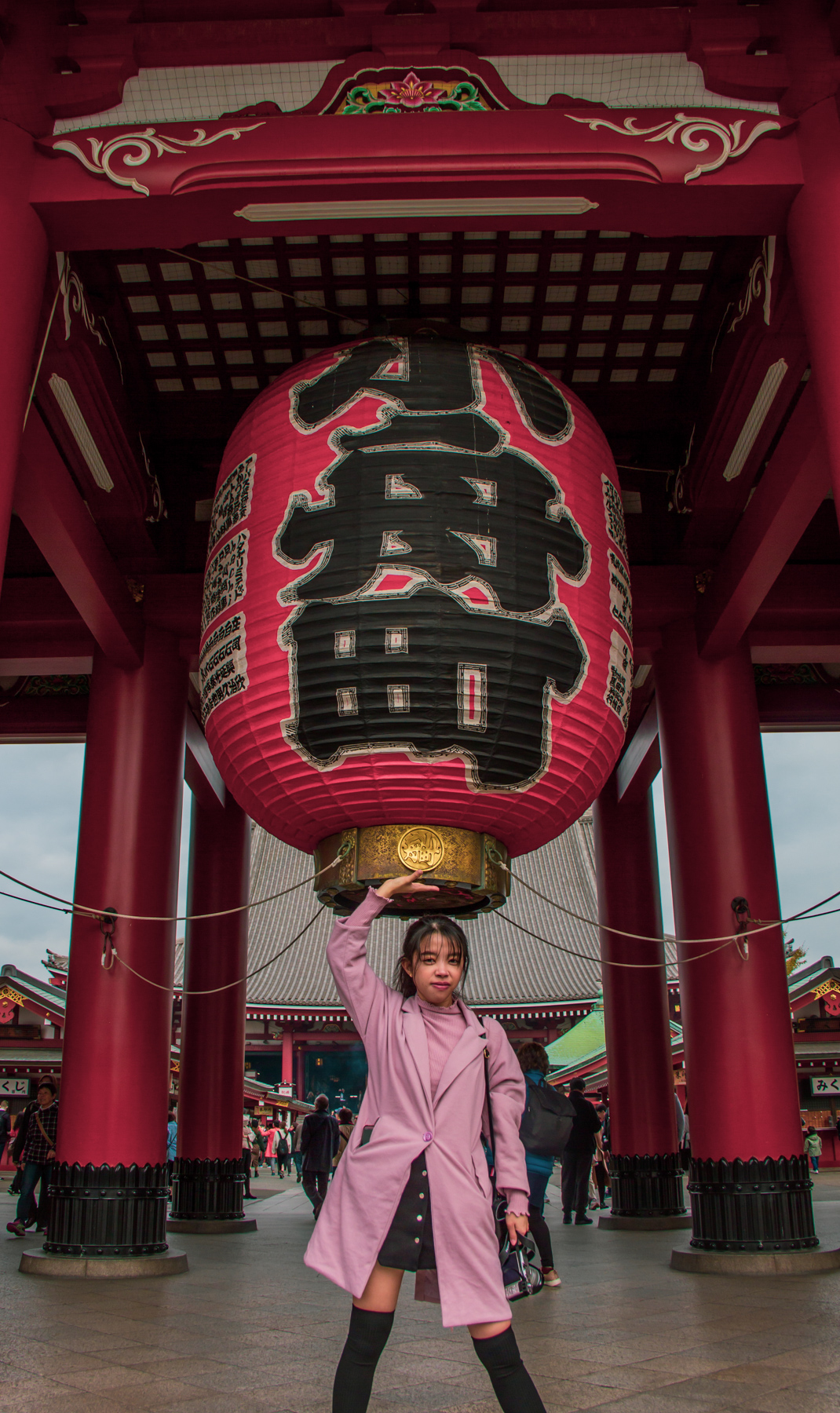 We followed what the locals did, after greeting with the cute little incense, we use both hands to bring the smoke toward our body. It seems like bring good blessings when you do so.
We have a great experience especially both of us was in a bit of good luck for the next following year – 2019!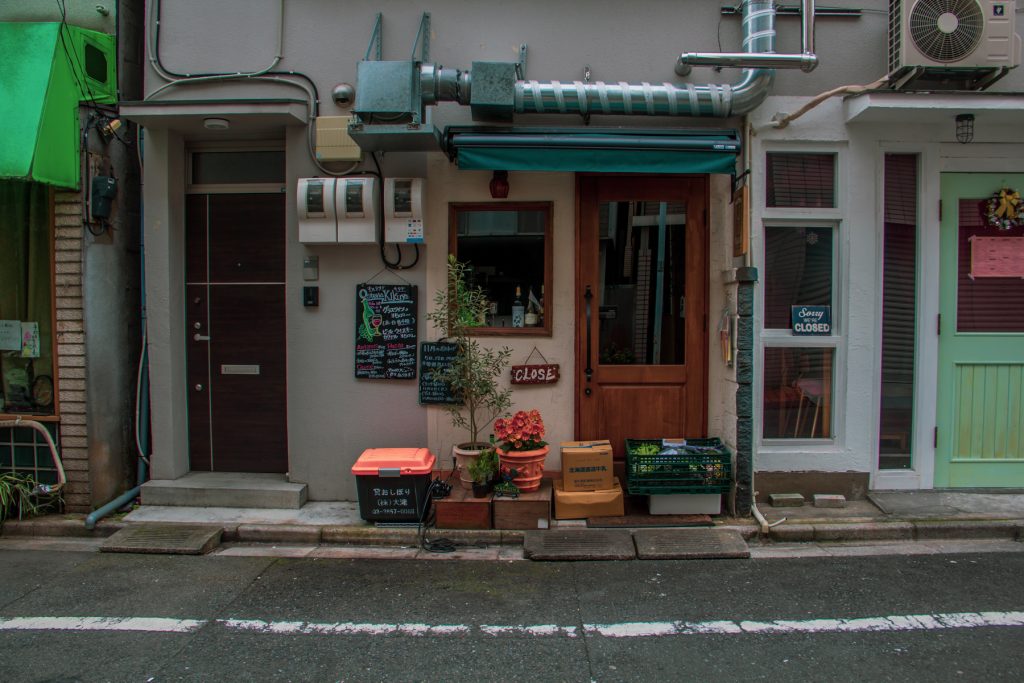 You can spend the whole morning and afternoon at Asakusa, starting from Sensoji. Sensoji was surrounded by all other amazing attractions. Naming a few will be KappabashiUtensils Street, Temples around the Sensoji, Hopping Street and Tokyo Sky Tree (we decide to save money and see it from far).

While the Tokyo Sky Tree was across the Sumida River, you can see the Tokyo Sky Tree from all angles in the Asakusa's region. We are fortunate to do that as they have low-rising buildings and that allows us to see any iconic building and the beautiful sky. Walking down the street the area is definitely a back-in-time district, you can find lovely old bars and eatery shops.

Further down you will discover Kappabashi Utensils Street, a street filled with distributors for kitchenware, knife, utensils, baking tools and all sort of things that you can imagine. And what caught our eyes most was the almost-real fake food display, it seems like there is the school for the fake food making.

Kappabashi Utensils Street
3 Chome-18-2 Matsugaya, Taito City, Tokyo 110-0036, Japan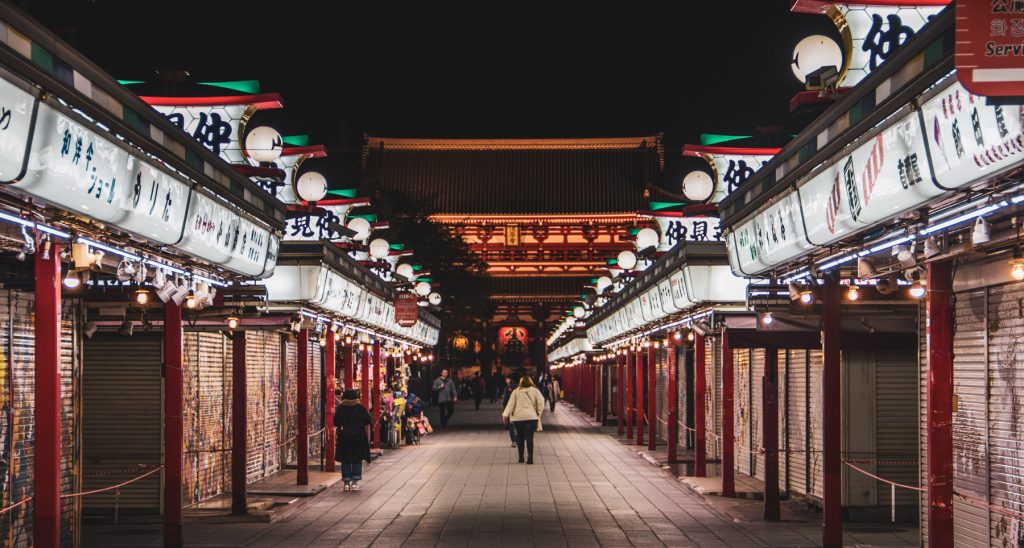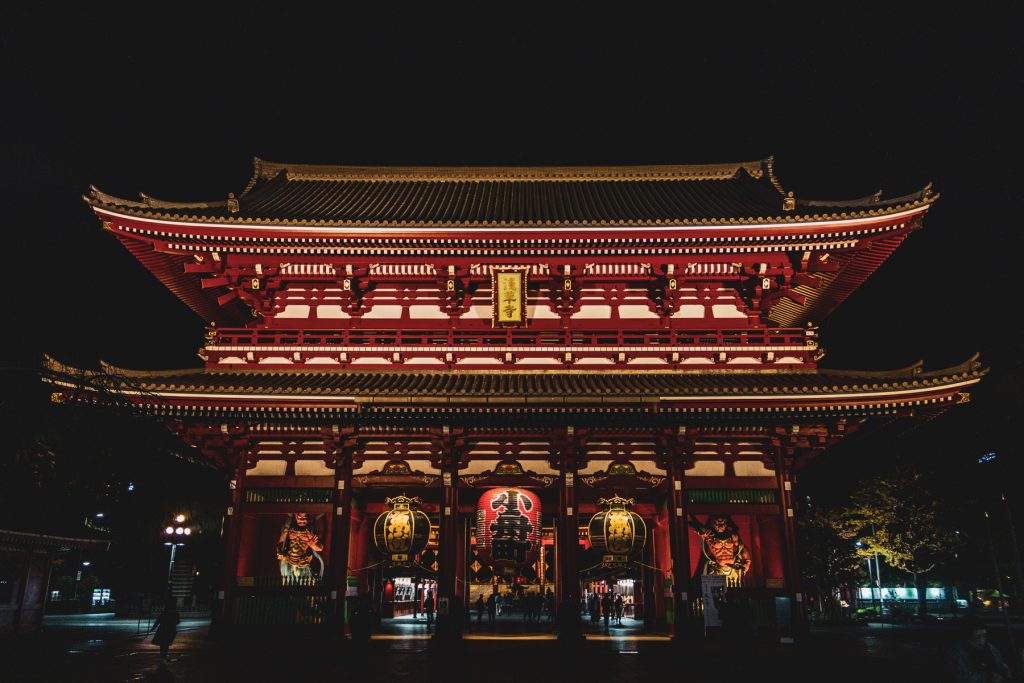 No harm to revisit
Unlike other cities, you will always find yourself in a different scene during the day and night regardless of visiting the same location in Japan. You will be so surprised by the different vibes that bring to you, therefore it's worth revisiting places in this city, at least twice. Nothing is repeatable and they are simply amazing at all times. So if you want to avoid the crowd for photo shooting at Sensoji, after 9 pm it the best hours to do so.

Hopefully, it will be a helpful post for you! Please send us your recommendation so we could exchange and get to travel better!

xoxo, Angela.